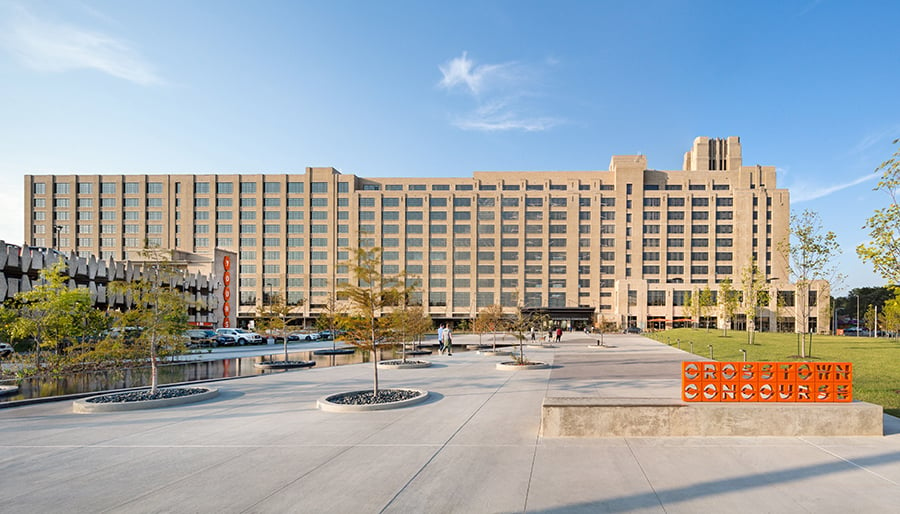 June 26, 2019
Gold and Silver Medalists Announced for 2019 Rudy Bruner Award for Urban Excellence
The biennial award program honors outstanding projects that improve the social, economic, and ecological vitality of American cities.
---
Today, the Bruner Foundation named Crosstown Concourse in Memphis as the Gold Medal winner of its Rudy Bruner Award (RBA) for Urban Excellence. The project converted an old Sears, Roebuck & Company warehouse into a mixed-use hub and community anchor. The $210 million, 1.5 million-square-foot development began in 2017 and now includes health-care, education, arts, and retail programming. It is the world's largest LEED Platinum–Certified historic adaptive reuse project.
Crosstown Concourse was selected from a group of finalists—who will now receive Silver Medals—that includes an art and lighting program that helped enliven a Massachusetts town; a Houston project that turned a neglected bayou into a resilient park; a community-driven downtown redesign that revitalized a Texas town; and a New Orleans skatepark created by a community design center and local skateboarders. The finalists and Gold Medalist were selected by a jury of public officials and nonprofit leaders that includes architect and Metropolis 2017 Game Changer Carol Ross Barney.
While all the finalist projects were significant undertakings, Crosstown Concourse might be the most ambitious. Former Memphis Mayor A C Wharton Jr. observed that, "On a massive project like this there are more red lights than green ones…. This is why Sears Crosstown is not only 'Exhibit A' for rebuilding the core of our city, but also a model for how to creatively overcome the obstacles to it."
As part of the awards program, the Gold Medalist receives $50,000 "for the benefit of the project"; Silver Medalists will each receive $10,000.
"Crosstown Concourse has received a number of highly regarded awards over the past year, but this one is really special," said Todd Richardson, co-director and cofounder of Crosstown Arts, the nonprofit that led the building's redevelopment. "We have been inspired by past RBA winners, and to be in the company of Gold Medalists like SteelStacks in Pennsylvania and Pike Place Market in Seattle is both exciting and daunting. We are encouraged by the growing, diverse community in Crosstown but also know we have work to do to create the kind of inclusive and sustainable impact we aspire to. The RBA Gold Medal prize will further this goal by supporting the ongoing arts events and programming that contribute to the unique Crosstown experience."
You may also enjoy the following articles on this year's Silver Medalists: 
In Lynn, Massachusetts, a Public Art and Lighting Initiative Enlivens a Former Industrial City Center
In New Orleans, Skateboarding Youth Partner with a Community Design Center to Create a Skate Park Under a Highway Overpass
In Sulphur Springs, Texas, a Community-Driven Vision Sparks Downtown Revitalization and Pride
In Houston, a Resilient Public Greenspace Reconnects "the Bayou City" to the Neglected Waterway Where It Was Founded