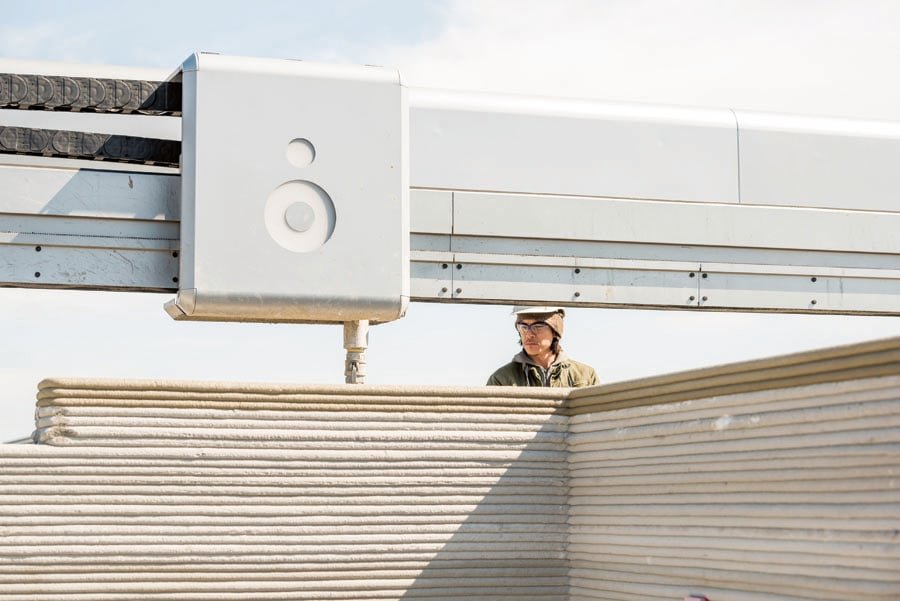 February 15, 2021
3D-Printing Is Speeding Up the Automation of Construction
As the technology scales up, it's being tasked with providing robust new solutions—but it's also running into some of the same old building problems.
It seems that every few months the architecture world marvels at the latest 3D-printed prototype or art installation and wonders at the future possibilities. But to a surprising extent, the future is already here. Companies worldwide are automating the construction of homes, offices, and other structures through techniques like 3D printing, robotic finishing, and automated bricklaying. And as more join this club—and governments and investors ramp up their support—the possibility of automation soon becoming the norm in construction is not so farfetched, addressing construction efficiency, sustainability, and even labor and housing shortages.
"3D printing [on a wide scale] is a lot closer than I thought," notes Eric Holt, assistant professor at the Franklin L. Burns School of Real Estate and Construction Management at the University of Denver. "I used to believe it was at least five years out, but the ball has moved really quickly."
The start-up that first shifted Holt's thinking was Oakland, California–based Mighty Buildings, which has already completed accessory dwelling units (ADUs) called Mighty Mods in Oakland, San Diego, San Ramon, and Hayward, California, employing a combination of high-tech composites, 3D printing (also known as contour crafting or additive manufacturing), 3D scanning, and robotic finishing. The company is now partnering with California-based architecture firm EYRC to produce single-family "Mighty Houses," which contain up to three bedrooms and range in price from $287,500 to $409,500, and hopes to join forces with developers to create multifamily housing communities and more.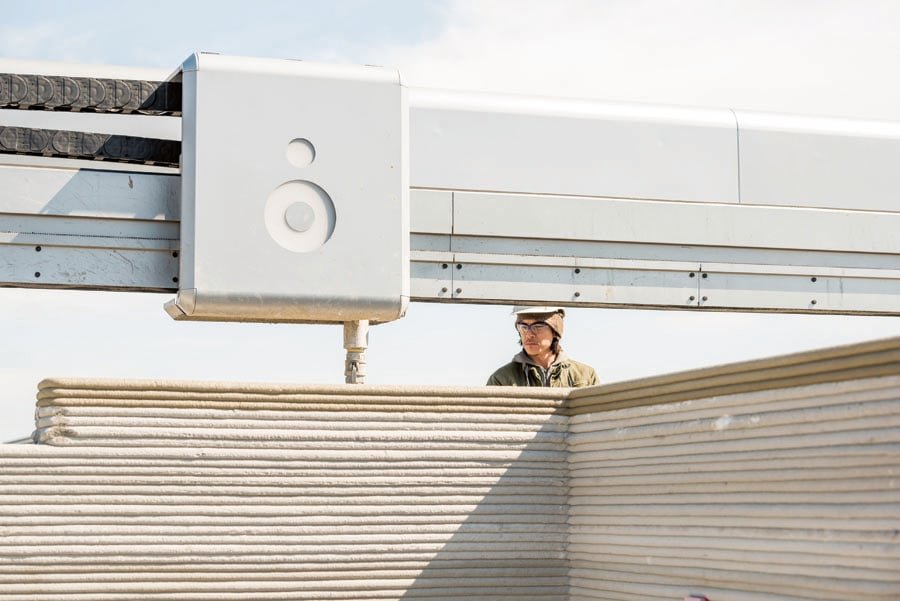 Mighty Buildings cofounder Sam Ruben says that the company can produce its units in two or three weeks, at a cost that's about 40 percent lower than similar-quality construction and with almost zero construction waste. Walls are printed via a gantry supported, free-moving 3D printer applying layers of a thermoset composite, which hardens into a stonelike material—similar in strength to concrete—that is lightweight, self-supporting, and insulating. (Most companies install rebar in 3D-printed concrete after it is laid, a more time-consuming and costly process.) After printing is complete, a 3D scanner ensures that the structure matches the original digital file. Then robotic arms from German manufacturer KUKA give the homes texture, detailing, and functionality using varying heads that perform tasks like milling and spraying.
"We have a severe shortage of housing in this country," says Ruben. "We need a better way to build it." Some of his firm's biggest remaining challenges include expediting permitting and moving into mass production.
China is also demanding faster, more efficient, and less wasteful construction. Its leader, and arguably the industry's trailblazer, is WinSun Decoration Design Engineering Co., a company with offices throughout the People's Republic and abroad. Founded in 2003, it began 3D-printing building components, and now prints entire buildings (its printer is 20 feet high, 40 feet wide, and 120 feet long). WinSun claims many of the firsts in the business, including the world's first batch of 3D-printed buildings (ten structures in Shanghai's Qingpu District); a five-story residence in Suzhou, which is the world's tallest 3D-printed building; and the world's first 3D-printed villa in a not-so-subtle French Second Empire style. Upcoming WinSun projects are even more ambitious, and in 2017 it signed a memorandum of understanding with AECOM, which will expand its efforts globally.
Dubai, another construction superpower, currently has the world's most ambitious policy to promote automated construction: an official 3D Printing Strategy. Launched by Sheikh Mohammed bin Rashid Al Maktoum in 2016, it calls for 25 percent of buildings to be 3D-printed by 2030. A major symbolic step forward for this plan was the 3D printing of the Dubai Office of the Future. Completed in 2016, it was the world's first fully occupied office complex to be built with 3D-printing technology. The 2,700-square-foot office (built in a collaboration between WinSun, Gensler, Thornton Tomasetti, Syska Hennessy Group, and Dubai-based Killa Architectural Design) was also created layer by layer via a gantry printer. It took roughly 17 days to print and cost about $140,000 to create, not including finishing.
The project also clarified the learning curve associated with the new technology, points out Benjamin Piper, design principal and partner at Killa, which managed unforeseen issues with material tolerances, thermal barriers, site logistics, and discrepancies between digital models and physical reality. (Owing to bureaucratic and intellectual property issues, the printed building segments were shipped from China rather than being printed on the ground in Dubai.) Killa recently finished up Dubai's Museum of the Future, just down the street, a torus-shaped building with a 3D-printed concrete frame and 3D-cut cladding taking the shape of Arabic calligraphy.
The freedom of form enabled by 3D printing is also being exploited in Eindhoven, the Netherlands, where Project Milestone—a partnership between the city, Eindhoven University of Technology, Houben/Van Mierlo Architects, Van Wijnen Group, investor Vesteda, and others—is creating a community of five curving homes in Bosrijk, a wooded neighborhood near the city's airport. The project's first home will be completed this year: a single-story, roughly 1,000-square-foot building that will be followed by four multistory residences.
Their curving, contour-crafted shapes, notes Theo Salet, dean of the Department of the Built Environment at Eindhoven University of Technology, allow for concrete to be applied only where needed, meaning far less waste. (The team applied rebar in the wet concrete via an automated filament system and injected insulation, which helped support the thin concrete planes.) They also fit into their rural setting, like natural shapes. "It will look as if five stones had landed in a field," says Rudy van Gurp, a project spokesperson.
Salet embarked on the project to seek improvements in the slow-moving construction industry, namely more affordable housing, more sustainable use of materials, and a safer building environment for workers. Working on each home, he says, will provide insights for the next. "It's a continuous learning process," notes Cristina Nan, a specialist in emerging architectural technologies who is working on the subsequent homes. "Which pieces to print, which geometries, and what order of construction."
While such an approach is more sustainable than traditional construction, the use of concrete is still quite carbon intensive. One possible solution is TECLA, an automated home-building system developed by New York– and Bologna, Italy–based Mario Cucinella Architects (MCA) and 3D-printer manufacturer WASP. The technology employs robotic arms and a mixture of local earth, water, and rice husks to create bulbous homes that can be tailored (in shape, material, density, orientation, etc.) to their local climate and vernacular. MCA architect Irene Giglio, who describes TECLA units as "growing out of each place," says their first unit will be inaugurated in March, and the team hopes to expand the system quickly after that.
These examples are just the tip of a 3D-printed iceberg, as the number of companies incorporating additive manufacturing grows. Others are taking more targeted approaches to construction automation. For automated bricklaying there is Construction Robotics' SAM (Semi-Automated Mason) and Fastbrick Robotics' Hadrian X, which can lay bricks and other masonry pieces more than three times as fast as humans. For formwork there is Odico's robotic hot wire cutter, which can create curved, intricate molds. For rebar tying there is Advanced Construction Robotics' TyBot. Rovers like Effidence's EffiBOT can carry construction materials on-site, while Doxel's lidar-equipped rover can carry out site inspections. Built Robotics' Autonomous Dozer replaces manned bulldozers, while Volvo's TA15 can haul 15 tons of material without a driver.
And while they're still notoriously risk-averse, builders worldwide—seeing potential improvements in cost, productivity, and safety—are incorporating automation into their processes one piece at a time, says Dennis Steigerwalt, president of the Housing Innovation Alliance, an industry think tank. Larger builders are employing components, panels, and sometimes entire modules created using robots, while smaller companies move closer to an almost fully automated factory environment.
Steigerwalt says it's just a matter of time until we reach the tipping point. "If you can achieve scale, you can bring the cost down. Over time you can see it being less expensive, less wasteful, less risky, and higher quality. Not everyone needs to build this way, but once you get the wheel running, there will be a solid position for this within the U.S. economy."