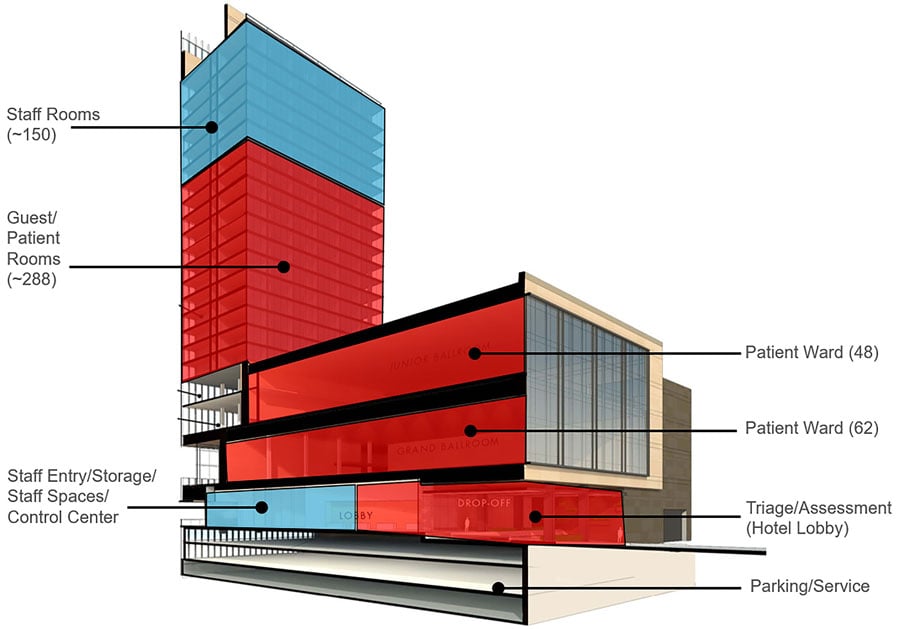 April 6, 2020
5 Ways Architects and Designers are Responding to COVID-19
3D printed face shields, hospital conversions, material donations, and deployable intensive care units are just some ways architects are stepping up during the pandemic.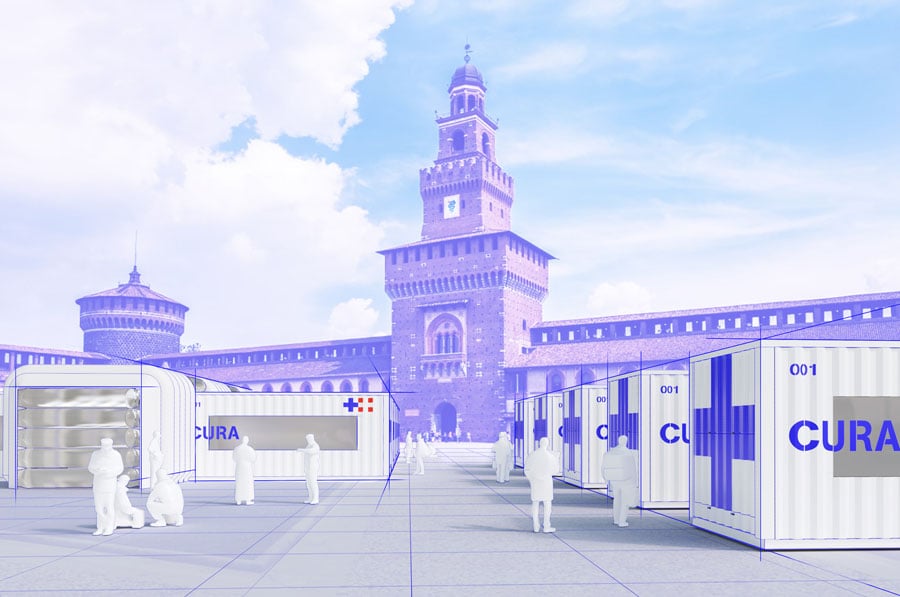 ---
As the novel coronavirus expands globally, architects and designers are leveraging their technologies, facilities, and research skills to aid in the fight against the pandemic. As healthcare providers face a dire shortage in personal protective equipment (PPE) and hospitals are running out of beds, these firms have stepped up to find out not only how the A&D community is being affected, but what they can do to help out in such trying times.
1. PPE
---
"It's easy to feel powerless in these times of crisis. We saw an opportunity to really push ourselves to harness the power of being a private business to solve challenging problems; as a society, government and non-profits alone cannot solve everything," explains Alex Williams, founding partner and director of growth at Brooklyn-based lighting designers, Rich Brilliant Willing (RBW). The company is in the process of donating 10,000 face shields to New York City healthcare providers after producing a redesign of the Budmen Face Shield with iMakr, a leading 3D printing company and Industry City neighbor. They were able to speed up production by reducing the material consumption by 48 percent. The mask is publicly available so other manufacturers can follow suit. Williams says, "Until larger manufacturers can ramp up production, the current vacuum relies on businesses and individuals to fill the gap."
For John, J. Meyer, founding principal at edg, "This crisis makes it evident that the moment for 3D printing clearly has arrived. It's not a novelty anymore or part of some distant future. The technology has actual, practical utility here and now, even life-saving applications." His point has been made clear as dozens of firms are applying their digital fabrication abilities to the production of the shields (including BIG, Kohn Pedersen Fox (KPF), Handel Architects, and Grimshaw.) Most firms are working with open source files, such as one provided by 3DVerkstan, and making modifications to ramp up production. Currently averaging at about 100 masks a day, edg was able to increase production by 20 percent from the original estimates by shortening the arms of the frame to fit more snuggly around the face.
edg's first batch went to the healthcare professionals at Weill Cornell Medical, alongside visors produced by Operation PPE, an effort led by Cornell AAP and Jenny Sabin Lab. KPF is also contributing to the Operation. While KPF's printing settings are very similar to others, what sets them apart are their production strategy and material usage methods, advancing the mass printing of the visor frames. KPF's Makerspace technicians Asli Oney and Darwin Diaz explain, "[We've] mastered the production performance of a water-soluble and biodegradable material called PVA (polyvinyl alcohol) as a support material, which allows the frames to print in a stack without errors. Using this method, we are able to achieve exponential print counts of a minimum of about 150+ per machine." Their first batch of 400 was delivered last Thursday, after going through NYC Resistor, an expeditor that assembled, sanitized, and delivered the parts to the assigned healthcare facility.
2. Conversions
---
As hospitals begin to run out of beds, governments are needing to act fast. As New York District of the Army Corps of Engineers has completed the conversion of Jacob K. Javits Convention Center, architects across the country have been considering other typologies that can easily be converted as cases continue to increase.
"In a best case scenario, a large hotel can become a temporary hospital in about 10 days," explains Jason Schroer, principal, health practice director, HKS, who has been spearheading a series of conceptual plans for how hotels, schools, and other venues can rapidly convert to patient care. While many hotel types were considered, HKS determined full-service convention hotels could be converted the most quickly by using guest rooms as patient rooms, lobbies as intake and registration areas, conference rooms as central medical supply, restaurant as staff dining, and ballroom as specialized care facilities. The report includes a 14 day conversion timeline, operational considerations, and spatial configurations. "Our core competency is design and planning," Schroer notes, "Because we have experts in both health design and hospitality design, we've all put our heads together to figure out what we could do to give everybody a formula to quickly convert a building for patient care if they needed it."
Considering the CDC's guidelines regarding which COVID-19 patients would be appropriate for alternative care sights, the firm also considered the use of high schools as another possible conversion site for up to 500 patients. Some reasons behind the choice is that schools are found in all communities with easy to access sites, they have wide corridors, non-porous surfaces, and centralized MEP systems.  "It's not a perfect science, but as a solution, it's better than a tent, and it can be done quickly. We just wanted to try to be part of the solution," says Schroer.
3. Rethinking Intensive Care
---
Rather than converting existing buildings into patient care facilities, some designers have decided to create a brand-new systems for emergency intensive care. CURA pods are one such solution. CURA (Connected Units for Respiratory Ailments) is an open-source design for emergency COVID-19 hospitals initiated by a team of architects, engineers, doctors, and military experts and currently being built in Milan. The pods use repurposed 20-foot shipping containers turned into biocontainment pods, and are easily deployable in cities around the world. While each unit functions autonomously, individual pods can be connected by an inflatable structure to create modular configurations and would contain all the equipment needed for two patients including ventilators. The best part—they can be deployed in just a few hours in parking lots or as self-standing field hospitals.
Jupe, Inc., a flat-packed housing startup built for crisis and disaster response, has also developed a mobile recovery unit in response to hospital overcrowding. JUPE Health are a series of three recovery spaces designed for both healthcare workers and quarantined patients including JUPE Rest (sleeping unit), JUPE Care (recovery unit for non-critical patients), and JUPE Plus (a stand-alone intensive care unit). JUPE Health can deploy up to 24 units with a 40-foot flatbed and pickup truck and up to 500,000 on a single cargo ship. The efforts are led by physician Dr. Esther Choo (of #GetMePPE), designer Cameron Sinclair, and modular housing entrepreneur Jeff Wilson.
4. Material Shipments
---
As the US Army Corp of Engineers (USACE) is working with state and local governments as well as health care systems to determine locations for potential alternate care sites, FEMA contractors are in need of safe and suitable construction materials. Mannington Commercial has established a hotline that will assist FEMA and related service providers to ensure the availability of resilient sheet flooring products for use in temporary care facilities. According to USACE guidelines, suitable flooring for emergency healthcare needs include seamless rubber or sheet vinyl that aids in infection control, cleanability, and slip resistance.
"At the moment we are involved in over 50 specific COVID projects and that total moves every day," explains Steve Hadrych, Mannington's director of healthcare, "Mannington is uniquely positioned as we are the only commercial sheet manufacturer in the U.S. As such, we have to have a significant stocking position—over 7 million square feet. We never expected that it would be accessed for a national emergency." Instituted over three weeks ago, the company is supplying the nation's hotspots—New York, Los Angeles, Seattle, and Chicago—on jobs ranging from large convention centers to smaller, portable units.
5. Surveys and Research
---
But while so many architects and designers are still working, and technicians and manufacturers are cranking out equipment and solutions to support those in need, everyone is still operating in a time of unknowns. In order to gather relevant information on the impact of COVID-19 on the industry, some have developed surveys to gauge responses as well as to ensure that design professionals have access to the resources they need.
On April 3rd, the American Institute of Architects (AIA) task force asked architects, designers, and facility owners to provide information on COVID-19 alternative healthcare sites for COVID19 ArchMap, an online research database to help catalog and share sites and healthcare facility responses. The task force is also working on a preparedness assessment tool which will include a checklist to determine whether a building can be converted into an alternative care site.
Recently formed Design Advocates, is a group of independent design practices (Lea Architecture, MKCA, Office of Tangible Space, Overlay Office, and Worrell/Yeung) that are collecting data and sharing resources with the hopes of supporting and empowering the design community.
ThinkLab, a research division of SANDOW, is also gathering information about our industry's response to the pandemic. Click here if you'd like to participate.
---
You may also enjoy "In the Doldrums of Quarantine, Enjoy Online Culture from These 13 World-Class Institutions"
Would you like to comment on this article? Send your thoughts to: [email protected]