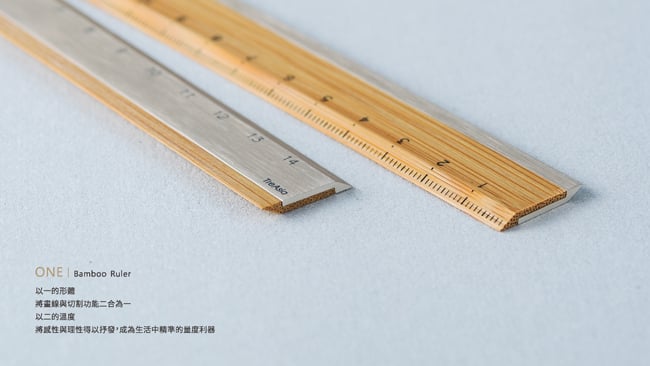 January 3, 2017
9 Taiwanese Designers To Watch
Taipei's designation as a World Design Capital has put a spotlight on Taiwan and its vibrant, emerging design culture. These nine designers stand out for their craftsmanship and inventiveness.
These six-inch rulers by TreAsia Design marry the unique aesthetics of ecofriendly bamboo with the cool, modern feeling of aluminum.
The designers at HEE Porcelain walked through Taipei's hidden alleys and discovered the magnificent and varied patterns of iron gratings on old buildings, which they then adapted to this tableware.
This letter rack or napkin holder is designed in the shape of a bulldog, intended to infuse living areas with a touch of humor.
Designed by Hank and Maxwell Design Studio, this metal attachment, based on a Red Dot Award–winning concept, transforms any bottle or container into a vase to hold flowers.
Following a minimalist line, this dressing table mirror uses a single piece of bamboo for its frame. Though Circle is freestanding, the smaller version can also be used as a handheld mirror.
Available in different sizes and shapes, these boxes provide containers for all kinds of tools and work accessories. Each aluminum box lid is shaped into a particular terrain that provides receptacles or holders for supplies ranging from measuring tape to paper clips.
Woo Collective uses traditional Taiwanese tin craftsmanship to create beautiful wares. The technique involves rubbing natural material into textures replicating wood and fabric. Because tin is not easily oxidized, the products are ideal for containing food and drinks.
Wolf Tea was founded in 2013 by three enthusiasts of Taiwanese tea who wanted to reinvent it for a younger generation. The elegant tin tea caddies protect the tea leaves from light and humidity, preserving the aroma and flavor.
HMM makes a host of newly crafted products, including milled aluminum rulers, hand-crafted ceramic mugs, cast-iron and teak coffee scoops, and Gaze (shown), a double-walled glass coffee brewer, designed with a precise conical helix shape.