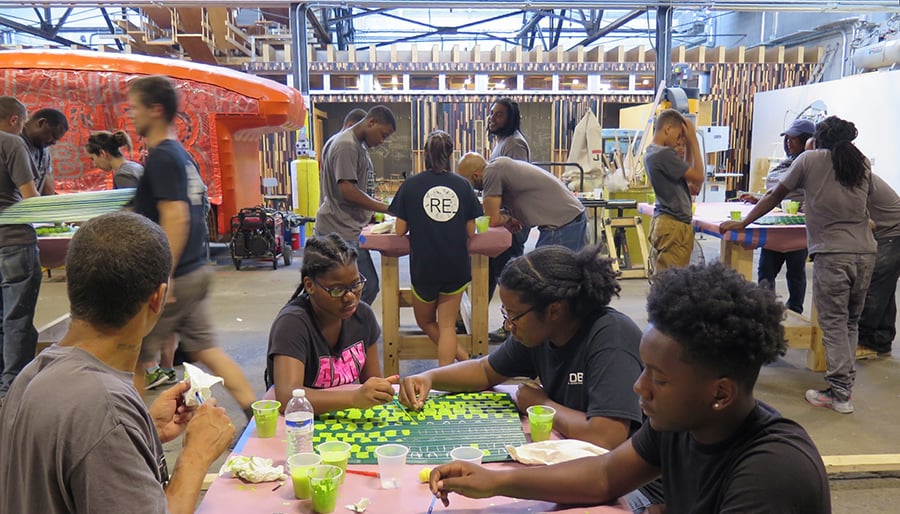 April 8, 2019
Good Neighbors: How Architecture Schools Are Rethinking Their Relationship to Rust Belt Cities
A recent national gathering of architecture educators in Pittsburgh highlighted the myriad ways architecture schools can help their nearby underserved communities.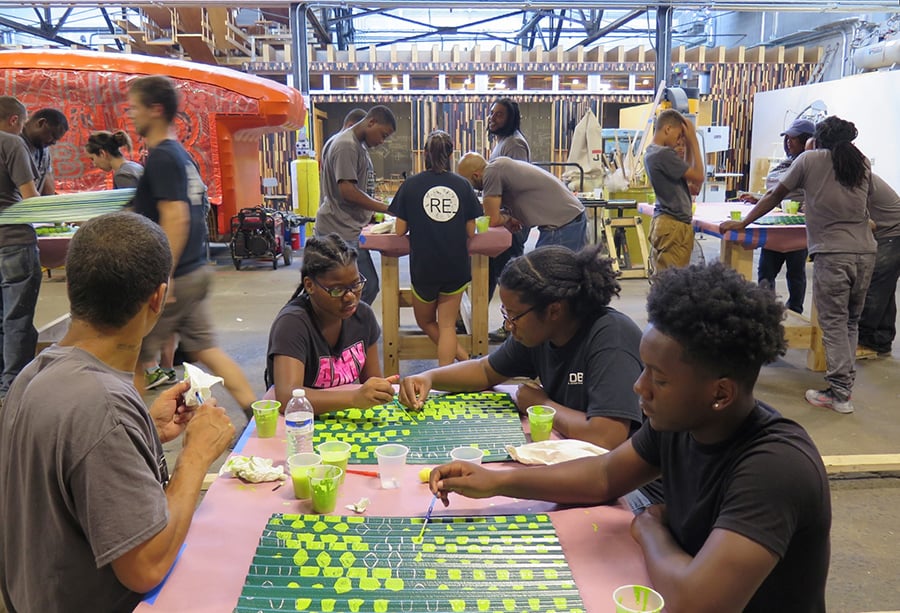 ---
The Association of Collegiate Schools of Architecture (ACSA)—an organization of over 200 educational institutions dedicated to advancing architecture pedagogy—recently held its 107th annual meeting in Pittsburgh, Pennsylvania. The gathering was broad and diverse, with a stacked lineup of panels and workshops, but one particular question stood out within the many themes of its workshops on housing: How can schools help students engage with local communities? The conference's location in Pittsburgh—a city with many struggling neighborhoods—provided a unique depth to the discussions.
As many speakers and panelists described, the challenge of connecting architecture students to underserved communities is hugely important. For example, Dr. Theodore Landsmark, a distinguished professor of  public policy and urban affairs at Northeastern University, said in one panel, "It strikes me as not just negligent but almost criminal that the architectural community … and our educational institutions, many of which are in or adjacent to Opportunity Zones in our cities, have not been actively engaged in helping shape—particularly the community engagement aspects—how billions of dollars are about to be spent in our cities."
Pittsburgh, though, has a long history of acting in this arena. In the 1960s, Carnegie Mellon urban design professor David Lewis founded the pioneering Urban Lab, an early example of university-led participatory design that still operates in the city today. With many educators and organizers at the conference hailing from Buffalo and Detroit, the fate of Rust Belt cities emerged as a natural focus. Below are some of the key takeaways from the event's many panels, lectures, and workshops.
Forge Meaningful Partnerships with Other Disciplines
John Folan, a professor at the Carnegie Mellon University School of Architecture, directs the Urban Design Build Studio (UDBS), a collaborative initiative of professors, graduate and undergraduate students, and allied professionals who work with local residents and organizations to combat the cycle of decline plaguing many Pittsburgh neighborhoods. UDBS also challenges the notion that public interest design means sacrificing design quality; the studio has been awarded several local and state AIA design commends, including AIA Pennsylvania's 2018 State of Pennsylvania Impact Design Practice award as well as the Bronze Award in Impact Design for the REACH Mobile Computer Literacy Training Lab.
Find Ways to Transmit the Lessons You Learn
While the UDBS has been operating in Pittsburgh's East End neighborhoods for several years, Stefan Gruber takes a more globally-oriented approach in the Master of Urban Design program at Carnegie Mellon University. Acknowledging that the majority of his students are from abroad, and that many ultimately return to their home countries to practice, Gruber wonders what it means "to transfer design methodologies and community design tools from Pittsburgh to radically different contexts? … How can we tap into the self-organizing capacity of cities?" Through extensive global research, Gruber assembled An Atlas of Commoning: Places of Collective Production, a traveling exhibition that showcases various grassroots design case studies. The show will travel internationally for the next ten years. In Pittsburgh, Gruber's students draw from the Atlas to to complete their own urban design thesis projects, many of which similarly challenge notions of ownership, production, and collective governance. "The implications are far-reaching for society but also important for us to rethink our agency as designers," he says.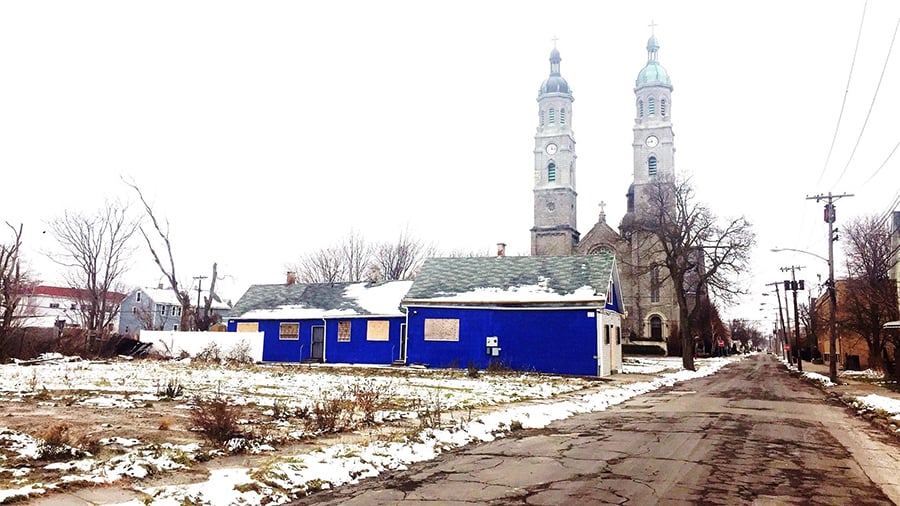 Work with Immigrants to Rethink Resettlement
Erkin Özay, an assistant professor of architecture at the University of Buffalo School of Architecture and Planning, discussed how his work with students aims to empower local organizations serving that city's growing refugee population. For example, when he realized that there are very few housing projects explicitly addressing refugee needs, Özay's Rethinking Resettlement studio conducted research to see what it would take to turn a neglected building into affordable housing. "We find that [community organizations] want to think about these issues, but don't have time to do it, so working with the students is a good opportunity for them," Özay says. With an emphasis on learning from community partners rather than striving to immediately solve problems, Özay hopes to provide space to think collaboratively and lay a groundwork for future work. "We're looking for openings that empower what they're trying to do," he says.
Blur the Lines Between the Academy and Practice
The gulf between academia and practice begins to break down when a school also operates a full-service firm. That was the idea behind the Detroit Collaborative Design Center (DCDC), a nonprofit architecture and urban design firm founded in 1994 at the University of Detroit Mercy School of Architecture. Each semester the DCDC has two to four architecture students working beside full-time staff in a co-op program that helps teach community design. The studio works on a wide range of projects, from park design to city-wide infrastructure studies.
Ceara O'Leary, senior designer and project director at the DCDC, explains that by working on actual projects and interacting with the community, students "learn the range of skills that [process] includes, from CDs to listening and humility." The latter skills, she says, are "softer" but critical to advance community engagement. It's a challenging but worthwhile educational process. "We work with local partners who understand the opportunities and limitations of working with students," O'Leary says.
---
The ACSA Annual Meeting's fourth annual interactive workshop was organized by the AIA Housing and Community Development (HCD) Knowledge Community in collaboration with ACSA and local partners. Participants in Pittsburgh put forth many strategies for architecture schools to work alongside their adjacent communities—and no idea was mutually exclusive to another. As HCD member and workshop co-organizer Karen Kubey, said, to tackle "systemic injustices and diverse needs and contexts, the way forward is 'all of the above.'"
[Editor's Note: Sarah Rafson is adjunct faculty at Carnegie Mellon University, the host school of for this year's ASCA Annual Meeting.]
You may also enjoy "Bjarke Ingels Group Makes Its Own Proposal for Brooklyn's Looming BQE Repairs."
Would you like to comment on this article? Send your thoughts to: [email protected]