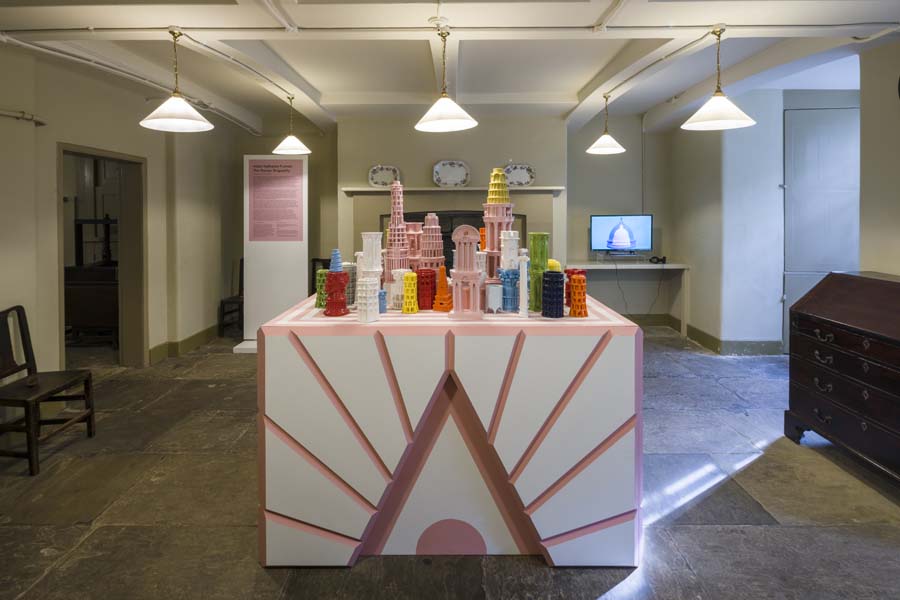 November 29, 2017
Adam Nathaniel Furman Condenses Rome's Architectural Wonders into Vibrant Ceramics
The designs are being hosted at the Sir John Soane's Museum in a newly-opened basement gallery.
In 1833, English architect John Soane negotiated an act of parliament to ensure that, after his death, his home and office would be left exactly as it was and open to the public. The building, which comprises three neighboring properties on a historic square in Central London, is packed to the rafters with objects that Soane collected over his lifetime (including antiques, paintings, models, and sculptures, from the sarcophagus of Egyptian King Seti I to drawings by Sir Christopher Wren) that are juxtaposed in a manner that seems chaotic and random but is entirely intentional.
Last year, the Sir John Soane's Museum opened two rooms in its basement to the public for the first time. Originally the kitchen, this sunken space is relatively empty, which created an opportunity for the institution to feature works by contemporary designers and artists. The latest of these is architect, designer, artist, and writer Adam Nathaniel Furman, whose exhibition The Roman Singularity chimes nicely with Soane's own efforts to bring historical architecture to a contemporary audience.
The show emerged out of Furman's residency at the British School in Rome two years ago. During this time, he explored the city on foot, absorbing its centuries of architectural history and generating artistic and written responses to what he saw each day. Some of these are on display at the Soane's Museum: hand-drawn capriccios–intuitive, abstract compositions–and more detailed digital designs inspired by individual structures, themes, or ideas. The latter includes Picciriddu's Tower, a building that, as Furman explains in an Instagram post, represents the images that form in the minds of architects as they walk around Rome absorbing the "impossible amounts of information, which just piles up, and up, and up, and up."
These digital designs inspired the main element of this exhibition: a landscape of miniature ceramic buildings–both 3D printed and hand-crafted–clustered in the middle of the room like souvenirs from Furman's travels. In a short film featured within the exhibition, he assigns these colorful follies names and characters—you can imagine Annunziata, Salvatore, Tuzzzu, Caruso, and friends frolicking eternally, like the gods and goddesses of Roman mythology, in this fictional city on a plinth.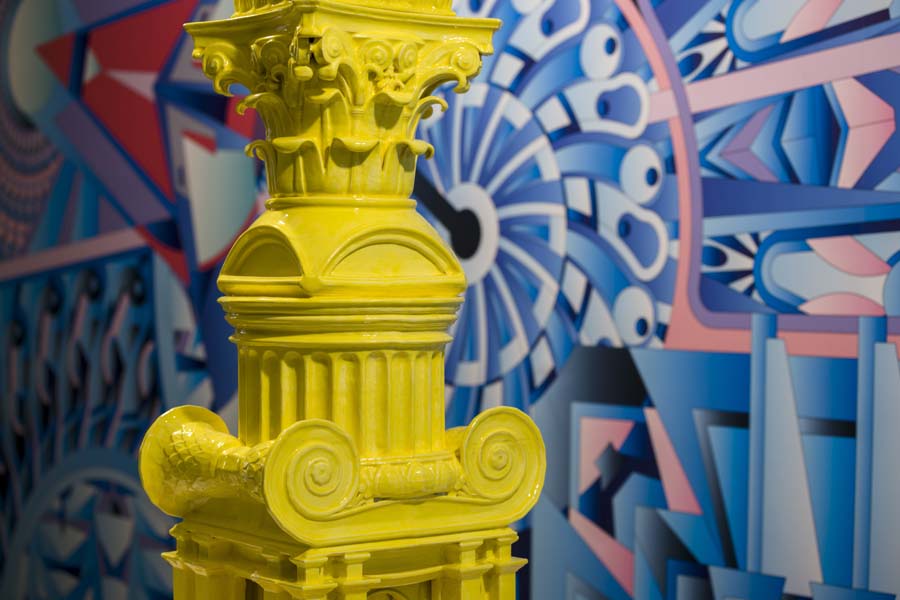 The adjacent room contains two new works developed specifically for this show: Pasteeshio is a single, bright yellow structure–the world's biggest piece of 3D printed, glazed ceramic, according to the designer–that directly references Soane's Pasticcio, a massive stone column made up of elements from different places and eras that sits in the courtyard just outside. For Furman's sculpture, which he has now donated to the museum, he took this process of collaging further, inverting, mixing, and adding elements. Behind it, these geometrical forms are abstracted and extrapolated into a vibrant mural, Capreeshio. Both artworks are inspired by Soane's creative and intuitive use of classical architectural forms.
For Furman, Rome is the spatial equivalent of the Internet: a pulsating mass of interconnected layers that have built up over time and become so vast and entangled that it's impossible to fully comprehend. While many of us approach history with a detached reverence, treating arbitrary dates as velvet ropes that demand we keep our distance, in Rome tourists and locals alike trample all over ancient structures, keeping history alive and intertwined with everyday life.
Furman argues that the past belongs to everyone and that it should be seized from the protective clutches of museums and historians. By treating history like we do any form of contemporary culture–cutting, mixing, transforming and sharing–we can rip it out of its often sombre context and, as Furman says in the accompanying film, "make sure the most obscure Renaissance architect is as much a part of our life as the latest dancing puppy video." The designer does this partly through the use of color, which he describes as "dragging": dressing up serious architectural forms in drag to capture attention. A series of Furman-designed prints and mugs in the museum shop seems to reflect his attitude that one need not be too precious about architecture—that it's there to own, consume and to be popular.
This exhibition is something of a prelude to a show at the Soane about Postmodernist architecture next year, which comes amid a resurgence of interest in the style—in the U.K., partly because many buildings from the era are now old enough to be considered for listing by England's conservation body. More broadly, the recent Chicago Architecture Biennale showed the work of several noted architects who are looking to history for inspiration, perhaps disillusioned with the era of architectural "icons."
Against that backdrop, Furman was unintentionally drawn into something of an online furor last month, after Sean Griffiths, member of the former architecture practice FAT, warned in an article for Dezeen against what he sees as a revival of the postmodernist aesthetic for which FAT itself was renowned. He claimed that a style characterized by irony and self-conscious references to the past was ripe for cooptation in an era of Donald Trump, specifically naming Furman as one proponent of this "dangerous" shift.
Despite Furman's interest in the era, it's not clear whether he would describe himself as a Postmodernist. And looking at his work at the Soane, it's hard to share Griffiths's fears about it: for one thing, Furman seems to celebrate his source material with absolute sincerity, albeit with humor. Of course, the argument that architecture should belong to everyone, does, like all forms of democracy, means it can be co-opted by anyone. But as Griffiths himself suggests, buildings have no "voice" of their own. Rather, they are merely vessels through which others speak and project their politics, leaving room for any style to be appropriated.
In fact, Furman's call for a more intuitive, inclusive, experiential, and enjoyable architecture is a refreshing antidote to the aloofness that creates space for dark political agendas to thrive. Much of our current political discourse, whether about Trump of Brexit, hints at a utopian past–a "history" frozen in time–that many wish to recreate, but that never really existed. The Roman Singularity acknowledges that culture has always changed, evolved, and absorbed new influences, and will continue to do so, inviting you to fearlessly look history in the eye.
The Roman Singularity is on view at the Sir John Soane's Museum through December 10, 2017. 
You may also like, Adam Nathaniel Furman's Electric Approach to Postmodernism