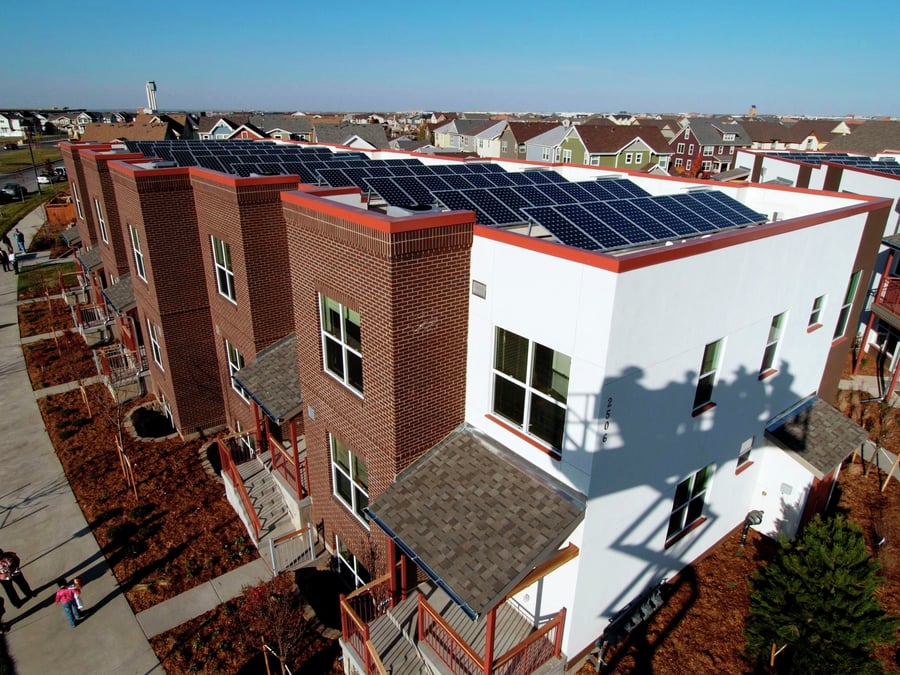 November 14, 2019
New Criteria for Affordable Housing: Green and Healthy
An update to the Enterprise Green Communities Criteria certification, available to property owners of low- and moderate-income housing, integrates key aspects of WELL 2.0.
Last month, Enterprise Community Partners, Inc. (Enterprise) and the International WELL Building Institute (IWBI) announced a partnership to create a best-in-class certification within its Green Communities Criteria. This certification focuses on advancing health and wellness building standards for low- and moderate-income communities by integrating key aspects of WELL 2.0, and providing WELL certification to properties which receive Enterprise's Green Communities 2020 Criteria.
"We wanted to crack the code on how to make green accessible to communities that often feel so constrained by resources that even delivering the bare minimum feels challenging," says Rachel Gutter, IWBI president. "But we need to understand that low-income communities are disproportionately impacted by environmental harm and degradation, and by health challenges from heart disease to asthma to stress-related mental illnesses. There are such opportunities, but a lot of barriers."
"Regardless of income, people are better off when they live in a place that is healthy and energy efficient and environmentally responsible," says Krista Egger, senior director of initiatives at Enterprise Community Partners who spearheads the Enterprise Green Communities Criteria. "[But] people of low- and moderate-income levels are especially able to benefit from living in green buildings. Having a lower energy burden in terms of monthly bills goes a long way, and having a healthier living environment is going to have even more of a benefit because of the really difficult decisions they need to make, like how to allocate their monthly budget between rent or healthcare."
The partnership between Enterprise and IWBI in creating the Green Communities 2020 Criteria began in the summer of 2018. It replaces the 2015 Criteria, which will be phased out starting in October 2020. 
The 2020 criteria will be available for housing developers within the affordable housing sector. Those providing affordable housing—whether within mixed-income or 100-percent affordable housing properties—will be eligible for the Green Communities 2020 Criteria.
Gutter says the next step for the organizations' collaborative efforts will be in using both the information gained from this process and the response to the 2020 criteria to continue advocating for health and wellness—both globally and nationally—and in creating stronger public policies and awareness. 
You may also enjoy "What is the Social Impact of Sustainable Architecture?"
Would you like to comment on this article? Send your thoughts to: [email protected]