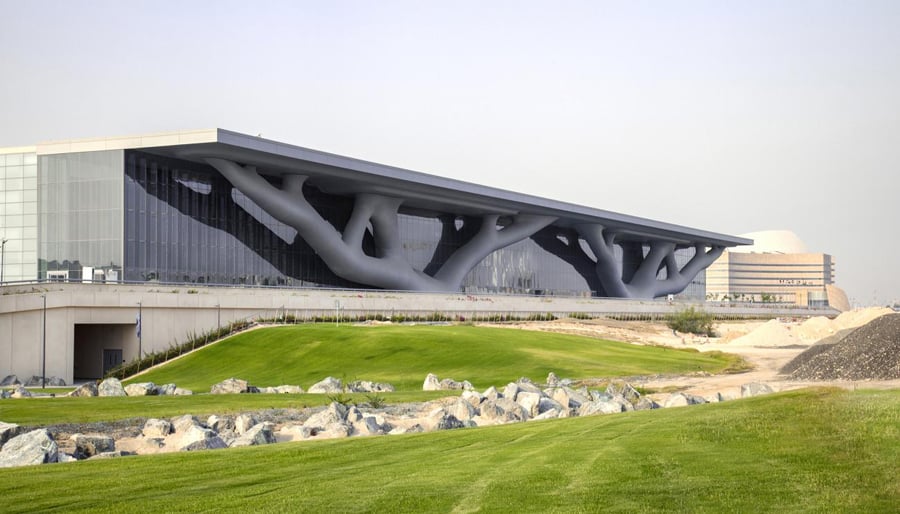 March 5, 2019
Arata Isozaki Wins 2019 Pritzker Architecture Prize
Isozaki has been prolific, with a career that began in Post-War Japan but has surpassed six decades and produced over one hundred buildings on multiple continents.
---
Today, the Pritzker Architecture Prize named its 42nd laureate: Japanese architect, planner, and theorist Arata Isozaki.
Isozaki was an early conduit between East and West, traveling extensively before returning to Japan, which was in the process of rebuilding its cities and economy after World War II. "I wanted to see the world through my own eyes, so I traveled around the globe at least ten times before I turned 30," the laureate told the Pritzker Architecture Prize. "I wanted to feel the life of people in different places and visited extensively inside Japan, but also to the Islamic world, villages in the deep mountains of China, South East Asia, and metropolitan cities in the U.S. I was trying to find any opportunities to do so, and through this, I kept questioning, 'what is architecture?'"
His early notable projects include several buildings in his hometown of Ōita, though several international projects may be his best known, such as the The Museum of Contemporary Art, Los Angeles (1981–1986) and the Palau Sant Jordi (1983–1990). The latter of the two was designed for the 1992 Summer Olympic Games in Barcelona. "Isozaki is a pioneer in understanding that the need for architecture is both global and local—that those two forces are part of a single challenge," says Pritzker Architecture Prize jury chair Justice Stephen Breyer. "For many years, he has been trying to make certain that areas of the world that have long traditions in architecture are not limited to that tradition, but help spread those traditions while simultaneously learning from the rest of the world."
Stylistically, Isozaki's designs are typically marked by simple and bold geometries. However, the jury cited his ability to conceive tailor-made, context-sensitive forms and solutions for each project. "Possessing a profound knowledge of architectural history and theory, and embracing the avant-garde, he never merely replicated the status quo, but his search for meaningful architecture was reflected in his buildings that to this day, defy stylistic categorizations, are constantly evolving, and always fresh in their approach," said the jury in its citation.
You may also enjoy "Step into Houses Designed by Frank Lloyd Wright Acolyte Kaneji Domoto."
Would you like to comment on this article? Send your thoughts to: [email protected]