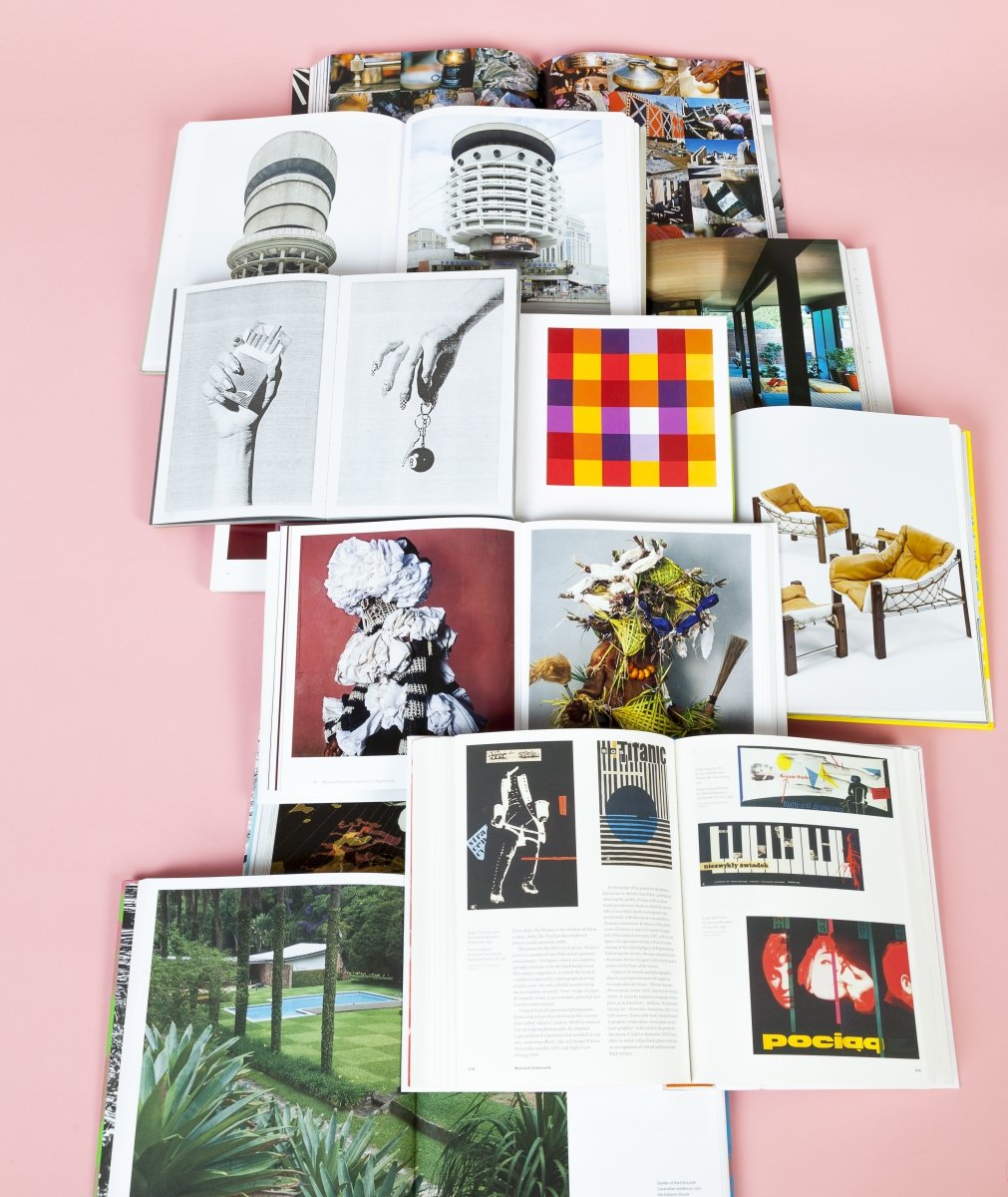 April 20, 2016
50 Architecture and Design Books to Read This Spring
Our essential guide of architecture and design books will keep you busy well into the summer months.
Photo by Nicholas Calcott/All book covers courtesy the publishers
Perhaps your spring cleaning has cleared space on your shelves for new books, or the improvement in weather has inspired you to seek out fresh inspiration. Whatever the reason, if you're looking for a reading list for the spring and beyond, here's our essential guide spanning all scales of architecture and design, plus some titles to keep younger readers engaged well into the summer.
Architecture 
Cities
People
Design
Graphic Design
Landscape Design
Children and Young Adult
---
Architecture
---
It's often forgotten just how widespread Modernist architecture became. It could be argued that the building style was in fact far more international than its earliest pioneers could have possibly dreamed. But the dream died in 1989 (sooner in the West), with the triumph of reactionary politics and the ugly architectural aesthetics it embraced. Swiss photographer Nicolas Grospierre traveled the globe in search of the remnants of the Modernist century, capturing both the ruin and the lived-in building.
The Balneological Hospital Water Tower in Druskininkai, Lithuania
"What began as a spontaneous response to a fast-changing urban environment would soon prompt a return to avant-garde ideals in Japan," writes curator Pedro Gadanho of the context from which Toyo Ito, the largest star in contemporary Japan's architectural constellation, arose. Like the exhibition it's based on this handsome catalogue traces a lineage of sorts from Ito to Kazuyo Sejima of SANAA fame to their shared progeny—Sou Fujimoto, Akihisa Hirata, and Junya Ishigami.
Building upon Building
Edited by Jantje Engels and Marius Grootveld
Nai010, 208 pp., $22
Now that the bad taste of Postmodernism has more or less worn off, it's OK for architects to express their appreciation for history. This book, a catalogue of 45 building designs, is premised on that idea. Progressive European architects such as Anne Dessing and Bedaux de Brouwer were tasked with formulating a proposal for an addition to an existing historic building with the goal of assembling an architectural language expressive of "rooted values rather than indiscriminate forms."
This fascinating book investigates the long-thought-to-be-apocryphal 1958–59 psychological studies conducted on the nation's top architects, including Eero Saarinen, Philip Johnson, and Louis Kahn. The examinations, held at the University of California, Berkeley, consisted of interviews and aptitude tests—several of which appear in the book. A ranking table found Richard Neutra to be the "most creative" among the architect subjects, but also placed Johnson in the top five. Which is to say, such metrics are hopelessly spotty.
"In several recent African American museums, the use of visual symbols to render cultural identity remains two-dimensional at best," writes architect Mario Gooden in one of the five original essays that compose Dark Space. Gooden analyzes among other topics the form of institutions such as the National Civil Rights Museum in Memphis. In so doing, he questions, and reaffirms, architecture's ability to critically convey black America's rich culture.
Environmental Communications: Contact High
Edited by Mark Wasiuta and Marcos Sánchez
Columbia Books on Architecture and the City, 300 pp., $45
Founded in the late 1960s by architects, psychologists, and photographers and based in Venice, California, this collective practiced what it called "environmental photography." Mostly documenting the urban quirks and "folk" architecture of Los Angeles, the images were disseminated in architecture schools through slides, splendidly reproduced here, plus a smattering of bulletins, clippings, and letters.
Julius Shulman: Modernism Rediscovered
Written by Hunter Drohojowska-Philp, Owen Edwards, Philip J. Ethington, and Peter Loughrey
Taschen, 1,008 pp., $300
This three-volume monograph picks up where Taschen's definitive Modernism Rediscovered (2000) left off. Where the earlier book was concerned with the Modernist legacy of Southern California, through the lens of Julius Shulman this new edition heads to other states and even abroad. The photographs were carefully chosen from the Shulman archives and represent 400 buildings.
This Brutal World
Photographs by Peter Chadwick
Phaidon, 224 pp., $49.95
The recent revival of Brutalism has spun off a cottage industry of coffee-table books whose contents are often identical or full of egregious overlap. This Brutal World at least has the decency to acknowledge that it's part of the problem. The brainchild of Brutalism enthusiast Peter Chadwick, it smartly opts for the broader sobriquet "brutal" in order to subsume buildings and architects who wouldn't otherwise fit
---
Cities
---
The Moscow Metro, a massive network consisting of 200 stations used by more than 2.4 billion passengers a year, will soon expand another 80 kilometers—the largest extension in the system's history. The authors of this book (including Moscow's chief architect, Sergey Kuznetsov) take stock of the metro's 80-year history in a beautifully illustrated account of its design, construction, and art.
The Novoslobodskaya Station in the Tverskoy District in Moscow
Nora Akawi and Amale Andraos are on a corrective mission: to move "beyond reductive notions of identity, myths of authenticity, fetishized traditionalism, and the constructed opposition of tradition and modernity" in order to critically and productively examine the concept of the Arab city. This collection of essays explores the many facets and blurred limits of the Arab world, from historical cities to contemporary architectural practice to emerging urban conditions and more.
The desolation of the built environment in Syria, recently captured in haunting drone footage circulating across the Internet, is the physical manifestation of the internal turmoil ripping the country apart. This book, which utilizes firsthand accounts, reflects on both Syria's past—when churches and mosques once stood peacefully side by side—and the aforementioned present. Nevertheless, the author remains hopeful that architecture can play an important role in helping Syrians to overcome trauma and build a new civic identity.
Don't pick this up expecting to read about utopian or dystopian visions of our urban future. As the authors explain early on, they are not interested in predictions: "Provocation," they write, "is a better metric than certainty." As such, this is a thought-inducing exploration of today's urban initiatives and their potential trajectories. It's also a call to arms on the need to harness the power of both designers and citizens to create our cities of tomorrow.
Examining places like the High Line and Brooklyn Bridge Park in New York City, Alexanderplatz and Tempelhofer Feld in Berlin, and Trafalgar Square in London, Demo:Polis reevaluates public space in the wake of the Arab Spring and Occupy movements. Taking an interdisciplinary approach, the book describes the ways citizens are physically taking back their cities to voice opinions, protest, and intervene.
The Dissolution of Buildings
Written by Angelo Bucci
Columbia University Press, 128 pp., $23
"Like a spaceship or a cave, a building alights upon or is embedded in the ground, not an imposition but rather a negotiation with its site." So Brazilian architect Angelo Bucci describes his philosophy in this book focusing on the architect's works. It concludes with an essay by Kenneth Frampton that places Bucci in his greater context of Brazilian architecture in general, which Frampton says "has never been entirely divorced from radical politics."
Up Up: Stories of Johannesburg's Highrises
Edited by Fabian Jaggi, Katrin Murbach, Nicola Ruffo, and Nele Dechmann
Hatje Cantz, 334 pp., $43.82
The story of a building's life is multifaceted; it may begin with the architect's intent, but it soon encompasses the minutiae of its everyday inhabitants and continues through time, renovations, and reactivations. This book takes a holistic view of Johannesburg's Modernist high rises, including floor plans, black-and-white photographs, interviews with residents, and insights from writers and artists into these towers' inner workings.
---
People
---
Max Bill
Edited by Manuel Fontán del Junco and María Toledo
Fundación Juan March, 352 pp., $70
A veritable polymath, Swiss architect, artist, designer, and writer Max Bill was driven by an unyielding curiosity that led him down all manner of creative paths. The only Bill monograph in print, this delightfully designed catalogue was published in conjunction with an exhibition on his life's work at Madrid's Fundación Juan March. An interview with his son Jakob at the beginning of the book highlights some particularly fascinating insights.
Verdichtung Zu Caput Mortuum, oil on canvas, 1972
Ábalos & Herreros
Edited by Giovanna Borasi Park Books, 224 pp., $39
Park Books, 248 pp., $32
Iñaki Ábalos and Juan Herreros, who formed their architecture practice in Madrid in 1984, are renowned for their technical abilities, particularly their creative use of glass. The Canadian Centre for Architecture acquired the Ábalos & Herreros archive in 2012 and asked three contemporary architecture studios—Office Kersten Geers David Van Severen, Juan José Castellón, and SO-IL—to choose a theme from the duo's work and design a gallery exhibition around it. The results are captured in this book.
Architecture's Odd Couple
Written by Hugh Howard
Bloomsbury Press, 352 pp., $28
The volatile relationship between American architecture's two most iconic figures—Frank Lloyd Wright and Philip Johnson—is well known. But as historian Hugh Howard reveals in this page-turner, the rivalry between the two outspoken, charismatic men is what drove them to creative heights and earned them such influence and legacy in architecture. Told with novelistic flair, the narrative charts the historical threads that connected the duo and captures the era they helped shape so emphatically.
Marcel Breuer
Written by Robert McCarter
Phaidon, 456 pp., $150
Certainly the most robust compendium about architect and designer Marcel Breuer ever released, this stately edition details his work in his native Europe as well as the United States. Spanning furniture, houses, and public buildings, it chronicles his distinguished career from his beginnings as one of the first students at the Bauhaus to his collaborations with his mentor, Walter Gropius, and the establishment of his own practice stateside, where he worked until his death in 1981.
Richard Sapper
Written by Jonathan Olivares
Phaidon, 240 pp., $95
More than 40 hours of interviews between Richard Sapper and designer Jonathan Olivares provide the basis for this comprehensive study of the German icon's work. Not only does it highlight the exceedingly varied range of products in Sapper's oeuvre (from kitchen appliances to ships, with clients including Alessi, Fiat, IBM, and Pirelli), it also details the circumstances that helped shape each product and the recurrent themes throughout his career.
If there was ever a strong argument for the value in listening to your elders, it lies in this book. As the title implies, it features 20 interviews—some intimate, others irreverent, all insightful—with architecture and design luminaries over the age of 80. Milton Glaser, Deborah Sussman, Denise Scott Brown, and Jens Risom are among the pioneering thinkers who share the inspiring life lessons they've learned over the better part of a century.
One may think it nearly impossible to unearth anything more about the Eameses than has already been widely documented, but somehow this compilation does the job. The first in-depth book exploring the Eames legacy in more than a decade, and produced in collaboration with the Eames Estate, it goes further than its predecessors. Most fascinating are the snippets of correspondence between the duo, revealing their playful interactions.
---
---
Chen's pioneering survey of modern design in Brazil is structured around 15 great designers and designer groups, but the true star of this volume is Brazilian wood. At the start of the century it was turned into standardized rods for Celso Martínez Carrera's 1915 Cama Patente, the earliest piece of mass-produced furniture in the country. Toward the end of the Modernist era, José Zanine Caldas had begun roughly hewing it for his "outcry furniture" as a protest against the depletion of the country's natural resources. A fascinating history unfolds in this context of industrialization and local concerns.
Tonico armchair, 1963, by Sérgio Rodrigues
How to understand what it means to be human? Become a goat. Thwaites, a London-based designer, is known for his quixotic quests—by building a toaster from scratch in 2010, he made a profound comment on our consumer society. Now he applies the same rigor to turning himself into a member of the genus Capra—even building a prosthetic stomach that lets him "tuck into the most unappetizing meal of my life: burnt grass stew"—so he can hike across the Alps with a herd of goats.
After its famous denunciation by Adolf Loos, ornament seemed a wasteful frivolity to most architects and designers. But that attitude has lost steam in recent years, as firms derive much of their revenue by building in places with a healthier regard for pattern and decoration. Right at the outset, this scholarly tome firmly establishes the vitality of architectural ornament today, leaving readers to peruse premodern histories after having shed their Loosian prejudice
To some creative people, it might seem oxymoronic to have a guide to their way of thinking—idiosyncratic as it is by definition—yet creativity is a quality that many organizations and people covet. For those who have judged themselves uncreative, Ingledew offers no fewer than 53 suggestions. Some, like "Find your ingenius [sic] inner genius," might be a little hard to follow; others, like "Visualize it," are relatively easier to put into practice.
Maske
Photographs by Phyllis Galembo
Aperture, 208 pp., $45
Galembo, a fine arts professor at SUNY Albany, has been traveling to Africa and the Caribbean for more than two decades now, documenting the rituals of masquerade in both traditional ceremonies and contemporary costume parties. The most inspiring aspect of this collection of 100-plus photographs is the ingenuity—from sticks and stones to oil paint, everything is fair game in service of the human fascination with transforming our appearance.
Mid-Century Modern: Icons of Design
Written by Frances Ambler
Illustrated by Here Design
Thames & Hudson, 196 pp., $24.95
When Carlo Mollino's 1948 Reale table sold for $3.8 million at a Christie's auction in 2005, it was a watershed moment in the midcentury mania that continues to grip the design world. This pocket-sized box set is perhaps the handiest guide to the craze so far. Mollino's Model 1114 Coffee Table is one of 23 tables and storage units in one foldout book; others contain 31 chairs, 17 lights, and 23 pieces of product design, all illustrated in midcentury style.
​Surf Odyssey: The Culture of Wave Riding
Edited by Andrew Groves, Maximilian Funk, and Robert Klanten
Gestalten, 320 pp., $55
Groups of people who share the same concerns or have common interests often develop deep insight that outsiders might have no clue about. Surfer culture is one such binding factor. This book takes a close look at surfers past and present, from 1960s California to today's Bangladesh, who have an intimate knowledge of the ocean. Woven through are more direct accounts of visual and material culture—art, graphic design, and surfboard crafting.
---
Graphic Design
---
A century of Polish graphic design, here split into three distinct eras shaped by war, cultural differences, and internal conflict. This volume features 64 artists and chronicles the transformation from Art Nouveau to the socialist realist style of the late 1940s to an aesthetic of loss in the latter half of the century.
Mieczysław Szczuka, poster (Amnesty for Political Prisoners), 1926
The Anatomy of the Architectural Book
Written by André Tavares
Canadian Centre for Architecture and Lars Müller Publishers, 384 pp., $49
Via vintage photos, maps, and diagrams, The Anatomy of the Architectural Book takes a detailed look at how the design of an architecture book is itself a kind of architecture. Why did chromolithography change how we viewed the 19th-century Crystal Palace? Why is a street view different from a guidebook? This is a perfect reference book for aficionados, students, and architects alike, answering even the most niche architecture questions.
Design for People
Written by Scott Stowell
Metropolis Books, 256 pp., $40
Graphic design is used to sell not only things but also ideologies and opinions. Tough concepts are best made accessible through compelling but concise artwork that says very little in order to say a lot. Members of the Open design studio, led by Stowell, walk readers through the stages of many different design projects, including a revamp of The Nation magazine, signage for the Yale University Art Gallery, and the Bravo TV network.
Designed in Commission of…
Edited and designed by Marc Damm
Birkhäuser, 332 pp., $49.95
Three generations of designers, all of them associated (as either students or teachers) with the University of Applied Arts in Vienna, discuss the challenges and rewards of working in a collaborative setting. Most impressive is Damm's playful book design, which employs a coated open binding, matte and glossy pages, and a cartoon of a smug wolf printed in blue foil on the cover.
The Graphic Design Idea Book
Written by Steven Heller and Gail Anderson
Laurence King Publishing, Ltd., 128 pp., $17.95
Good designers borrow, and great designers steal, right? Steal with abandon from this compendium of iconic graphic designs from 50 pros, including Saul Bass and Paula Scher. Taking a cue from another might be all you need to build a portfolio that looks like no one else's.
Chances are that if you've ever thought about the universe, one of the first images that come to mind is NASA's original "worm" logo. The reissue of the 1976 Graphics Standards Manual is a timely reminder of the organization's ambition; in the introduction former NASA administrator Richard Truly calls the sinuous brand "a new tool to enhance and symbolize the progressive path we have always followed."
The Newsstand
Edited by Martynka Wawrzyniak Introduction by Lele Saveri Skira
Rizzoli, 352 pp., $45
Zines, zines, and more zines: In an underground subway stop in Williamsburg, Brooklyn, the Newsstand sold thousands of self-published magazines from June 2013 to January 2014. This book features a selection of some of the best of these DIY editions.
---
---
A compendium of centuries-old hand-drawn and page-long satellite maps, Cartographic Grounds plots the transformation of the ancient art form of mapmaking into a type of modern graphic design. How and why we make them has changed from century to century, but one thing remains the same. "The cartographic imagination," writes architect Mohsen Mostafavi, "is a study of the importance of multiple representations," a process that has visualized everything in the evolution of our landscapes.
James Corner Field Operations, University of Puerto Rico Botanical Gardens
Geographies of Trash
Written by Rania Ghosn and El Hadi Jazairy
Actar Publishers, 128 pp., $25
Landfills aren't a one-stop shop; disposal of our garbage follows human geographies. Geographies of Trash tells the story of waste, from the curb to landfill, taking us to Michigan, where architects have joined engineers in reconciling our garbage and our natural landscapes. As cities grow and human geography changes, so do the configurations of our trash and the sustainable structures we create to keep it in its place.
Before our cities were grids of asphalt, brick, and steel, they were islands, wetlands, and deserts. For centuries, urbanism relied on the engineer to reconstruct the natural environment around the built environment. But in our era of populist environmentalism, urbanism looks more than ever to the landscape architect. This book reflects on the transformation in which the landscape architect, by adapting human infrastructure to nature, is really the ultimate urbanist.
Roberto Burle Marx: Brazilian Modernist
Written by Jens Hoffmann and Claudia J. Nahson
The Jewish Museum, New York and Yale University Press, 224 pp., $50
Best known as one of the most important landscape architects and garden designers of the 20th century, Roberto Burle Marx not only designed more than 2,000 gardens worldwide, but was also a prolific artist, making everything from textiles and jewelry to theater costumes. This important catalogue highlights his landscape work in private gardens, public spaces, and his own home.
Ruth Shellhorn
Written by Kelly Comras
University of Georgia Press, 240 pp., $26.95
Every Disneyland visitor has seen the familiar image of Mickey Mouse rendered in flowers on the entrance lawn. The pink phlox used for his tongue are one of many details courtesy of Shellhorn, an under-recognized landscape architect who came of age in the Depression and was known for designing the grounds of Bullock's shopping malls, Disneyland, and many other projects described in this fascinating book.
All the Presidents' Gardens
Written by Marta McDowell
Timber Press, 336 pp., $29.95
The White House may be a symbol of American political transition and growth, but it has never been known for its versatile style. Its gardens appear to be one of only a few things that have changed from president to president, first lady to first lady. McDowell walks us through the history of the White House gardens, an emblem of this country's changing interests and tastes since the turn of the 19th century.
Living Roofs
Written by Ashley Penn
teNeues, 224 pp., $55
Many a city dweller dreams of having a private rooftop garden, but it's a luxury afforded to only a lucky few. This colorful compilation gathers an enviable selection of rooftop gardens and terraces from around the world. Ranging from vegetable gardens to poolside decor and penthouse shrubbery, the pages also include plant listings of the featured greenery for those looking to replicate the look.
---
---
More than a kid-friendly history book, Mid-Century Modern Women is a tender tribute to pioneering and innovative women whose contributions to Modernism from the 1930s through the 1960s helped shape and improve the world we live in. Costume designer Edith Head, painter and designer Ray Eames, and artist Yayoi Kusama are among the influential figures brought vividly to life by Surrey's lavish illustrations and Fowler's straightforward prose.
Ray Eames, painter and designer
"London feels layered and rich with human activity through the ages," Hancock writes in the introduction to his third book in a series on urban architecture. "You keep peeling back layers of history like the skins of an onion." His quirky drawings and informative captions capture the energy and dynamism of buildings like the Brutalist Trellick Tower, Foster's Gherkin, and a gardener's hut in Soho Square.
Alphadoodler
Written by Jan Bajtlik
Abrams Books 160 pp., $16.95
Children's book design is undergoing a bit of a renaissance right now, and Poland is one of the places driving it. The first English translation from Warsaw-based graphic designer Bajtlik is a delightful romp through the alphabet using playful typography and clever activities that make learning fun, such as giving a crocodile teeth by drawing the letters M and W between its open jaws.
Building Machines
Written by Ian Graham
Illustrated by Carles Ballestros
Abrams Books 24 pp., $17.95
Keep little hands busy with this clever book of die-cut parts that, when popped out, come together to form a forklift, bulldozer, front-end loader, giant digger, dump truck, road roller, crane, or tractor. (Construction novices may refer to helpful descriptions of what each of these vehicles does.) Best of all, the individual parts can be assembled into machines of the maker's own invention. Ice-cream-sundae fabricator, anyone?
Fantastic Structures
Illustrated by Steve McDonald
Chronicle Books 60 pp., $14.95
A magenta Colosseum? An indigo Chrysler Building? The sky's the limit in this follow-up to McDonald's Fantastic Cities that is just as elaborate and detailed as its predecessor. Architecture lovers can let loose and apply whatever vibrant colors they choose to iconic buildings from all over the world, including the Sydney Opera House and St. Basil's Cathedral in Moscow, among many others.
Make & Move Robots
Written by Sato Hisao
Laurence King Publishing 56 pp., $8.95
London-based toy designer Sato Hisao specializes in paper cutouts; this book exemplifies his playful artistry. No need for scissors or glue: Budding engineers have only to punch out these colorful die-cut characters, fold and press them into shape, and voilà, a miniature robot moves its arms at the pull of a tab. Graphic designers (and frustrated parents) will appreciate the step-by-step illustrated directions.
A little green man from outer space plunks his spaceship onto a rooftop in the magnificent city of Megalopolis, and numerous high jinks and adventures ensue. Enjoy finding the little green man among the crowds as he descends through this vertical ten-foot-long foldout from cupolas in the sky to the opera house, the Chinese gardens, the zoo, and finally into the depths of the sewers and beyond.