February 15, 2019
Bard Graduate Center Exhibition Shines a Light on the Influential New Typography Movement
The show features materials collected by designer Jan Tschichold and created by the movement's many members, including El Lissitzky, Kurt Schwitters, and László Moholy-Nagy.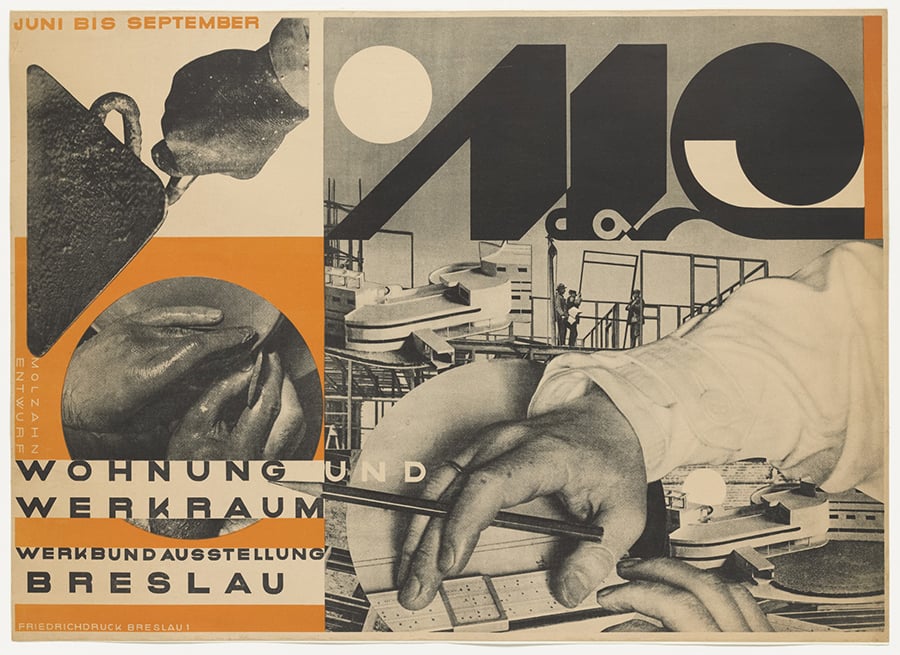 ---
For decades throughout the 20th century, many curators of modern art didn't see graphic design as worthy of the limelight. While that mindset has shifted, there are still many works that have gone unseen or have always been lost within bigger design-focused shows. Many have yet to make their debut within a cohesive whole, but that's exactly what's occurring at the new Bard Graduate Center show The New Typography: Graphic Design Between the World Wars, which sources its works from the The Museum of Modern Art's (MoMA) Jan Tschichold collection.
A trained calligrapher turned typographer, Jan Tschichold is best known as the author of the seminal text Die Neue Typographie, which defined The New Typography movement in 1928. Based in the Weimar Republic, the movement rejected the traditional arrangement of type and instead advocated for asymmetry, sans serif letterforms, and the active integration of photography and text. The Bard Graduate Center exhibition, which features over 120 examples of modern graphic design, is not so much a showcase of Tschichold's work but the vast collection of materials he obtained through correspondence with leading European and Soviet artists and designers—including El Lissitzky, Kurt Schwitters, László Moholy-Nagy, and Aleksandr Rodchenko. While some of the collection's works are recognizable, they've never been shown together at this scale.
Objects on view include posters, advertisements, business cards, stationary, and brochures, all organized using five key themes: the pioneers of the movement themselves, their stylistic principles, their influence on corporate branding identity, and their relationship with technology. The last room in the gallery provides a look at Tschichold's later work, illustrating his somewhat ironic return to classicism through his widely-recognizable designs for Penguin Books.
The idea for the exhibition felt obvious, according to Paul Stirton, the curator and author of an accompanying book published by the Bard Graduate Center in association with Yale University Press. When Stirton (who also teaches at the Center) took his students to MoMA, curator Juliet Kinchin would lay out a selection from the Tschichold collection for them to observe. The works' importance were evident, says Stirton, so "when I was asked to do an show on an aspect of modern design, it was a no-brainer really. It's all right there, two miles away, and you could practically bring the whole exhibition in a briefcase."
MoMA had initially declined to purchase the collection but Philip Johnson acquired it—costing just 350 dollars—and gifted it to the museum in 1950. "Fine art was given such priority, despite the fact that even El Lissitzky, by the late 1920s, felt like painting was such an elitist narrow activity and almost a betrayal of modernism," Stirton explains. Lissitzky and the other New Typography proponents believed that graphic design had the power to change society and the ability to communicate the dynamism of modern life just as effectively as other forms of media. In today's media-suffused world, it's easy to see they were on to something. As Stirton puts it, "You had to be doing design, architecture, and art together in order to be building a new society."
On March 2nd, Stirton will lead a tour of the exhibition. Click here to learn more.
You may also enjoy "GAME CHANGERS: Neri&Hu Is Defining Chinese Design Today."
Would you like to comment on this article? Send your thoughts to: [email protected]