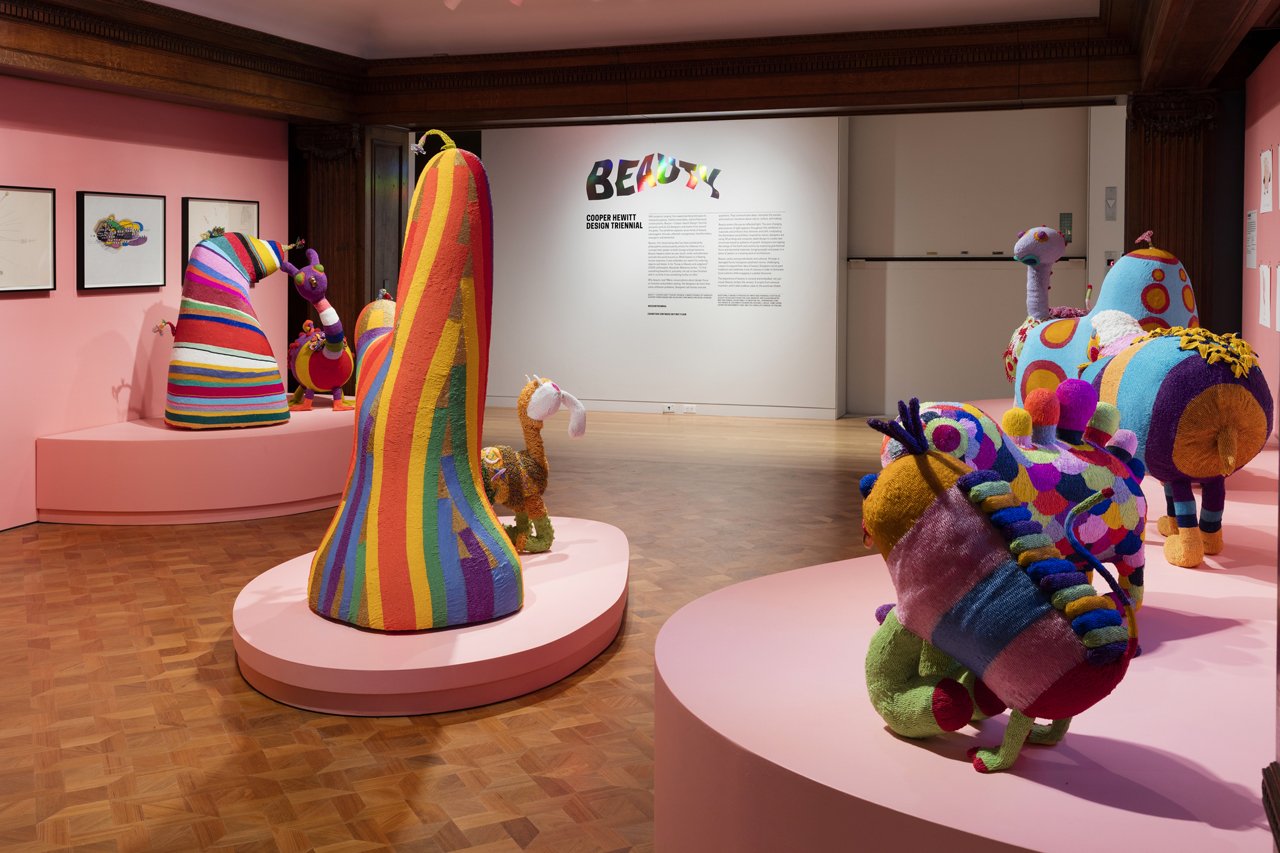 March 21, 2016
Cooper Hewitt's "Beauty" Pleases All Beholders, Pushes Few Boundaries
The fifth edition of the Cooper Hewitt Design Triennial delivers plenty of crowd-pleasers but charts few new frontiers.
Multicolored beaded sculptures called Afreaks greet visitors at the main gallery space of the Cooper Hewitt Design Triennial.
All installation photography courtesy Matt Flynn
---
"Touch and smell me," the white wall of the elevator lobby at the Cooper Hewitt, Smithsonian Design Museum exhorts visitors. On my visit, I rubbed a finger on the wall and then pressed my nose against it, as so many people around me were doing, and was rewarded with the smell of compost, of decomposing leaves and wet soil. I had read the wall text, so I knew this architectural exercise in scratch-and-sniff was a smell map of New York's Central Park by Norwegian designer and chemist Sissel Tolaas, who was cheerfully holding court in her little bottle-lined Smell Lab set up between the elevator lobby and the gift shop. Despite having absorbed all this before touching the wall, I still found that first whiff of decay shocking—and, yes, in its own way beautiful.
Tolaas's intervention is one in a smorgasbord of more than 250 objects that cohere, with varying degrees of success, under the theme Beauty at the ongoing Cooper Hewitt Design Triennial. It is a great signpost for the kinds of chances the reinvigorated museum, which opened after a renovation at the end of 2014, is now willing to take, in its curatorial approach and with the walls of the century-old Carnegie mansion.
Indeed, Beauty is the first exhibition conceived with all the shiny new features that have been added to the museum over the past year. The show's successes build upon the ethos of that renovation, the result of a long process of soul-searching about the role of a design museum and the audiences it speaks to. Its shortcomings, such as they are, are also a reflection of the fault lines that process revealed.
Curated by Andrea Lipps and Ellen Lupton, the Triennial opens on the first floor with an explosion of candy floss—a pink heap of silk taffeta that is one of fashion designer Giambattista Valli's layered gowns. From this eminently Instagrammable moment, the exhibition pools into the curatorial categories of Extravagant, Intricate, and Ethereal, one in each of the floor's galleries, before spilling out onto the third floor, once the museum's library, to showcase the work of 41 more designers under four additional themes (Elemental, Emergent, Transformative, and Transgressive). The seven themes are intended to pick apart the elements of aesthetics in today's society—each a one-word thesis on the nature of beauty.
Perhaps it was my familiarity with these objects that blinded me to their beauty?
It's just as well that as I walked into the museum, I received the museum's much vaunted Pen, a digital device that would allow me to collect images of the objects on display and upload them to a private gallery on the Cooper Hewitt's website. With the heft of a small, blunt weapon rather than a large writing instrument, the Pen was nonetheless a comforting presence in my hand. It alleviated some of the anxiety I invariably have in giant shows such as this one—how can anyone possibly pay adequate attention to all 250 objects in the few hours that a museum remains open each day? Now, I felt the same confidence that a shopping list gives me at Ikea—I would let the objects vie for my attention, and those that didn't make the first cut would receive a second appraisal later, on my computer screen at home.
Going through the show, my first favorite was from the Intricate section, a custom commission from the Colombian weaving atelier Hechizoo. Founded by the architect Jorge Lizarazo, the atelier includes expert local artisans who have created a shimmering landscape of thread—the different color fields of the tapestry are composed of natural and artificial fibers that deepened in tone or light up with a sparkle as I walked by. In an interview for the exhibition catalogue, Lizarazo speaks of a "moment of stillness" as his idea of beauty. I discovered some part of that for myself, standing in a dimly lit gallery full of multichrome objects.
The exhibition's Intricate section includes Dutch wax prints from Vlisco (foreground) and a custom tapestry from Colombian weaving atelier Hechizoo (pictured right).
On the third floor, it was hard to miss Jenny Sabin's PolyThread Knitted Textile Pavilion, part of the show's Emergent section. From afar it reminded me of diagrams of skin cells from my high school biology textbooks; up close I saw that each cell is rendered in what looks like pantyhose but is in fact a complex knit of photoluminescent and solar-active yarns. In the gallery it lights up with a spectrum of Day-Glo colors, but if it were out in the sun it'd be soaking up the rays to emit them at night.
If the pavilion seemed a perfect fit for its section, other pieces sat uneasily in theirs. Ana Rajcevic's wearable sculptures, whose swooping porcelainlike forms are meant to help blur the boundaries between humans and animals, are undoubtedly beautiful but hardly as transgressive as the curators suggest—Americans, for instance, find new ways to turn themselves into animals every Halloween.
Design insiders, or even those who occasionally consult a design blog or two, might come away unaffected.
The Elemental section, dominated by exquisite objects by established designers like Michael Anastassiades and Industrial Facility, lost the beauty pageant to the cross-technological, cross-species, cross-cultural mayhem of the other displays. The subtle volumes of brass, glass, and marble—lamps, vases, and even stationery trays that were well known to me, as a design journalist—didn't stand a chance in grabbing my attention, even with the help of some nifty lighting by Tsao & McKown Architects. It was only away from the museum, thanks to the Pen and its repository of images, that I was able to rediscover my appreciation for their minimalism and precise use of material. Perhaps it was my familiarity with them that blinded me to their beauty?
It seems like a minor concern, but is in fact an eternal conundrum with the Cooper Hewitt and one that kicked off the institution's process of self-appraisal under its former director Bill Moggridge. Its mission is to present design to the world at large, helping new audiences appreciate its processes and products. But the museum also bears the tricky responsibility of thought leadership within the design community. A large portion of the people who come to the Design Triennial will find plenty of things to be amazed, delighted, and shocked by. Design insiders, or even those who occasionally consult a design blog or two, might come away less affected.
This split is partly due to the curatorial method that Lupton and Lipps followed. To amass the Triennial's mind-boggling collection of artifacts, they turned to leading designers and design experts around the world, asking what they found beautiful. Designers, of course, know how to please a general audience, and the suggestions the curators received are all great crowd-pleasers. Within the design community itself, it's hard to see what new frontiers of beauty the Triennial suggests, but for the few thought-provoking designs that the curators commissioned—Sou Fujimoto's touchingly idealistic collection of found objects and architectural models under the title "Architecture Is Everywhere," Tolaas's scratch-and-sniff wall, or Sabin's glowing pavilion.
After all, any simplistic definition of beauty that might have passed muster in decades past can be highly problematic in today's globalized world, and one project in particular is a prime illustration of this. At the entrance to the third-floor galleries, a portion painted in bubble-gum pink showcases the Afreaks, giant monsters designed by the Los Angeles–based enfants terribles, the Haas Brothers. The brilliantly colored skins of these adorable creatures were painstakingly constructed, bead by bead, by a group of craftspeople from the township of Khayelitsha in Cape Town, South Africa. I returned to this section several times during my visit, and each time I could barely hold back my irritation—at the name (even if the Haas Brothers want to reclaim the word freak as others have the word queer, non-Africans should think twice before coining a word like Afreaks) and at the mode of production (what's so new about American or European designers relying on the skills of African craftspeople, no matter how "involved" they were?). The world at large might well be charmed by the joyfulness of these beaded sculptures, but surely designers who shape the material culture of our civilization should ask harder questions about what is beautiful and why.
The Cooper Hewitt Design Triennial runs through August 21, 2016.
The exhibition's theme, Beauty, also includes nonvisual objects, such as Norwegian Designer Sissel Tolaas's installation Smell, The Beauty of Decay: Smellscape Central Park.
One of the show's standouts is Jenny Sabin's PolyThread Knitted Textile Pavilion, a complex knit of photoluminescent and solar-active yarns.
One of fashion designer Giambattista Valli's layered gowns opens the exhibition.
Ana Rajcevic's wearable sculptures are meant to help blur the boundaries between humans and animals.