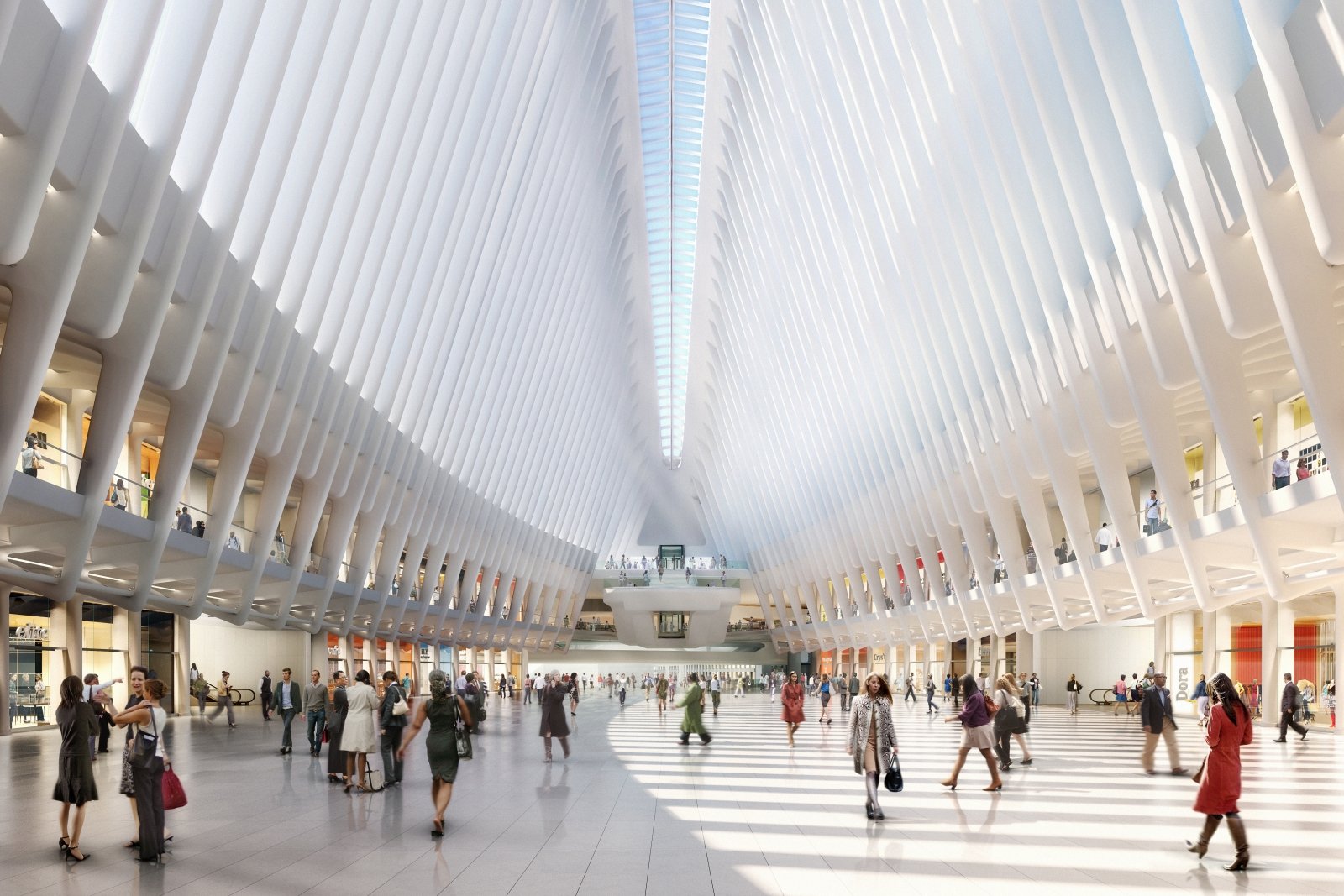 July 11, 2016
The 10 Best Interiors of the 21st Century (So Far)
We asked leading practitioners to share their picks of the best interiors of the past 16 years. The following is a curated list of ten sleek interiors with clean lines and eclectic sensibilities.
---
Courtesy Santiago Calatrava
​World Trade Center Transportation Hub​
New York (2001)
Santiago Calatrava
"As controversial as this project may be, New York City has been long overdue for an iconic space." —Lionel Ohayon, founder and CEO, ICRAVE
​
Iwan Bann, courtesy Quinze & Milan
​Seattle Central Library Branch​
Washington (2004)
OMA and LMN
Rugs by InsideOutside
"The Seattle Public Library broke the mold on space, sequence, light, form, and graphics with a distinctly modern interior that united a cross section of a city while creating a people-centered place focused on function, usability, and a bit of fun." —Tom Krizmanic, principal, STUDIOS Architecture 
"The most important work of interior design is the Seattle Public Library, by OMA/Rem Koolhaas, which prioritized the building program and library experience—both books and electronic media—from the inside out and created a series of diverse and intriguing spaces appreciated and enjoyed by the public as a whole." —Patrick Chatfield, design director, IA Interior Architects, Seattle office 
Courtesy Eric Laignel
Ace Hotel​
New York (2009)
Roman and Williams
"The progression of design in the Ace Hotels for the last 15 years has had a significant influence on hotels and restaurants. The designs use both new and old materials in a cohesive way, and in an affordable way, at the time." —Robert McAdams, principal, Land and Sea Dept. 
Courtesy Eric Laignel
Wieden+Kennedy Headquarters
Portland, Oregon (2000)
Allied Works Architecture
"How do you breathe new life into an old building, creating a workplace that is at once a think tank, art gallery, community living room: a space that encourages the mind and body to think crea- tively and is so relevant today? Allied Works accomplished this 15 years ago for the Wieden+Kennedy ad agency headquarters in Portland, Oregon." —Chris Larson, design director, IA Interior Architects, Seattle office 
Courtesy One Plus Partnership Limited
Nanchang Insun International Cinema
Nanchang, China (2013)
One Plus Partnership Limited
"You become the one on set, ready for your close-up in this intensely powerful theater lobby." —David Galullo, CEO and executive creative director, Rapt Studio 
Courtesy Iwan Bann
​Toledo Museum of Art's Glass Pavilion​
Toledo, Ohio (2006)
Kazuyo Sejima and Ryue Nishizawa, SANAA
"The exterior and many of the interior walls are made entirely of glass, and most of them are curved. Tokyo-based firm SANAA has demonstrated the capacity to design and build the impossible."—Piero Lissoni, cofounder, Lissoni Associati 
Courtesy Bleda y Rosa
​Museo Picasso Málaga​
Málaga, Spain (2004)
Gluckman Tang
"There is a purity to the addition that respects the old building. The expression is perfectly distilled, edited, and lit in a way that respects and enhances the art, but also allows the build- ing prominence. There is a quietness to the design that transcends trends. I think it is beautiful and perfect." —Glenn Pushelberg, cofounder, Yabu Pushelberg 
Courtesy Barbarian Group
The Barbarian Group
New York (2014)
Clive Wilkinson
"Clive's spaces are unique, never conventional. They're highly functional, but they always talk about a new way of work- ing, always perceive work in a groundbreaking way. Long before the bench was a common feature, Clive was already thinking about an open workplace." —Primo Orpilla, cofounder, Studio O+A 
Courtesy Fogo Island Inn
Fogo Island Inn
Newfoundland and Labrador, Canada (2013)
Saunders Architecture
"We nominate Fogo Island Inn; it is a world-class expression of contemporary architecture and design that engages on all levels, with the unique cultural and intellectual heritage of the island as well as Canadian history." —Dan Menchions and Keith Rushbrook, cofounders, II BY IV DESIGN 
Courtesy Duccio Malagamba
Summer House
Mallorca, Spain (2010)
Álvaro Siza Vieira
"Arquiteto Álvaro Siza's Summer House in Mallorca, Spain, inspired by the rocky backdrop and water surrounding meters above sea level, extends across the hillside. I believe the simplicity of the three geometric volumes provides a connection to the outdoors while maintaining an ambient inward character, embracing the natural landscape."—Michael Gabellini, partner, Gabellini Sheppard Associates