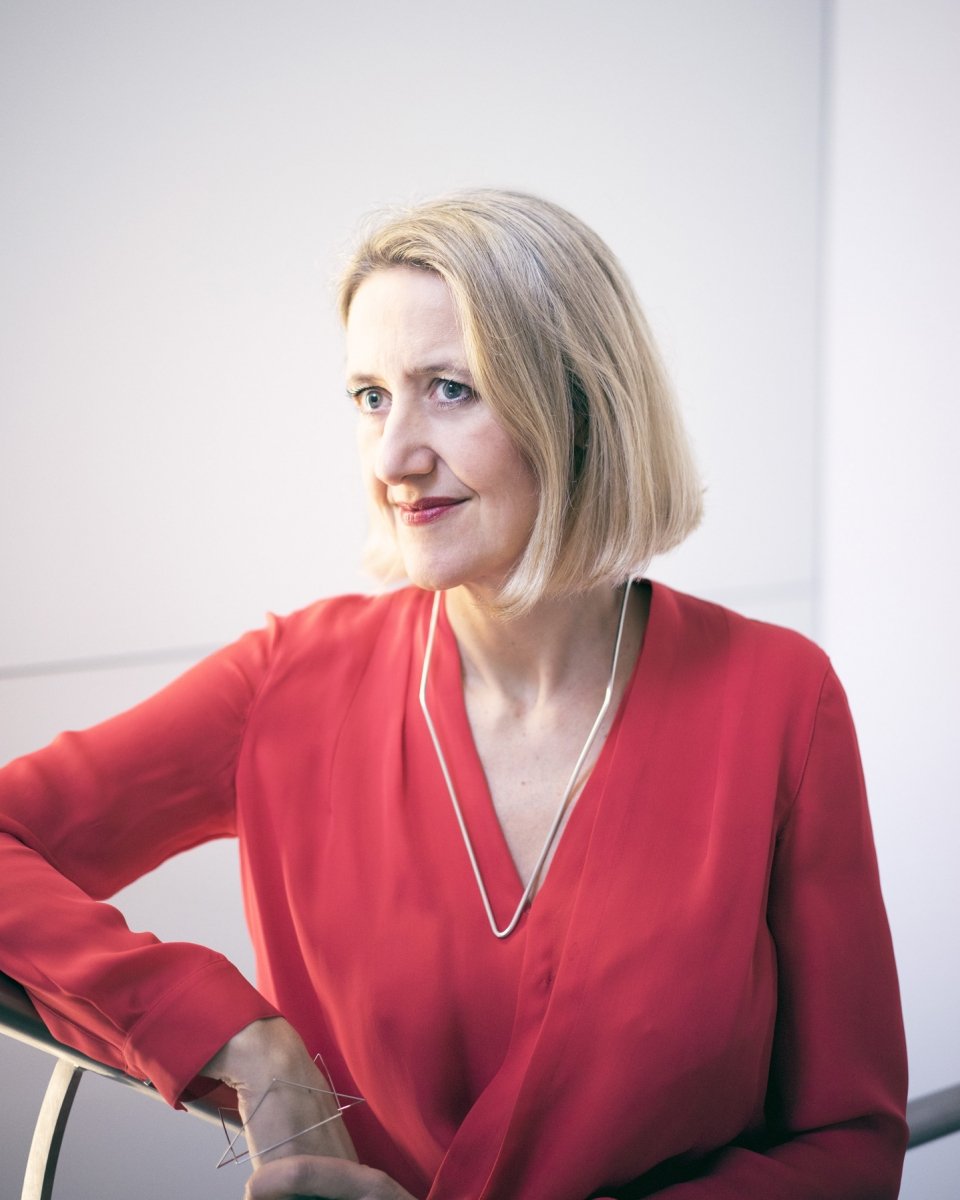 December 2, 2014
Caroline Baumann: At Home in the Design Museum
The Cooper Hewitt director on the museum's expanded exhibition spaces, new curatorial focus, and bringing the institution into the digital age
Caroline Baumann, director of the Cooper Hewitt
---
In December, Cooper Hewitt, Smithsonian Design Museum will reopen, offering its vision of a twenty-first-century design museum. The three-year, $91 million renovation will give the New York City institution 60 percent more gallery space and new visitor experiences. Before the reopening, Metropolis's editorial director, Paul Makovsky, interviewed Cooper Hewitt director Caroline Baumann about the challenges of renovating the turn-of-the-century Fifth Avenue mansion that houses the collections, bringing the museum into the digital age, and how the museum is going to change in the days to come.
Where are you right now in terms of the renovation and the opening?
Caroline Baumann: The renovation is completely done. There are tiny punch-list items, but nothing big enough to mention. It's an enormous milestone, and I find it extraordinary that we were able to do this in just three years. We didn't cut any corners—we're replacing the teak floors exactly as Andrew Carnegie, the original owner of the mansion, would have laid them, renewing and restoring every millimeter with such care and attention. This is really the moment for Cooper Hewitt.
The most important thing is that a twenty-first-century museum will finally be at our fingertips—that's something we've never had. When people walk through the museum at 2 East 91st Street, all of the efforts to make us more efficient and that allow much more alacrity with moving works—the new art path, the pivot door in the Great Hall—will be invisible to their eyes. But it will allow us to change out objects and exhibitions much more quickly.
All of that sounds good. Will we be seeing more exhibition space, too?
CB: We took advantage of every square inch we could, and created 60 percent more exhibition space by carving out niches on the second floor—all of the staff space or lost wall space is being freed up. And the dusty, old library on the third floor—which very few people had seen—will be unveiled as a beautiful gallery, which will allow us to finally feature objects in an impressive way. It will let us show large design objects, which is something we've so direly needed over the decades. The renovation has been such a collaborative effort with so many of America's top design firms, like Gluckman Mayner Architects; Beyer, Blinder, Belle Architects & Planners; Diller Scofidio + Renfro; and Pentagram. We've moved around the spaces in the most strategic manner possible—we've been thinking and planning out this project for nearly a decade. This is our opportunity to make the most of our footprint at 91st Street, stay on the museum mile, and celebrate the fact that we're in the Andrew Carnegie mansion.
Baumann in the new visitors' staircase—designed by Gluckman Mayner Architects
---
Can we hear about some of the exhibitions and initiatives that are planned when the museum opens?
CB: We were always a little bit frustrated with the first floor of the museum because we didn't have enough space. You would come in to see the National Design Triennial or the Rococo show and you'd be plunged into a temporary exhibition. Now, you have a real design primer on the first floor, so what used to be the gift shop will become a design process lab. Here, our curator, Ellen Lupton, is working very closely with our educators on creating different exercises to help people think about the design process and solve various problems using design. For example, we're doing an exercise that we developed with the lighting designer Lindsey Adelman, where you can use different materials to change the outside of a light, and really understand what a difference that makes in a room. In the room that used to be Mr. Carnegie's office, we're featuring the latest and greatest examples of 3-D printing.
You'll also see Ellen's show called Beautiful Users: Designing for People, which is dedicated to user-centered design, and will really open up people's eyes to the fact that designers must—and do—think about the end user. On the second floor, there is an explosion of objects from the permanent collection, which we are deliberately mixing up chronologically. You might have a 3-D-printed Michael Eden vase next to a gallery full of nineteenth-century staircases or models.
Arranging an exhibition chronologically is an easier way of digesting design history. What's the reason for not doing that?
CB: We want people to look at the objects, their form or color and really dissect and understand them. Our Tools: Extending Our Reach exhibition, for example, underscores human ingenuity throughout the ages— everything from a prehistoric axe that is thousands of years old, to equipment that can measure the surface of the sun and take a picture of it at any moment. This wonderful juxtaposition of historic and contemporary design is to get people to jump in and play designer, but also to explore, and see the past and the present. I know I'm prejudiced, but we can do this with design. It's much harder for other museums to do.
Baumann in the Great Hall of Cooper Hewitt
---
The artist, illustrator, and designer Maira Kalman will be curating our Maira Kalman Selects exhibition, part of a series that we started in 2003, where we invite a designer to curate a show based on objects in our collection and from that of another Smithsonian museum. When I first started at Cooper Hewitt, I visited Maira in her studio at 8:30 in the morning, and she asked me if I wanted a piece of pound cake that was based on Thomas Jefferson's recipe. I accepted her offer, and we ended up touring her studio and home for about three hours. Out of that, she agreed to do a children's book about Cooper Hewitt's collection, which is called Ah-Ha to Zig-Zag: 31 Objects from Cooper Hewitt, Smithsonian Design Museum. In the book, we encourage kids to write to us and say what they'd put in the museum. It's a lovely read. Frankly, I've seen 80-year-olds love it as much as my six-year-old nephew does.
Maira got her feet wet and just got to know the collection. She then asked if she could also look at the Smithsonian's collection and she jumped in and made fast friends with the curator of American history. She's in love with Abraham Lincoln, and she chose to include the funeral pall of Lincoln and his gold pocket watch. When we realized the pocket watch hadn't worked in years, we put a full conservation team to work to fix it.
Maira was so inspired that she asked her friend, Nico Muhly, to compose songs based on objects in the collection, and he will be performing at our opening night in December. We'll also be playing the music in the gallery from time to time, and we're hoping to do periodic little concerts with other musicians.
A painting of Abraham Lincoln's watch by Maira Kalman, created for the book Ah-Ha to Zig-Zag: 31 Objects from Cooper Hewitt, Smithsonian Design Museum (2014).
Courtesy Maira Kalman/Cooper Hewitt
---
How are you going to bring the Design Museum into the twenty-first century and make it relevant to everyone—to students, designers, a neighborhood visitor, and the general public?
CB: Certainly the interactivity we're introducing will be like no other museum's. A few years ago, I realized that very few people were taking the iPads that we were offering because they would have to give over their credit cards or driver's licenses. Now, we have a pen [to be unveiled at the museum in early 2015] that unlocks all those doors, but then it's up to you. Everybody that comes into the museum will receive the pen—a high-tech tool that enables them to collect objects from the galleries and create their own designs on interactive tables. At the end of a visit, the pen is returned and all the objects collected or designed are accessible online through a unique Web address printed on every ticket. These can be shared online and stored for later use in subsequent visits.
Also, by ever so slightly touching the eraser part of the pen to the label itself, it'll vibrate, and information about the object will be downloaded to your account, so when you return home you can see everything you experienced that day. The idea is that visitors can have a good time and also expand their understanding of design. As you meander through the museum, you can collect the objects that appeal to you, and grow your own Cooper Hewitt collection. It's making design fun and participatory for our audiences.
We're working very closely with the designer Jake Barton and his team on apps that will really make people dive in. If you start to draw a vase, then vases from our collection will pop up to give you inspiration.
The Pen is a key part of the Cooper Hewitt experience. To be given at admission starting early next year, it enables every visitor to collect objects from the galleries and create their own designs on interactive tables.
Courtesy Pentagram
---
In terms of our museum shop, I hired Chad Phillips and gave him two major tasks. One is to mine our collection and come up with a series of products that really reflect inspiration from the museum. We can then reproduce things for people who didn't realize we had them in the collection. Similarly, I asked our new director of publications to work on notecards and object-of-the-day postcards, so tourists and other people can go home with meaningful tokens.
The second task for Chad was partnering with contemporary designers, like KNS, Finn Magee, Marc Thorpe, notNeutral, and Assembly—who have specially designed tools, including a ruler, tape measure, and an "Un-Bag" that reduces a bag to its simple and structural form—to coincide with the Tools exhibition. And Laurene and Constantin Boym have designed a "mansion" for us based on emoticons and texting marks that will be applied to many items, including T-shirts, playing cards, mugs, and notebooks.
How do you make sure that issues like social design and sustainability are not isolated, but form an integral part of the design discussion? 
CB: We invested in a full-time curator, Cynthia Smith, who is constantly working on the issue and is renowned for her knowledge and research. We involve her in our acquisitions so we can reflect this direction, and we involve her with retail and ask what we should present in the shop that's socially responsible. We also involve her in the sustainability committee that is all staff driven. As the national design museum, we are very careful about our ecological footprint, and make sure to communicate the right message. It's quite the opposite of saying, "We need this token outward face of sustainability."
Playing cards, designed by Laurene and Constantin Boym, part of a set available exclusively through the museum's shop.
---
How are you dealing with the digital imaging of collections—something all museums seem to be facing these days?
CB: We just received a $10 million gift from Barbara and Morton Mandel to digitize our collection of 210,000 objects, amongst other things. Our whole new philosophy is to make everything in the collection accessible, from the 3-D-printed version of the mansion to our typeface—which you can download—to the permanent collection. And for people who don't live in the area, most of our public programs are streamed live online, which is fantastic. We are putting our e-pubs online, and there's a lot to glean from the Cooper Hewitt website that we'll be augmenting over time.
Have you had time to reflect on how Cooper Hewitt is going to change once the museum reopens?
CB: I've been working simultaneously on the next version of the strategic plan for the future—it's not very developed because of the renovation, and my being in the galleries nonstop. But, I would say just this: The whole new tactic for Cooper Hewitt is all about accessibility, experimentation, playing designer, and breaking down the walls of the traditional museum. It's also all about community. The whole idea is that we're not this dusty place on East 91st Street and Fifth Avenue, with a black fence around it saying, "Don't come in." It's the opposite—come in for ten minutes, and then come in for two hours, but be comfortable here, be comfortable with design, be excited by design. We're saying celebrate, explore, jump in, make your own wallpaper. It's quite the opposite of most design museums.