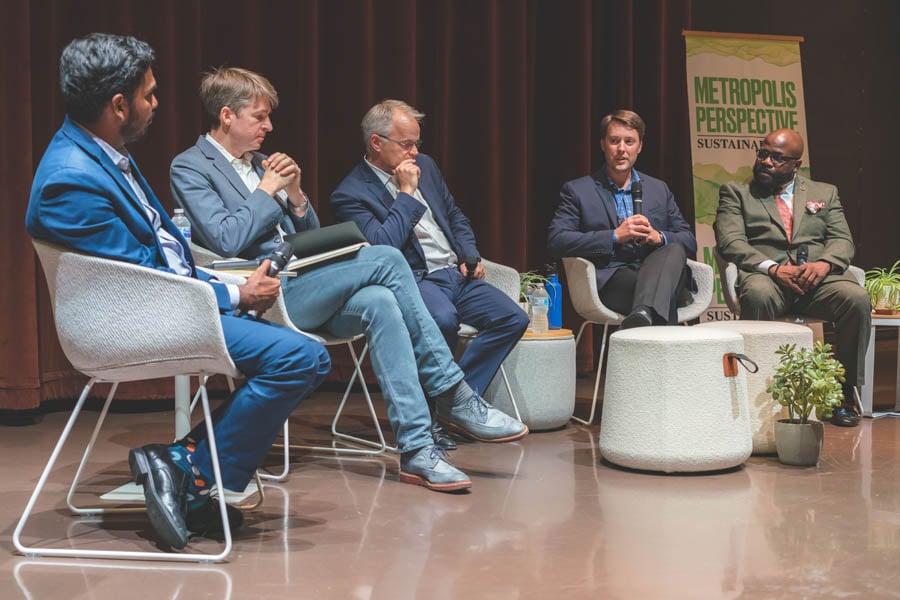 September 19, 2019
To Fight Climate Change, the Building Industry Needs Good Policies Behind It
The Clean Buildings for Washington Act represents a win-win scenario not only for architects and builders, but also cities.
Washington Governor Jay Inslee recently wrapped up his bid for president, but he launched the issue of climate change into the national debate among candidates vying for the Democratic nomination. His signature issue didn't spring out of nowhere—in recent years, he has been pushing hard for aggressive state-level action to combat climate change. While Inslee's efforts to pass a state carbon tax have failed, this year the Washington legislature passed a suite of clean-energy proposals designed to reduce emissions across the state's economy.
Among the new laws signed in May, the Clean Buildings for Washington Act creates energy-performance standards and incentives for large commercial buildings over 50,000 square feet. Crucially, the bill levies a financial penalty for owners who do not meet the newly enacted standards.
Inslee's senior climate policy advisor, Chris Davis, was among the bill's architects and brings a bullish perspective to the narrative around decarbonizing the building sector. The emerging technology and design options for providing a building's utility needs and tracking its energy performance, as well as the ways in which these investments can improve a building's value and the heath of its occupant, represent a win-win scenario.
"We don't have the same plethora of opportunities technologically as we look across our other sectors neither do we have the chance to talk about the economic impacts of doing the right thing," he told an audience of architects, designers, engineers, and contractors at the Seattle Public Library during the symposium Metropolis Perspective: Sustainability Seattle. 
For manufacturers of some of the newly efficient products that go into those buildings—like LightArt, which was represented by its president and creative director Ryan Smith, and Mohawk Group—such opportunities are just the beginning of much-needed penance. "We've been manufacturing stuff for 100 years and we haven't begun to pay back the social and environmental ramifications of the Industrial Revolution," said George Bandy, Jr., who is Mohawk Group's chief sustainability officer.
Mohawk recycles 5.4 billion pounds of plastic bottles and 25 million pounds of tires annually to make its flooring products. Nevertheless, Bandy is contrite: "We're nowhere near rewarding Mother Nature for what she provided us for free."
The scale of the challenge to meet the ambitious greenhouse gas reduction goals required to avoid the worst consequences of climate change continues to motivate a need for systemic change among practitioners on the leading edge. Practitioners like Brian Runberg, principal at Runberg architecture, which is pushing the envelope in multifamily development with a LEED for Home Platinum–certified project, or Chris Hellstern, who worked on Seattle-based Miller Hull Partnership's two certified living buildings, those which produce more energy than they consume.
"Having worked in the most progressive city for 15 years with some of the most restrictive energy codes, we know we're not quite meeting our climate targets," Hellstern said at last week's event. "Yet even here in Seattle, policy is going to be one of the keys we need to make [energy efficiency] scale and get there at the speed we need to address [climate change]."
Metropolis Perspective: Sustainability was held at the Seattle Public Library on September 13. Armstrong Ceilings, LightArt, Lutron, and Mohawk were platinum sponsors of the event. RSVP for our next Sustainability symposium in Los Angeles here.
You may also enjoy "Breaking Down Embedded and Operational Carbon."
Would you like to comment on this article? Send your thoughts to: [email protected]