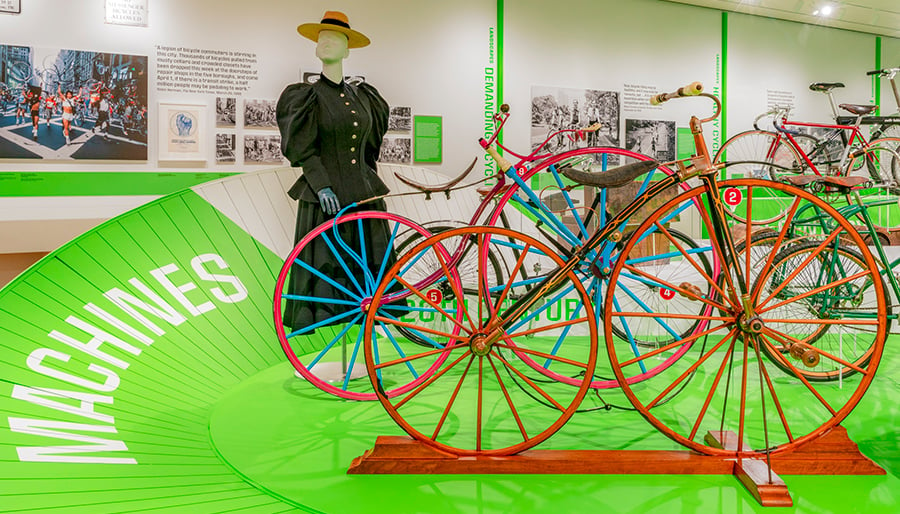 March 21, 2019
New Exhibition Tracks the Centuries-Old Urban Debate Over Bicycles
Cycling in the City: A 200-Year History at the Museum of the City of New York casts a fresh light on an urban design battle that still rages today.
---
Arguing over anything for more than 20 minutes can be exhausting. So you have to tip your helmet to New York City, where for 200 years generations of residents have bickered over bicycles. Even by NYC's we-love-to-fight standards, that seems absurd. But the humble bike, in all its forms, has proven a lightning rod for advocacy, controversy, and turf wars—over how it's used, by whom, where, and its potential to reshape the urban landscape—since it arrived in 1819.
That legacy, and the long shadow it casts on our present and future cities, is the focus of Cycling in the City: A 200-Year History, an impressively comprehensive and exceptionally timely exploration of the bicycle's impact on Gotham on view at the Museum of the City of New York through October 6.
Organized into three sections—Machines, Culture, and Landscapes—the show tracks the unruly trajectory of the bike's popularity, from the introduction of the pedal-less velocipede (which sounds more like a Jurassic insect than a cycle) in 1819 to the culture wars over women riders in the 19th century and bike messengers in the 1980s to the Bloomberg-era bike lane "bikelash." That story is told through more than 150 objects, like Violet Ward's 1896 guide for women cyclists, cycling clubs' flyers, and ephemera agitating for more bike infrastructure and less anti-cyclist bias. There are also 14 historic bikes, including an ornate, wooden, shockless second-generation (that is, with pedals) velocipede from 1869 and a spectacular high-wheeler (a bike with giant front and tiny back wheels) from 1879.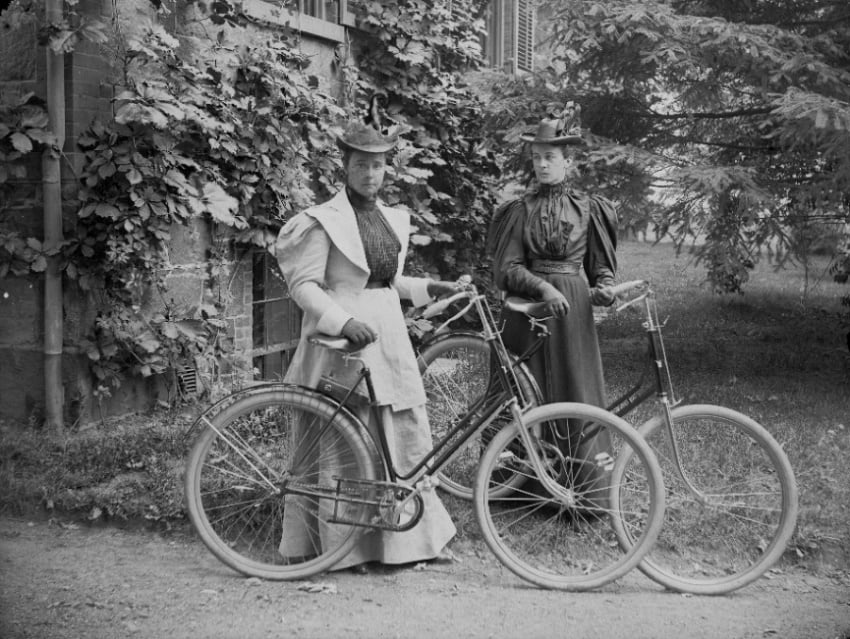 ---
Drifting through Cycling in the City, it's astonishing to see how little the bike has changed since the late 1800s; the Columbia Model 60 women's bicycle from 1898 looks like it could be on the road today. Mark Twain wrote about getting in on the craze in 1886 ("Get a bicycle. You will not regret it, if you live.") as did The Red Badge of Courage author Stephen Crane, who, in 1895, summed up the "Gay Nineties" love affair with the bike: "Everything is bicycle."
It's just as astonishing to learn that whatever novel argument you might have for or against bikes in the city, you're treading well-worn territory—a point immediately made with a wall of publications tracking 200 years of clashes over the bike, including a New York Post front page from January 17, 2019, featuring The View co-host Whoopi Goldberg lambasting Mayor Bill de Blasio for ruining the city with bike lanes. Co-curator Donald Albrecht tells Metropolis that, "From the beginning of the 20th century, there's been a synergy and a dance between the pedestrian, the bicycle, the scooter, and the motor vehicle. And New York's density exacerbates that dance…. A show like this presents the history. It didn't start with Michael Bloomberg."
Some of today's New Yorkers, frustrated with hundreds of miles of bike lanes and Citi Bike docks replacing parking spaces will likely curse Bloomberg forever for ruining their city. Thing is, his administration's urban design policies, executed by transportation commissioner Janette Sadik-Khan, were the fulfillment of centuries of demands and promises about how best to accommodate bikes. (Sorry, Whoopi.) Dedicated bike lanes began appearing in the late 19th century (one of the first connected Prospect Park with Coney Island) and were installed and torn up and installed again into the 1980s. Even Robert Moses, the car's best friend, built bike lanes; in one case, he reclaimed a dilapidated parkway for bikes. "The way to make progress, sometimes, is to go backwards," Moses said after the Alley Pond Cycle Path was opened in Queens in 1938.
Alley Pond was strictly for recreation, as was most of New York's cycling infrastructure until Mayor Ed Koch built commuter bike lanes on Manhattan streets. For most of its history, the bike was seen as an exercise tool, a kids toy, a novelty that had no place on the street. (Koch even went so far as to institute a bike ban in midtown Manhattan in 1987; it only lasted a week under intense protest from messengers.)
"Part of what I hope the show does is defamiliarize the bicycle," says Evan Friss, co-curator and author of the new book On Bicycles: A 200-Year History of Cycling in New York City. "It has this kind of multiplicity of meanings, that it embodies so many different uses, so many different types of users, that it's adaptable. That's kind of both the beauty and the beast of the bicycle, that it's wrapped up in all these different uses. But it makes it very challenging to think about planning, to think about urban design … and how that tilts in terms of what the city should encourage."
Bloomberg and Sadik-Khan's unwavering commitment to bikes, as part his administration's PlaNYC vision for the city, has created a New York hospitable to cyclists (from messengers to commuters, tourists, and recreational riders), as well as scooterists and skateboarders. "[Cyclists] were just looking for new ways to get around and saw in the transformation of the streets the fulfillment of a long-dormant promise," Sadik-Khan wrote in 2016. But while Sadik-Khan also pronounced the bike the winner of the bike wars, the debate continues. In early March, City Council Speaker Corey Johnson said New York should build 50 miles of new bike lanes annually as a way to break the city's car culture—a plan certain to incur ire from certain quarters.
The debate may yet change again as autonomous vehicles fundamentally reshape our streets. However, as history proves, bikes will still have a central role to play. What has proved attractive about the bicycle 200 years ago—its health benefits, its small size, the freedom of mobility—is especially applicable today, especially as cities become denser, public transportation struggles to keep up, and streets begin accommodating new vehicles. "It's hard for me to imagine a kind of ideal, utopian city where there is no bicycle," Friss says. "To me, there would be more bicycles."
You may also enjoy "Architect Michael Hsu Keeps Design Weird and Wonderful in Austin, Texas."
Would you like to comment on this article? Send your thoughts to: [email protected]