June 9, 2022
Meet the Designers Imbuing 3D Printing Processes with a Craft Edge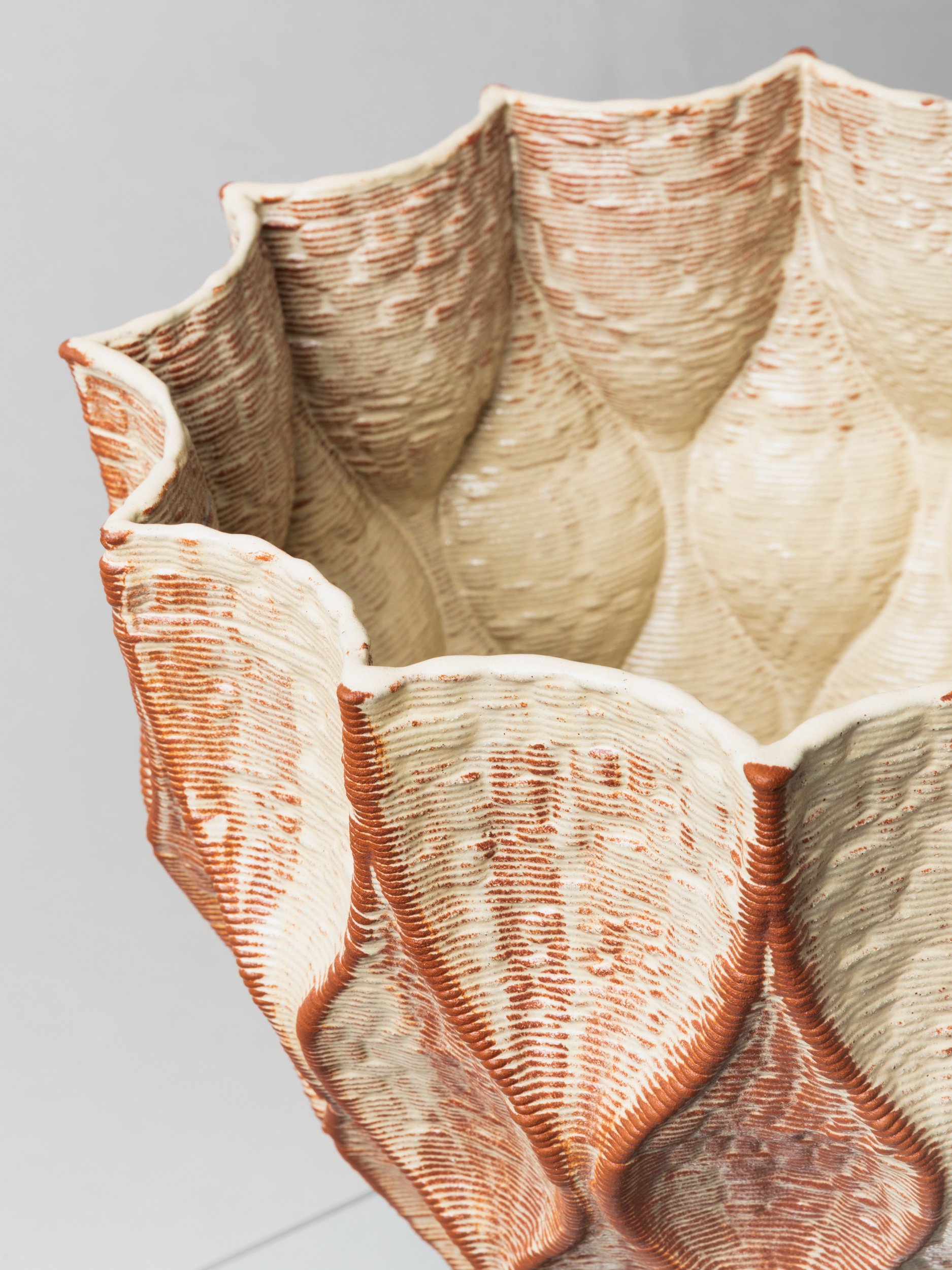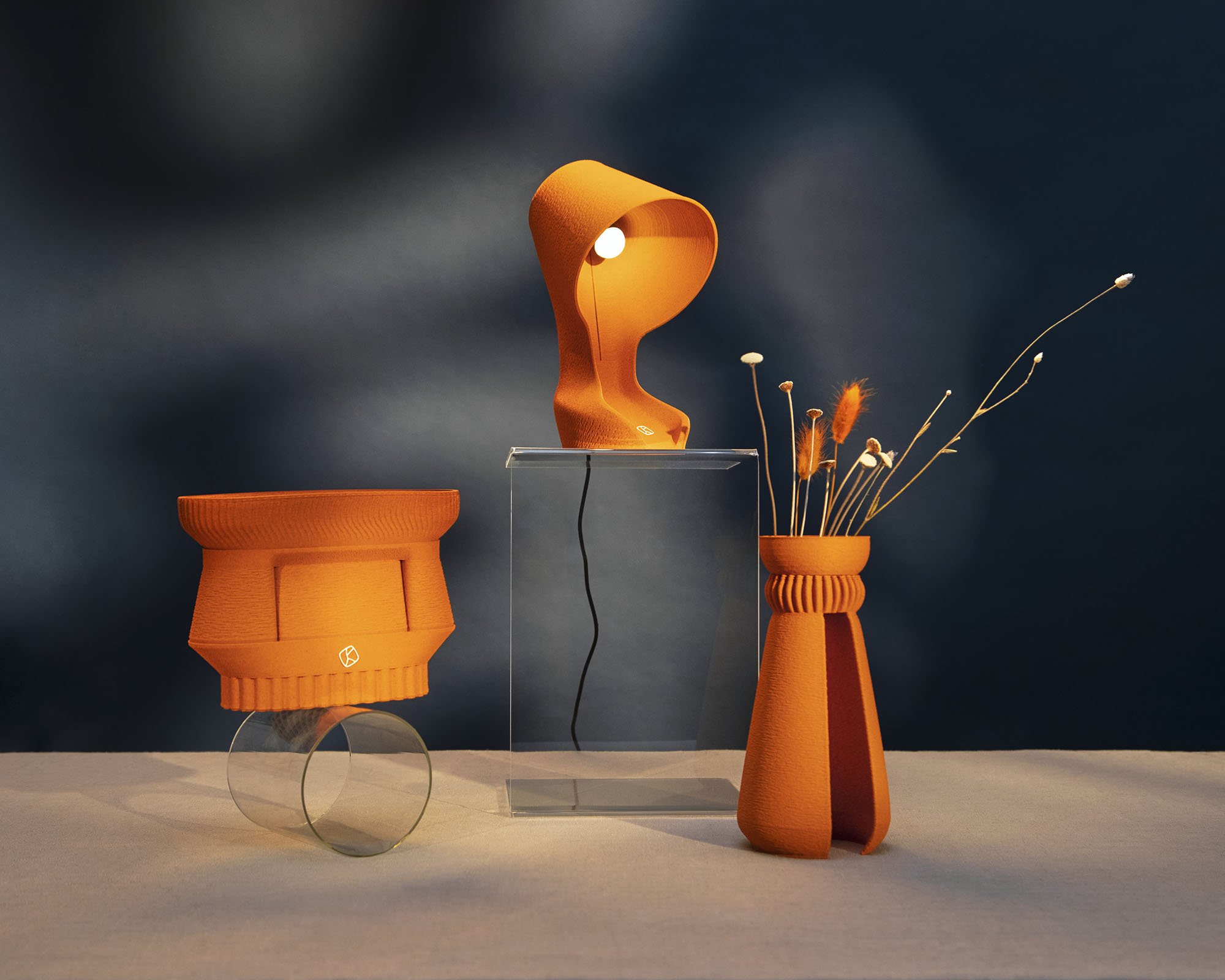 For the Gcode collection, which is on view at the Alcova exhibition on Milan's via Simone Saint Bon, the trio has drawn on the rigorous geometry of mocárabe—the ornamental, honeycomb-like vaulting often found in Islamic architecture. Each piece is 3D printed in clay, then hand-finished and hand-glazed.

Tazi sees 3D printing as "an alternative to mass-manufacturing," rather than an agent of it, because objects can be printed on-demand locally, thereby decentralizing production, eliminating waste, and the need for parts to be shipped from different locations. It can even tackle waste from other industries, such as the food world. Take Italian studio Krill Design, as an example. Using orange peel—a ubiquitous material on the island of Sicily—the studio 3D prints biodegradable and compostable desktop objects.
Krill Design's patented Rekrill Orange material features a vibrant color and natural indentations, giving the objects a leather-like, handmade quality. "The tactile surface is intentional," says cofounder Martina Lamperti, "We wanted to reiterate the origin of the material." Krill Design will launch its new range at the Frutteto Garibaldi, a quintessential Milanese fruit shop, during the fair.
Over in London, French architect Arthur Mamou-Mani has been pioneering digital design and fabrication since founding his studio in 2011. He creates diaphanous furniture and architectural structures from bioplastics, inventing his own materials while taking a highly experimental approach. "It's definitely a craft because you can't predict how the materials will respond," he says. "We think of the 3D printer as a tool in our studio. Instead of having a grand plan, we explore the possibilities."

The technology's promise of democratizing design was what lured Mamou-Mani to work with it, and it still propels his work today. "My hope for the future is that, instead of going to a shop and buying something shipped from far away, people will be involved in customizing a design, which will be printed locally using easily accessible materials, and eventually recycled locally too," he adds.
Now he has secured the funding to begin making this a reality. In late June, the studio plans to launch Mandala, a customizable collection that began with a stool but has since morphed into a whole range of furniture and building facade components. Each piece, made by blending a bioplastic called polylactic acid with wood powder or other natural pigments, is printed at high speed in the air, giving it a woven look. "The effect is like wicker at a glance," says Mamou-Mani, who has his own fabrication laboratory, called Fab Pub (short for "fabrication public"), which is open to all. People will be able to adapt the Mandala collection—designed with parametric software—by using an app. The architect hopes to associate an NFT with the objects, "so they can have some kind of ownership" in the digital sphere too.
Elsewhere in London, Gareth Neal uses 3D printing to test the limits of what we deem "craft" today. The furniture designer has always fused hands-on making with high-tech processes in his collections, but his touch was entirely absent from his SIO2 collection of vessels, printed in sand in a separate location from his studio. "The eradication of the chisel does not deduct from the craftsmanship deeply rooted within every stage of the production of these vessels," asserts the designer, whose pieces will be on show at the Masterpiece London Art Fair and an exhibition at Dublin Castle, titled For the Love of the Master, 25 artists fascinated by Piranesi, in June.

Like Mamou-Mani, Neal's process involves trial and error—and a good dose of chance—but it allows him to materialize designs he "could only dream about" previously: vast twisting forms with corrugated surfaces, recalling the effect your fingertips might make when you drag them along a beach. As with all the designers, it's about imbuing high-tech processes with humanity to create objects people will treasure.

Would you like to comment on this article? Send your thoughts to: [email protected]