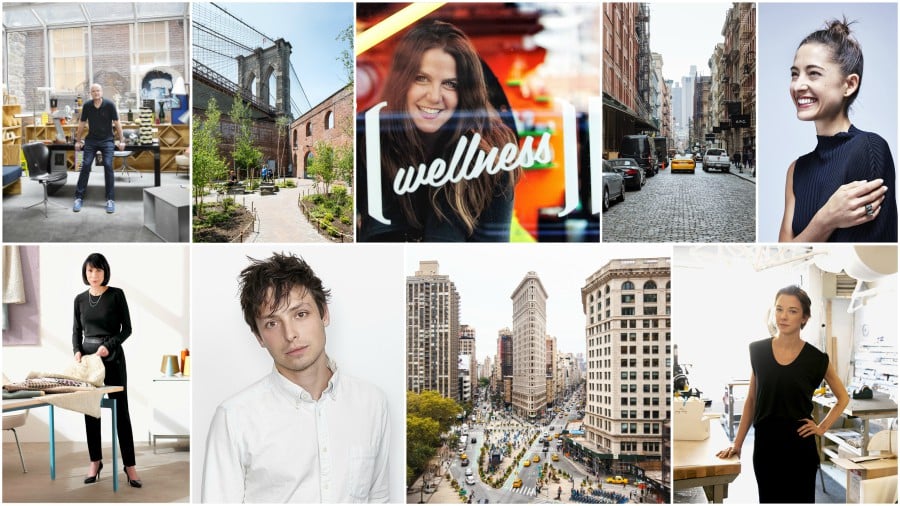 May 1, 2017
Designers Pick the Best of Their NYC Neighborhoods
Six New York-based designers discuss their favorite hang out spots around New York City, spanning a diverse range of neighborhoods from the Upper East side to Chinatown.
 Jamie Wolfond / Brooklyn
Jamie Wolfond, designer and founder of accessories manufacturer Good Thing—which debuts its first furniture collection this year at ICFF—both lives and works in Greenpoint, a neighborhood that's also home to some of his favorite Japanese restaurants. Get a full breakfast for under $10, he recommends, at Ashbox, or try Okonomi, an intimate two-table restaurant that serves a set menu of "beautiful and authentic" traditional Japanese lunch fare by day and ramen by night. Admire views of the Manhattan skyline at WNYC Transmitter Park, located on the site of a former radio transmission tower. For "meticulously prepared sushi and obanzai," cross the Pulaski Bridge a few blocks north and head to Hibino in Long Island City, which Wolfond insists is "close enough to Brooklyn not to be missed." For a late night nosh, he concedes, there's always McDonald's: "People forget that it tastes good. It tastes very good."
---
Rachel Shechtman / Chelsea
Rachel Shechtman, founder of the concept store STORY, has lived in Chelsea for 16 years. "I was drawn here well before the High Line," she says in good humor, joking that the area's density of amenities guarantees a high ROI for visitors and locals alike. Start the morning of with a cup of Intelligentsia Coffee at the High Line Hotel before grabbing weekend brunch at Cookshop: "The range of Bloody Mary options alone are worth it," she says, "but make a reservation." For shared small plates and drinks, Juban offers a "cozy and lively environment with great food and a killer sake list." Go window shopping at Steven Alan, next door to STORY, and peruse Chelsea's endless array of art and design galleries. And if the crowds don't deter you, "The High Line never gets old," Shechtman admits. "There's always great art and new developments to discover."
---
Patrick Parrish / Lower Manhattan
In the nearly 14 years that Patrick Parrish has been running his eponymous gallery in Tribeca—first on Duane Street (as Mondo Cane) and now on Lispenard Street—he has embraced the change that has pulsed through the neighborhood. For dinner, he recommends the Odeon. Local design destinations include Ted Muehling ("killer for jewelry and amazing tabletop items"), the nearby gallery R & Company for contemporary design, Steven Sclaroff for "the quirky and the unusual," and then of course, his own gallery for vintage and contemporary design. After a hard day of shopping, unwind with drinks and the "distinctly '80s New Wave soundtrack" at Another room, or throw a few back at Nancy Whiskey Pub, one of few dive bars remaining in the increasingly tony area. "If it feels slightly unsafe," jokes Parrish, "don't worry: It's a cop bar and is literally situated above the precinct in the subway."
---
Dorothy Cosonas / Midtown
Fashion has long played an influence for Knoll Textiles, and the tradition continues under the sartorial savvy of its current creative director, Dorothy Cosonas. For a jaunt through Midtown, she recommends a visit to the Vivienne Westwood flagship, located in a prewar townhouse. Catch a movie and step into the past with balcony seats at the Paris Theater, next to Bergdorf Goodman. Or retrace Cary Grant's cinematic steps in Alfred Hitchcock's North by Northwest, starting at the storied Plaza Hotel, then heading south to Grand Central Terminal. "Since you are in one of the world's great train stations, visit the New York Transit Museum Gallery Annex and Store," Cosonas adds, or "do something that we New Yorkers rarely have time for: Sit, relax, and enjoy the views on a beautiful spring day!"
---
Bec Brittain / NoMad & Flatiron
After years of working in Bushwick, lighting and product designer Bec Brittain has just opened up shop in NoMad. "I'm still getting used to the fact that everything you need is so close by!" she says. "There are so many other studios and design shops nearby, you can have a pleasant and efficient day, and multiple choices of whatever you may be craving." Her favorite spots include Shake Shack in Madison Square Park, the doughnut shop Dough, and Cosme, the contemporary Mexican restaurant from chef Enrique Olvera. She recommends the well-curated selections at Rizzoli and Books of Wonder, "the best children's bookstore I've ever experienced." Browse the home and gift offerings at ABC Carpet & Home, and take an early morning stroll through the nearby Flower District, where you can find a choice selection of succulents at Noble Plants.
---
Anna Karlin / Soho & Noho
"I always knew I'd end up here," says multidisciplinary designer Anna Karlin of the neighborhood where she now lives, a short walking distance from her Allen Street studio. Naturally, life and work casually commingle at her local haunts: "My pals just opened a spot called Lalito. The food's amazing and it's always full of friends," she says. Dimes, the chic microeatery serving up colorful, health-conscious plates, is another staple. For dinner and a movie, Karlin recommends Metrograph, the independent cinema, bookshop, and restaurant hybrid that her art direction team helped brand. To view artworks that "challenge and delight in equal measure," head to 47 Canal. And for a leisurely weekend stroll, stop by the sculpture-filled Elizabeth Street Garden—"my saving grace in the summer," says Karlin.