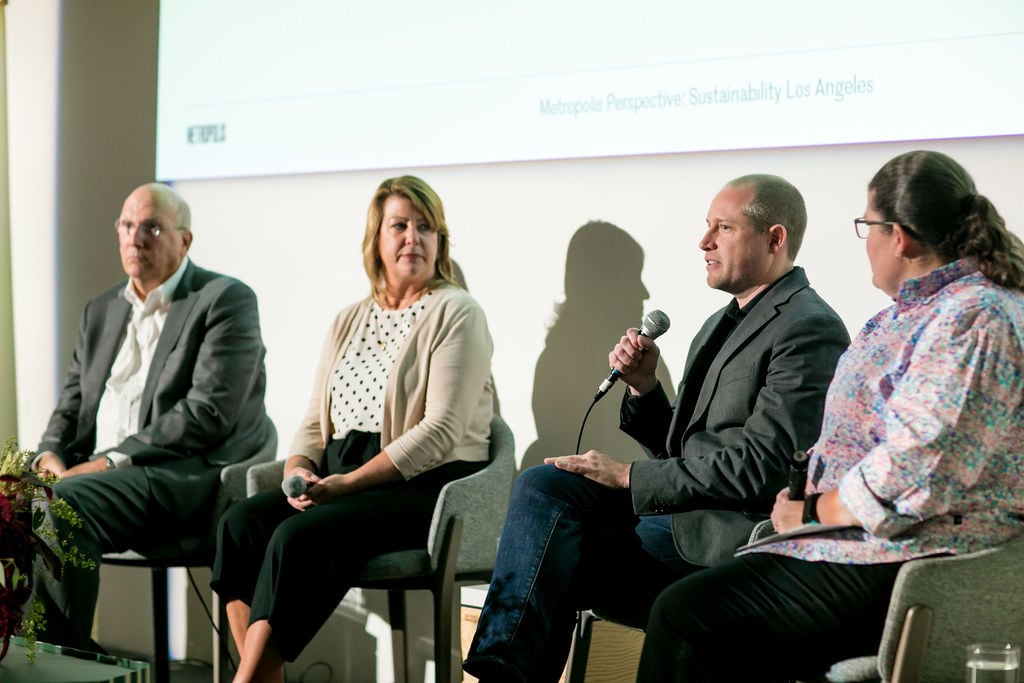 November 6, 2019
Build Tall or Net-Zero? The Conundrums of Energy Efficiency
Panelists at the Metropolis Perspective: Sustainability event in Los Angeles last week discussed embodied carbon, adaptive reuse, and the new challenges in hitting energy goals.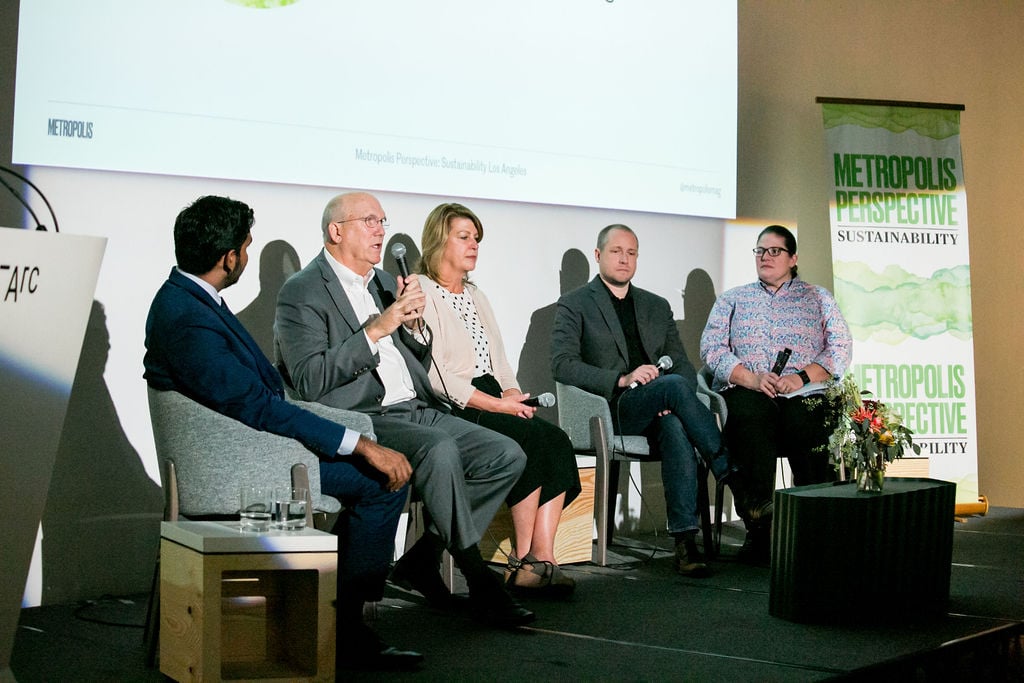 As President Trump moves forward with America's globally embarrassing plan to pull out of the Paris Climate Agreement, the state of California is—in addition to addressing the brunt of current climate change impacts—leading the nation in crafting policy around emissions reductions. 
A suite of progressive policy measures aimed at the building sector are setting a new benchmark for the rest of America. They include: From the City of Los Angeles, an ambitious new Sustainability Plan mandating new buildings be zero-emission by 2030 and existing buildings by 2050. The development of LA's own Green New Deal framework that outlines over 400 initiatives and recommendations for the architecture and building industry. A 2018 executive order from former Governor Jerry Brown calling for statewide net-zero carbon emissions by 2045 and accompanying update to the state's building energy code, Title 24 that creates a new zero net electricity target by 2045. And the formation of the Building Decarbonization Coalition, a cross-sector group of stakeholders whose new Roadmap to Decarbonize California's Buildings details an action plan to slash statewide building emissions by 20 percent over the next six years.
So how is the architecture and design community rising to both the challenge and opportunity presented by progressive net zero policy measures like California's, and nationwide programs like Architecture 2030?
This was the focus of a session on what's next for energy efficiency as part of Metropolis' recent Perspective: Sustainability symposium held at SCI-Arc in Los Angeles. As Metropolis Editor-in-Chief Avinash Rajagopal put it, "Building energy-efficient buildings is not a new idea. The difference now is that there are new perspectives and fields of knowledge being applied to energy-efficient design."
The group agreed on the need for attention on what Vox environmental reporter David Roberts has referred to as some of the 'unsexiest parts of climate policy' — electrification, decarbonization and retrofitting existing buildings.
For decarbonization, a key part of the puzzle is embodied carbon — the upfront emissions coming from the materials that make up our buildings, where every material brings its own carbon bill (with oft-used materials like concrete and steel being the biggest offenders). Architecture 2030 estimates embodied carbon to account for 11% of greenhouse gas emissions and over a quarter of building sector emissions. 
Manufacturers like Shaw and Armstrong World Industries are re-evaluating their entire product supply chains from cradle to cradle to reduce emissions impacts at every stage from raw materials to manufacturing to delivery and installation. For Shaw Contract this has meant considering everything from replacing older with newer higher and efficiency equipment in their factories to to installing solar panels onsite to greening their delivery truck fleet. Anita Snader, the environmental sustainability manager at Armstrong, pointed to the new Embodied Carbon Construction Calculator, developed by the Carbon Leadership Forum with support from a host of partners including her company and to be launched at this month's GreenBuild, as a new resource for architects to hold their manufacturers to account.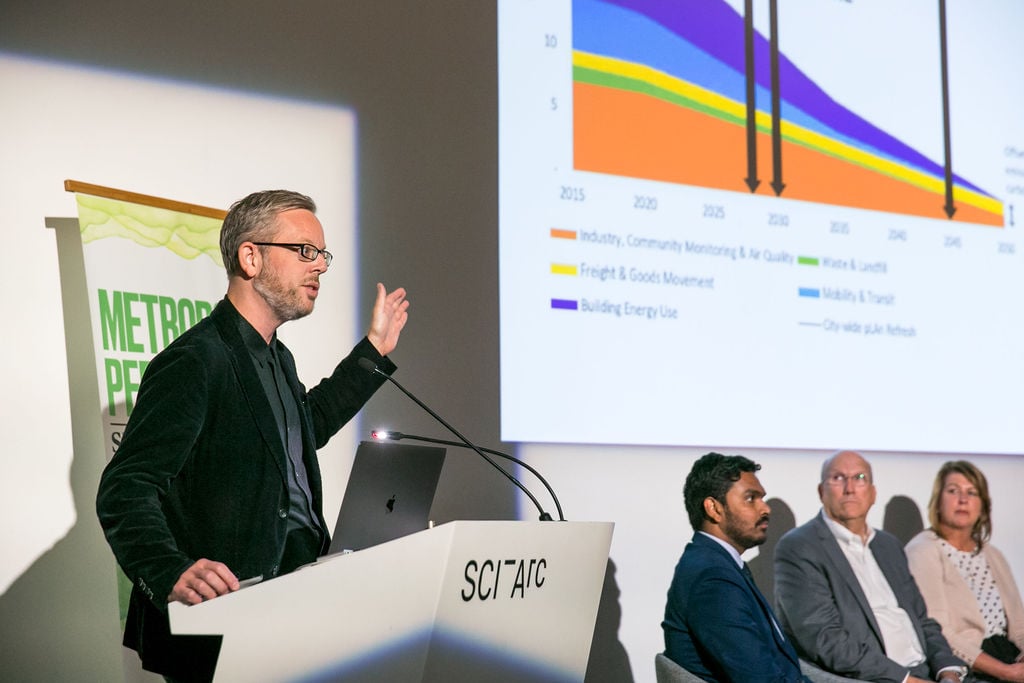 These new and ambitious targets are requiring firms to adopt new ways of working. At LPA, this has meant bringing engineering functions in-house "and creating a culture of architects and engineers conferring with one another on a daily basis," says president Dan Heinfeld . "We didn't understand how profoundly it would change our practice."
It also requires a mindset of viewing energy efficiency, building performance, and design excellence as synonymous. As SmithGroup's Stet Sanborn put it, it means "changing our ethos when we start the design process" and making energy efficient design their foremost priority. His firm is now adopting a companywide approach that all buildings four stories or under be designed to be net zero-ready, even if the client doesn't directly ask for it.
However, panelists acknowledged two inherent challenges with net-zero goals. First, while its more appealing to focus on new buildings, architects will need to rise to the task of retrofitting the two-thirds of California's 2045 building stock that already exists. Second, the sustainability imperative that encourages cities to build taller and denser poses a challenge because net-zero energy performance is harder to achieve as buildings get taller. "This is something the state is grappling with — the regulatory structure in place inhibits our ability to have a positive impact. If I have a single family home I can be net zero tomorrow, but around the four- or five-story mark and higher than that is super challenging," Sanborn said. 
Shaw's director of sustainability Kellie Ballew describes this balancing act of moving towards net carbon at across every building element as a Rubiks cube, where each design and material choice involves tradeoffs and offsets. "You can easily just focus on one side without paying attention to the others." At the materials level, this means balancing carbon impact with other concerns around toxicity and safety, and at the building level it requires acknowledging during electrification that even renewable sources of energy have a carbon footprint.
The group closed out by reaffirming the importance of transparency and innovation in monitoring and measuring energy efficiency. LPA has committed to publishing EUIs for all of their projects on their website and in all printed matter—no matter what the results are. And Sanborn highlighted the importance of continuous gathering and analysis of building efficiency data, and in training students and young designers across the profession on how to understand the impact they can have with these tools to support the design work.
The Los Angeles edition of Metropolis Perspective: Sustainability was held at SCI-Arc on October 30, and sponsored by 3Form, Armstrong Ceilings, Shaw Contract, Tarkett, Teknion, USG, and Aquafil.
You may also enjoy "California's Wildfires Prove that Resilient Design Needs Constant Evolution."
Would you like to comment on this article? Send your thoughts to: [email protected]