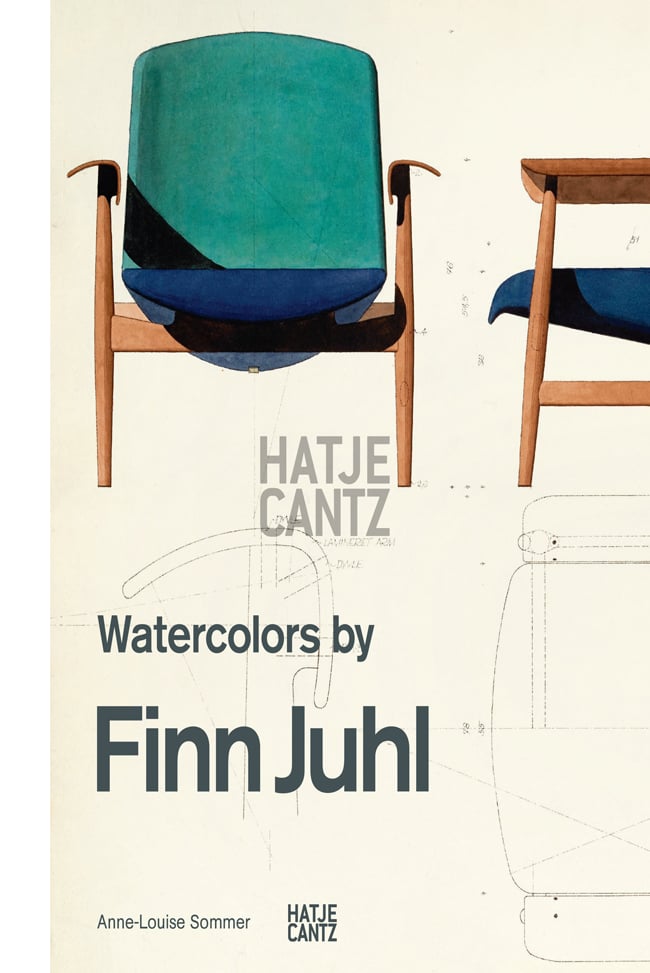 February 28, 2017
Finn Juhl: Master Painter, Master Designer
A new book gives readers a unique look at the great Danish designer's watercolors, which convey the ingenuity of this 20th-century pioneer.
Watercolors by Finn Juhl. Text(s) by Anne-Louise Sommer Hatje Cantz, 2017, 190 pp.
Images courtesy © DesignMuseum Danmark/Pernille Klemp
---
In the pantheon of great Danish designers, Finn Juhl (1912–1989) is up there with the likes of Hans J. Wegner, Arne Jacobsen, and Poul Kjærholm. Trained as an architect at the Royal Danish Academy of Fine Arts in Copenhagen, Juhl is known primarily as a virtuoso of furniture design, but he was equally adept at designing other products, interiors, and buildings. And he was also a talented watercolor painter. A new book, Watercolors by Finn Juhl (Hatje Cantz, 2017), showcases more than 125 works on paper that demonstrate his mastery of design at all scales. This publication gives readers a unique look at the designer's working method, and its hand-painted illustrations and plans communicate like never before the ingenuity of this 20th-century pioneer.
FINN JUHL ORDRUP HOUSE
Despite being trained as an architect, Finn Juhl designed few houses. This watercolor-and-ink drawing of his own house at Kratvænget 15 in Ordrup, about 10 miles outside of Copenhagen, is an exceptional example of his skill as an architect and a draftsman. The house, which was built in 1942 and modified gradually over the years, served as a laboratory of ideas where Juhl could experiment with new furniture designs and approaches to interiors. "When I build a house, I don't like someone else to come in and spoil it," Juhl once said, explaining why he supplemented architecture with his own furniture design.
SOFA FOR BAKER FURNITURE
Juhl created many sculptural tables, chairs, and sofas that have become classics of midcentury design. He saw furniture as an important design expression that, with handicrafts and art, should complete a house. ("One cannot create happiness with beautiful objects, but one can spoil quite a lot of happiness with bad ones," he once said.) In 1951 the Grand Rapids, Michigan–based Baker Furniture, Inc., contracted Juhl to produce a collection of furniture and design new showrooms. Without the coloration of technical drawings the serial production would not have been possible.
EXHIBITION DESIGN FOR SCANDINAVIAN DESIGN FOR DANSK KUNSTHÅNDVÆRK
Juhl was part of the epoch-making Danish Modern movement, which lasted from around 1930 until the end of the 1960s. He was one of the first Danish designers to achieve international success, paving the way for the movement to become an international brand for Denmark, and representative of the best of Scandinavian design in America during the postwar period. In particular, a series of American touring exhi- bitions gave Juhl and Danish furniture a unique marketing position. This watercolor-and-pencil drawing was done in 1953 for the American installation of Scandinavian Design for Dansk Kunsthåndværk. Juhl also designed the Museum of Modern Art's 1951 Good Design exhibition, which promoted affordable objects founded on the Modernist precepts of functionalism, simplicity, and truth to materials for a wider American audience during the 1950s.
THE TRUSTEESHIP COUNCIL CHAMBER AT THE U.N. HEADQUARTERS
In 1950, at the age of 38, Juhl was commissioned to design the interiors of the Trusteeship Council Chamber at the U.N. headquarters in New York. He developed a consistent approach to the whole space, selecting and refining each detail himself. This watercolor depicts the ceiling of the Council Chamber—one of Juhl's greatest challenges— where he wanted to create the illusion of height. Once he had designed the ceiling he asked Marianne Riis-Carstensen, his assistant, to color it. "Bring the Lundstrøm pink," he urged, and two versions were prepared: one with and one without the pink. "The most beautiful one was without the pink, and that is what was chosen," says Riis-Carstensen. The watercolors clearly convey the special harmony that comes from these spatial effects. The commission sparked new interest in Danish design abroad, and contributed to Juhl's success in America.