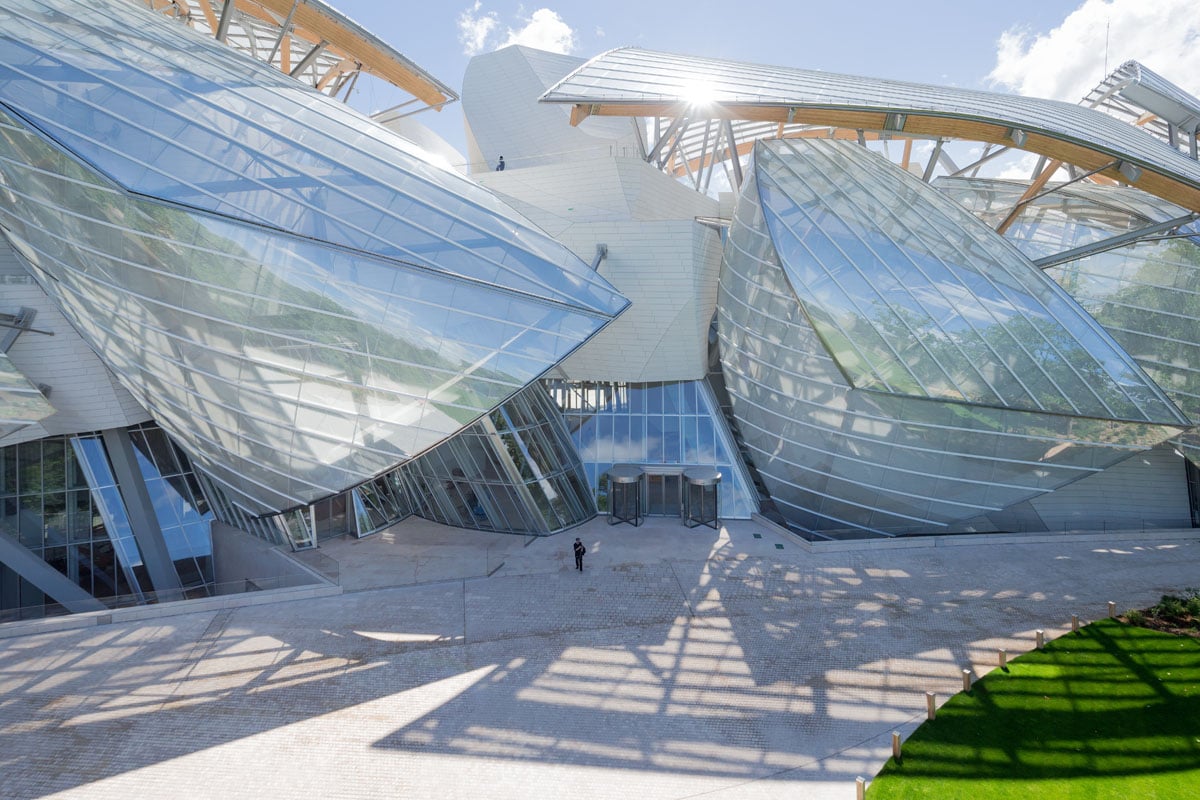 June 1, 2015
Q&A: Fondation Louis Vuitton Artistic Director Suzanne Pagé on Frank Gehry's Genius
The curator and artistic director of the Fondation Louis Vuitton on Frank Gehry's genius and how the new museum is "very different from anything else"
The Fondation Louis Vuitton, which is located in Paris's Bois de Boulogne—the former hunting ground for the kings of France that is now recreational parkland.
Courtesy Iwan Baan
---
As today's contemporary art world continues to expand at an extraordinary rate, a new breed of "super" curators is transforming the traditional museum and gallery experience through an artful blend of modern architecture and innovative exhibitions. At the Fondation Louis Vuitton (which opened late last year), artistic director Suzanne Pagé recently unveiled Keys to a Passion, the third part of the museum's phenomenally successful inaugural exhibition that drew more than 500,000 visitors in its first five months of operation.
Metropolis speaks to Pagé about working with Frank Gehry during the early design stages of the Fondation Louis Vuitton to help create one of the most exciting and creative spaces in the city.
Catherine Shaw: What kind of a curator are you?
Suzanne Pagé: I am a total believer in art and have a very specific background in curatorship. I have learned everything from art and artists. As time goes by, I believe more and more in the power of the museum.
CS: How involved were you in the design of the Fondation's exhibition spaces?
SP: I was very much involved in the architectural design of the building and in constant dialogue with Frank Gehry about the design elements. The lyrical momentum of the building provides a vibrancy and dynamism for what we do here. This exhibition of an unprecedented selection of major works that have shaped the history of modern art also resonates with the power of the building. What all these works share is that, in their respective eras, they all "broke the rules" of art. The themes of the exhibition—subjective expressionism, contemplative, popist, and music—also align with the Fondation's mission as a multidimensional cultural destination.
CS: Was working with Frank Gehry different from how you usually work with artists?
SP: First of all, Frank Gehry is a genius and that is why Bernard Arnault selected him. It is always exciting for an artist—and for me it has been personally thrilling—to work with a genius. He is a fantastically interesting man as well as an artist. The only thing you can blame him for is that you cannot resist liking him!
The Fondation building was commissioned by LVMH chief Bernard Arnault, with the first conceptual designs begun in 2004.
Courtesy Iwan Baan
---
CS: Tell us about how the current exhibition, Keys to a Passion, was influenced by the series of physical spaces created by Gehry.
SP: This exhibition offers an opportunity to display works that are often famous yet not so well-known. At once keys and references, these works also introduce the contemporary art collection of a foundation acutely aware that art is integrated in history, and which voluntarily references art through disruptive works. This raises other equally essential questions: How does a work that is iconic, or has become an icon, sustain its ability to have such transcendent power to affect over time? Does the sensorial, responsive, and emotional approach become, in itself, a medium of thought, or surpass thought, or spur a different thought? Does this require a truly empathetic dialogue with the visitor and with the physical and temporal space unique to the museum to allow the emergence of veritable "presences" revealed with the "aura" of the works? Everything in the exhibition has a dedicated area protecting the singularity of the art, but also coexists and is deliberately positioned so that each can be experienced individually among the collective arrangement.
CS: When the museum opened, its innovative design drew a lot of criticism, and there are already a number of spaces devoted to contemporary art in Paris. What does the Fondation offer to Parisians and visitors?
SP: That's a good sign. There was mainly positive criticism, and the others were simply jealous. That is the art media. The design of the Fondation is different and not everyone will like it, but that's what I am looking for. In Paris, there are so many extraordinary museums, like the Centre Pompidou, and a variety of private initiatives. The point to remember is that this Fondation is very different from anything else. Its main aim is to show fine art, but all sorts of different media—including architecture— is also part of it. Architecture is also an expression of contemporary art, so, of course, we would not rule it out. The remit of the Fondation is to combine architecture, contemporary art, and historic works.
Pagé, pictured inside the Fondation Louis Vuitton.
Courtesy Luc Castel
CS: Museums are changing dramatically—how does that affect the way you curate and approach your work?
SP: Today, people go to museums looking for meaning and I am glad we can provide that, even if they have to work hard for it. The Fondation is not just about answering questions. It is also about asking questions and this contributes to participation. Art and museums today have to separate us from daily life—all visitors have to experience something special because we are looking for a suspension of time. In a museum, you want to have a true dialogue because these artworks are something sensorial. It's also about creating an emotional dialogue with the art. Our current exhibition brings works from many different exhibitions, so we have a real encounter with art in four devised sequences rather than the more usual linear chronology. We want visitors to experience the aura of each artwork. To me, it is very important that Keys to a Passion is about this required dialogue between the art and visitor. In my experience, the visitor can discover a new world, a treasure, through this. The initial dialogue was started with the building created by Frank Gehry, which is an artistic statement and part of the heritage of Paris.
CS: Will the Fondation continue to work with architects and designers in the future?
SP: Yes, there are plans for an outpost of the Fondation in Beijing this June. It will open with an exhibit of Frank Gehry's work on the Fondation Louis Vuitton in Paris.
CS: What is it like to work in the Frank Gehry building? Is it inspiring?
SP: I was the head of the Musée d'Art Moderne de la Ville de Paris for 18 years and I still have exactly the same beliefs, but this building creates such a strong momentum that it makes you want to work at a higher standard. It challenges you.