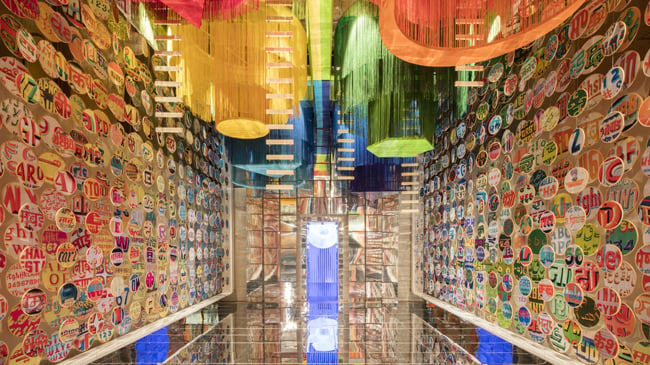 September 27, 2016
Four Highlights From the London Design Biennale
The Biennale featured installations from 37 countries and talks with over 100 leading designers to explore the theme 'Utopia by Design.' Here are four of our favorite events.
Courtesy Bradley Lloyd Barnes
Biennales—from Venice to Chicago—have become ubiquitous events for the art and architecture worlds. And now with the inaugural London Design Biennale (LDB) at Somerset House, the rest of the design spectrum, from graphic and industrial design to furniture and virtual reality, have their own global platform.
This month's LDB brought in installations, prototypes, and designs from 37 countries and featured 30+ talks with over 100 leading designers, design critics, and practitioners to explore the theme of 'Utopia by Design.' These (often whimsical) installations used design to reconcile each country's past, present, and future, exploring issues as diverse as smart cities, the environment, global migration and the refugee crisis, postcolonial legacies, and food systems.
Below are a few of the highlights from the event, which ends today. And read our review of the Biennale here.
Chakraview
Courtesy Ed Reeve
The London Design Biennale also marks the first time India has put forward an installation in a major international design event. India Design Forum Founder Rajshree Pathy made sure that their presence at the event would be as dramatic as the country itself.
The design of 'Chakraview' employs the chakra system—a philosophical journey that begins with desire and consumption, moves to emotion, then speech, and finally to enlightenment—as a metaphor for India's cultural, spiritual, social, and economic progress since independence. Six colorful silk tapestries hang above a mirrored floor, bathing attendees in the color and chaos of the space. A separate, blue, womb-like audiovisual room connects attendees to the seventh, most spiritual, chakra.
The installation also references imagery from the Eames' 1958 India Report, produced after the three months Charles and Ray Eames spent touring the country, looking at the potential and importance of design in postcolonial India. The exhibit asserts that design is not just about developing aesthetic solutions, but indeed solutions to social problems facing India today.
Mezzing in Lebanon
Courtesy Joshua Tucker
Perhaps the most ambitious and interactive installation at this year's event, Mezzing in Lebanon, literally brought Beirut to Somerset House—recreating a Beirut-esque street along the Thames riverbank. The outdoor promenade included a barbershop, food and fresh juice stalls, a Lebanese coffee cart, lounge area with custom-made mattresses (which Biennale visitors could be found napping on), and a hookah stand.
The installation, which won the first place medal as the most exceptional contribution to the Biennale, looked beyond high design and social impact design to celebrate informal and improvisational design. Architect Annabel Karim Kassar, the lead for the installation, explained her inspiration: 'Why not make the people the designers, not us. That's what I wanted to bring here.'
Brexit Design Manifesto
'Design can help the UK thrive after Brexit. But first the government must help design.'
The London Design Biennale also saw the public launch of the Brexit Design Manifesto. In the days following June's Brexit decision—in which 96 percent of the UK's design and architecture community voted to stay—a group of over 100 leading designers and design thinkers gathered to build consensus around protecting British architecture and design while negotiating the terms of the UK's exit from the EU. Led by Marcus Fairs and the editorial team at Dezeen, and including the input of Richard Rogers, Thomas Heatherwick, and Alice Rawsthorn, the white paper looks at key considerations in the areas of education, visas and migration, manufacturing, and intellectual property.
During the panel on the launch, Amanda Levete of AL_A Studio commented, 'If we're not careful we'll lose our youngest and brightest. [Creative] people need to feel welcome here. London is a great city for architecture and design but other cities like Berlin and Lisbon that are more affordable will become more competitive.'
Immediate next steps for the initiative include getting more UK design firms involved and beginning conversations with relevant government bodies at both the city and national levels.
Africa Rising
Image of Yinka Ilori Courtesy Veerle Evens
To celebrate the launch of Gestalten and Design Indaba's new book, Africa Rising: Fashion, Design and Lifestyle from Africa, the London Design Biennale brought together a group of designers and writers to discuss the current state and future of African Design.
In addition to celebrating the resourcefulness, optimism and future-centricity of contemporary African design, much of the discussion centered on the need to move away from terminology and discourse that unintentionally demeans and traps African designers. Yinka Ilori, a London-based furniture designer whose upcycled, brightly colored furniture is influenced by traditional Nigerian parables and storytelling, commented: 'Can you really pin down African Design? I'm a London-based designer—does Africa not fit into London design?"
Founder of 1:54 Contemporary African Art Fair Touria El Glaoui also noted the need to move away from referring to talent from the continent as 'emerging' artists and designers—many of whom have been working on their craft for decades—just because they're only recently becoming familiar to Western audiences.
The panelists, and the book itself, are seeking to reeducate audiences to look at African designers not as one entity but rather as individuals from 54 distinct countries who are making vibrant, exceptional design, fashion, photography, and architecture.