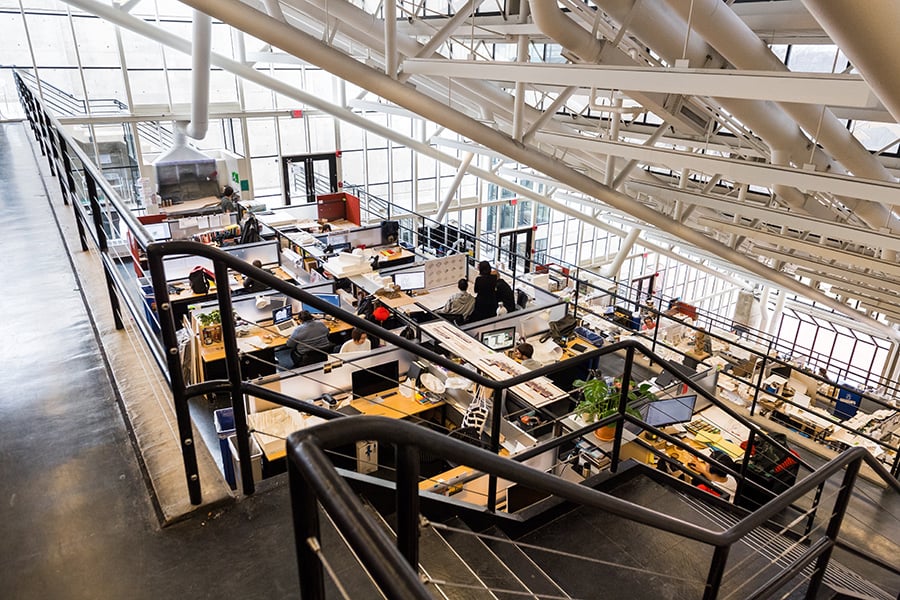 July 27, 2018
Harvard GSD Taps Herzog & de Meuron and Beyer Blinder Belle to Expand Gund Hall
The two firms are designing a new space that aims to foster cross-disciplinary work among the GSD's many programs and Harvard at large.
---
Opened in 1972, Gund Hall has seen thousands of students of architecture, landscape architecture, urban design, and urban planning pass through its "trays," or vertically-staggered studios. The building's open layout—from the highest tier, students can see into all the desks below—was devised to break down academic barriers. As critic Ada Louise Huxtable wrote in a 1972 New York Times article, "The idea has been to eliminate walls, physically and ideologically, among departments; this is a school for the study of the total environment."
Now, the Harvard GSD is taking that logic one step further with an expansion that aims to foster connections with Harvard's other departments, including business, government, humanities, engineering, and public health.
The project's official announcement came yesterday in a press release, with the GSD saying it had tapped Swiss firm Herzog & de Meuron and New York City–based Beyer Blinder Bell (BBB) as design consultant and architect of record, respectively. The selection followed a two-stage selection process that involved GSD faculty and staff, as well as other advisers. Both firms have experience working with Harvard: Founding partners Jacques Herzog and Pierre de Meuron have been working with the GSD as teachers and researchers since the 1980s, while BBB most recently renovated the interiors of Harvard's River Houses.
Details on the expansion are sparse. The project will include a new "anchored point of intersection" for the school's "trays," fabrication facilities, faculty offices, classrooms, and library, as well as newly created spaces for public programming, informal meetings, and socializing. In a press release, the GSD wrote that the expansion should "add only a minimal amount to Gund Hall's physical footprint." Herzog and de Meuron added that, "We envision transforming this building by excavating, adding, and connecting spaces that will support communication and exchange within the GSD community."
The GSD's dean, Mohsen Mostafavi, also touted the project's pedagogical potential, saying "Herzog & de Meuron and BBB have carefully studied and observed the School's many qualities and characteristics, and they have a bold design vision for the GSD and its engagement with other disciplines and professional schools across Harvard, and for its impact on the world."
The project's conceptual and schematic design will continue through Fall 2018.
You may also enjoy "Grimshaw's Innovative Frost Science Museum Has Become a Magnetic Draw in Miami."