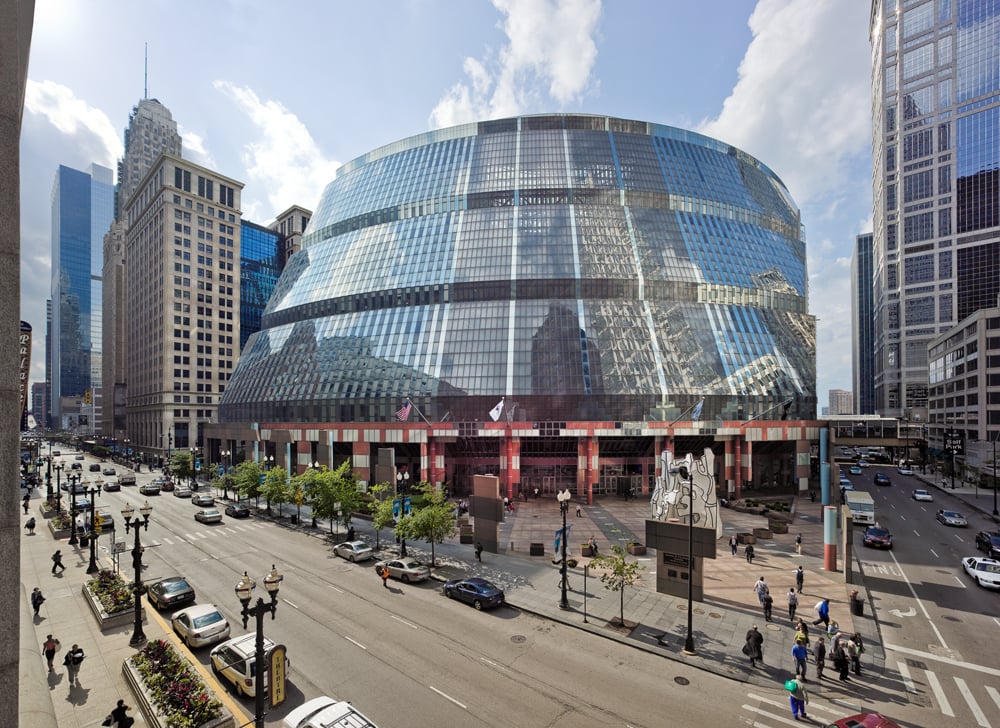 August 13, 2021
An Exhibition at the Chicago Architecture Center Remembers Helmut Jahn
The architect, who died tragically this year, is survived by an iconoclastic and imaginative architectural oeuvre.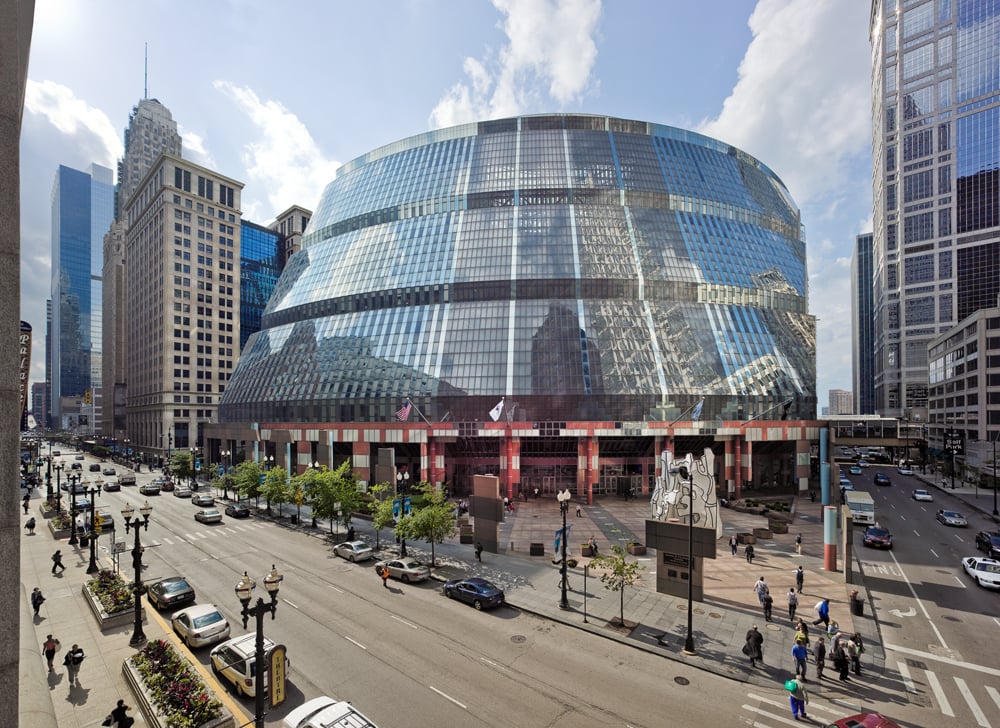 ---
When Helmut Jahn was unexpectedly killed while biking in the Chicago suburb of Campton Hills on May 8th, the architecture world reeled. Gone in an instant was one of the world's finest minds of construction and imagination, dead thanks to the quotidian reality of living in a world where car-centric urban design still dominates. Jahn's death is doubly tragic for the ways in which the architect celebrated people-centered designs of urban form and function in his buildings.
In some ways, a new exhibition at the Chicago Architecture Center, Helmut Jahn: Life + Architecture, cannot begin to honor the full breadth of Jahn's life. Admirably thrown together in just a few months, the exhibit is clearly temporary, with canvas banners stretched tight over the gallery walls in the main exhibition room. If nothing else, the show captures Jahn's fierce impact on the people around him, with quotes from family, friends, and colleagues all testifying to his enduring presence in the buildings he left behind. As photographer Rainer Viertlbock, who captured many of Jahn's projects, said: "I loved the message of his buildings; the openness and permissiveness of the designs, which reflected his own urge for freedom."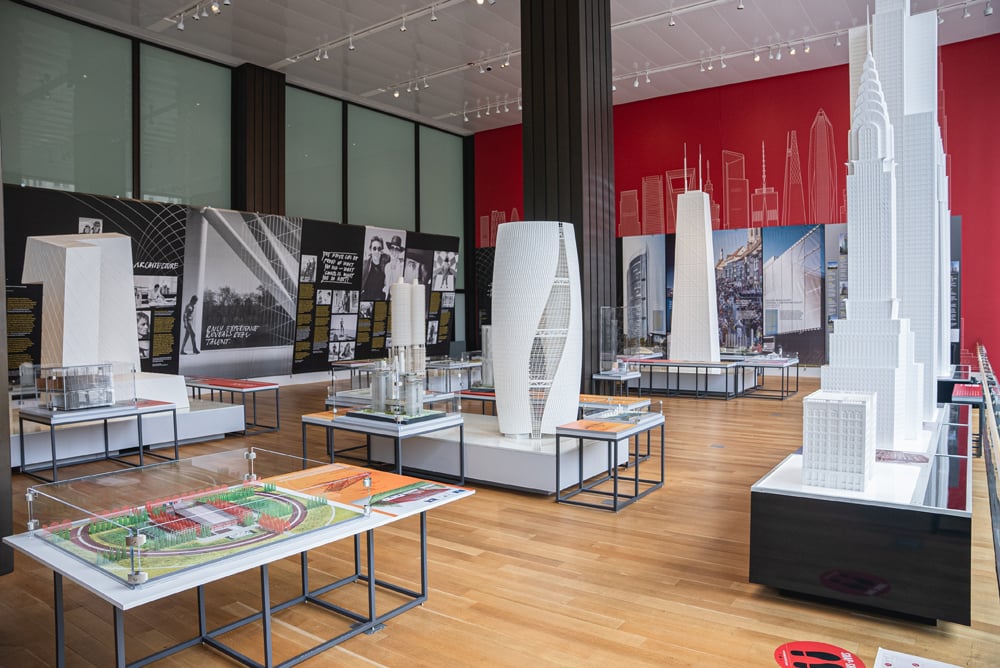 ---
"Helmut had a very distinct and strong personality, inextricably connected to his work, his talent, and success," CAC curator Zurich Esposito said. "The Chicago Architecture Center had a close relationship with Helmut and, because of his importance to our design community, felt strongly about developing a way to remember him and his work."
Beyond the twenty-odd quotes from those who knew him and a TV playing looped clips of Jahn discussing the work, the exhibit features a dozen or so building models, on loan from his studio, that reveal only a fragment of his towering legacy. Whether in the jagged, sawtooth design for the Michigan City Public Library, the impossible indoor openness of Berlin's Sony Center, or the glassy reimagination of the University of Chicago's Boiler Plant, even these small figures invite wonder and appreciation.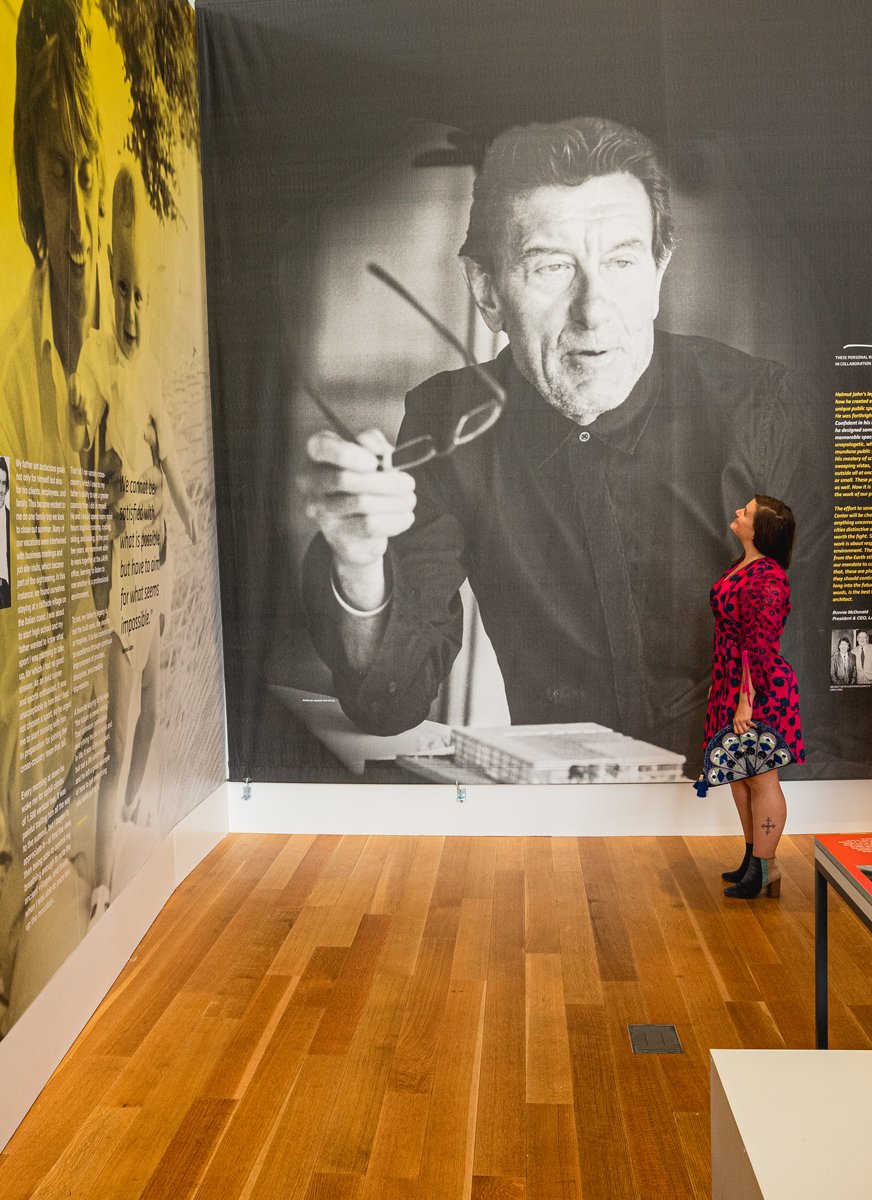 ---
One of Jahn's grandest and most vulnerable buildings is the Thompson Center, just a ten-minute walk from the gallery. This show doesn't go into detail about the active preservation efforts underway to save the building, which the state of Illinois has threatened with sale and demolition. A companion show, opening next month, will explore Jahn's tireless efforts to reimagine the space, preserving its value as a public building while inviting other uses, such as a possible high rise, that have been proposed.
In one of the gallery videos, Jahn argues, "The real value of a building comes only with its time." So many of Jahn's works, especially the Thompson Center, polarized the public upon completion; to some Chicagoans, only the threat of its demolition has inspired a newfound appreciation for the structure. The outpouring of grief in the wake of Jahn's death is another marker of how our perception of architecture evolves. Now, it's up to those who use one of his grandest civic achievements to ensure that Jahn's legacy in the built environment will endure.
You may also enjoy "The Transformation of Silo City Signals a New Future For Buffalo"
Would you like to comment on this article? Send your thoughts to: [email protected]
---
Register here for Metropolis's Think Tank Thursdays and hear what leading firms across North America are thinking and working on today.