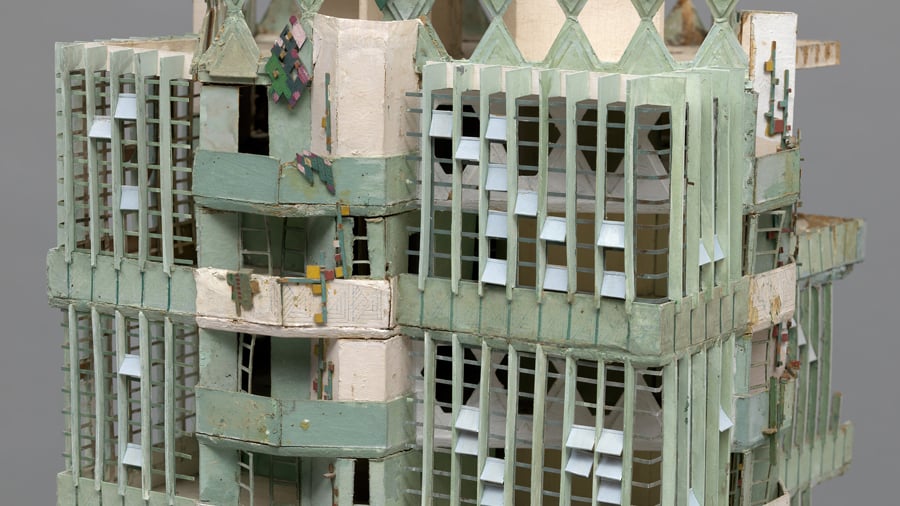 June 20, 2017
How MoMA Preserved the Models Frank Lloyd Wright Loved to Tinker With
For Frank Lloyd Wright at 150: Unpacking the Archive, the curators have subtly preserved the models in order to reveal Wright's thought process and the evolution of his ideas.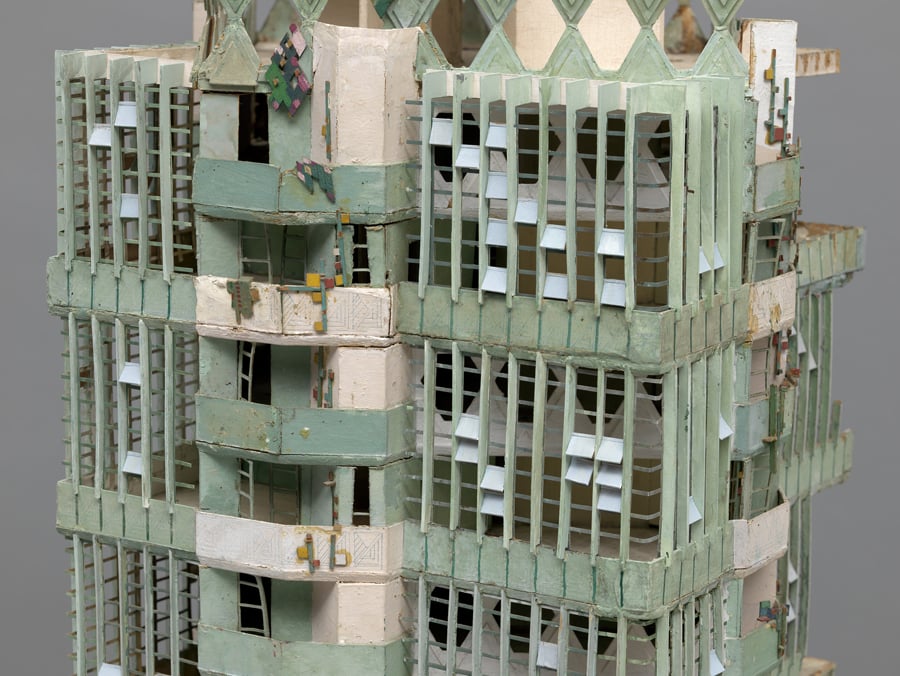 The Museum of Modern Art (MoMA)'s new exhibition, Frank Lloyd Wright at 150: Unpacking the Archive (on view through October 1, 2017), explores lesser-known chapters from Wright's 70-year-long career. Reviewers have understandably dwelled on his little-known projects for an experimental farm and a series of rural school buildings in the segregated South. Few, however, have focused on the prominent—and fascinating—role given to Wright's architectural models in the show itself. "For him, they were presentation pieces meant to seduce the clients or put them at ease, especially if the designs were avant-garde or difficult to picture on paper," says MoMA conservator Ellen Moody. And when the models failed to woo the clients, Wright, ever the showman, recycled the objects and enlisted them to promote his practice as part of touring exhibits.
Wright continuously tinkered with his models, forcing them to undergo extensive modifications. With the help of archival materials, MoMA's curators have used the models to analyze Wright's thought process and the evolution of his ideas. This process also revealed the alterations performed by other stakeholders, including clients and conservators. A model of an early iteration of the Solomon R. Guggenheim Museum (1943–59)—distinguished from the built version by a series of small, domed skylights and extensive interior landscaping—arrived at the MoMA in almost pristine condition. Yet, Moody's research pointed out a series of telling transformations. A cross-sectional analysis of the exterior paint revealed an under-layer of warm ocher paint, clearly different from the cool white found in MoMA's model. The discrepancy reveals a history of disagreements between Wright and his clients—and how Wright's preference for a darker color was subsequently undermined, both in the model and in reality. (In alternative renditions, he even depicted the museum in pink.)
The majority of the models were far from pristine. Architectural maquettes are often only used  to quickly communicate an idea; longevity of materials such as chipboard or Plexiglas is rarely a concern. So, when Moody set out to restore the 14 models in MoMA's archive (the museum holds the three-dimensional works of Wright's massive archive), she was faced with missing elements, acidified paper, warping, and discoloration, among other issues.   
A highly intricate model of St. Mark's Tower (1927–29) was undoubtedly in the worst condition. By the time it reached Moody's hands, it had approximately 50% of its exterior missing. The project, one Wright's few works for New York City, is also one of the architect's earliest skyscraper designs. The tower's innovation lay in its concrete and steel core, which in turn freed up the interior for custom partitioning and allowed a non-load-bearing curtain wall to grace the exterior façade. (St. Mark's would also have been the earliest all-glass tower in New York, predating the UN building and Lever House by some 20 years.) To make the prospect of living in such an avant-garde building more appealing to the client and potential residents, Wright even outfitted one of the model apartments with miniature furniture to illustrate his vision for urban living.
In the end, the proposal was pronounced too radical and abandoned ("Glass houses […] How would anyone feel safe," the client, William Norman Guthrie, wondered). Never one to admit failure, Wright repurposed the tower as an integral part of Broadacre City, his utopian rural-urban plan, and exhibited it extensively through the years. A version of the design was finally realized as Price Tower, built in 1956 in Bartlesville, Oklahoma.
For Moody, highlighting the history of the models was crucial, which is why she and her colleagues pursued subtle interventions. "We re-fabricated the things we felt would be distracting if they were missing," she says. "Areas that merely seemed worn or losses that seemed subtle, we just left as they were." When it came to St. Mark's Tower, Moody decided to leave a quarter of the model in its damaged state, allowing the viewers, depending on their position, to visualize Wright's original vision or witness the ravages of time on the historical object.  
Moody's hope is that the restored models will impart a better understanding of how conservators approach three-dimensional artifacts. As part of this effort, the new exhibition is accompanied by several resources detailing the conservators' methods, including a short video which follows Moody's restoration of St. Mark's Tower. "Our approach is not static or objective, but necessarily interpretative," Moody explains. "In presenting these models in different states of restoration, we are also projecting our own values and judgement that have guided these choices." As a result, a visit to Unpacking the Archive will give viewers an opportunity to witness not only Wright's process, but Moody's as well.
If you liked this article, you may also enjoy our interview with Barry Bergdoll, curator of Frank Lloyd Wright at 150: Unpacking the Archive.