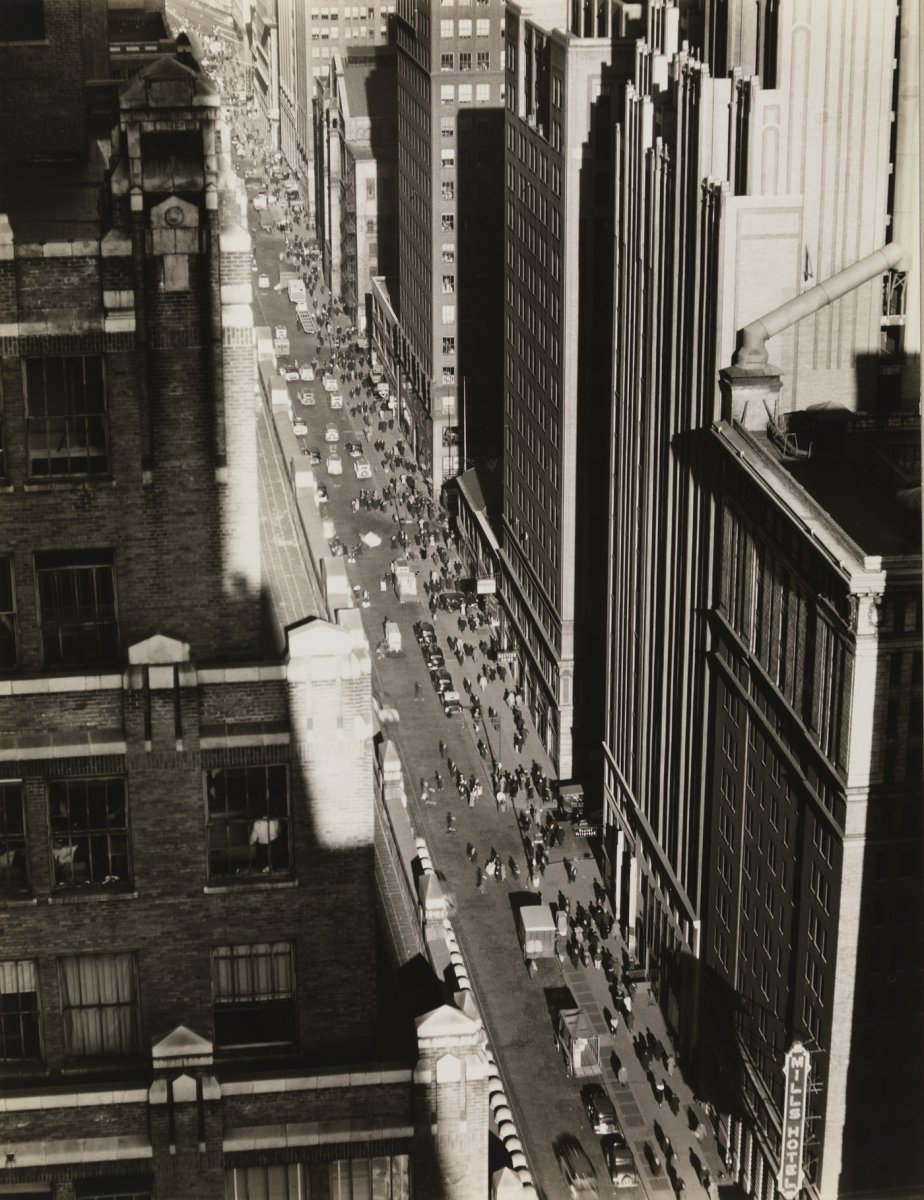 November 21, 2016
How One Law in 1916 Changed New York City—and America—For Ever
A new show at the Museum of the City of New York celebrates the city's legacy of zoning.
Seventh Avenue Looking North from 35th Street, a photograph by Berenice Abbott, taken on December 5, 1935. A show at the Museum of the City of New York celebrates the city's legacy of zoning, which produced striking streetscapes like this one.
Courtesy Museum of the City of New York
---
To commemorate the 100th anniversary of the first comprehensive zoning resolution in America, the Museum of the City of New York presents Mastering the Metropolis: New York and Zoning, 1916–2016. On view through April 23, 2017, the exhibit focuses on the effects of the groundbreaking law, and charts the history of the city's zoning rules and the debates they have generated to this day. Designed to rein in the unruly process of free-market real estate development in the early 20th century, the Zoning Resolution of 1916 forever changed not only New York's iconic skyline but the character of cities across the country.
"When people think about zoning in New York, they think about the 'skyscraper' story—it's so much more than that," says exhibition curator Andrea Renner. "Zoning played a large role in shaping the outer boroughs. The resolution was an attempt to create an ideal city." Just as the city has evolved during the past century, so too has the resolution; from 1916 to 1961 it was amended approximately 2,500 times, and in 1961 it was completely overhauled. Yet the issues that were key in 1916 are still relevant today, including building height, density, street congestion, and urban mix.
Renner describes the resolution as "a system of regulations," and one of her biggest challenges was to take such a complex subject and make it accessible to a wide range of viewers from New York City and beyond. "I tried not just to immediately engage visitors, but to focus on the effects of the zoning code," she notes. To create a compelling narrative, Renner included more than 100 objects in the exhibit, including maps, models, and infographics, and even commissioned a photographer to document diverse spaces in the city that illustrate the impact of zoning.
She expects this will prompt visitors to see the city in a new light: "I hope that they will have a better understanding of what zoning does. As they walk through the city, I hope they'll see the layers of 100 years of history and apply it to their own neighborhoods."
A 2013 study by the Municipal Arts Society looked at the shadows cast by the new series of "supertalls" being erected in midtown Manhattan.
Courtesy Municipal Arts Society
Domino Sugar Factory, Brooklyn waterfront (2016) by Rob Stephenson. The zoning law spurred the growth of manufacturing plants along the East River.
Courtesy Rob Stephenson
New Springville, Staten Island (2016) by Rob Stephenson. "When people think about zoning in New York, they think about the 'skyscraper' story—it's so much more than that," says the exhibition's curator Andrea Renner. "Zoning played a large role in shaping the outer boroughs."
Courtesy Rob Stephenson