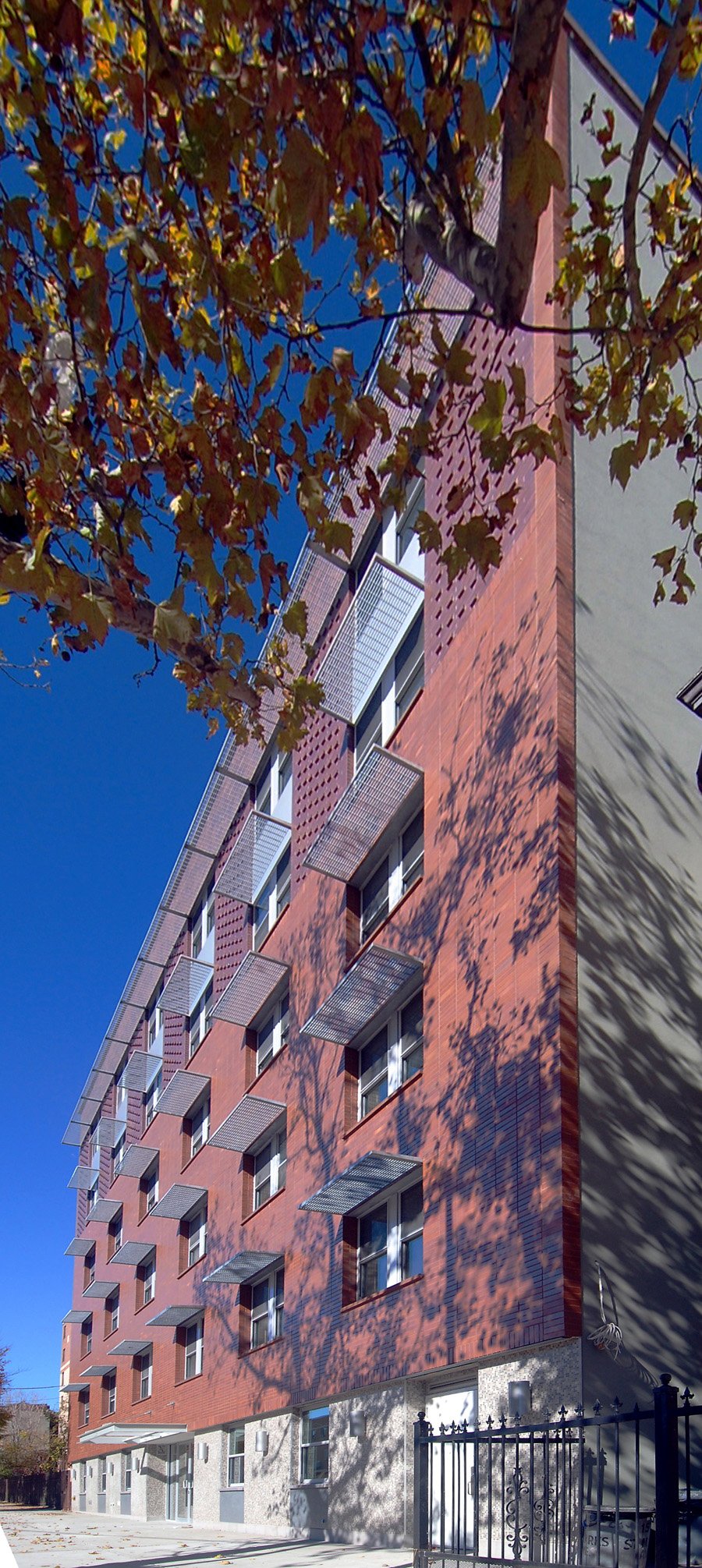 October 22, 2018
How to Design for Seniors in Increasingly Unaffordable Cities
Metropolis spoke with architect Jonathan Kirschenfeld about strategies for designing affordable, high-quality homes for the elderly.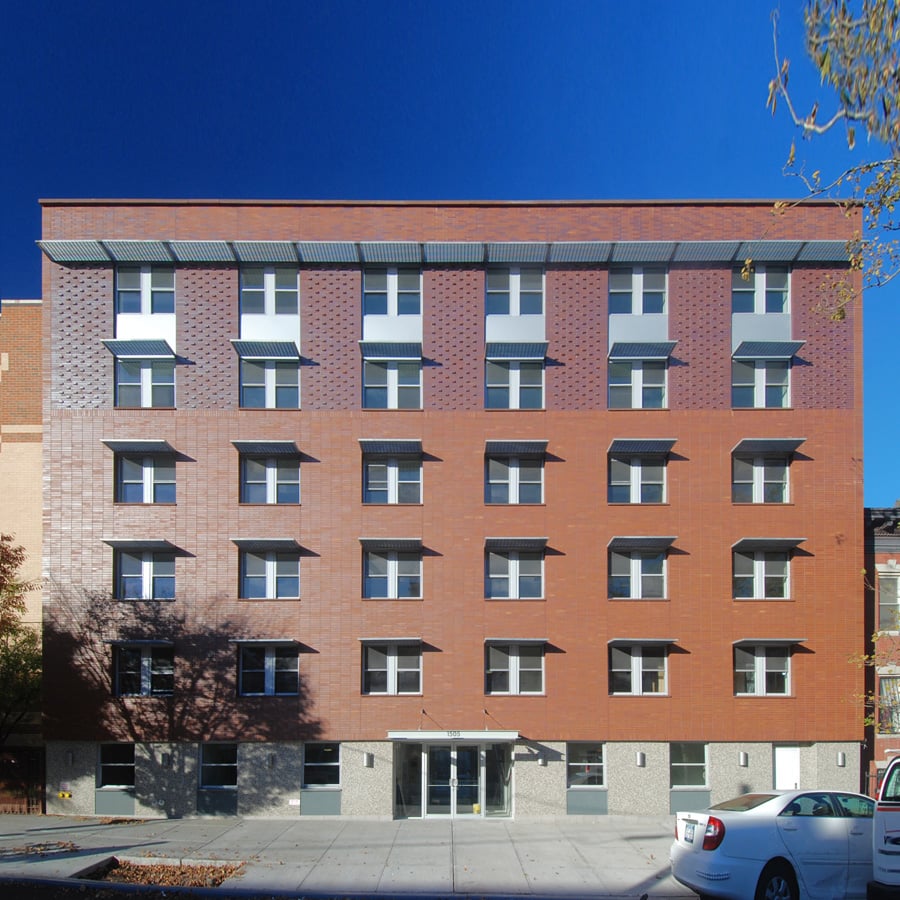 Like many U.S. cities, New York faces a one-two punch in housing, with a de cit of affordable units and a growing number of senior citizens on fixed incomes. Metropolis's Katie Okamoto spoke with Jonathan Kirschenfeld, an architect and founder of the Institute for Public Architecture (IPA), a nonprofit that promotes interdisciplinary collaboration, about designing housing for seniors in New York. Kirschenfeld's eponymous firm has made it a mission to prove that social housing can be good architecture.
Katie Okamoto: Let's jump in with The Domenech, affordable senior housing in Brownsville, Brooklyn, that your firm completed in 2010. This was developed as a HUD [U.S. Department of Housing and Urban Development] Section 202 project. What was the project context, especially since the 202 program—which is specifically for low-income seniors—hasn't been funded since 2012?
Jonathan Kirschenfeld: I knew Common Ground [now Breaking Ground] was probably the most adventurous, innovative, ambitious developer of supportive housing in New York City, and I really wanted to work with them. I designed a C-shaped plan for the site, which was 80 feet wide by 155 feet deep; it was very difficult to get 72 units on it otherwise. When we presented to HUD, they said, "Are you in the right office? Do you know what we build here? We build matchboxes."
Well, therein lies the problem. Section 202 was the only program in America at the time that financed supportive senior housing. What was great about working for a client like Common Ground is they mixed HUD money with other funding streams. I'm not sure how [Common Ground founder] Rosanne Haggerty did it, but she essentially tripled the budget. That's what it took.
KO: What are some strategies for designing senior housing that's lasting and of quality?
JK: When I showed [one of the Domenech funders] the plans for the project, they said, "It's very clear to us that you are steeped in the literature of senior housing—for example, your use of Kalwall that lets in light, which is so important to the elderly. The fact that you used different-colored tile on each floor, so each floor is distinctive and identifiable. The fact that you made a circulation loop through the library so it could be used for exercise if it's raining."
But the truth is, I never read the literature. These are all choices that I would have made for myself. When people say, "How do you design for seniors?" my answer is "The way you design for human beings in general."
When I visit the building now, there are people in tears when I introduce myself, saying, "My apartment is filled with light. I've never had it." Being able to come back to the building years later and see that the library had three octogenarians doing yoga and people reading, it's like, the building works for the community, and that was always important.
KO: There's a huge demand for affordable housing for an aging population, especially in urban areas. How do you design housing that works across time as people age?
JK: Eventually, people may need more direct medical attention, but I think loneliness and lack of social connection are more important to try to attenuate.
When a lot of folks think about senior housing,they're really focused on the private room and medical gadgets. We focus on that, but we spend just as much time on public space. In Domenech, there's a mews down the middle and a water garden in the back. On the second floor, the C is bridged by the little library that forms a circuit for when it's raining, but then you can come through the mews, underneath the library, and access the rear garden as well.
KO: You're talking about community. How does multigenerational housing fit into this?
JK: Unfortunately the idea of stratification and single-group habitation is often based on funding: HUD won't fund some- thing that isn't for seniors; HPD [NYC Department of Housing Preservation and Development] doesn't want to do a project with commercial, and so on.
There are a couple of folks who do it, like Broadway Housing Communities. Ellen Baxter mixed seniors, teenagers aging out of foster care, homeless, and wealthy people. There are only a rare few like Ellen who say, "You know what? It's really important that we pave the way." We have to show that it's possible.
KO: Maybe the way forward is toward more holistic design,which you're saying should include crossing different funding streams to make a workable budget. What tactics support this approach?
JK: That's exactly the role of the IPA. We're not quite a think tank or an advocacy group. We're a group of architects. We've run up against the typical silos of funding, the silos of "Hey, this is our department."
The problem is that in New York City, with all the brain trusts and brainpower and good intentions we have, people are working for half of what they could make in the private sector. Both in my firm and at the IPA, we realized that we are fighting skirmishes and small rear-guard battles, but we have never deluded ourselves into thinking that we're going to revolutionize this town. Real estate interests are too entrenched. People are making too much money doing luxury housing.
By shining a light on certain examples, by proving that small things can get done, by working hard to make the project break through, we're trying to give hope to others who want to make things a little sweeter for people.
You might also like, "Why Architects Need to Get Dirty to Save the World."