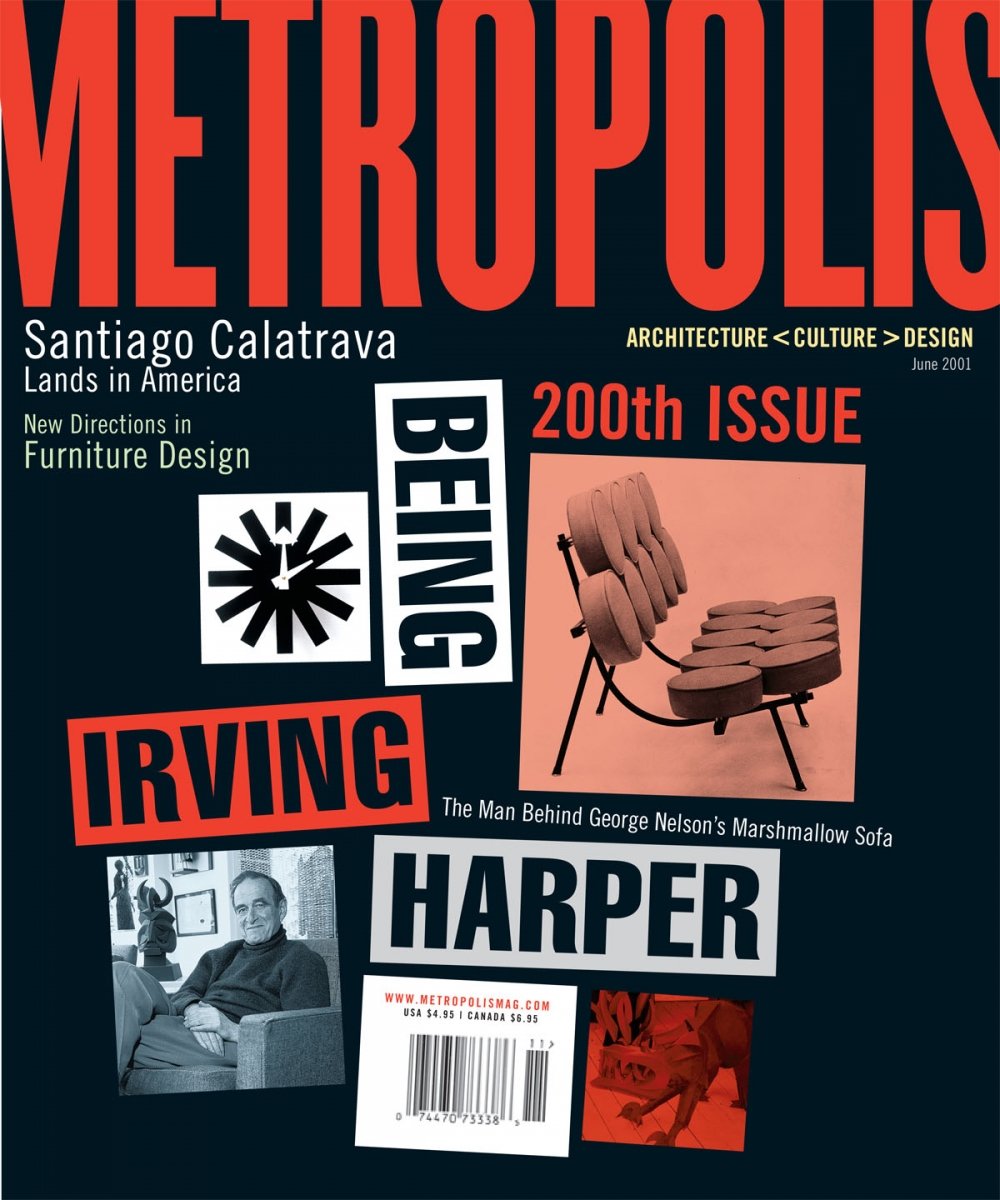 August 5, 2015
Irving Harper, One of Modernism's Unsung Heroes, Dead at 99
One of Modernism's great unsung heroes died Tuesday.
Irving Harper in 2001
Courtesy James Westman
One of Metropolis's favorite designers, Irving Harper, passed away Tuesday. Harper, who was 99, is probably best known as the designer of Marshmallow Sofa for Herman Miller, as well as the company's logo, and the Ball and Sunburst clocks for Howard Miller. These products remain in production today—just as they continue to be largely credited to George Nelson. It was toward the end of his tenure at Nelson's office, where he was employed from 1947 to 1963, that Harper developed a love of sculpture that continued through to the end of his life. His works, largely crafted from construction paper held together by Elmer's glue, were exhibited at the Rye Arts Center gallery last fall.
I first became familiar with Irving's work over 16 years ago, through my designer friend Suzanne Sekey—one of those unsung Modernist designers who I came to know while writing a master's thesis on the Design Laboratory, a Bauhaus-influenced industrial design school that she attended in the 1930s. She had known Irving since the early 1950s when they both worked in Nelson's office, and she would tell me of their days there, working alongside some of the 20th century's design greats. (For a while, Buckminster Fuller sat at a table behind her, and he would go on and on about his ideas of design).
I didn't actually meet Irving until 1999, at one of the old George Nelson office reunions that a few of the ex-employees had put together. It was a way of keeping up with each other and they'd all go out to see some exhibition that was on in the city. One time I was invited to tag along and the group was going to see the Charles and Ray Eames show at the Cooper Hewitt. I remember spending an amazing afternoon meeting the designers: Ernest Farmer, Nelson's first employee who everyone at the office adored; John Pile, a designer whose writings I was familiar with; Toby O'Mara, who also did graphics and furniture; and Irving. As we toured the exhibition, Irving explained to me that he saw the Eameses' work as more innovative than the work he had done under Nelson. The reason, he said, was that he didn't want to waste any of Herman Miller's money with outlandish designs; consequently, the furniture he developed at the Nelson office used traditional joinery, something that the Dutch and German cabinetmakers working out of Grand Rapids, Michigan, where Herman Miller was based, were skilled at doing. I remember Irving getting reprimanded by one of the security guards for touching the furniture in the exhibition, as he explained his deference to the Eameses.
Afterwards we went to a nearby diner for lunch and after talking about a range of topics, the conversation turned to the issue of attribution. It was an issue that Irving, in particular, wanted to clarify, and one I later addressed in a major profile I did on Harper that appeared in the June 2001 issue of Metropolis. Like many of the Nelson employees I got to meet over the years, Irving was a kind, intelligent, and humble designer, whose contribution to the world of modern design still resonant with us today. I miss him already.
The June 2001 issue of Metropolis profiled Harper at length, opening up his work to a new generation of designers.
When Harper began working on this advertising campaign in the 1940s, no furniture photographs were available, so he designed the M graphic. Later ads featured furniture but retained the Harper's M. "It was probably the cheapest logo campaign in history," he said.
Courtesy Herman Miller
Harper's drawings for the Marshmallow Sofa, 1956
Courtesy Irving Harper
Maharam's Pavement fabric was designed by Harper in 1950.
Courtesy Maharam
One of several designs Harper made for the Howard Miller Clock Co. in the 1950s
Courtesy Vitra
Another clock for Howard Miller
Courtesy Vitra
In addition to many pieces of midcentury textiles and furniture pieces, Harper's house was decorated with his own designs, including this ceiling light.
Courtesy James Westman
Toward the end of his time at George Nelson's office, Harper became involved in sculpture. He experimented with construction paper, creating lively sculptures of animals and African masks.
Courtesy The Rye Arts Center