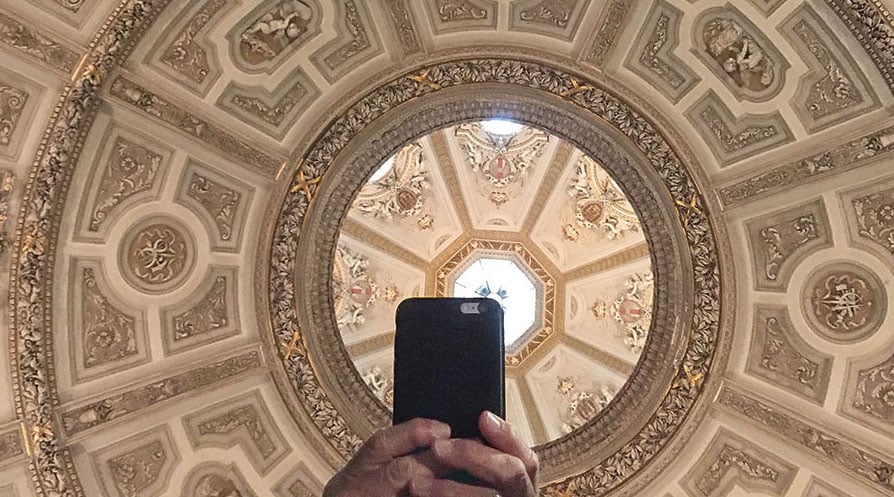 December 6, 2017
Step Inside John Pawson's Colorful Photographic Universe
A new book from Phaidon celebrates the British architect's surprisingly colorful approach to image-making.
"Colors are the deeds of light," Johann Wolfgang von Goethe famously wrote in his 1910 treatise, Theories of Color. The quote foregrounds a new book of photographs by British architect John Pawson. Called Spectrum, the volume serves as a catalogue of Pawson's massive body of photographic work, as well as a jubilant study of hue and light.   
The book's 320 images, shot on a digital camera (or, simply, the architect's iPhone), are arranged chromatically, bookended by a snow-white cloudscape in Japan and a jet-black night sky in Marfa, Texas. In between, the images unfold in a prismatic progression: a vermillion patch of lichen; a close-up of violet-colored cacti; a turquoise patch of sky through Norman Foster's Great Court. Unlike his previous book of photographs Visual Inventory published five years ago, these photographs are less of a diary and more of a curatorial exercise. The majority of the photographs, culled from Pawson's archive of more than 500,000 images, are tight close-ups or details, and printed in a square format, allowing for a single saturated color to define the page. 
These vibrant images may come as a surprise to Pawson devotees familiar with his unobtrusive architectural approach, typified by muted tones and crisp geometries. Indeed, Pawson told critic Rowan Moore, "I love clear spaces. I love the absolute minimum." But minimalism doesn't necessarily mean white in Pawson's photographs; in Spectrum, minimalism is achieved through repetition and the distillation of the architect's subjects to their essential qualities—color, rhythm, light, and shadow.   
On a practical level, image-making serves as an integral component to Pawson's architectural practice: "Years later, the memory of a wall in a Kyoto ryokan…might serve as the perfect reference for a project in Stockholm or West Hollywood," he writes in the book's introduction. But the architect, who had a brief stint as a professional photographer in the '80s, also takes pleasure in examining both the "intimate" parallels between architecture and photography, as well as their differences.  He writes, "There is something pleasing in the fact that, in this one respect, photography is the more permanent art form, architecture's enduring arrangements of stone, concrete, and steel notwithstanding: the light composition is perpetually changing in a building, where the point of a photograph is to fix it."
In Spectrum, each image has the capacity to stand on its own as a photographic object. But when read in aggregate, something more interesting emerges. "Reviewing a collection of images such as the one that follows is a fascinating and revealing exercise," Pawson says. "You see both what you saw at the time and what you missed."
You might also like, "John Pawson's Living Architecture House is a Marvel of Meditative Isolation."