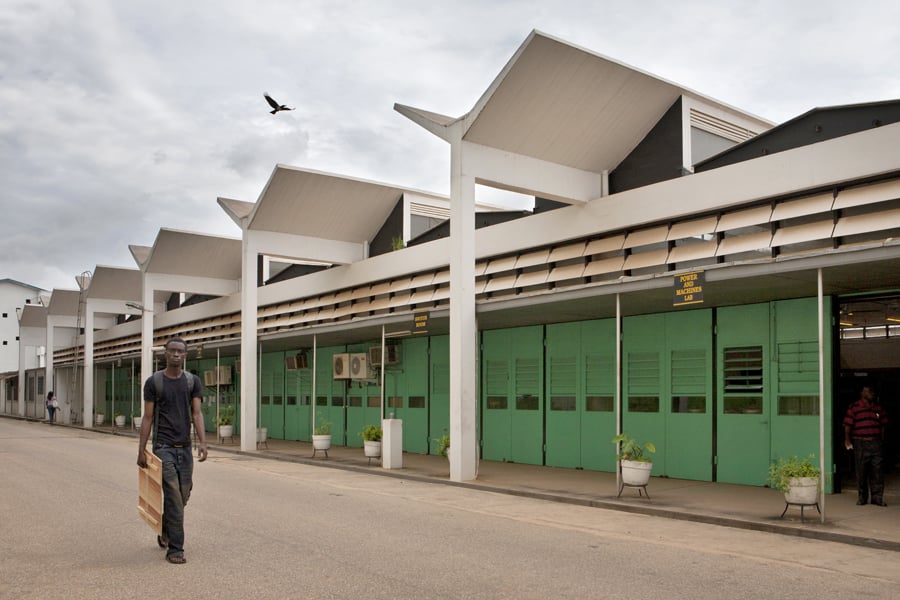 April 6, 2017
Liberation by Architecture: The Optimism of African Modernism
Modernism was once looked to by the emerging states of West Africa to jump-start self-rule. The remnants of this experience, as a new exhibition shows, still radiate that optimism.
If stereotypes of Africa are unfortunately commonplace, the contents of Architecture of Independence: African Modernism almost certainly are not. Recent waves of coffee-table monographs depicting the forgotten Modernism of the Western and Eastern blocs reconstruct the Cold War, which seems to mirror our current political climate. But here, along with such companions as David Adjaye's Africa, Architecture, is a sumptuous photographic moment for the Non-Aligned Movement. President Nkrumah would be proud.
The exhibition, conceived by Manuel Herz for the Vitra Design Museum in 2015 and currently appearing at the AIA Center for Architecture in New York, spotlights the exemplars of architectural Modernism in Ghana, Senegal, Kenya, Côte d'Ivoire, and Zambia. The wonderful La Pyramide in Abidjan, a tetrahedron not for pharaohs but for professionals, is paradigmatic of this supple variant of Modernism that differs significantly from its predecessors elsewhere. It crops up in other overviews, as occasionally does the Kenyatta International Conference Center in Nairobi, whose John Portman–like exposed-concrete interiors deserve more attention. Intrepid students of cinema may have caught a glimpse of modern Dakar in the opening of Ousmane Sembène's 1975 film Xala, but otherwise you've likely seen very little of this.
Architecture of Independence is a survey of the necessary and discretionary construction of these new nation-states, with projects ranging from national assemblies and universities to museums and hotels, mainly constructed during the 1960s and '70s. These buildings were designed with an aim not to seal but to shade, permitting a permeability unthinkable in colder climates. There's a depth to much of this architecture unusual elsewhere, with protruding floor slabs, recessed windows, and open-air arcades and colonnades. Brise-soleil is not a garnish but a necessity, and here takes on a dizzying and delightful range of forms, from Escher-like rigid geometries to naturalistic botanical patterns. Some buildings aim for monumentality, others for simpler tasks; almost all are a welcome revelation.
There are a few layout plans and some news clippings, even a comic strip, but contemporary photographs—most perhaps a bit too small, the others entrancingly big—constitute the bulk of the show. The decay and modification that have marred these buildings in the intervening decades don't obscure their enduring imagination and functionality. Herz, in opening remarks at the exhibition's launch, noted that while plans are important, they don't offer any sense of how a building works, or how it's come to be used, hence this heavy concentration on new photography (a good deal of which was shot by Iwan Baan): "It's more important to see how the buildings are actors in an urban environment today, how they are being loved, cherished, mistreated, abused, transformed…and how the architecture is received throughout time."
In some cases photographs were almost all the information Herz, an architect who teaches at the University of Basel, could find. The designers of several of these structures are as lost to time as their ancient predecessors. Evidently, we know more about the architects of significant buildings in 14th-century Timbuktu than we do of some in 20th-century Abidjan.
The provenance of this work (architects known or unknown) is a story unto itself. Modernism was the preferred mode of newly independent Africa, being a particularly useful expedient for the carelessly delimited multiethnic postcolonial state. Concrete and steel, abstract geometries and motifs, elided the conflicts that favoring any one traditional vernacular would have likely produced.
Prestigious architectural imports were of course de rigueur for embryonic states, but it was a particularly dramatic necessity in Africa for the simple and lamentable reason that its former overlords hadn't bothered founding many schools of architecture anywhere on the continent. As a result, firms from France and the U.K. built most of this architecture of independence.
This isn't a meager Modernism of standardized solutions and precast concrete but one galvanized by fundamentally local exigencies.
But the best of them weren't making ad hoc interventions. Several, like Maxwell Fry and Jane Drew, already had substantial experience building across West Africa. Then there is the case of the remarkable and unsung Henri Chomette, the architect behind many of the buildings in the exhibit. With a legacy of 200-plus completed projects, his practice spanned the numerous Francophone states, using local materials and favoring local solutions. Searching for an analogue, Herz stumbled upon one, calling Chomette and his associates "the SOM of the '60s in Africa."
Additionally, Scandinavian and Eastern Bloc architects often worked in these states. Israeli architects completed many projects in Zambia before 1973, when the country broke off relations with Israel.
In an infamous episode from the fallout, the architects of the University of Zambia departed the continent with their plans in tow. The university has been looking for copies ever since. That's more than can be said of the United States, whose absence here—excepting Harry Weese's embassy in Ghana and one hotel project in which William Pereira had a hand—is conspicuous.
These architects adhered to climatic imperatives. As Chomette succinctly put it: "We must provide protection from the cold in Ethiopia and Kenya, we must provide protection from moisture in Côte d'Ivoire and Cameroon, we must provide protection from dry heat and dust in [Burkina Faso] and Niger, and—due to their maritime settings— from oxidation in Togo and Somalia."
But a constraint is only a beginning. It's the variety of responses to these particular challenges, and other inflections of individual or local character, that make African Modernism so striking. If recessed windows are widespread, undulating or wavy facades are common in Senegal in a way they aren't in Ghana or Zambia. These divisions don't simply map along former colonial lines: Construction in Kenya wielded a predominant palette of concrete, while Zambian builders favored brick. As Herz writes in the handsome catalogue, "Precisely because we can observe a certain commonality among buildings of a specific country, authorship no longer lies exclusively with the individual architect but it has become an expression of the specific location."
There are nods to local tradition and building forms that are occasionally ungainly, but more that are surprisingly elegant. One of Chomette's buildings, a curvilinear librarian school, nods to traditional mud-hut decor simply by occasionally turning bricks outward for accent. A jagged shard-roofed student dormitory at Gaston Berger University (which was master planned by Chomette) looks both futuristic and downright earthy.
There is, unavoidably, a melancholic quality to much of this architecture, as it often became witness to poverty, civil war, unrest, disease, and many familiar afflictions. There are works of distinction that followed these eras, but most represent brief eras when the future seemed uncomplicatedly bright. The Hôtel Ivoire in Abidjan was a symbol of international hospitality in 1970 and, not all that much later, in 2004, a literal sniper's nest. Happily, it is now refurbished and gleaming again—much more than can be said about most of the period's buildings.
Even so, far more is inspirational than depressing here. Herz gives us a depiction of a lively, cosmopolitan Modernism missing from almost all conventional portraits of Africa. It is the start of what he hopes will be a broader survey. Whether he succeeds or not, it's impossible to come away from this first jaunt with a sense of Modernism merely "tweaked." This isn't a meager Modernism of standardized solutions and precast concrete but one galvanized by fundamentally local exigencies. As Herz writes, "Europe no longer can claim exclusive rights to modernity." It's a shame that realization took so long.