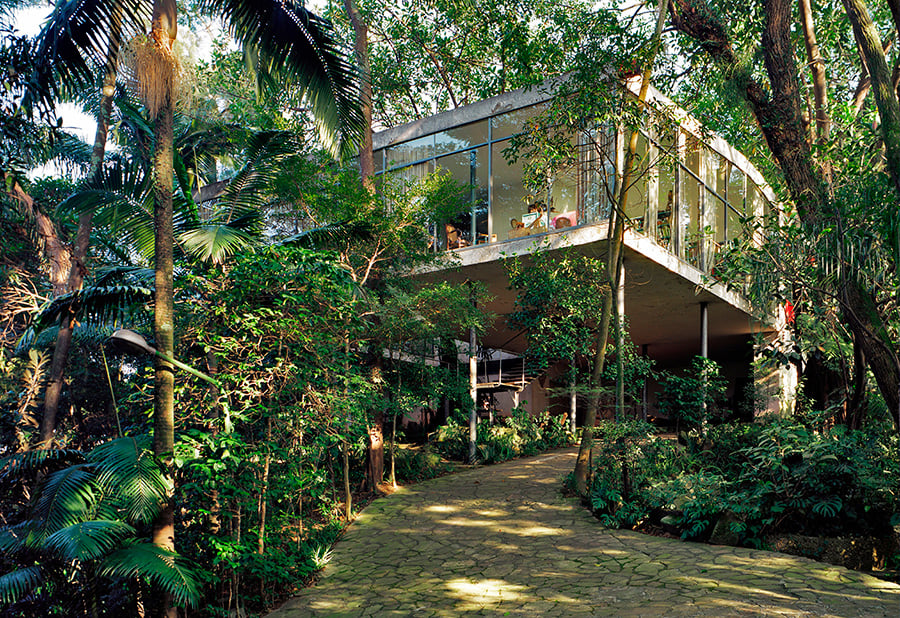 September 14, 2017
The Many Surprising Parallels Between the Architecture of Lina Bo Bardi and Albert Frey
Though the pair of influential architects never met, a new show on view at the Palm Springs Art Museum explores the surprising commonalities between their work.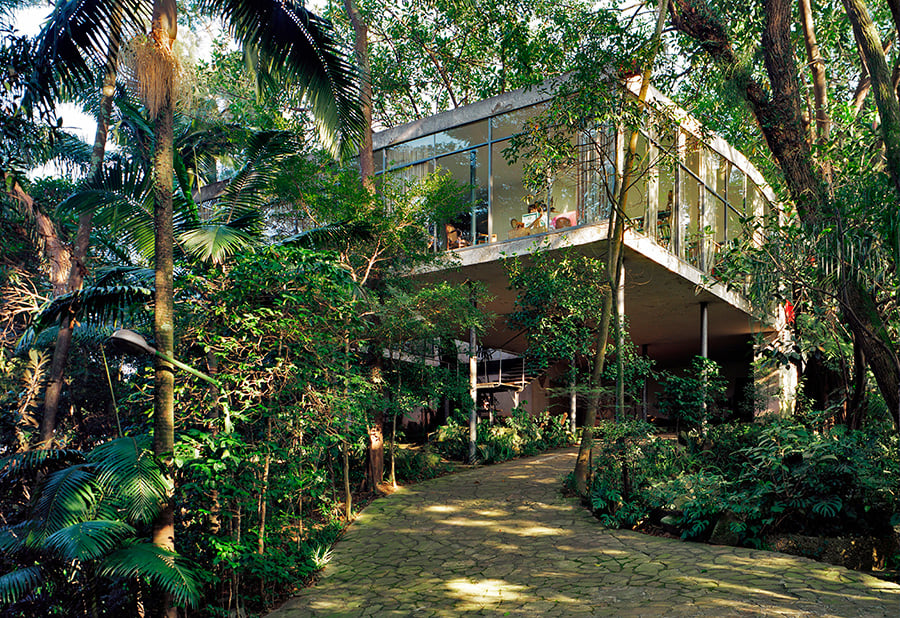 Lina Bo Bardi and Albert Frey, prominent Modernist architects in Brazil and the U.S., never met. But a new exhibition at the Palm Springs Art Museum Architecture and Design Center, Albert Frey and Lina Bo Bardi: A Search for Living Architecture, draws deft parallels between the European-born architects' contemporary careers in São Paolo and Southern California, where architects were transforming the International style into one informed by local living.
A Search for Living Architecture, part of the Getty's larger project to explore connections between Latin American and Los Angeles, Pacific Standard Time: LA/LA, began with the points of commonality that Palm Springs Art Museum Director of Art Daniell Cornell noticed between Bo Bardi's Casa de Vidro and Frey's Frey House II. Each dialogues seamlessly with the landscape around it—Bo Bardi's surrounding a tree in the Brazilian jungle, Frey's anchored by a boulder in the California desert—and, as Cornell learned, the architects were publishing essays and ideas in the same magazines, with Bo Bardi sometimes editing Frey's work
"Bo Bardi moved to Brazil, Frey moved to the U.S., and then they both began to let the environment, the places, the cultures and, specifically, the vernacular building structures that responded to the natural environment of the places they were now calling home, transform their understanding of modern architecture," says Cornell, who co-curated the exhibit with architect and historian Zeuler R. Lima, a specialist in Bo Bardi's work.
Frey, born in Switzerland, worked as a young architect for Le Corbusier. In 1930, he moved to the U.S., and in 1931, debuted the aluminum-sided prefab Aluminaire House at the Allied Arts and Building Projects Exhibition in New York. After moving to Palm Springs, he began to incorporate the desert's natural palette and geography into his designs, culminating in the completion of Frey House II in 1964.
Bo Bardi moved from Italy to Brazil in 1946 and settled in São Paolo. Six years later she designed Casa de Vidro, a house on stilts, fronted with glass in the Modernist style but anchored by the heft of thick Brazilian construction and Portuguese ovens. By the time she finished the nearby Cirell House in 1958, with its rock-covered walls and thatched roof, she had made a "complete transition away from the International style and into organic architecture," Cornell says.
Architecture students from Cal Poly Pomona built models of each of the four featured houses—Aluminaire House, Casa de vidro, Cirell House and Frey House II—for the show. Students also rendered the buildings digitally, and videos show fly-through tours of each, offering a contemporary experience of these decades-old structures.
Additionally, the exhibition features dozens of Bo Bardi and Frey's sketches and architectural drawings. Architectural photographs by Julius Shulman, Nelson Kon, and others line the walls. Magazines—including the Italian design journal Domus, edited for a time by Bo Bardi and often featuring Frey—are open to the relevant pages for visitors' reading. Several pieces of Bo Bardi's furniture are also on display, including her Bowl Chair—a simple bowl seated in a metal ring (Arper is now producing a special 500-piece run of the chair).
These objects and artifacts are set against a backdrop by Barbara Bestor of L.A.-based Bestor Architecture. In her exhibition design, Bestor subtly incorporates Frey's pastels and sharp angles and Bo Bardi's deep jewel tones.
"Modernism has this really, really rich history, and in both São Paolo and Southern California, its initial principles were transformed by architects interested in place and in thinking about the importance of the way that people experienced and lived in those places," Cornell says. "The amazing similarity between the post-World War II economic cultural conditions and the architecture it inspired as it was practiced in São Paolo and Southern California was a revelation to me."
A Search for Living Architecture adeptly links Bo Bardi and Frey, surprising visitors with ties like those in Domus and delighting them with world-renowned photographs. More than that, however, it cogently links the places that informed the architects' work—and demonstrates how the architects evolved in response.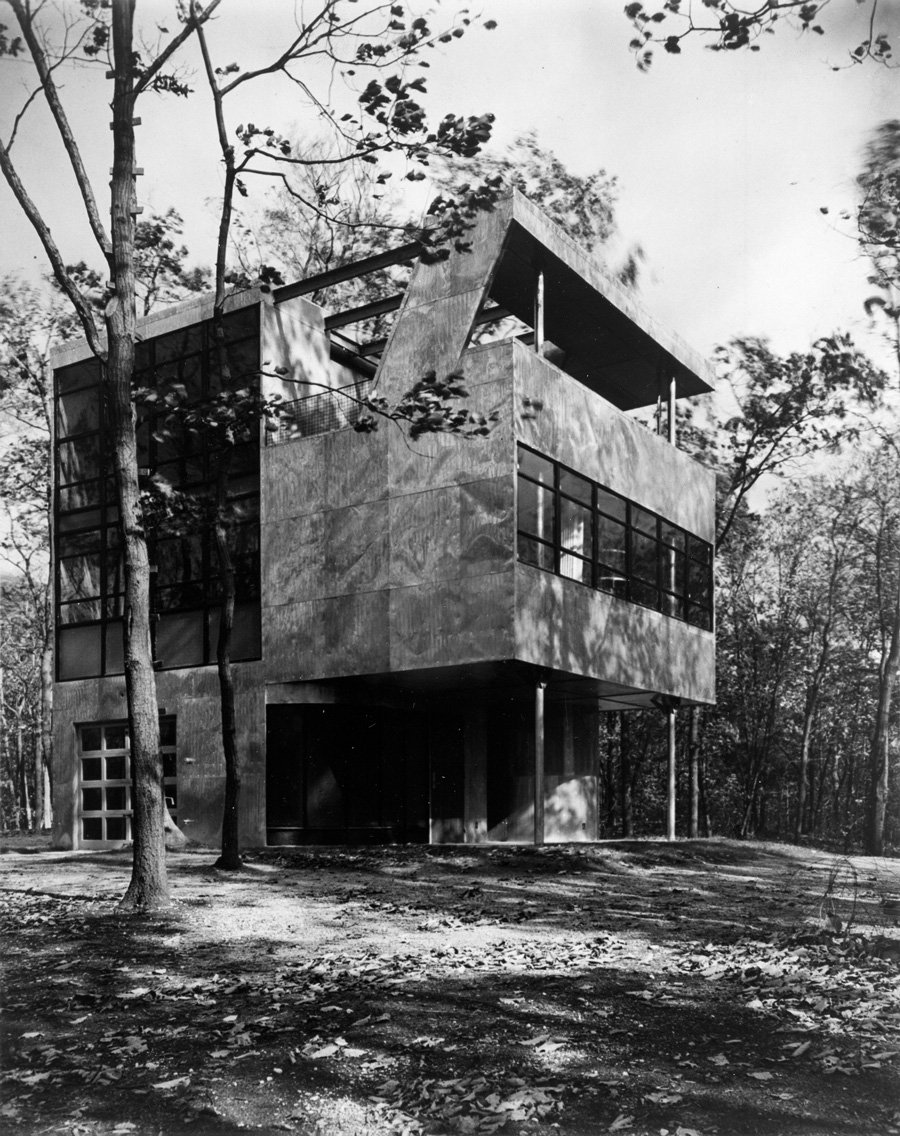 If you enjoyed this article, you may also like, "Lina Bo Bardi's Personal Brand of Modernism."