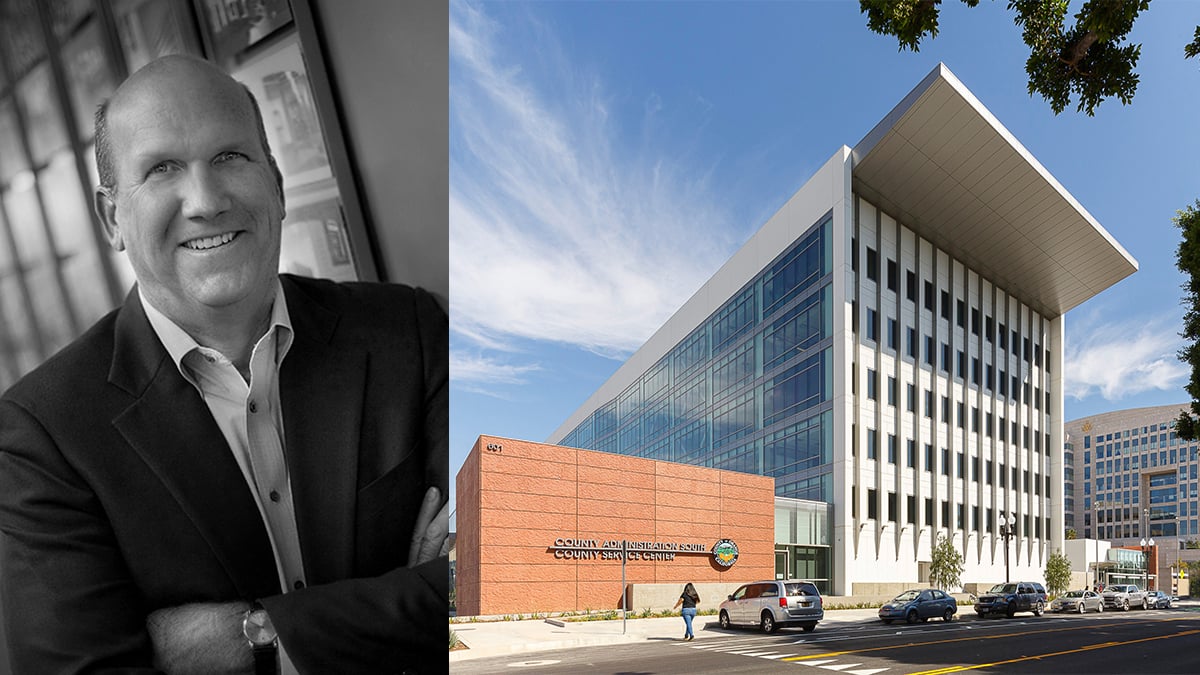 April 22, 2021
How My Firm Got on Track to Design Carbon Neutral by 2030
LPA is one of only 27 American firms this year to meet its targets for the AIA 2030 Challenge. The firm's president Dan Henfield explains how his team has done it two years in a row.
Long before the American Institute of Architects (AIA) embraced the 2030 Challenge, LPA committed to making energy efficiency a core value of the firm. We were one of the earliest backers of the Challenge because it put the emphasis on building performance and set obtainable goals for the industry's fight against climate change.
Last year, LPA was one of only 27 firms that met the 2030 Challenge's target of reducing energy use by 70 percent in new projects. It was the second year in a row we were the largest firm to meet the benchmark, averaging a 73.2 percent reduction across more than 6 million square feet of projects in California and Texas, including civic, education and healthcare facilities.
When people ask how LPA met the target, the answer is always the same—it has to become a priority of the firm. For LPA, that meant we had to change the discussion. For us, the 2030 Commitment was never the end goal. It was always about bringing real design value to our clients with better performing projects. Similar to many firms, we emphasize a collaborative process and provide internal education programs on the 2030 Commitment which are important. But collaboration and education alone won't really win hearts and minds in a design firm.
Our industry has a long way to go—the average energy reduction by the 311 firms reporting for the 2030 Challenge in 2019 was 49 percent. If we are going to meet the goals of the 2030 Commitment and really address climate issues fundamentally, then the traditional process, and the results, need to change. More than anything else, we've found that two key factors have allowed us to achieve better energy performance, which could be a model for the A&E industry going forward.
First off, we made the decision to develop a fully integrated design firm, in large part to make us better on energy and sustainability. We started by adding MEP engineers in 2009 and gradually expanded to civil and structural engineers, and lighting designers.
Looking back, I can tell you that It would not have been possible for us to achieve our 2030 results without an integrated team. Not only did having the engineers in-house make us better designers, which we knew it would, it fundamentally changed our practice. In the traditional practice, with consultants coming into the process after schematic and conceptual drawings are done, they can't have any real input on the project's performance. Many consultants don't want to spend the time early in the process. They don't speak the same language or share the same values. In our integrated practice, the entire team starts together and finishes together gaining input from all the disciplines early and often.
We see the better results of that better process on every project. For a 22,000-square-foot, net-zero entry and atrium for the Edwards Lifesciences campus in Irvine, California, our engineers developed an innovative net truss structural system in concert with LPA's MEP and lighting designers. The net truss has a shallower depth than a traditional truss, which maximized the clear space inside allowing natural light to flood the interior with an efficient displacement ventilation system that eliminated ductwork from the attic to maintain the clear space. The LEED Platinum space seamlessly blends a variety of best-practice conservation measures designed to minimize the project's energy use—efficient HVAC equipment, cool roof, LED lighting with controls—with a PV array to offset energy use.
Another example is the new 250,000 square-foot six-story administration office for the County of Orange, a model of conservation and integrated services, operating 76 percent more efficiently than the baseline AIA 2030 standard, primarily through passive strategies. Developed in a public-private partnership with Griffin Structures as lead developer, LPA as the design partner, and Swinerton Builders as the general contractor, the project uses an ideal north/south axis proper building orientation, solar shading devices, an efficient envelope, natural daylighting, and a workplace design that is coordinated with the passive systems to reduce energy use.
The new building, part of a 20-year master plan to reshape the County's Civic Center real estate, connects to the County's under-utilized Central Utility Facility (CUF), which generates electricity to supply the building at a rate 40 percent less than electricity purchased from the utility company. The efficient design and the local power generation gives the County real energy resiliency, taking the building 100 percent off the utility grid. There is no way we could have worked through the issues in a traditional design process, with outside consultants.
As we examine what we do, it is clear that one other element is key to our process. As a firm, we've always made building performance part of any evaluation of design excellence. The pretty building wasn't enough. It became part of our DNA that a beautiful building is only successful if it is also a well performing building.
This is an important step in our industry. By continually emphasizing that great building performance was the best predicter of design excellence, we were able to create a culture that changed the process and design discussions. On every project—regardless of type, scale or budget — the process includes analysis and problem-solving around energy use, water use, indoor air environment, embodied carbon, the benefits of the site gifts and the other elements of building performance.
This focus on combining building performance and design excellence affects everything we do. Our recent 2021 firm of the year award from AIA California is testimony to the direct connection between sustainability and design excellence. Every project, regardless of scale or budget, can be sustainable and therefore beautiful. And we practice what we preach—each of our six studios is LEED Gold or Platinum.
It's easy to see the impact of this culture on our work. We've learned that achieving results means fighting for the extra few percentage points, on every project, regardless of size or scope. We continually track and share our results, good or bad. We know when we achieve success it sends a clear message: If we can do it, other firms can do it, too.
---
Dan Heinfeld, FAIA LEED AP BD+C, has been the President of LPA for more than 30 years, leading the company's design and sustainability initiatives and expanding the firm's multidisciplinary practice to include more than 400 professionals.