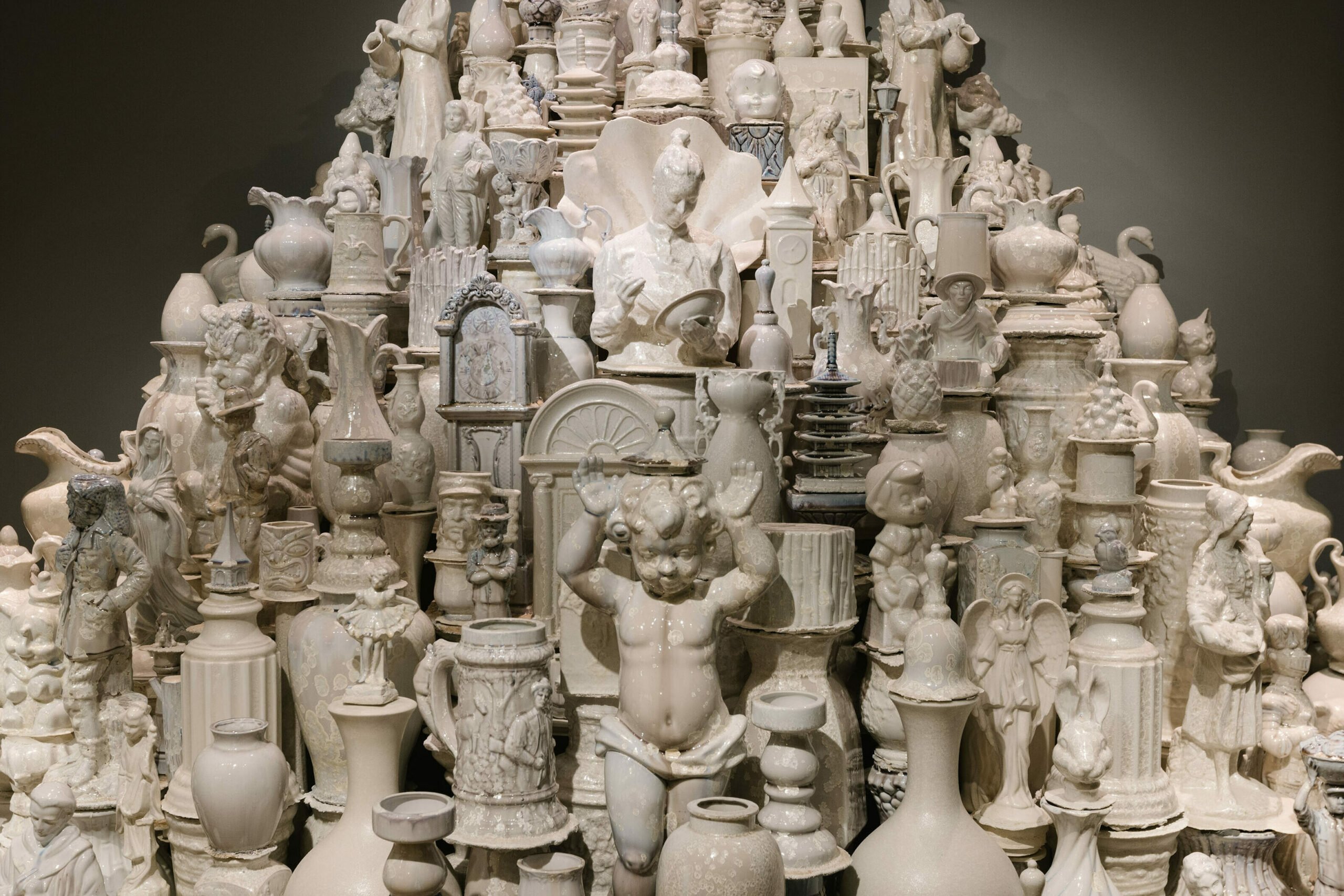 March 22, 2022
Majolica Mania Honors the Forgotten Laborers of the Whimsical Pottery Tradition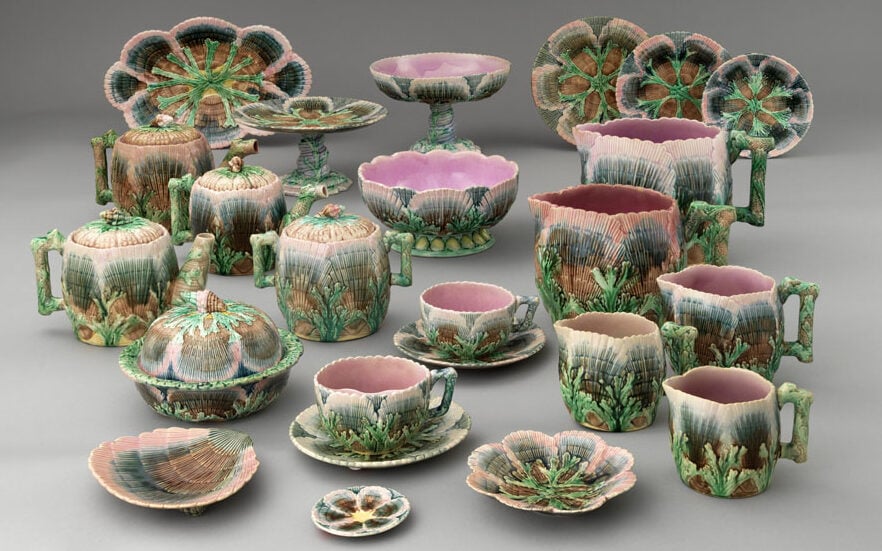 Emerging from maiolica, a 15th-century Italian tin-glazed earthenware tradition, English majolica pottery made use of lead glazes resulting in intensely polychromatic wares that incorporated the arboreal, the exotic, the zoological, and the absurd. The exhibition's 350 items are on display in The Walters' Hackerman Townhouse. Built in 1851, it is an especially fitting setting for the new type of majolica that was introduced to the public that same year. Works on view include those from pioneering manufacturer Minton and Co., who drew directly on Renaissance forms and decoration with its tin-glazed products that were exhibited at London's Great Exhibition of 1851.
In the Victorian revivalist majolica, influences ran riot with Gothic, Egyptian, and Japanese motifs, often all baked in together. Ancient and Renaissance elements are common with some vases featuring Prometheus, others Mars. Pieces for planting are abundant, with jardinieres, stands, and fountains of every type. Some crawl with the plants you might very well put inside such as fern and foxglove vases while others feature exotic foliage you might have trouble producing in the steamiest hothouse. Not to mention the monkeys (often a droll Darwinian nod), peacocks, cockatoos, and all the rest of the menagerie. It was an aesthetic overdrive, with pastiche embraced, and often the point. Queen Victoria was a collector. Prince Albert selected majolica for the interior of the Royal Dairy at Frogmore. In Oscar Wilde's essay "Pen, Pencil, And Poison – A Study In Green", he wrote "the very keynote of aesthetic eclecticism, I mean the true harmony of all really beautiful things irrespective of age or place, of school, or manner" included, in a list of such items, "a bit of Florentine majolica."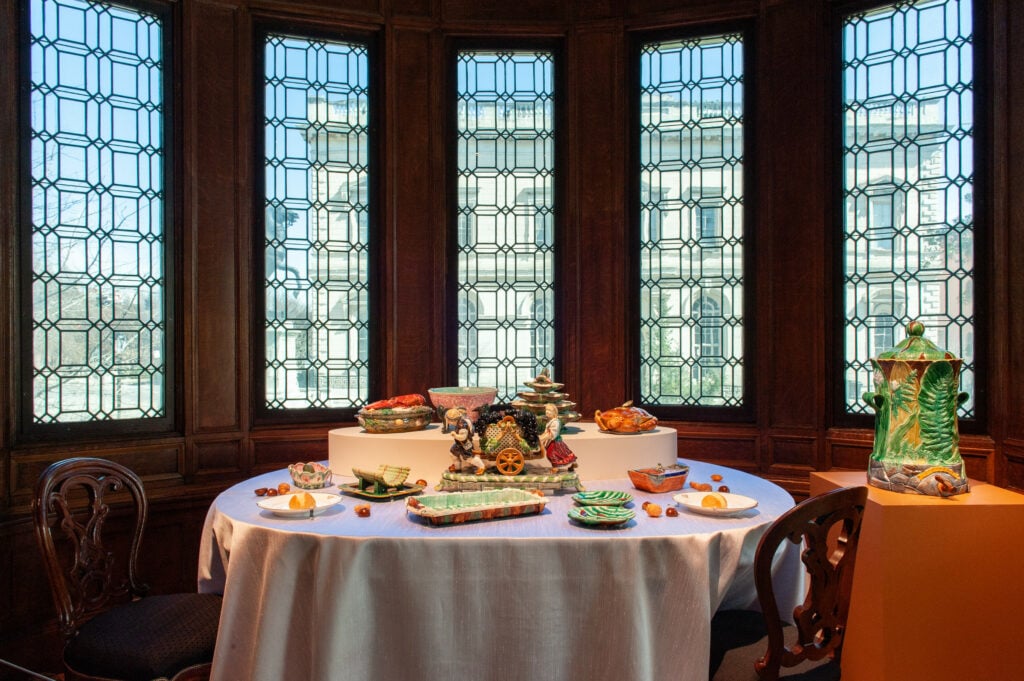 Another prime spot for majolica was the dining table and the exhibition features plenty of intensely specific tableware—asparagus trays, sardine boxes, a mustache cup, even a mush plate (you dare to hold dinner parties without a mush plate?) Wit and whimsy are omnipresent. The crab pate box is covered in crabs, the oyster stand features oyster shells, and aqueous fish plates are common. A monkey clutches a banana leaf—that's the teapot. A vulture clutches a snake in its beak–your tea comes out of the snake's mouth.
Throughout, the show manages skillful attention to the range of majolica produced throughout the late 19th and early 20th centuries in Britain and North America, including a range of American manufacturers one might overlook, such as Chesapeake and Company, Morley and Company, or Wannopee. It also emphasizes the creative agency of the numerous persons involved in the manufacturing, not only the designers but the forgotten laborers—largely women—that shaped the processes in ways that went beyond mechanics. Curator Jo Briggs, notes, "We talk of them as industrial products but we're not talking about a Model T. It's all hand-glazed."
A variety of stages of the manufacturers' production processes are displayed with sketches, molds, photos of kilns, and more. This was, vitally, a technical and scientific process that involved refinements in firing times and ceramic and glazing technique, with chemistry central to any becoming design. Improvements in technique did not equal improvements in safety, however.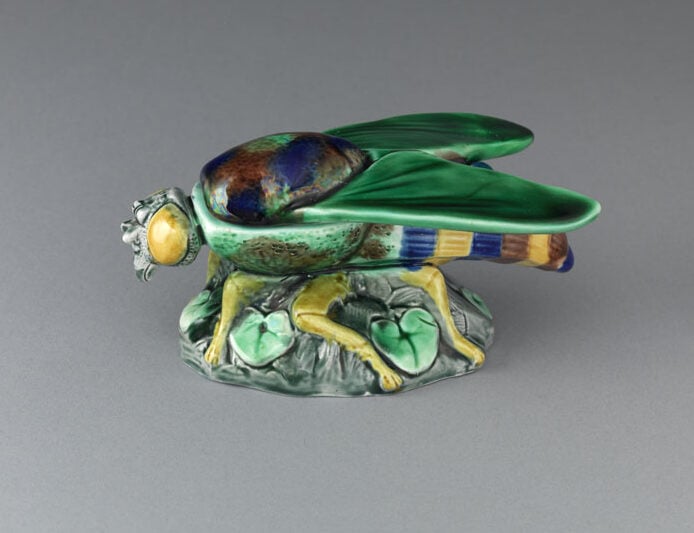 The toxic and aesthetic qualities of Majolica are inseparable—Laborers were exposed daily to lead, cobalt, manganese, arsenic, chrome, and other deadly substances. Briggs explains, "It really was the high lead levels that makes those colors possible. Once lead was regulated there wasn't any more majolica." She notes that "People were harmed. It's easy to write that on a label but we wanted to say something more." To achieve this, the curators commissioned a new ceramic work to memorialize the endangered laborers. Artist and Alfred University faculty Walter McConnell's A Requiem in White, renders depictions of these workers in cast porcelain.
To be clear, it was not a principal concern for humanity that lead to the fall of majolica (although thankfully lead restrictions did increase), but more prominently shifts in taste. In the 1930s, The Victoria and Albert Museum deaccessioned works of majolica, basically on the grounds of irredeemable kitsch (this and much more is detailed in an accompanying three-volume catalog published by Yale University Press.) The pottery largely disappeared from surveys of ceramics for the first half of the 20th century and usually encountered dismissive commentary. Briggs explains that curation was more of a challenge than usual. "The difficulty of the show was that you couldn't just go to a dozen or so museums. The fact that so many of these pieces were drawn from private collections sort of reflects how majolica fell out of favor. So for the loans, they turned to private collectors and small historical societies, which she noted were often more abundant in the U.S. than in Britain.
Majolica chips fairly easily, so plenty of it has obviously been broken over time. But what Majolica Mania proves is that if a piece survives, it's likely to be as bright as the day it came out of the kiln.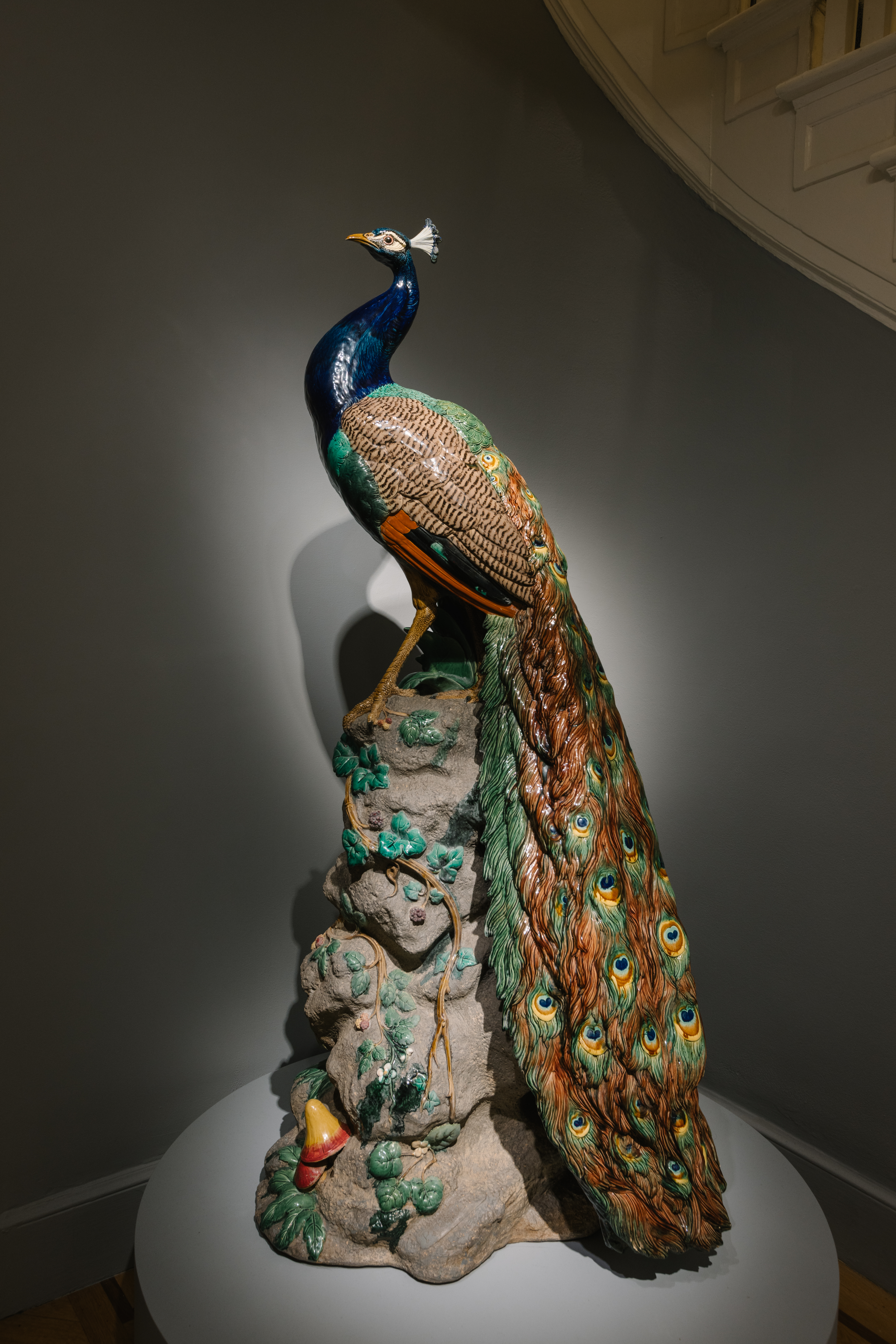 Would you like to comment on this article? Send your thoughts to: [email protected]