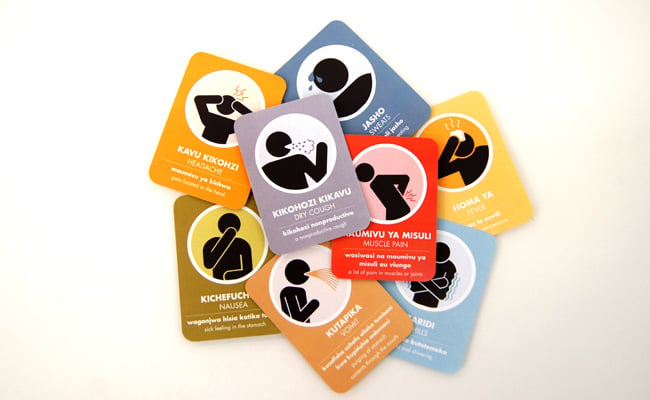 June 6, 2013
Making Good on the "Universal" in Universal Design
The Runners-up: A new generation of designers takes on an ambitious set of pressing social challenges.
More than two decades have passed since the U.S. Congress signed the Americans with Disabilities Act into law. Yet while we do have nominally accessible hotel rooms and sidewalk curbs with wheelchair cuts, the ADA has generated far more compliance than it has design. The profession—and the public—all acknowledge universal design as a concept. But thus far that concept has lived more as obligation than an inspiration. And the need for truly inclusive universal design is greater than ever—with swelling ranks of autistic children, legions of injured American soldiers returning from overseas conflicts, the alarming spread of terrorism, and, last but certainly not least, 78 million reluctantly but rapidly aging American Baby Boomers who will not go gently into that sedentary life.
In this year's Next Generation Design Competition, Metropolis aims to tap into the vital energy of a new crop of designers, looking to find not just beauty but meaning and service through their work. For these entrants, design is no mere stylistic exercise, but an incisive and creative tool that can and must enhance the lives of those whose needs have been ignored. This year's runners-up have aimed high—drafting solutions for the inhabitants of a malaria-infested slum in Nairobi, for the thousands of child amputees in Cambodia, and, closer to home, for amputees who want prosthetic devices that will allow them to do more than just walk and run without a hitch. Ours may never be a truly new world. But through the efforts of this wave of dedicated designers, it may have become just a bit more brave.
HEALTH-CARE COMMUNICATION TOOLS
Kent State University School of Visual Communication Design: Kibera, Nairobi
Courtesy Andrew Schwanbeck
Located on the outskirts of Nairobi, Kenya, Kibera is the largest urban slum in Africa, with close to one million inhabitants. Families of eight or more crowd into dwellings of 12 square feet. Much of the ground is covered in trash. An utter lack of drainage leaves pools of standing water everywhere that quickly become infested, providing fertile breeding grounds for mosquitos. Malaria is epidemic. There is also widespread distrust of international aid organizations and clinics.
A collaboration between researchers from Kent State University and an on-site NGOs, this project consists of a series of icon-based visual designs to communicate essential information about malaria treatment and prevention, and to promote the practice of safe sanitary habits in Kibera. Relying primarily on images and with minimal text, the campaign highlights the causes and spread of malaria, its common symptoms, and treatment options. It also features an array of tools—including board games—to help educate Kibera's schoolchildren. "We tried to provide visuals that fit within their culture," says graduate student Andrew Schwanbeck, citing the high level of illiteracy in Kibera. "We didn't want just another Westernized design solution."
NIKE CITRUS
Jake Rynkiewicz: Global
Courtesy Jake Rynkiewicz
Creating attractive but affordable products for niche markets such as the blind can be difficult. There are problems of both design and scale. Products for the seeing-impaired have functional parameters that can evoke stigma or separation. And the market is simply too small to keep unit prices low. Rynkiewicz tackled both issues with Citrus, a robust sport watch conceived for use by the blind but stylish enough to appeal to a broader market. The watch's slotted concave face allows users to tell time through the sense of touch. Its spiraling stretch-rubber polymer band fits all wrist sizes—and evokes a carefully removed orange peel.
Satellite technology and one-touch function lets users sync the watch to local time anywhere on the planet. The designer even suggests a marketing campaign whereby sport-watch customers might buy one Citrus for themselves, and a second that would be donated to the American Federation for the Blind. "Americans are some of the most charitable people in the world," says Rynkiewicz, who studied industrial design at the Columbus College of Art and Design. "This product taps into that desire to help others."
MyRA
Jessica Miller: Global
Courtesy Jessica Miller
Approximately 1.3 million Americans (and about two percent of the global population) suffer from rheumatoid arthritis. RA requires ongoing treatment, and patients often fill out self-assessment questionnaires before doctors' visits. Yet even patients who see their doctors regularly have difficulty providing an accurate report of their symptoms to their physicians. This lack of information makes it difficult for doctors to monitor the progression of the disease and the effect of medications, making treatment less effective.
MyRA is an iPhone app that helps people with RA chart their symptoms and share information with their doctors. "Creating an app for users with joint pain presented unique challenges," says Miller, a design consultant in the Bay Area. "Patients reported that certain gestures were more difficult than others, like pinching to zoom, or drag and drop. So we decided to use only single taps and scrolling." With the app, patients can monitor and record joint pain, stiffness, medication routines, and lab results, and track household activities. These data in turn generate graphs and other mapping devices that can chart the patient's progress and help physicians devise individual treatment plans. MyRA is currently available free on the iTunes App Store.
ReMOTION KNEE
Vinesh Narayan: Jaipur, India
Courtesy Vinesh Narayan
There are many existing solutions for amputees looking to recover mobility and function after the partial loss of a leg. Unfortunately, these solutions can cost more than $1,000—well out of reach of the millions of amputees worldwide who live on $4 a day or less, and who often rely on rigid bamboo staffs, or shoddy devices that use cheap, available substitutes such as a door hinge as a stand-in for a functional knee joint.
ReMotion is a high-performance prosthesis designed for amputees in low-resource regions. It enables users to perform tasks including kneeling, running, and riding a bicycle. In a pilot program with the JaipurFoot Clinic, ReMotion fitted more than 4,600 amputees. Its retail price of $80 is achieved through central manufacturing; outsourced warehousing, packaging, and delivery; and direct sales through existing low-cost international clinics, where users can be fitted for the device by trained technicians.
HEADS UP
Vincent De Smedt/Edmire: Global
Courtesy Vincent de Smedt
Living with tetraplegia—partial or complete paralysis of all limbs and torso—is difficult physically, emotionally, and even socially. A paralyzed person draws eyes whenever he or she enters a room, or is hoisted, along with wheelchair, into a car, bus, or train. Current wheelchair-control systems, which are mounted directly in the user's sight and often conceal the face and mouth, only exacerbate the already-distancing stigma.
Heads Up is a wheelchair-control system integrated into the chair's head support. The chair's designers came upon the project through their association with the Center for Health Technology at the University of Antwerp in Belgium. Form-fitted to the user's head, the chair's head support control is intuitive and easily learned: the chair turns along
with the user's head. A tactile function switch—which also doubles as a microphone for advanced control—enables the user to switch chair functions, shifting, for example, from forward to reverse, or to modify seat and comfort settings.
HORTI-COMMUNITY
Akira Nakamura, Arta Yazdanseta, and Nozomi Kanemitsu: Tokyo
Courtesy Akira Nakamura
According to government surveys, 21 percent of Japan's population is 65 years or older. That number will grow to 39.9 percent by 2060—or one out of every 2.5 people. Japan's seniors will need activities and opportunities to remain healthy, to lead productive lives, and to avoid overloading their country's already-strained social service network.
Gardening is a popular and positive activity for Japan's seniors, promoting health, community, and a sense of purpose. But Tokyo is one of the world's most densely built cities: open space comprises just five percent of the total land use. However, the city's rooftops offer an ideal venue for outdoor gardens. During warm seasons, senior gardens will produce vegetables for neighborhood farmers' markets. During winter, they will provide gathering space for other activities. In addition, the rooftop gardens will drastically reduce Tokyo's urban heat island effect, and help conserve energy.
AXIS
Timothy Seward: Global
Courtesy Timothy Seward
As recently as a decade ago, foot or leg amputees considered themselves fortunate if they could walk or run. But a new generation of amputees aspires to a higher level of activity, and wants prosthetics that allow surfing, dancing, skateboarding, and snowboarding. "People who have had an amputation want to return to a normal lifestyle without limitations," says Timothy Seward, a former competitive downhill skateboarder who has worn various prosthetic feet over the past 20 years. "But the lack of innovation in prosthetic design makes that difficult."
Unlike traditional prosthetic feet, Seward's multi-axial ankle allows for a full range of motion—mimicking the biomechanical function of a real ankle. Built of a standard ball joint with urethane bushing and straps acting as tendons, the artificial ankle not only bends and twists like the real thing, but returns to a neutral position when pressure is lifted.
X-FINGER
Daniel Didrick: Global
Courtesy Daniel Didrick
Finger loss makes up approximately 94 percent of all non-fatal amputations. It can be caused by circulatory problems, machinery and power tools, war, and even adverse reactions to medication. The loss of hand function has a disproportionate effect on a person's productivity and welfare; individuals with limited use of their hands earn approximately 50 percent less than their fully abled counterparts.
While latex and silicone fingers can fill the space, they do not restore the finger's function. Creator Daniel Didrick's prosthetic system uses a series of interchangeable titanium and surgical stainless-steel components that can be assembled into more than 600 configurations to restore hand and finger function following a broad variety of injuries. "This device does not require batteries or motors," says Didrick, who recently developed a device enabling a professional pianist to return to the keyboard. "It could have been produced hundreds of years ago."
COMFIT
Alain Tsai: Global
Courtesy Alain Tsai
Comfit is a crutch intended for patients dealing with temporary injuries. Sleek and almost spare, the crutch offers high-level performance at an affordable price, and provides enhanced stability while reducing injury and inflammation. Comfit's injection-plastic frame and fiberglass arc absorb excess impact from the ground. Its end tip maintains contact with the ground throughout the walking stride. Its shoulder strap reduces underarm chafing. And unlike conventional crutches, Comfit's front-facing hand rest keeps the user's hand in a natural position, reducing muscle and tendon strain.
While he never suffered an injury requiring crutches, designer Alain Tsai used standard crutches for several days as part of his research. "I tried to create a form that was as clean as possible," says Tsai, now a product design major at Art Center College of Design in Pasadena, California. "As minimalist as possible, where form would follow function. And at a price where it could be sold at local pharmacies."
ESPOIR
Yoony Byun: Cambodia
Courtesy Yoony Byun
About two years ago, Yoony Byun watched a documentary on Cambodia's young landmine victims. "I was shocked to learn that so many children were still losing limbs from unexploded mines left over from a war in the 1970s," says Byun, a product design student at Art Center College of Design in Pasadena, California. In an industrialized country, child amputees would be refitted for a prosthetic device every six to 12 months to accommodate growth. In Cambodia, these children count themselves fortunate to have a single prosthetic patched together from recycled bicycle parts.
Espoir is a user-adjustable prosthetic that child landmine victims can use throughout their youth—vital in a country where students regularly walk three to six miles a day to attend school.
The project begins with a marketing campaign inviting consumers to return their used Espoir athletic shoes to the manufacturers. Shoe materials are then repurposed for the prosthesis, with uppers forming the socket support, and soles refashioned into two interchangeable foot options: one suitable for work in rice paddies, and a second for walking on dirt roads.