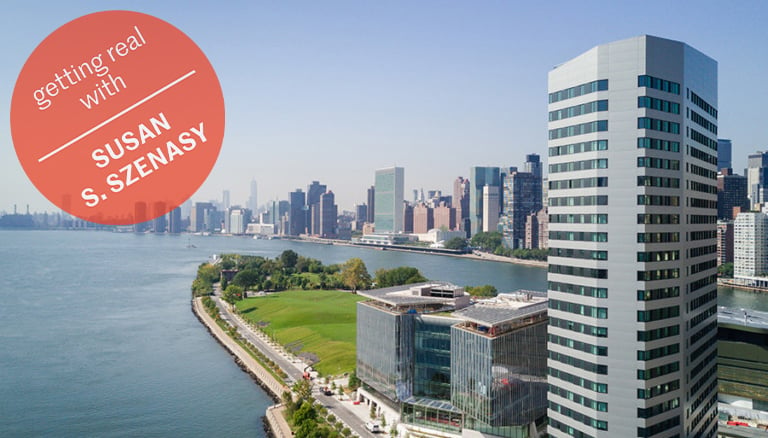 April 20, 2018
Opinion: When Designing for Livable Cities, Resiliency and Inclusivity Go Hand-In-Hand
Susan S. Szenasy, director of design innovation at Metropolis, weighs in on mega-developments, affordability, resiliency, and diversity in cities.
---
We New Yorkers live on a massive construction site. Though I, as many, reside comfortably in my tiny downtown condo, few of us can escape the turmoil brought on by the large volume of destruction and building, and the infrastructure updates that accompany these efforts. Our avenues and side-streets are tied up with traffic at a standstill. Particulate matter whipped up by digging deep into the earth pollutes the air above.
But we hold on to what attracted us to the best of urban living in the first place: In my neighborhood are goods, services, restaurants, bars, schools, and parks within walking distance from my front door. The promise of this proximity, this human-scale life in what otherwise could be an impersonal city, is attracting new generations looking to escape from the boredom and isolation of the suburbs. Here's what mega developments promise them.  
The formula for the 21st Century city rising around the world, is predictable: Build a collection of sleek towers for housing, offices, and hotels; locate services, entertainments, schools, parks, walkways, and bike paths on the ground plane—then connect this healthy (read: car free) lifestyle by mass transit to the rest of the city and beyond.
If you are among the high-salaried newbies looking for sanitized urbanity, you're in the right place. But what if you're a teacher or other essential service provider? While the city demands that affordable housing be part of these new developments, that reality is missing from the romantic advertising. One eye-opening fact to consider: Starting rent for a one bedroom at One Hudson Yards, a tower designed by Davis Brody Bond and Andre Kikoski in Manhattan's rising Hudson Yards development, is more than $5,000 a month while the starting salary of a New York City public school teacher begins at around $45,000 annually.
Recently, as ground was broken at the Turtle Bay South Complex, a new high-rise development developing the East River near the UN, with towers designed by Richard Meier and SOM, news came of a public school to be built there. Turtle Bay, when completed, is expected to welcome 10,000 residents to the neighborhood. Will there be teacher housing on the site or nearby?
As I tried to cope with my New York angst brought on by rampant gentrification and its destructive effects on the fabric of my city, I escaped to Austin earlier this month to moderate three Metropolis Think Tank sessions hosted by architecture firms. Here, in the Texas capital we talked about community and the importance of preserving its diversity. Austin is known, to settlers and visitors alike, for its creative music scene, academic life, and ability to connect nature and human nature.
But, like New York, the city's urban fabric is rapidly changing. I stood on a bridge, staring at a dense collection of new structures which are redefining downtown Austin. Towering over the city at 58 stories, is a luxury condo and hotel, officially called the Independent but known locally as the "Jenga" for its toy erector set appearance. Designed by the Austin-based architecture firm Rhode Partners, asking prices for the building's various residences range from $638,000  to more than $4 million, according to Curbed. Such income-segregated developments are provoking public discourse on the importance of fostering healthy, diverse communities.
We visited the local offices of Page, a national design firm, where its architects have been studying effects of climate change, manifesting in Austin as heavy downpours. Our conversation turned to lessons they've learned from two major hurricanes. Katrina in New Orleans and Harvey in Houston, remind them vividly of the necessity for policy, urban planning, and design to support cohesive communities.
So, they asked, how can planning for resilience help communities prepare to survive cataclysms as well as the trials of everyday life? They find some answers by studying the manifesto of the Resilience Institute, which explains that thriving ecosystems, economies, and social systems all have one thing in common: Diversity.
A living example of a diverse and well-functioning community is an innovative public school in Austin that brings together children of different neighborhoods. The Magnolia Montessori School for All was designed by Page as a group of small houses sitting in nature. Each house supports a group of children learning to be creative, independent, flexible, and free.
I've observed resilient design, as it incorporates the local ecosystem, at only one of the 20 mega-developments in New York City. This is Cornell Tech, a research campus underway on Roosevelt Island. This campus, rather than the old-style academic village with its gates and quads, will have open spaces and many different moments in nature that welcome island residents, as well as the researchers who will live here. Since Roosevelt Island is in a tidal estuary, the planners at SOM considered periodic flooding, some cataclysmic, on this small sliver of land in our city of islands. They raised the buildings above expected flood levels and the landscape, design by James Corner of Field Operations, includes bio-filtration gardens to clean storm water run-off and paths with gravel edges to capture excess water. A massive solar array will produce clean energy.
These two examples of resilience—the human impulse to connect with others for the purpose of forming strong and diverse communities, and the technical know-how that connects the built environment with its diverse ecosystem—do not a movement make. I see it as a new beginning in our search for resilience aided by systems thinking to solve wicked problems. Will the high rise gated communities rising around us mark the last gasp of an exclusionary era?
You may also enjoy "This Tiny Amsterdam Neighborhood Is a Prototype for Grassroots Urban Planning."