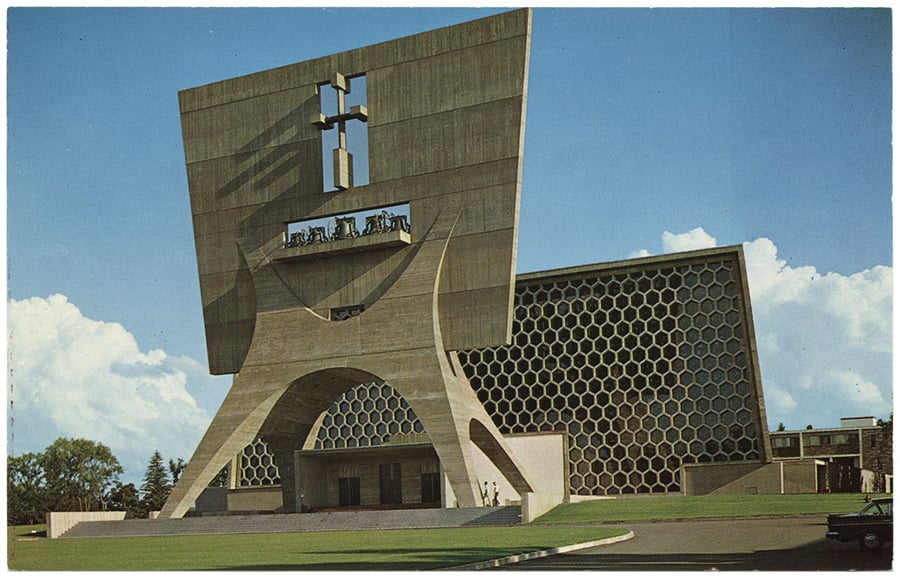 March 1, 2018
Minnesota Design: Uncovering Minnesota's Influential Modernist Past
From the flat-roofed house to the shopping mall, Minnesota was a dynamic proving ground for pioneering midcentury design ideas.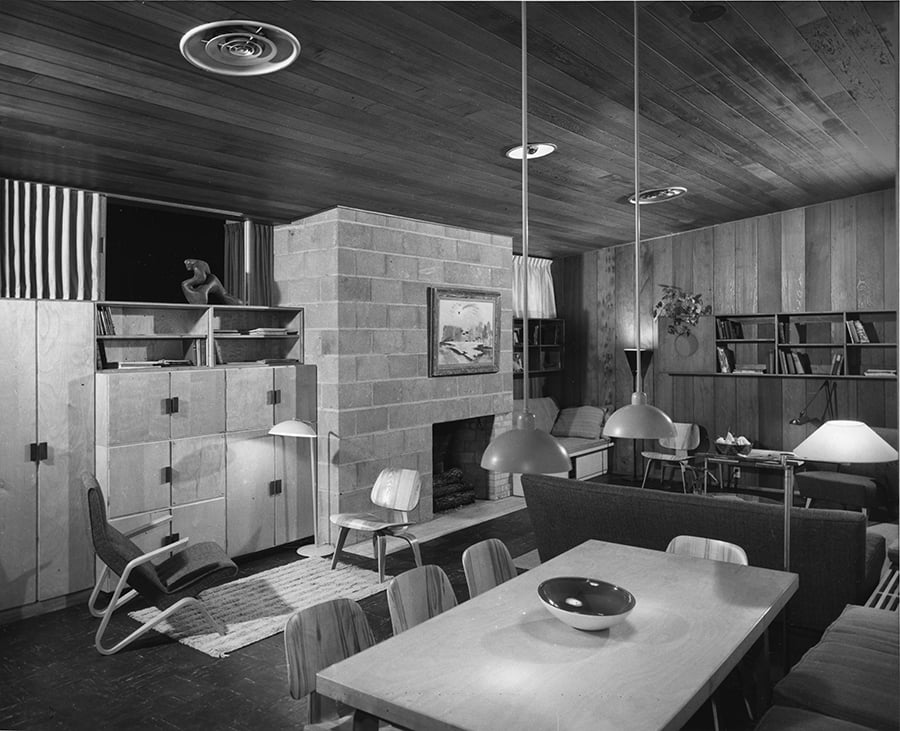 For its March 2018 issue, Metropolis Magazine explored the three great North American design regions: The Pacific Northwest, North Carolina, and Minnesota. We looked at each area's deep historic connections to architecture and design, as well as the contemporary practices thriving there today. Stay tuned to our homepage as March issue articles such as this one go online; you can also find the latest updates here.
---
Minnesota was a vibrant outpost of architectural Modernism in the decades after World War II. Although far removed from the nation's design centers, the state was home to institutions, most notably the Walker Art Center in Minneapolis, that became well known for spreading the Modernist gospel. In 1941, the museum built an "idea house"—one of the first of its kind in the United States—that showcased the style later known as midcentury Modernism. The house attracted copious amounts of national publicity as well as thousands of visitors. Then in 1946 the Walker began publishing Everyday Art Quarterly (later renamed Design Quarterly), a magazine devoted to Modern design that developed a wide and discerning readership.
The state in fact had long been fertile ground for innovation in architecture and engineering. Minneapolis-based engineers such as Charles Haglin and Claude Turner helped pioneer the use of reinforced concrete construction at the dawn of the 20th century. It was Haglin who in 1899 devised one of the most distinctive of all American building types—the cylindrical concrete grain elevator. At about the same time, architects William Purcell and George Grant Elmslie, also based in Minneapolis, were designing remarkably forward-looking houses in the Prairie Style created by Frank Lloyd Wright.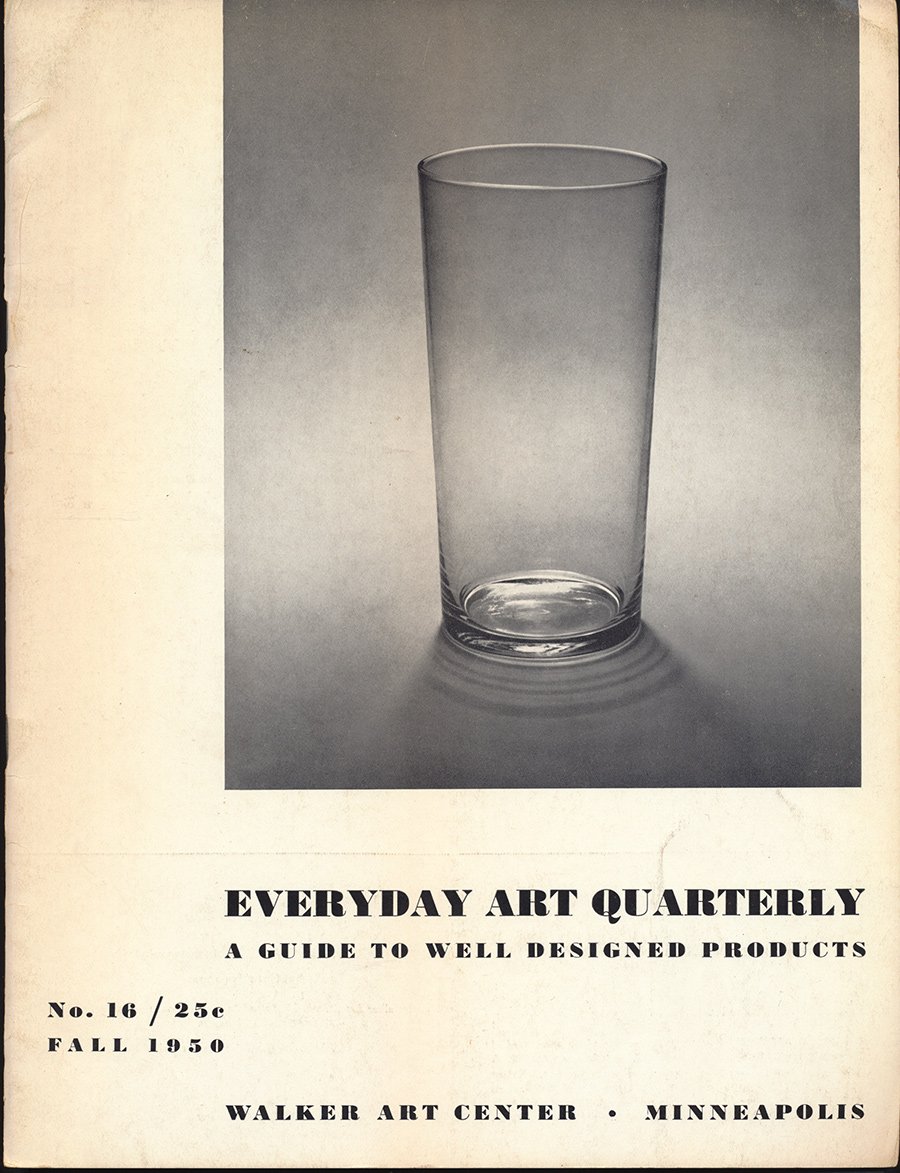 ---
Not surprisingly, the long-lived and endlessly inventive Wright, born in neighboring Wisconsin, played an essential role in bringing Modern architecture to Minnesota. In 1934 he designed a groundbreaking house in Minneapolis for Malcolm Willey, an administrator at the University of Minnesota, and his wife, Nancy. The house, located near the university campus and now gorgeously restored, was Wright's prototype Usonian, just 1,300 square feet but packed with architectural drama. Wright would go on to produce scores of Usonians—elegant but not overly expensive homes intended for a middle-class clientele—in the late 1940s and 1950s, including a half dozen in Minnesota.
The Willey House, as it turned out, soon acquired an equally daring neighbor. In 1938 three University of Minnesota arts professors hired architects Winston and Elizabeth Close to design a starkly Modern, flat-roofed house directly across the street from Wright's creation. The Lippincott House, as it is now known, was the first in Minnesota to bear the stamp of the so-called International Style. The Closes—he was a native Minnesotan; she was born in Vienna and grew up in a house designed by the early Modernist master Adolf Loos—would go on to rank among Minnesota's best-known and most highly regarded architects of the post–World War II era.
It was no coincidence that Minnesota's first two works of architectural Modernism appeared near the University of Minnesota campus. The school's architectural program, like others across the country, had fallen under the sway of Modernist ideas in the 1930s. The austere Bauhaus strain of Modernism rather than Wright's more dynamic style prevailed, and once graduates established practices in Minnesota after the war, they filled the state with all manner of Modernist buildings. These homegrown architects—among them Carl Graffunder, Robert Cerny, Jack Liebenberg, and the firm (now HGA) founded by Richard Hammel, Curt Green, and Bruce Abrahamson—rarely achieved national recognition. Even so, their work, usually quite restrained, was of consistently high quality. By the mid-1950s much of the best new architecture in the state had begun to pull away from its Bauhaus roots in favor of the more animated and varied range of approaches characteristic of midcentury Modernism. Architect and instructor Ralph Rapson's 1963 Guthrie Theater in Minneapolis, with its playful screened facade and intricately arranged seating around a thrust stage, exemplifies this shift. But California's anything-goes Googie vibe never quite reached Minnesota, where a certain Nordic sobriety kept things from getting too crazy.
Although local architects contributed mightily to Minnesota's midcentury legacy, several nationally renowned designers also left their marks on the state with buildings that have come to be regarded as masterpieces. Rapson's old mentor Eliel Saarinen designed the quietly elegant Christ Church Lutheran (1949), a National Historic Landmark in Minneapolis that remains a touchstone of modern ecclesiastical architecture. His son, Eero, contributed a Modern wonder of his own nine years later in the form of a sprawling complex for IBM in Rochester, Minnesota. Another of the state's great midcentury monuments is Marcel Breuer's magnificent Abbey Church (1961) at Saint John's University, about 70 miles northwest of the Twin Cities. A tour de force in concrete, the church may well be Breuer's finest work.
But the most influential work of midcentury Modernism in Minnesota is undoubtedly Southdale Center, which opened in 1956 in the Minneapolis suburb of Edina. Designed by Victor Gruen, Southdale was the nation's first fully enclosed suburban shopping mall, and for better or worse it provided a template for thousands of malls to come. Much of Southdale's original design has been lost to remodeling, but after more than 60 years the mother of all malls is still doing business, and it serves as a vital reminder of Minnesota's important place in the history of midcentury design.
Larry Millett is an architectural historian and novelist and the author of Heart of St. Paul: A History of the Pioneer and Endicott Buildings and Minnesota Modern: Architecture and Life at Midcentury.
You may also enjoy "The Fascinating History of Le Corbusier's Lost Barge."