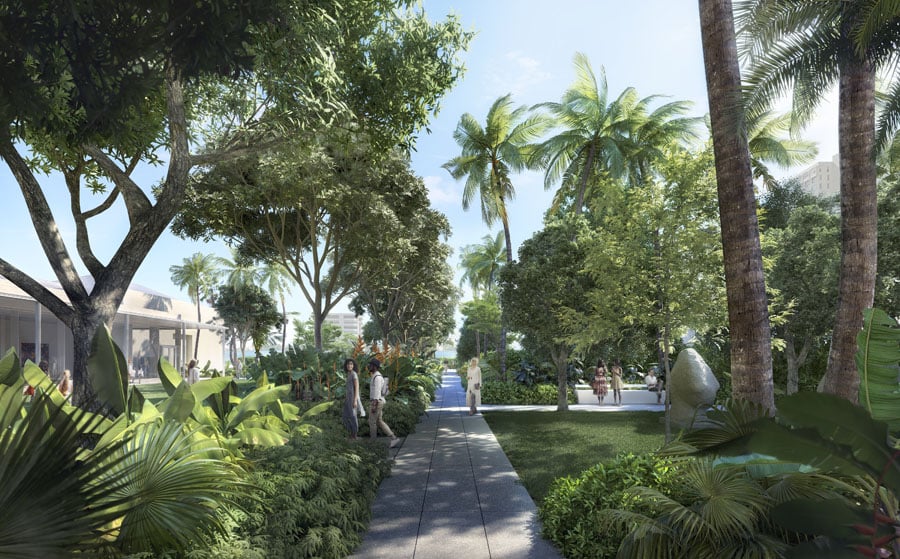 October 26, 2017
Foster + Partners' Norton Museum of Art Expansion Will Be a "Museum in a Garden"
In addition to a major expansion, Foster has designed a tropical public garden for the Florida museum.
The Norton Museum of Art in West Palm Beach, Florida, houses an impressive collection of American, European, and Chinese masterworks, a fact not celebrated by its squat windowless building complex. According to administrators, the facilities are more akin to a self-storage warehouse or—worse still—a correctional facility than to a world-class cultural institution. "We were basically a museum in a parking lot," said director Hope Alswang, unveiling the Norton's new digs at a press briefing in New York.
A decade ago, the 76-year-old museum tapped Norman Foster to develop a new master plan for the property. The architect was charged with creating a more cohesive, inviting campus that would allow for future growth. Now, the project's $100 million preliminary phase is well on its way to completion. But there's more to come: the museum has revealed plans for a lush public sculpture park, Foster's first.
"The most powerful memory I retain after I leave the area is the incredible vegetation—the climate, the sheer luxury of it, the way in which hedges work as enclosures," said Foster. With this in mind, he and his collaborators hope to transform the institution from a "museum in a parking lot" to a "museum in a garden."
The first step, according to the architects, was restoring clarity to Norton's 6.3-acre campus. Over the years, its original 1941 courtyard building was smothered by an amalgam of expansions and, as it grew, hemmed in by a sea of asphalt parking. Led by Björn Andersson, the Foster team simplified the plan by removing several additions and reorienting the primary entrance toward South Dixie Highway, a main thoroughfare to the west side of the site.
A dramatic tapered aluminum canopy unifies several new spaces—an auditorium, education center, and exhibition hall—and frames an entry plaza that will feature Claes Oldenburg's 19-foot-tall sculpture Typewriter Eraser. A crescent-shaped void in the roof accommodates a majestic banyan tree, a campus fixture since it first opened.
The latter touch is less capricious than it first seems. "The museum has a lot of public art, but it has never really had the opportunity to embrace fully the local landscape and to create outdoor spaces," Foster explained. "We're not talking just about landscape, we're thinking about how landscape can create a series of outdoor rooms."
Added Foster + Partners' Neil Bancroft, a landscape architect, "There is a synergy between architecture and landscape where the outside and the inside play. And that's where the fun starts happening."
Using a variety of native, subtropical plants, Bancroft designed a series of en plein air sculpture "galleries." He selected vegetation—mahogany, gumbo limbo, false tamarinds, birds of paradise—that was not only resilient to hurricane-force gusts and periodic dry spells, but which would also promote a dynamic interplay of light and shadow, texture, and movement. When the trees fill out, their interlocking branches will create a verdant canopy above visitors. This shade, combined with ocean breezes, will lower the garden temperature by up to 20 degrees.
The project endured its first test when hurricanes swept through the region this autumn. Thankfully, both structure and plantings prevailed. If all goes according to plan, the new Norton—"museum in a parking lot" no more—will open in February 2019. Director Alswang said it will be a dramatic upgrade, like going from "driving a Subaru to driving a Maserati."
You may also enjoy "Foster + Partners–Designed Bloomberg London HQ Opens."