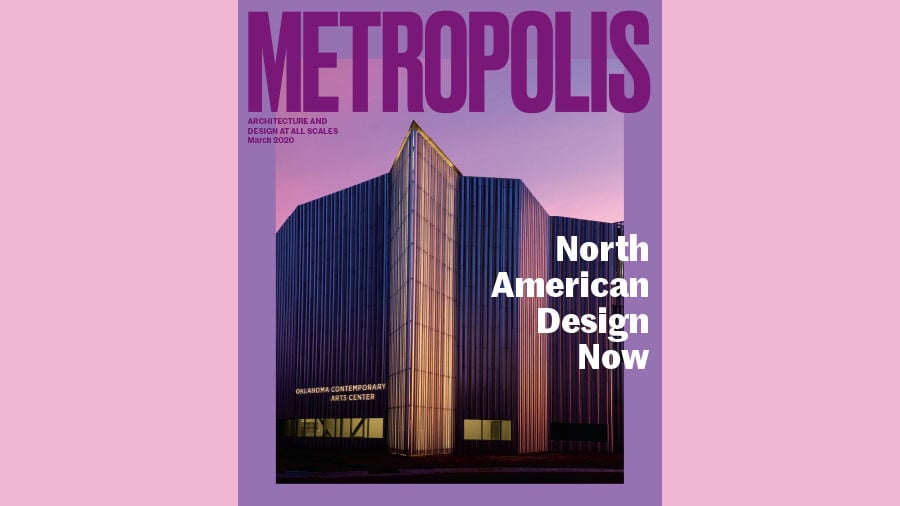 March 31, 2020
What Do We Mean by "North American Design"?
In producing our March issue, we discovered enormous diversity in how architects and designers express the idea of America.
The March 2020 issue of Metropolis was well under way when our peers at Architectural Record broke the news of a draft executive order, "Making Federal Buildings Beautiful Again." Suggesting that federal architecture has gone astray since the 1950s, and decrying Brutalist and Deconstructivist buildings in particular, the draft order would mandate that classical architecture be the default style to convey the "dignity, enterprise, vigor, and stability of America's system of self-government."
The order's claim that this is the only way to "inspire respect instead of bewilderment or repugnance" doesn't scan. In putting together this issue about the current state of North American design, we didn't encounter any marble columns or friezes peopled with virtuous abstractions. What we did find is enormous diversity in how architects and designers express the idea of America. If we can't see the dignity and vigor of our society and its government reflected in those expressions, then perhaps we should look harder.
For the Oklahoma Contemporary Arts Center ("For the New Oklahoma Contemporary Arts Center, Light is a Recurring Motif"), Rand Elliott Architects was certainly influenced by Deconstructivism (the building's plan has no 90-degree angles, for example), but it was a fine way of "improbably combining elements of industrial sheds and houses of worship." Nonetheless, it isn't the form that makes the building so American, but its response to how urban culture is shaping up in Oklahoma.
If premodern roots are needed to legitimize an American architectural approach, then the curators of the U.S. Pavilion at the 2020 Venice Architecture Biennale offer a quintessential but overlooked one—timber construction ("Q&A: Paul Andersen and Paul Preissner on American Framing"). Indeed, America's love of wood is still alive and well: Hotel designers Jersey Banks and Lyon Porter evoke a timber lodge with their Urban Cowboy resort in Big Indian, New York ("American Archetypes Are a Calling Card at the Catskills' Urban Cowboy Lodge").
If a timber building doesn't suggest American democracy (or conjures up partisan inclinations), then a history lesson might be in order. Not far from the Catskills, the Haudenosaunee Confederation was governed through a participatory democracy out of timber longhouses, long before Europeans ever set foot on this land.
Ultimately, the association of this architectural style or that one with the ideals of democratic society only reveals our own shortsightedness.
If any branch of government manages to shield our impoverished communities from the ravages of climate change, or protect the lives and rights of the vulnerable among us during a crisis like COVID-19, then the federal buildings that house that branch will have served their purpose, Doric columns and all. And if a Brutalist courthouse anywhere in this country serves as a corrective to a dysfunctional criminal justice system that disproportionately incarcerates people of color, then that building will have lived up to the American ideal of self-government.
To set any other standard for our civic architecture is to fail the needs of our time and betray future generations.
Scroll through the slideshow below to see the latest in North American design, architecture, and culture from the March issue of Metropolis: