March 14, 2018
North Carolina Design: How the Tar Heel State's Modernist Heritage Endures Today
Decades of investment by the university system are paying off and many industries are looking to North Carolina's Research Triangle for meaningful innovation.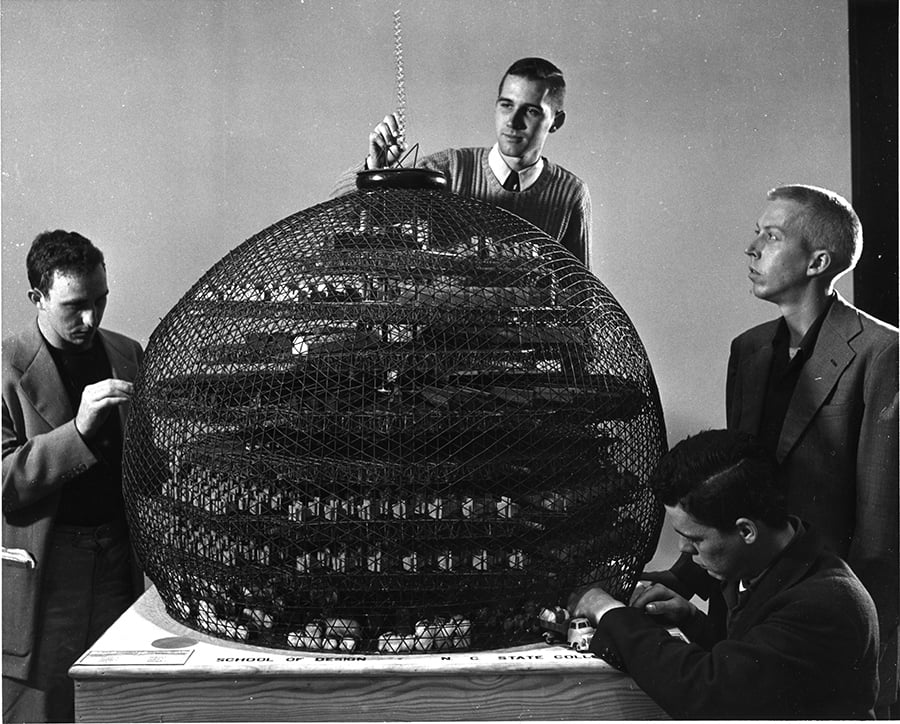 For its March 2018 issue, Metropolis Magazine explored the three great North American design regions: The Pacific Northwest, North Carolina, and Minnesota. We looked at each area's deep historic connections to architecture and design, as well as the contemporary practices thriving there today. Stay tuned to our homepage as March issue articles such as this one go online; you can also find the latest updates here.
---
For 20 years, the center of industrial, product, and associated design in the U.S. has been shifting southward. In that time, North Carolina has been attracting increasing numbers of innovative and creative teams from around the world: IBM, Electrolux, Husqvarna, Lowe's, and Lenovo have been expanding their design footprints here; meanwhile, Continental brands—like the Belgian acoustic-furniture maker Buzzispace—are relocating their manufacturing to the Piedmont foothills, tapping into a century's worth of expertise in the process.
Spatially and psychically, the nexus of this activity is North Carolina State University's College of Design (CoD), the only major design program within the three major universities that make up the Research Triangle (NCSU, Duke University, and the University of North Carolina at Chapel Hill). The college encompasses five disciplines and is a tight-knit school of 870 students, nestled within the sprawling 34,000-student university.
And for the past five years, North Carolina—and the College of Design—has been my home. Returning to my native state after three decades of studying and writing about design in New York City, I'm reawakening to the South's relevance within today's environment in a fashion that is nothing less than Rip Van Winkle–esque. It's certainly not the North Carolina I thought I knew when I left here in 1985. Yet, to invoke the great southern writer William Faulkner, the past is not past. The longer you live here, the more you understand the ebb and flow of change in this purple state.
Waves of progressivism have washed over North Carolina ever since the Great Depression. It was then that Black Mountain College provided jobs and security for Josef and Anni Albers after they fled Nazism in Germany. A few years later, in 1948, another branch of forward-thinking design education would get its start at the School of Design (later renamed the College of Design) by Dean Henry Kamphoefner. A follower of Walter Gropius, Kamphoefner was unwavering in his devotion to the ideals of Modernism. He assembled a faculty whose names still resonate today, at least in part because Kamphoefner felt they should have active practices: Eduardo Catalano, Lewis Clarke, George Matsumoto, Lewis Mumford, Victor Papanek, Walter Baermann, and R. Buckminster Fuller. Robert Burns, a two-time department head of architecture, wrote at the time of the school's 50th anniversary that at its core was a "belief that comprehensive design would produce a healthy environment, an improved society, and a better life for all."
The school's location in the Triangle, a paradigm of the "New South"—a progressive, business-friendly, and less (overtly) racist South—played a role in its vital approach to design education. Transformed by the veterans studying through the GI Bill, it was an area where residents tolerated, even celebrated, diversity and difference. Many found the region conducive to their plans. Some built Modernist homes, which are now attractions in their own right.
---
I recently called my college roommate, now sitting in an endowed chair at the University of North Carolina at Chapel Hill, and he reminded me that our own families' histories reflect the changes of the past century: moving out of the hills of western North Carolina and taking factory jobs; watching kids graduate high school or attend colleges, many for the first time. Our parents rose to the middle class doing management jobs or teaching. And some of us, raised in the progressive educational environment of the 1960s, went on to become physicists, mathematicians, CEOs, professors, doctors—and mostly moved away. Now we are trickling back.
What's happening today may be the realization of the postwar dream of an intimate yet global crossroads of ideas, innovation, and corporate expansion that has been the vision of successive generations of leaders. As North Carolina evolves, its challenge will be making the prudent decisions needed without throttling growth. And it must be the universities that lead in this transformation.
At the CoD hangs a spandrel designed by Louis Sullivan for the Schlesinger & Mayer/Carson, Pirie, Scott and Company Building in Chicago. Kamphoefner, the die-hard Modernist, salvaged it from a scrapyard and brought it to his school, a quiet monument to the fact that he respected Sullivan's achievements even if the designer's manner was passé during Kamphoefner's long tenure. Today's designers also see value in the Triangle's complex history. Decades of investment by the university system are paying off, and what were once termed "knowledge-driven" industries are looking to the Triangle for meaningful innovation. North Carolina's educational institutions will be here to humanize these endeavors. The CoD's efforts to answer the challenges of designing for human disabilities, planning for the impacts of global climate change, and finding lifestyle balance through projects like greenways have been under way for years. Their success can be traced back to the early thinking of a group of leaders whose approach to design has been flexible enough to endure for 70 years.
Russell Flinchum is an associate professor at NCSU's College of Design and the author of Henry Dreyfuss, Industrial Designer: The Man in the Brown Suit.
You may also enjoy "Minnesota Design: Uncovering Minnesota's Influential Modernist Past."