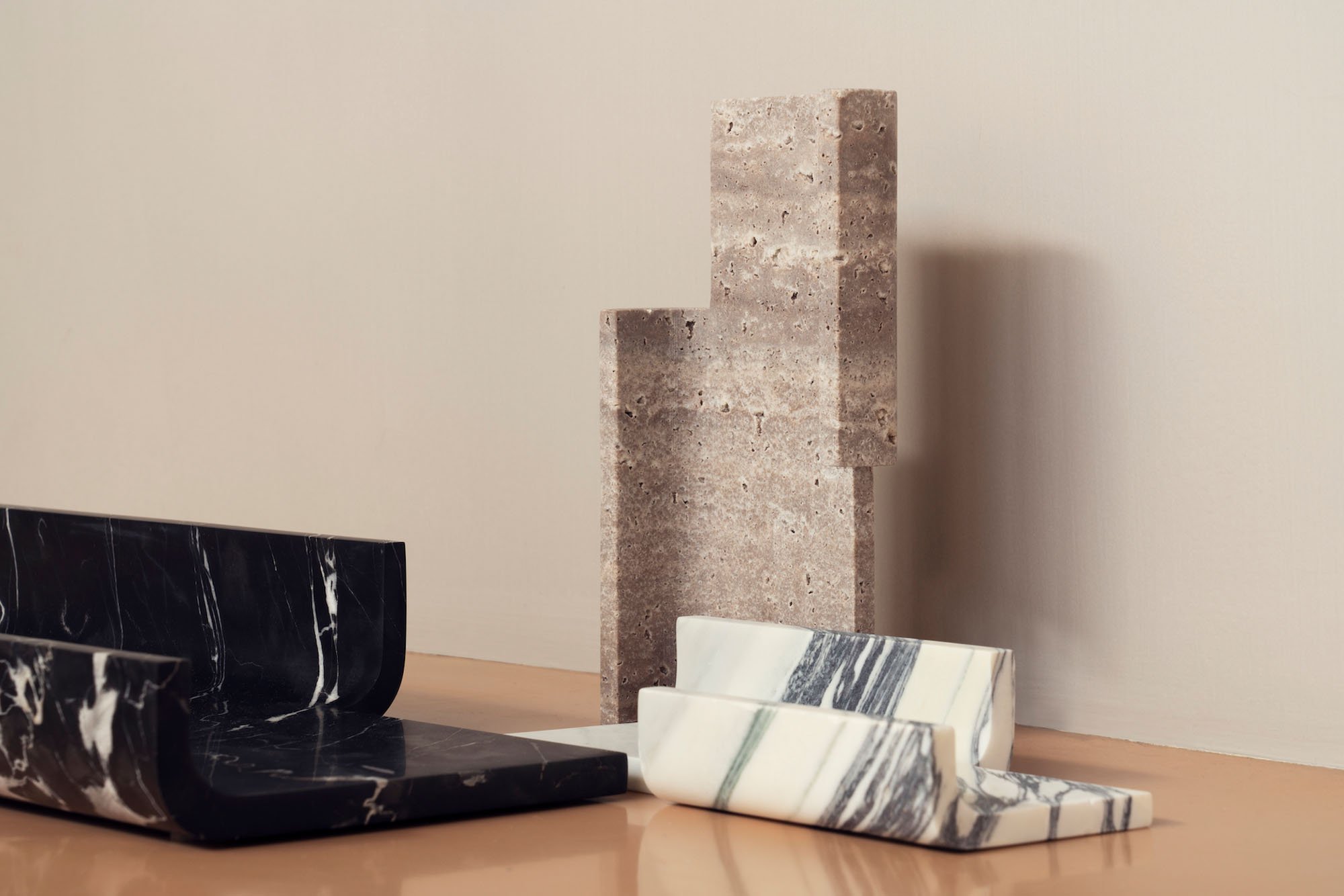 September 26, 2022
Paris Design Week Put Purpose-Driven Newcomers Front and Center
Fragments by Anthony Guerrée for M éditions at Le Corbusier Foundation
Fragments, one of the more intriguing Paris Design Week 2022 showcases, comprised stone furnishings placed within the striking backdrop of Le Corbusier's 1925 Villa la Roche, today's Foundation Le Corbusier. Defined by its cubic volumes, slightly curvilinear voids, and color blocking, the UNESCO World Heritage site epitomizes the famed architect's early purist style, one distilled from the cannon of classical architecture. Similarly, contemporary French designer Anthony Guerrée developed the Fragments collection as an ode to the Modernist lineage that draws back to ancient Greece. The various monolithic chairs, chaise lounges, and stools were crafted using precious stone offcuts that would otherwise be discarded. Produced and presented by Paris gallery M éditions, each element was strategically positioned within the structure's intersecting matrix of floors, stairwells, and built-in furnishings.
"To work with marble is to investigate history." says the designer. "I have entered into a passionate dialogue between craftsmanship and design, inspired by the three ancient architectural orders: the Doric order and its noble austerity, the Ionic order and its tender scrollwork, the Corinthian order and its abundance of expression."
​​Nana et Nymphaea by Pelle at Triode Paris
Triode is a Parisian gallery specialized in purveying the highly influential output of North American autonomous designers in the past two decades. It was the first to do so and, in turn, has established an important overseas market for these talents. Situated in the Saint-Germain-des-Prés neighborhood, the platform features distinct luminaires by the likes of New York's Lindsey Adelman and Allied Maker and furniture by Philadelphia-based artisan John Plomp. For its latest exhibition, which opened during Paris Design Week 2022, the gallery launched its collaboration with multi-disciplinary, Brooklyn-based studio Pelle.
Conceived with French 3D artist and renderer Sébastien Baert, The ​​Nana et Nymphaea installation—one experience through video and digital imagery—places these signature chandeliers within the gallery reimagined as a lush tropical wetland oasis. Set within the gritty confines of the Parisian metropolis, the virtual scenarios play on the complexities of what is artificial and natural. Jean and Oliver Pelle—co-principals of the eponymous practices—were inspired by the pools of blue water and mist that define Claude Monet's career-defining Water Lilies (Nymphéas) series. The hybrid physical and digital presentation is joined by a Daniel Seung Lee–produced video taking an in-depth look at Pelle's day-to-day creative process.
Paris Design Week Factory
At the center of this season's program were two converted event and gallery spaces dedicated to what was dubbed Paris Design Week Factory. Over a dozen young and up-and-coming exhibitors debuted their latest wares at Espace Commines and the nearby Galerie Joseph. The overwhelming focus was on upcycling material and sourcing matter from nature in inventive and responsible ways. But this younger generation is also intent on reinterpreting craft traditions from around the world, clever formal exploration, inclusive representation, and self-expression.
Among those studios, initiatives, and universities taking a more considered approach to material were Maison Papier, Mesure, and École Supérieure d'Art et de Design de Reims' Spain & Granit project developed in partnership with Ballons des Vosges Regional Natural Park. Students in the school's Chaire IDIS master's program were asked to extract and work with material specific to the preserved forests and hills of Northeastern France while also channeling the know-how of local artisans through a contemporary lens. The resulting minimalist, utilitarian, and resourceful furnishings incorporated everything from offcut granite and rough-hewn pieces of wood that would otherwise have been scrapped.
Scale, meanwhile, is a new Biarritz-based studio producing the first ever solid composite formed entirely from fish skins. Making a play for new visually striking implementations of everyday materials like metal are Belgian designer Arthur Vandergucht, Parisian talent Helder Barbosa, and Lille-based Alexandre Labruyère. The latter harnesses age-old woodworking techniques to create furnishings reflective of natural shapes and unique landscapes. Through their various investigations and instigations, these talents are taking the furniture industry to task, where a more serious commitment to sustainability, equity, and originality is dearly needed.
Would you like to comment on this article? Send your thoughts to: [email protected]