July 30, 2018
In New York City, a Bold Urban Plan Seeks to Revitalize Miles of Shoreline
As part of our 2018 Design Cities issue, Metropolis looked at projects, firms, and places that are driving global design culture today.
---
For our annual cities listings, Metropolis took a novel approach to avoid the typical ranking: We surveyed 80 leading architecture and design professionals, asking them to nominate places in three categories—design powerhouses, buzzing cultural hubs, and cities that inspire or personally resonate with them. The results turned up the usual suspects as well as some unexpected newcomers, and our coverage is similarly heterogeneous, from profiles of local firms to spotlights on grassroots initiatives and sum-ups of cities' design goings-on.
This project from New York City reflects the megalopolis's position as a "powerhouse" global Design City. Stay tuned to our homepage as we publish more 2018 Design Cities!
---
New York City once had a thriving waterfront: The metropolis sprouted countless wharves and bulkheads through which goods moved from factories to warehouses and the world beyond. Although that commerce is long gone, planners and developers have reclaimed only a few of these postindustrial sections, such as those in Brooklyn's Dumbo and Queens's Long Island City. Now two plans by the architecture firm Perkins+Will aim to proactively reshape polluted, neglected stretches along Newtown Creek, Flushing Bay, and Flushing Creek into vibrant public assets.
You could be forgiven if you haven't heard of these areas. The once heavily industrialized Newtown Creek features 11 miles of shoreline that winds along the Queens-Brooklyn border. (From 1915 to 1917, the waterway handled as much freight tonnage as the entire Mississippi River.) While the creek is highly polluted, its Superfund site designation (encoded in 2011) and subsequent cleanup could radically remake its landscape. Flushing Bay and Flushing Creek, meanwhile, were significantly shaped by the 1939 and 1964 World's Fairs, which filled in much of their marshland and laced the area with highways. The bay abuts multiple residential communities along with Willets Point, a formerly industrial neighborhood poised to welcome real estate developments housing 15,000 new residents.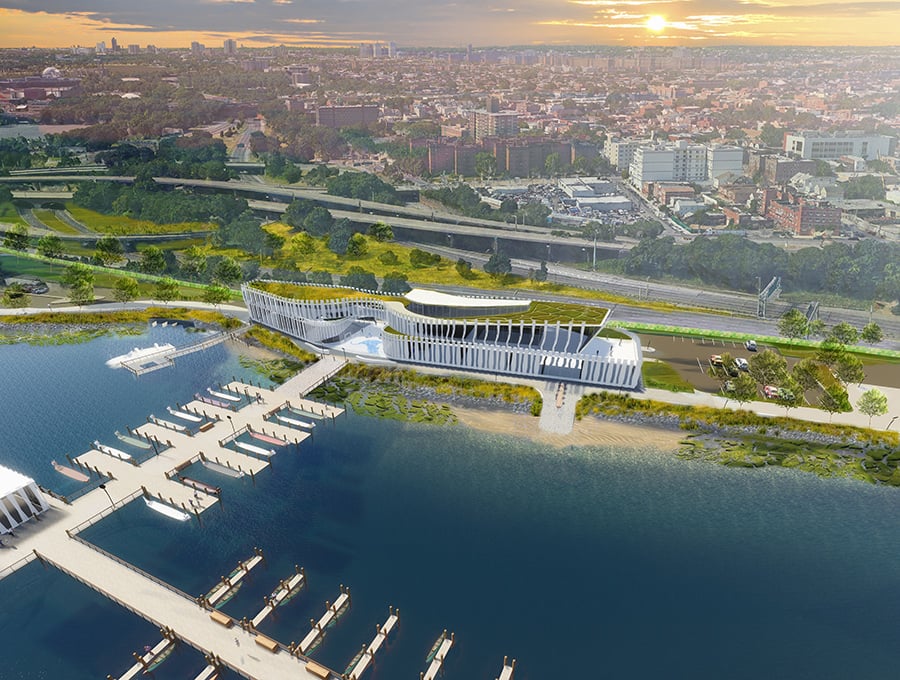 ---
Enter Riverkeeper, a nonprofit environmental advocacy group focused on the Hudson River and its many tributaries, including Newtown Creek, Flushing Creek, and Flushing Bay. Anticipating changes for these waterfronts, Riverkeeper asked Perkins+Will to help produce a vision plan for each site. "Our community outreach process started right off the bat and was really intensive," says Chrissy Remein, Riverkeeper's New York City water-quality project coordinator. For one year, the Perkins+Will and Riverkeeper teams conducted one-on-one meetings, discussions with public agencies, pinups at local bars and restaurants, and even email campaigns soliciting ideas, connecting with several hundred people for each plan.
Local partners proved essential in facilitating this process. For Newtown Creek, Perkins+Will and Riverkeeper worked with the Newtown Creek Alliance, a local community and ecological advocacy group. The Guardians of Flushing Bay, another local environmental group that focuses on recreational boating, became another critical ally. In collaborating with them, says Perkins+Will senior urban designer Daniel Windsor, "the idea was to catch as many ideas as possible and…really siphon those down into what we thought was achievable and appropriate."
---
The end result is a range of tailor-made interventions. For Newtown Creek, this includes a broad spectrum of place-specific solutions: redesigning active industrial bulkheads to accommodate habitat-restoring vegetation, installing public viewing platforms at strategic points, and converting unused sections of the creek into marshland. At Flushing Bay, the vision plan includes a host of new trails, the rebuilding of an oyster reef, and a new Queens Water Exploration Center that will serve as a hub for recreation, education, and research. Both schemes make use of green infrastructure, including rain gardens and catchments to capture rainwater before it washes pollutants into natural waterways or triggers environmentally damaging combined sewer overflows. (Most of New York City still channels rainwater through its sewer drains and pipes, leading to a situation in which even light rainfall can overwhelm the sewer system and precipitate untreated wastewater discharges into the environment.)
Implementing the plans' various recommendations, however, may take years—even decades— depending on which (and whether) agencies and politicians step up to the plate. The biggest shortterm challenge is just raising awareness of the sites' potential, something that was previously hard to do. "A lot of times you can easily try to explain what the benefits of some of these solutions are," says Windsor. "But until people really see it, it's hard for them to get excited. It's hard for elected officials to really sell it, 'cause that's what it comes down to." There's no price tag that comes with the plans quite yet, but for locals, it won't be a hard sell.
You may also enjoy "New Talent 2018: Nonprofit LA-Más Is Revitalizing Los Angeles's Overlooked Corners."