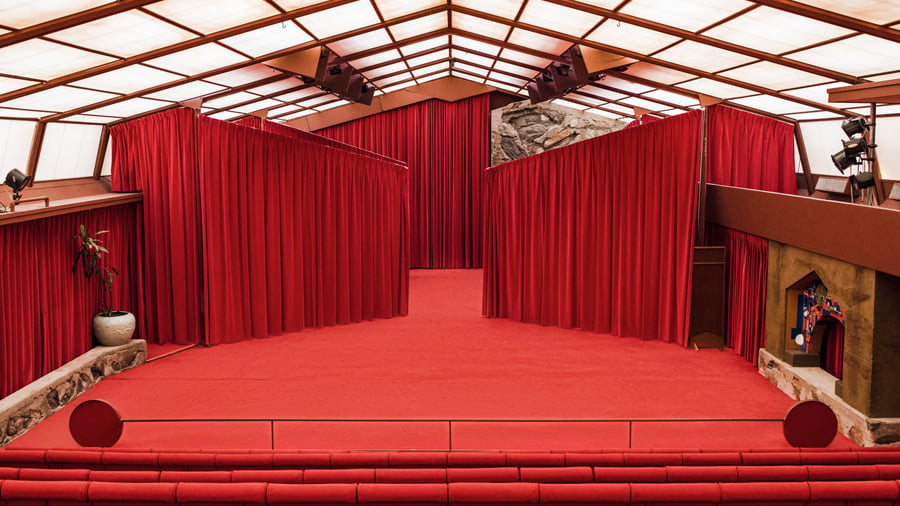 June 27, 2017
A Photographic Tour of Taliesin West Today
Photographer Brian Guido takes us on an in-depth tour around Frank Lloyd Wright's ever-evolving "camp for adults," capturing everything from its petroglyph-inscribed boulders to its unique bright blue chairs.
It's been called a campus, a desert laboratory, and a national historic landmark, but to Frank Lloyd Wright, Taliesin West was simply "the camp." He established the property, nestled in the desert foothills of Arizona's McDowell Mountains, in 1937 as an escape from Wisconsin winters. It was a place where Wright could teach and work out concepts a few months a year before he headed back to Taliesin proper, apprentices in tow. But like many of Wright's wildest ideas, the "winter camp" never stopped evolving.
This summer, daytime temperatures at Taliesin West have already hit 120 degrees, so hot that according to director of preservation Fred Prozzillo, "it feels like you're in a convection oven." Blowing wind, he adds, "dries out your eyes." Seasonal unpleasantness, thankfully, isn't transmitted by the lens of a camera. Los Angeles-based photographer Brian Guido visited the site in mid-June and found the many structures on the site, from student shelters to one really red theater, holding up just fine in the heat. And that's not all that Guido found enduring. His first impression of the place? "It was kind of like a summer camp for adults."
THE PROW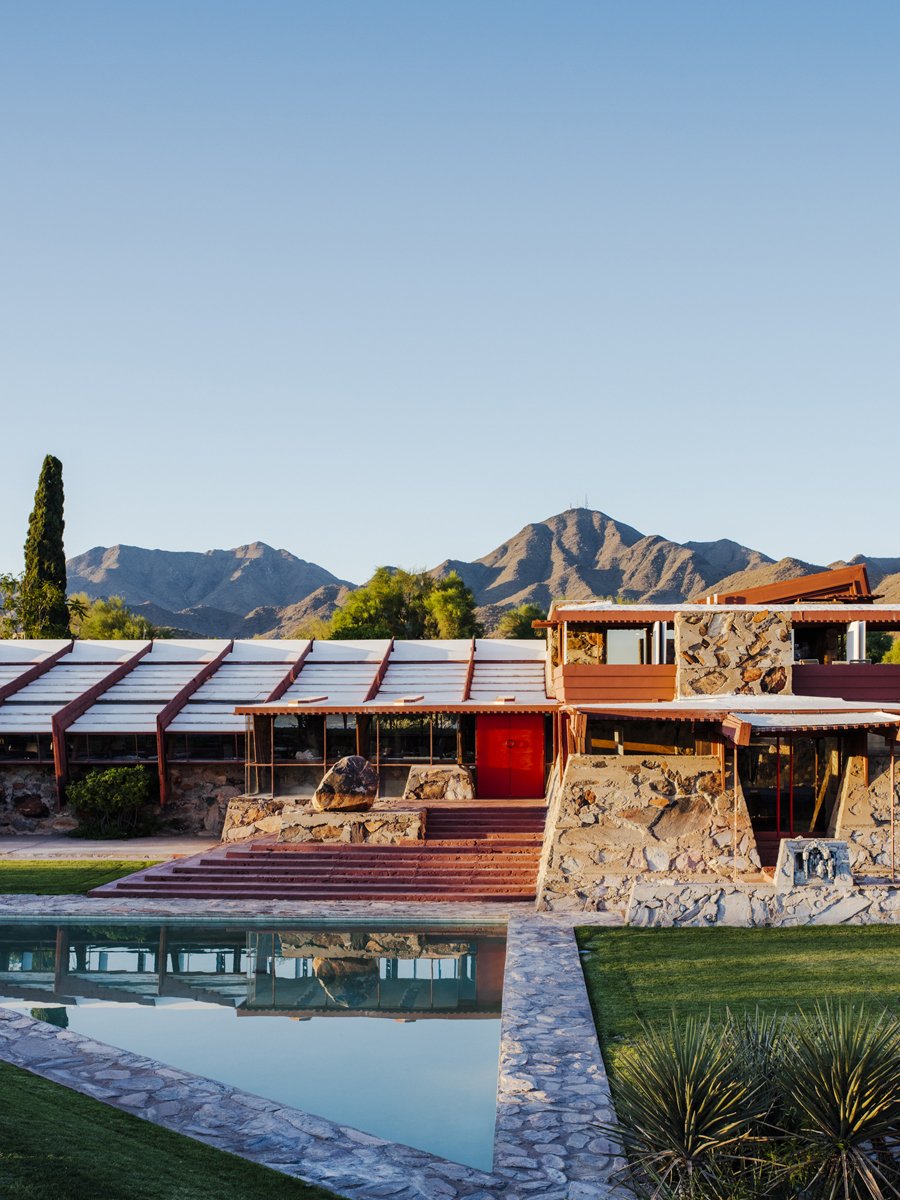 "I shot a hundred variations of this," says Guido of the welcome approach at Taliesin West. "It has this ability to stand out and, also, to blend in. It was my favorite part of the campus." Jeff Goodman, who's been working as the Frank Lloyd Wright Foundation's marketing director on campus for just over a year now, agrees: "I still get chills every time I drive up. I can't believe that I get the run of the place."
THE PETROGLYPHS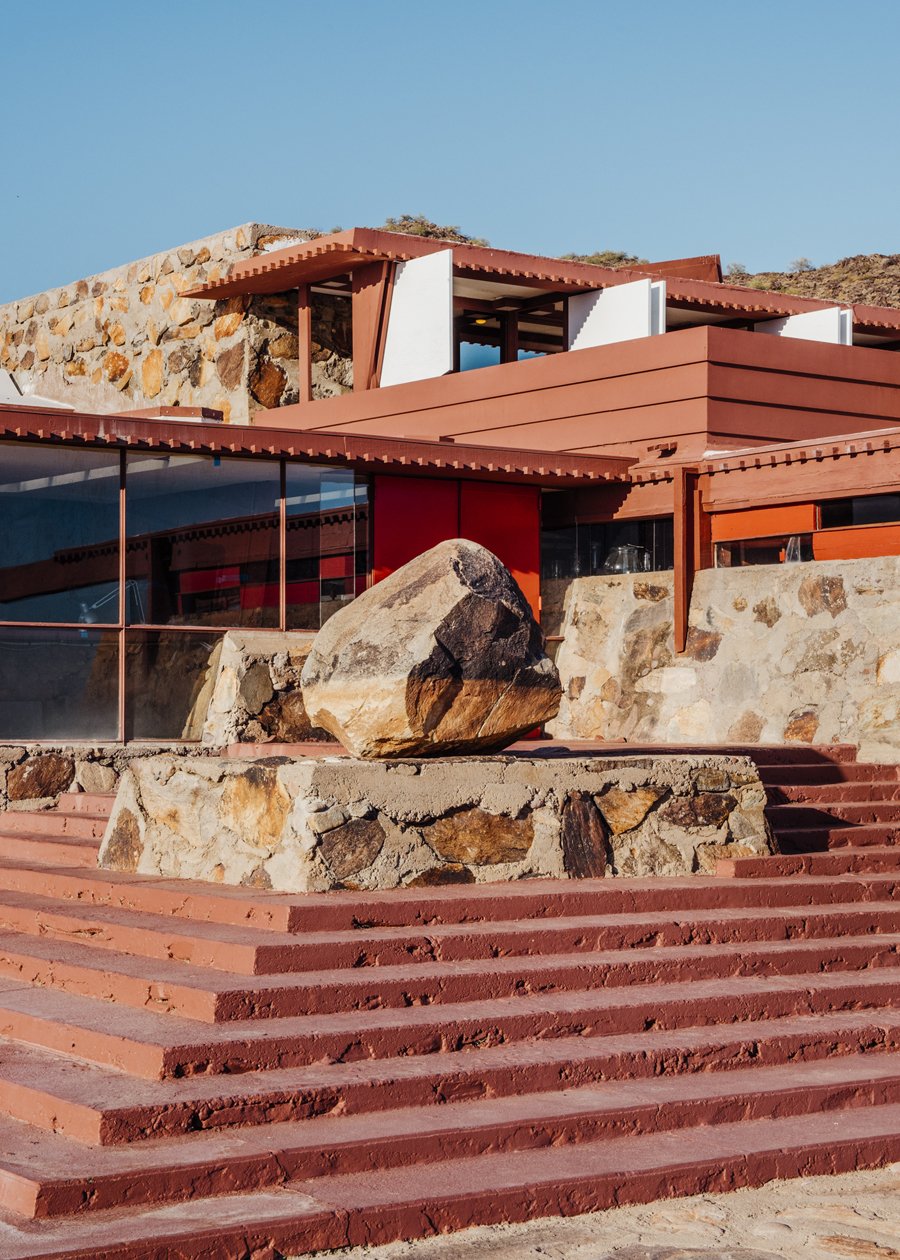 These giant quartzite boulders, placed on the terrace outside Taliesin's drafting studio, held profound significance for Wright. When he was first canvassing the property, he found these stones marked by native peoples—the O'odham, Piipaash, Hopi, Yavapai, and Apache—with figures and designs. Although he couldn't translate the petroglyphs, Wright believed the placement of the boulders was part of their message. "He would set them according to his compass in the exact position that he found them," says Prozzillo.
THE STUDENTS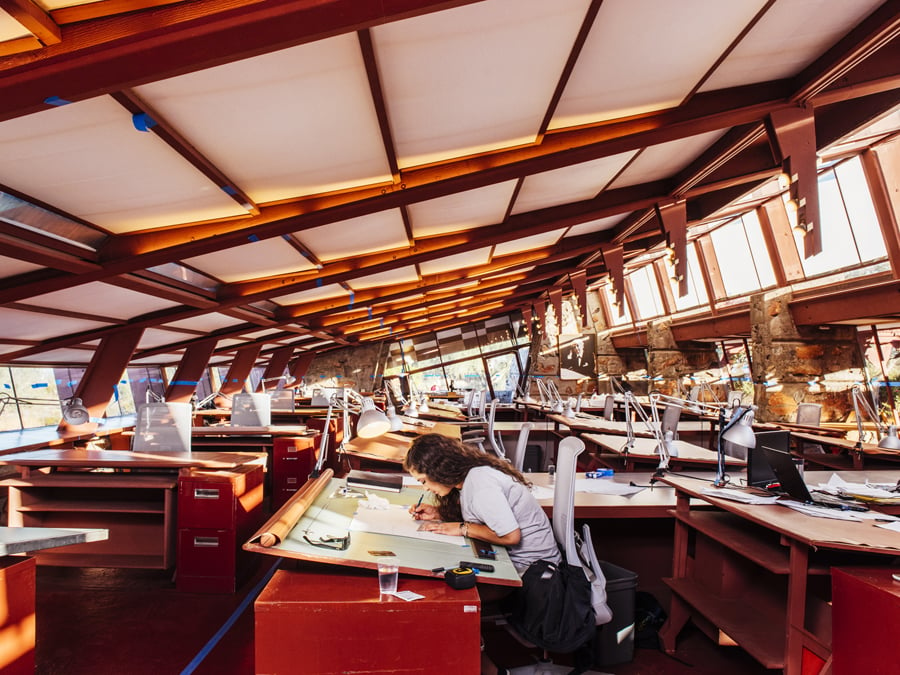 Guido started shooting at Taliesin West very early in the morning, but he didn't beat architecture student Stephanie Mendiola to the drafting studio. Mendiola has just one year left in her graduate program at the University of Texas at San Antonio, which offers an on-site documenting and surveying course. She is also one of a dozen students who've spent a month measuring the precise dimensions of the studio and documenting its current state. (The blue tape aids in the documentation process.) She's been living on-site too, in apprentice quarters. "Every morning I wake up pinching myself thinking not where am I but am I still here. I am!'"
RED ELEMENTS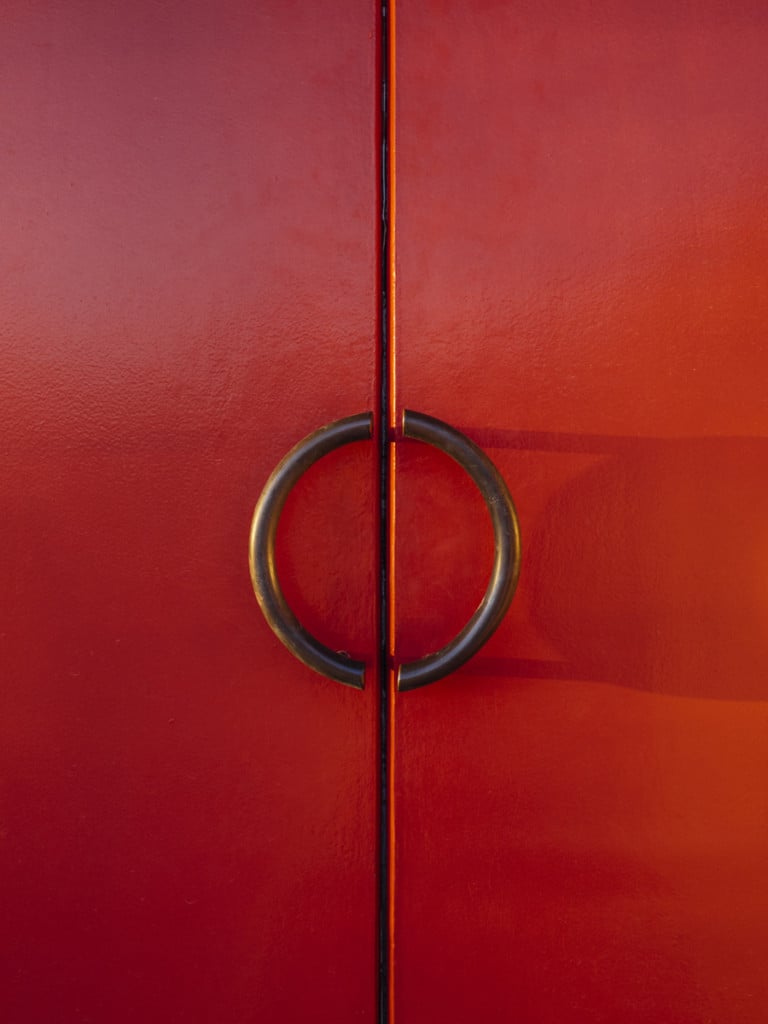 "That's the door to the main drafting room," says Guido. "I kept going in and out of it the whole day. I finally stopped and looked down." Red was Frank Lloyd Wright's favorite color. Some of the Taliesin staff say Wright was adapting the color of the signature square seen on Asian prints. But Goodman says the architect lifted the ubiquitous Taliesin Red from the neighboring mountains. "During the golden hour, they turn that color. If you stand at the prow and look back, you'll see a continuation of the red beams into the mountain."
AND MORE RED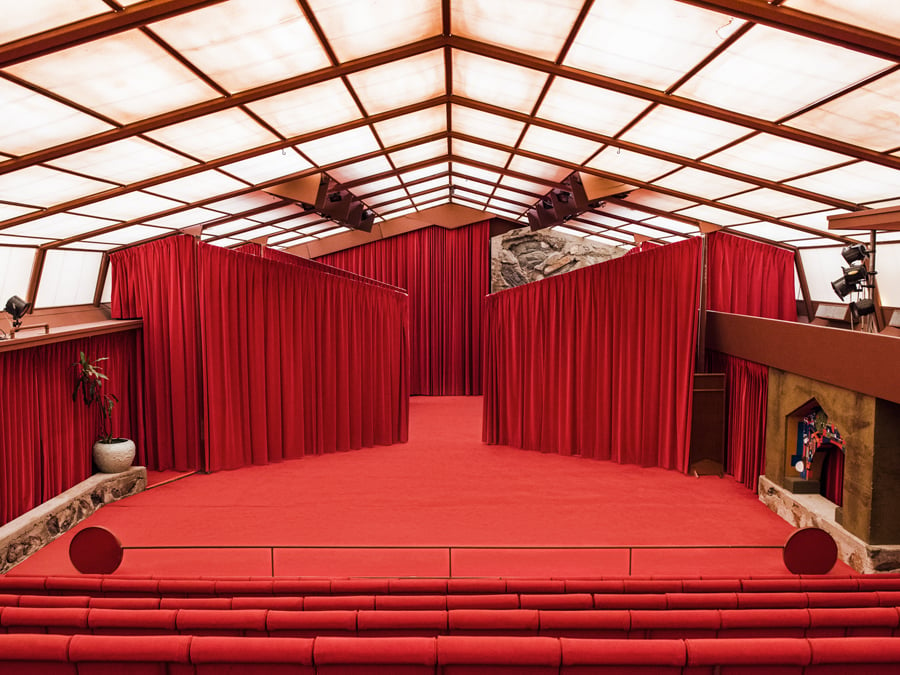 "It's pretty intense," says Prozzillo of the décor at one of Taliesin's two theatres, the Pavilion. "I'm not sure why he made it all red, but it makes a statement." Prozzillo explains that Wright created this space for his daughter, who would choreograph elaborate dance programs put on by long-suffering Taliesin apprentices in costumes they designed themselves. Recently, the foundation has revived that performing arts tradition, inviting the Southwest Shakespeare Company to stage three productions at the Pavilion this season. "We're giving people reasons to come up and have an experience here, not just take a tour," says Goodman.
CIRCULAR ELEMENTS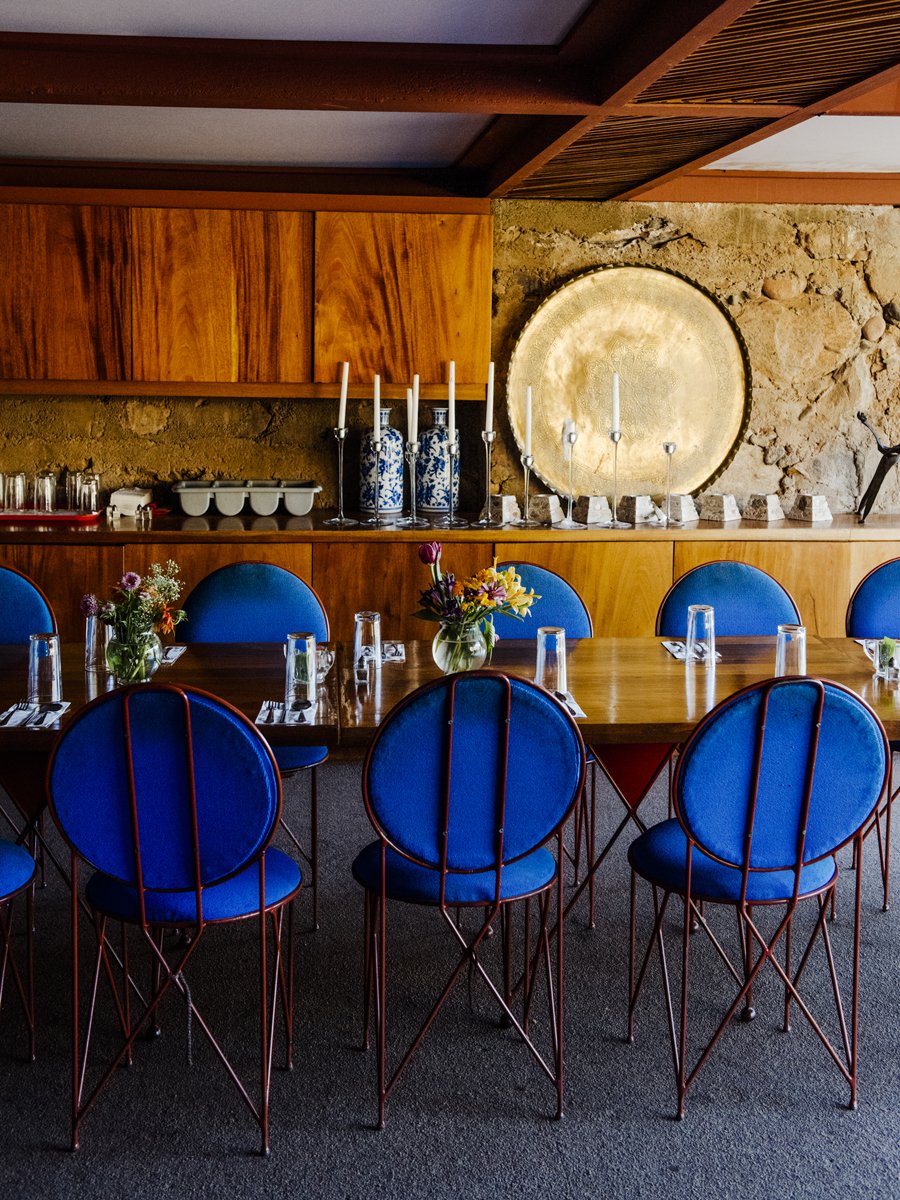 "C'mon, that blue's incredible!" says Guido. Like much of the furniture around the property, the vibrant chairs in the Taliesin dining room were built by Wright's first on-site apprentices, working from a design Wright originally created for Midway Gardens, the elaborate and long-demolished Chicago drinking and entertainment complex. The dining room's ceiling is purposefully low, encouraging everyone who enters the room to go ahead and take a seat. Wright rewarded diners with the best view too, says Prozzillo. "When you walk in and look out the windows, all you see is a garden, but once you sit down, the whole landscape reveals itself to you. It's really impressive."
AND MORE CIRCLES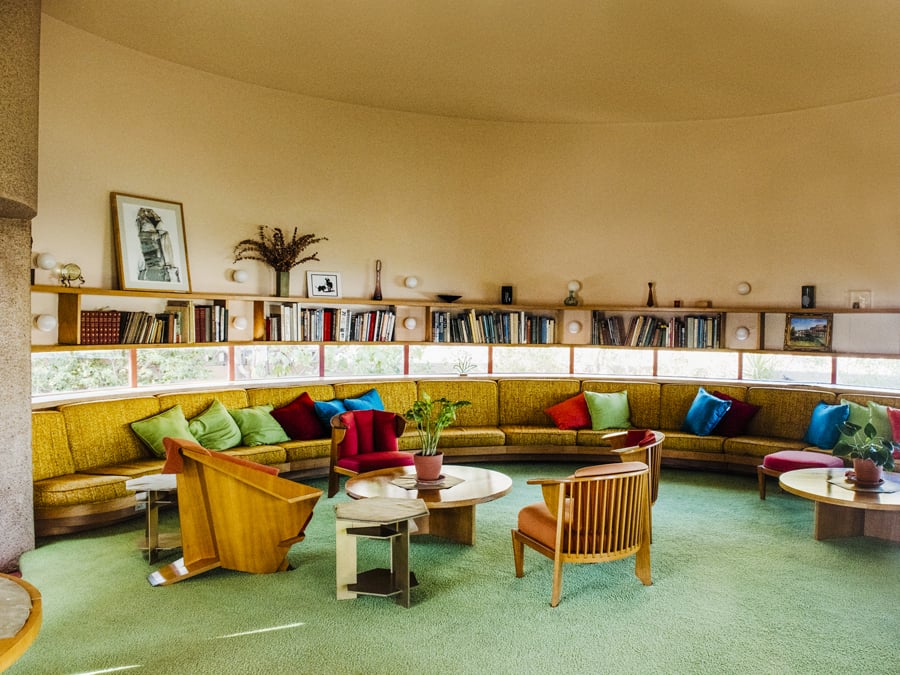 "This round room was like nothing I'd ever seen," says Guido, who pointed his camera lens through a window to get this shot of the Pfeiffer-Jester House sitting room. Wright originally designed the house, notable for its circular rooms, for Hollywood costume designer Ralph Jester in 1938, but it went unbuilt. Decades later, foundation archivist Bruce Pfeiffer decided to build a home for his father on-site, based on the original Jester proposal. It's been a part of the Taliesin West campus since the early 1970s.
THE STUDENT SHELTERS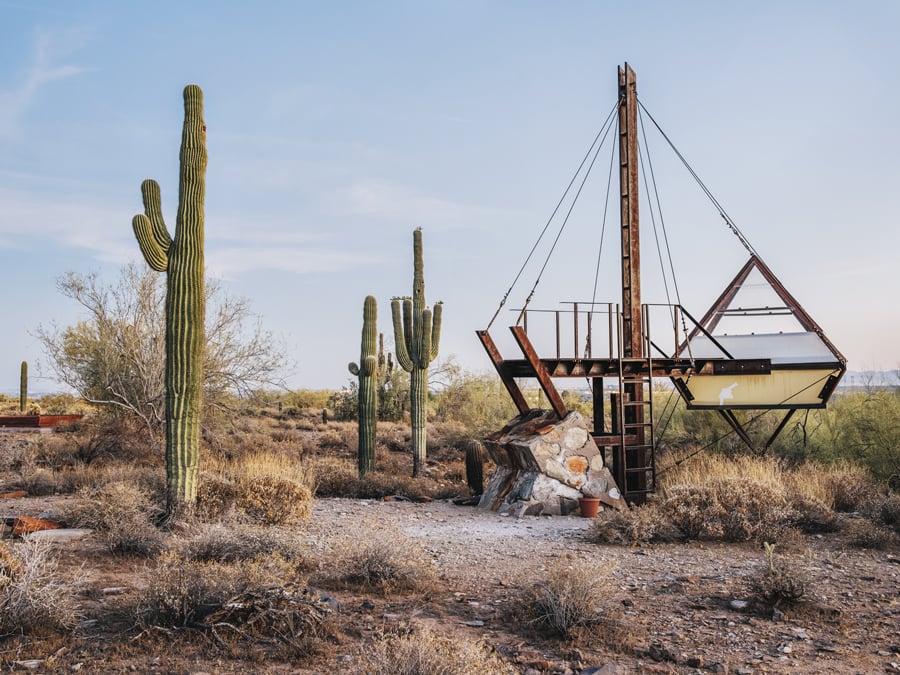 Prozzillo explains that 50 plots on the Taliesin West property are set aside for apprentices to "experiment on yourself before you go out and experiment on a client." For decades now, each new class of apprentices has had the opportunity to test out their own theories and skills by constructing—and living in—shelters of their own design. The Hanging Tent shelter was built by an apprentice in the late 1990s. Once an apprentice moves on, current students sometimes adopt an existing site and make their own iterations.
OFF GROUND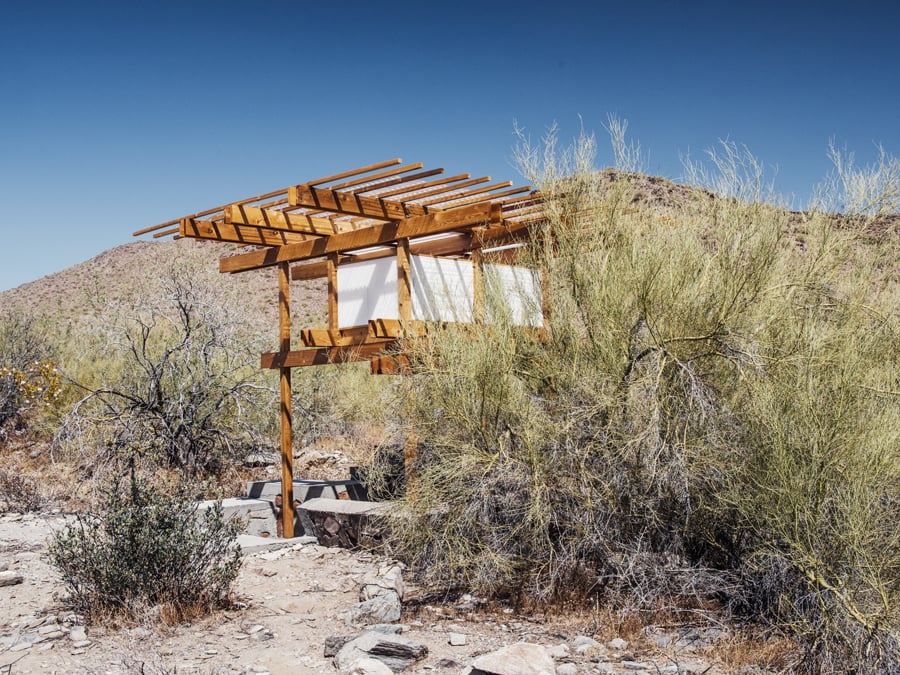 This is Taliesin's newest student shelter, created in 2017 by Chilean student Jamie Inostroza. He named it Atalaya, which means "crow's nest" or "lookout." There are very good reasons why students build their experimental structures up off the desert floor—and not just for the views. The Sonoran Desert has its share of dangers, from javelinas (strong-smelling creatures who look rather like wild boar) to rattlesnakes. Guido said he "went through freakouts about what these snakes might look like, but I didn't see any. It was just really cool to see people adapting Wright's techniques in a sustainable and functional way out there in the desert."
If you enjoyed this article, you may also want to read our interview with the head of the Frank Lloyd Wright Foundation.