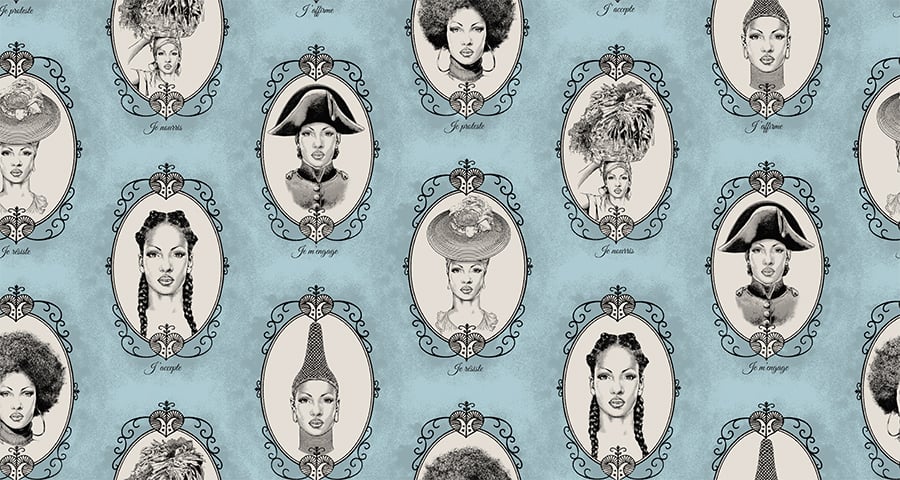 April 15, 2019
Two North Carolina Exhibitions Bring New Lenses to Familiar Design Conversations
At the Plant 7 design center, Beyond the Mask explores black and African diaspora design while Terra Incognita surveys contemporary experimentation in ceramics.
---
When black and African diaspora design is mentioned, a single image is top of mind for many: the wooden mask. Ceremonial in origin and striking in appearance, it's used as a kind of shorthand for "ethnic." Beyond the Mask—an exhibition at High Point, North Carolina's Plant Seven design center—aims to replace that image with a more accurate understanding of contemporary black and African diaspora design's rich and varied forms. Curated by New York–based designers Leyden Lewis and Nina Cooke John, the show highlights the work of seventeen artists from the Black Artists + Designers Guild, a collective founded last fall by textile and ceramic artist Malene Barnett to amplify the voices of people of color in the design world.
"African design has been so narrowly defined," says Lewis, adding that black designers and artists themselves haven't been included in developing that definition. "It's been labeled in terms that we don't use," adds Barnett. "We wanted to see how we could send a message to the industry about what we look at as 'black art'. We embrace our heritage. We have a rich history as artists and makers. But we've gone beyond that." In their work, Barnett says, guild members acknowledge their heritage as a source of "energy and inspiration," but apply that to current work and practice.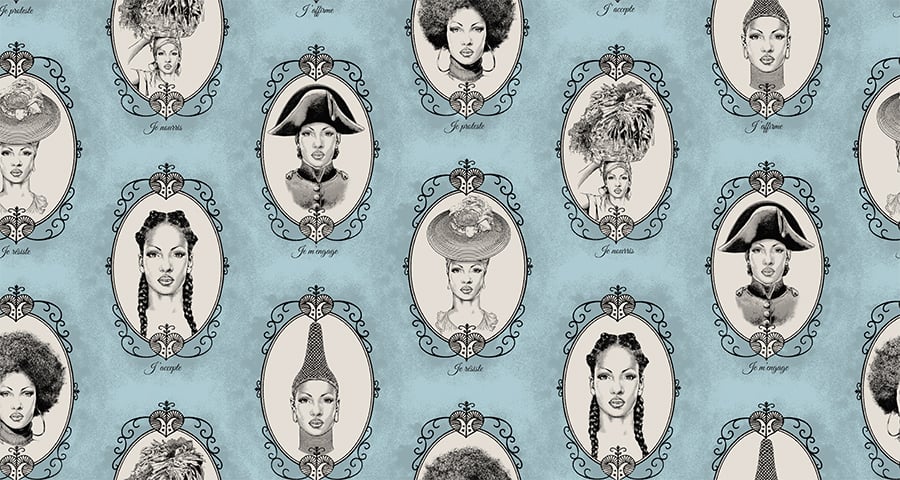 ---
The artists included in Beyond the Mask hail from the U.S., the Caribbean, Europe, and Africa, though they are linked by some common threads, says Lewis, such as their focus on line, pattern, and color. Their work is also often handmade, figurative, or functional. On a deeper level, says Lewis, there's a storytelling element that's present in so many African cultures. For example, in her textiles and wallpapers, Haiti-based designer Valerie Louis of Yaël & Valerie incorporates female-centric spiritual motifs and images of strong, beautiful women from throughout black history. New York–based Sheila Bridges also works with wallpaper; her Harlem Toile de Jouy designs subvert traditional toile imagery with thought-provoking commentary on racial stereotypes printed on bright cherry and pistachio backdrops. The slender Nyala chair by Jomo Tariku (Virginia-based, born in Kenya to Ethiopian parents), with a form inspired by the prongs of an Ethiopian antelope of the same name, calls to mind traditional furniture from the Horn of Africa while making an ultra-contemporary impression.
---
Running alongside Beyond the Mask is Terra Incognita: 21st-Century Ceramics, an exhibition that offers a nod to North Carolina's ceramics heritage (half the featured artists are from the South), but demonstrates how far the medium has come from its humble beginnings. Curated by writer, researcher, and producer Lila Allen (also Metropolis's managing editor), the exhibition showcases experimentation across the ceramic arts, in terms of surface, form, and material.
For example, South Carolina–based Virginia Scotchie's stoneware combines bold contemporary forms with cracked-finish glazes in saturated hues. Akira Satake—Japanese-born, living and working in North Carolina—combines and updates the traditions of both regions in his wood-fired sculpture. Jeremy R. Brooks's elastic clay tea bowls look as though they're made from crochet yarn and they include beads woven into the fabric. The surfaces of Michael Hamlin's candy-colored bud vases have an almost volcanic texture. Lilah Shepherd's Artifact uses all-over jewel-tone color to focus the eye on the delicate structure of her piece.
---
Allen was drawn to artists experimenting with construction, too. Atlanta artist Robert Chamberlin's Collapse 20 is made with extruded clay (as opposed to wheel-thrown clay) and makes insightful commentary on the fragility of our cultural ambitions in the decorative and domestic arts.
Seen together, the shows explore the increasingly dynamic intersection of art, design, and craft (and even commerce) and the ways in which the conversation in each of those areas continues to broaden and become more inclusive.
Beyond the Mask and Terra Incognita: 21st-Century Ceramics will be on view at Plant Seven in High Point, North Carolina through September 30, 2019.
You may also enjoy "nARCHITECTS Designs a New Home for New York's Progressive Human Rights History."
Would you like to comment on this article? Send your thoughts to: [email protected]