December 11, 2019
Reducing Waste in Air Travel Will Require More Than Just Bamboo Utensils
At a Design Museum exhibition, the firm PriestmanGoode contemplates more sustainable in-flight services, but alternatives come with their own drawbacks.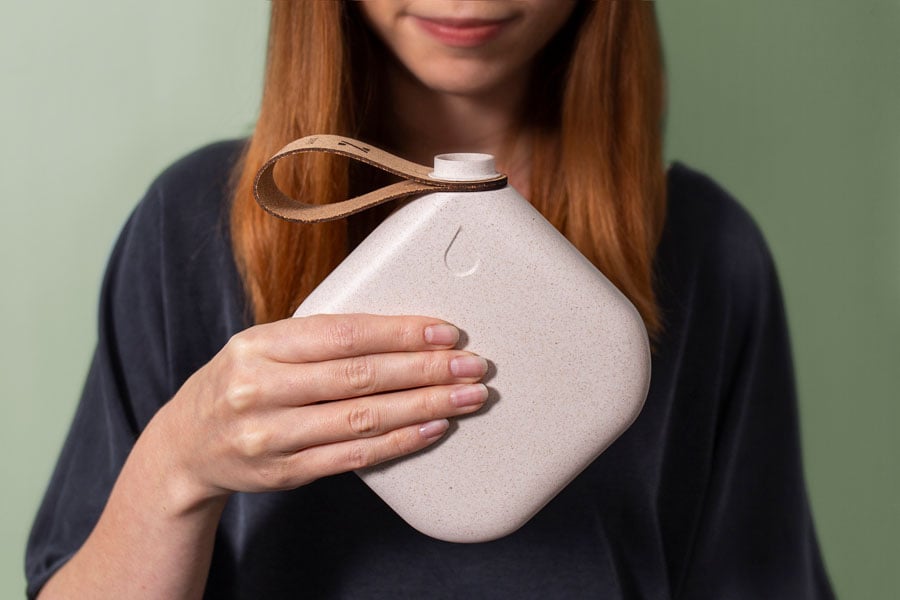 A new exhibition at the Design Museum in London, called Get Onboard: Reduce, Reuse, Rethink, is shining a light on what it calls the "service elements" of air travel: meals service; usage of water bottles; and equipment employed for in-flight sleeping, entertainment, shopping and personal hygiene. Created by the British industrial design studio PriestmanGoode and on show through February 9, 2020, Get Onboard aims to rethink the supply of these elements, with an objective to reduce waste.
Certain types of single-use plastics often used in in-flight meal service—such as straws, cutlery, and plates—will be banned in the European Union by 2021. To lessen their use, PriestmanGoode recommends a range of more sustainable alternatives. For packaging, these include materials that could reflect the food they contain. For example, using a banana leaf or algae as salad covers, or wafer cookies as lids for desserts. The studio is also proposing items that could be rotable (i.e., able to be washed and reused), such as cups made from rice husk, meal trays made from coffee grounds, and coconut-wood sporks.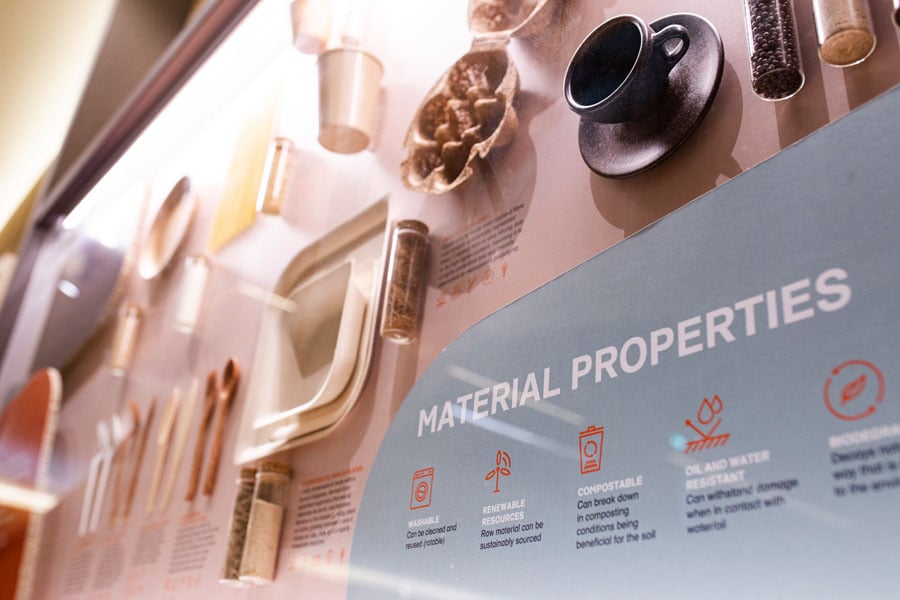 Another sustainable travel accessory proposed by PriestmanGoode is a water bottle made from biodegradable and commercially compostable bioplastic and cork, meant for repeated, short-term use, and designed to fit into the pocket of an aircraft seatback without infringing on the passenger's space.
The exhibition also displays innovative, sustainable designs by others, such as ECONYL, a regenerated nylon yarn made from ocean fishing nets; seaweed yarn; pineapple wood; and Tasman glass, made from molten waste glass by New Zealand–born, Berlin-based designer Sophie Rowley to resemble New Zealand's Tasman Glacier.
According to Jo Rowan, associate strategy director at PriestmanGoode, the goal of the exhibition is to "start a conversation that could address, through design, the aspects of waste and sustainability in the travel industry. We're trying to look at sustainable materials that are essentially byproducts or waste, and how to repurpose them."
Many airlines have already begun to take steps to make their in-flight service more sustainable and less wasteful. Carriers including Air Canada, Air France, Air New Zealand, Delta, Etihad, and Qantas are reducing their employment of single-use plastics starting this year. Virgin Atlantic recently began offering goodie bags (rather than amenity kits) that are made of recyclable plastic and kraft paper and contain reusable bamboo toothbrushes. Emirates, for its part, has introduced blankets made from recycled plastic bottles.
This past June, United Airlines made headlines with a "flight for the planet," a 737-900 flight from Chicago to Los Angeles that the carrier claimed was the "most eco-friendly commercial flight of its kind in the history of commercial aviation." During this flight, United reduced cabin waste to zero by swapping traditional snack options with plated service featuring fully recyclable or compostable serviceware. The aircraft also flew on a biofuel mixture and counteracted any remaining emissions with carbon offsets.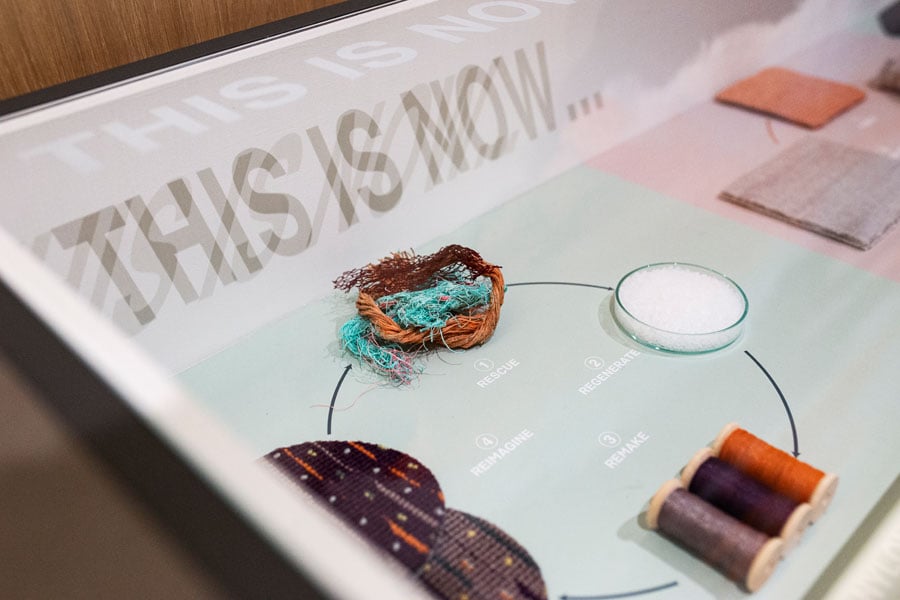 In 2016 United was the first U.S. airline to repurpose items from its international premium cabin amenity kits, and it replaced non-recyclable plastic stirrers and cocktail picks on aircraft with items made from bamboo earlier this year.
One challenge United continues to face in terms of passenger-generated, in-flight waste is the complex set of regulations that govern composting and recycling—these differ not only by country, but also by individual cities, said Margaret McKinnon, the airline's senior category manager in procurement.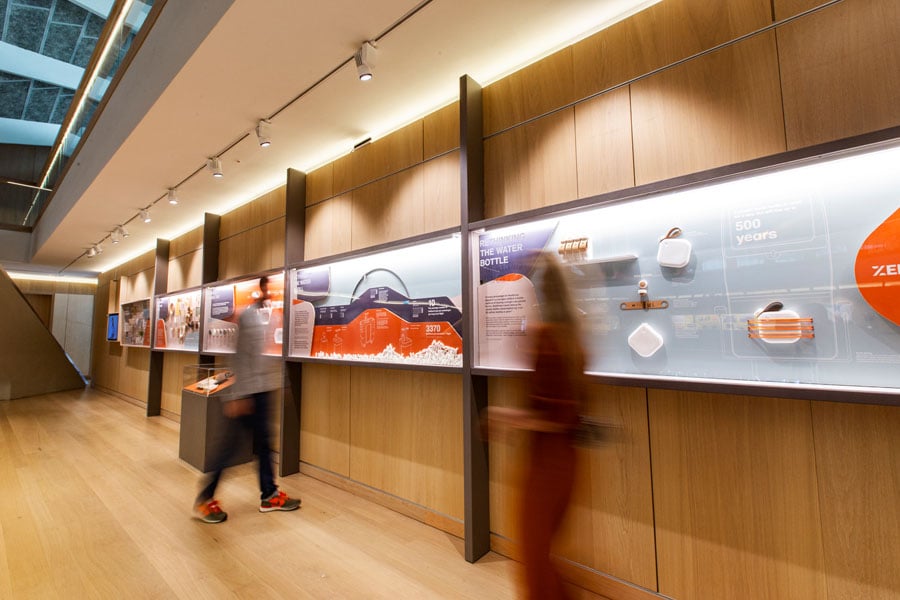 According to Jon Godson, assistant director of aviation environment best practices for the International Air Transport Association (IATA), the trade association for the global airline industry, 127 countries have adopted some form of legislation or regulation around the use of plastic bags. One way carriers could reduce the use of another type of plastic—disposable tableware—could be to employ reusable, ceramic tableware instead. But this would likely increase the weight of the plane (ceramic is heavier than plastic), which could adversely affect the aircraft's fuel efficiency and thus emissions.
Godson also said carriers must learn how to reconcile conflicting regulations: Under the pending 2021 EU directive, items such as single-use plastics could be allowed on inbound flights to Paris, but would be prohibited on outbound flights. And any move toward more sustainable in-flight products, such as paper- or bamboo-based plates, may be undermined by widespread requirements to incinerate international catering waste. (Many wealthy countries have regulations precluding the reuse and recycling of materials containing catering waste, meaning that cabin waste must be destroyed by incineration or other methods.) What's more, they represent a lost opportunity for bamboo utensils to be composted and reused in soil.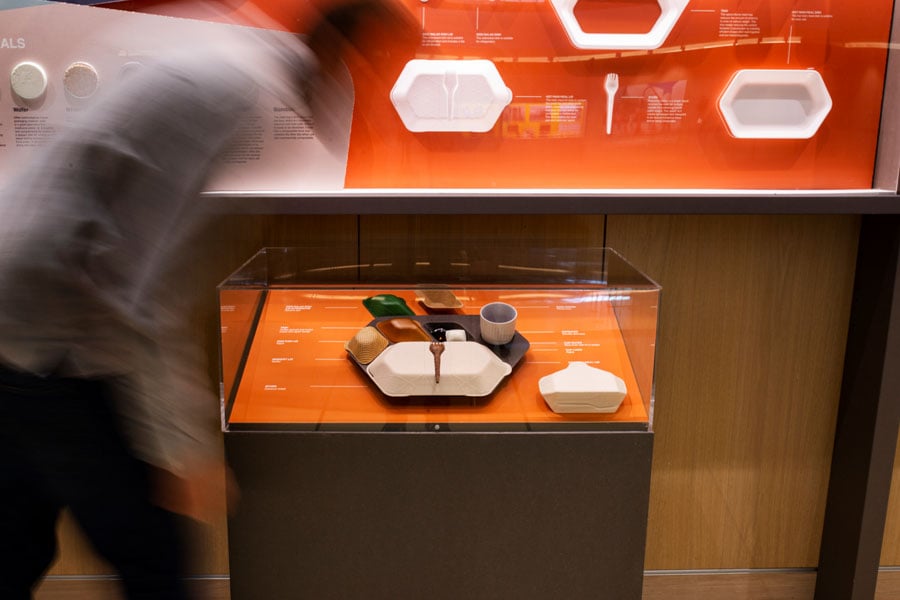 A 2012–13 cabin waste audit performed by IATA at London's Heathrow Airport found that a passenger typically generated 3.2 pounds of cabin waste per flight—23 percent of which was untouched food and drink and 17 percent of which included recyclable materials such as plastic bottles and newspapers. Based on an extrapolation of the Heathrow study, IATA roughly estimates airlines generated 6.1 million tons of cabin waste in 2018.
Warns Rowan, "As an industry, we need to address the climate crisis, and look at every element of the travel journey and [see] how we can make it greener."
You may also enjoy "Household Plastic Waste Gets Resurrected as the N02 Recycle Chair for Fritz Hansen."
Would you like to comment on this article? Send your thoughts to: [email protected]