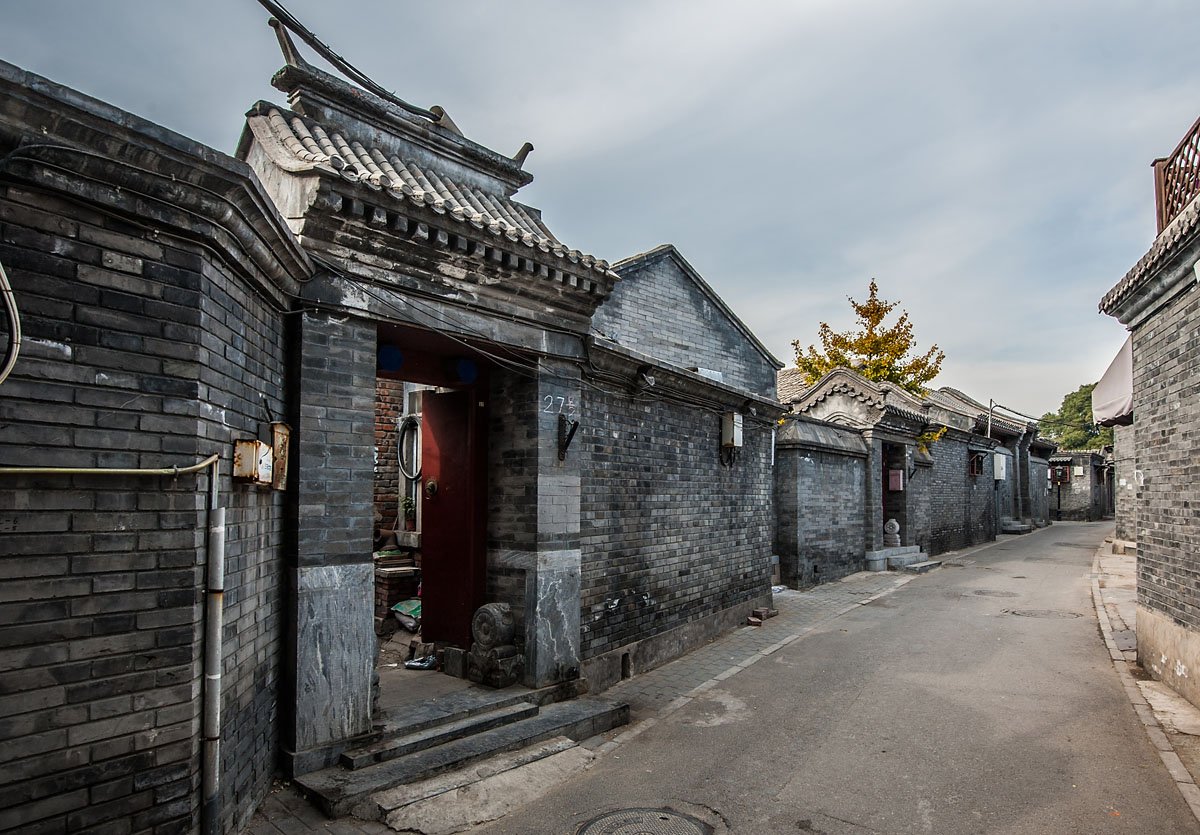 September 15, 2015
Q&A: Beijing Design Week's Beatrice Leanza
The creative director of the 15-day event on preserving Beijing's hutong districts, urban-renewal strategies, and China's rising design scene
This year, Beijing Design Week (September 23–October 7) will highlight the historic hutong area of Baitasi, which is revered for its unique architectural and cultural pedigree. The neighborhood will play host to a number of onsite pop-ups, exhibitions, workshops, and lectures that all fall under the umbrella of BJDW's Design HOP program.
All images courtesy Beijing Design Week
---
In just a few short years, the annual Beijing Design Week (BJDW) has become the leading platform for design in China. Beatrice Leanza, the creative director of this year's 15-day event, spoke to Metropolis's editorial and brand director Paul Makovsky about how Baitasi—one of the Chinese capital's treasured but crumbling old neighborhoods—can benefit from innovative, local-minded design programs, and which of China's rising design stars you should look out for.
Paul Makovsky: How has Beijing Design Week, now in its fifth edition, differentiated itself from every other city's design week?
Beatrice Leanza: There are those events in emerging design markets of non-Western scenarios—for example, India, Brazil, Mexico, South Africa—that have global ambitions but often end
up being molded by the short-term dictates of the "lifestyle" industry. Or they become vulnerable to the pressures of domestic agendas that lack well-devised institutional frameworks of action. Rather than working on defining a "model" event or platform in reaction to this, BJDW has grown in the guise of a meta-project. With every edition, BJDW has sought to shape a critical arena and empower a positioning for design specifically within contemporary China.
We have also tried to cultivate a syntax of use, authenticity, and value around design that goes beyond the volatile enthusiasm for the "latest trends" and marketing-led schemes. This conversation, which engages various governmental, academic, and industry stakeholders, has wider and longer-term implications, as it enables the formation of truly localized environments of research, confrontation, and outcomes that have greater practical impact outside the limited temporal scope of a week-long event. So we have greatly invested in developing design's ability to assess common goals and localized solutions for China's urban future. The most evident manifestation of this adaptive approach is BJDW's traveling Design HOP program, which explores the spatial, infrastructural, and social givens of a different city. These international curatorial productions have been part of our agenda since 2011, including our exhibition Across Chinese Cities: Beijing at the 2014 Venice Architecture Biennale.
PM: Dashilar—one of the oldest parts of Beijing—has figured prominently in each of BJDW's past iterations. Why the focus there? And how have you seen this neighborhood evolving?
BL: To be sure, Dashilar presented an opportunity to reinforce BJDW's positioning as an experiential platform through which a diversified range and scale of design operations could be activated in the public sphere. This meant empowering pragmatic change directed toward raising the awareness of both citizens and governmental agencies about critical issues related to Beijing's urban life. There, too, is the need for directly engaging the formal and informal forces that shape the city's survival, and which also form Dashilar's historic foundations. Urban-renewal and environmental-upgrading strategies responsive to the area's endangered architectural landscape and dysfunctional infrastructure could not be implemented without addressing the resilient complexities of its communal and cultural ecosystem.
Particularly over the past two years, we have seen through our partnership with Guang'An Holding [a state-owned company under Xicheng municipality] and the multidisciplinary incubator Dashilar Platform the progressive implementation of new businesses and creative ventures in the district, such as galleries and design studios. These newcomers have made visible Dashilar's physical transformation, which has garnered the attention of media and professional circles.
Beijing Design Week's creative director Beatrice Leanza
PM: In the past you've brought together the local community, makers, thinkers, and even local city planners and developers as part of the Dashilar Pilot program. What outcomes have you seen come out of these dialogues?
BL: Dashilar Pilot was started in 2013 as a new step in the partnership between Dashilar and BJDW. I personally think this development had a lot to do with jump-starting progress in the area because of how it brought an in-depth knowledge about the contentiousness of negotiating change with those who are most affected by it, the local residents. It also delivered public investment [the program is funded by the local governmental developer] and so instituted a crucial precedent. Each pilot program is first and foremost a call for commitment advocating for a remedial economy of design; as opposed to a top-down blanketing, they detour into the small, the relational, and the rekindling of processes of mutuality and codependency. The goal is to productively challenge the future ecosystem of the targeted area by introducing businesses and services operated by and alongside locals. This means testing methodologies of renovation and operational planning that can truly serve the area and its community.
In the past, we have realized several built projects, such as Cao Pu's prototype for a courtyard hostel, People Architecture Office's Plug-In Courtyard House, and standardarchitecture's Micro-Hutong. The plug-in is an easy-to-install system that residents can use to cheaply renovate their courtyard homes, the local housing type. It initially met with considerable resistance from neighbors, but that has waned as they have gradually recognized the system's value in improving their homes. This year, the call for projects is centered on housing and cohabitation by taking the local Dazayuan [messy courtyard] model as its working subject. The competition generated responses from a diversified group of younger practices active in the city.
PM: Apart from Dashilar, BJDW has several events in other parts of the city, including creative neighborhoods like the 798 Art District and 751 D.Park, and urban villages like the Chaochangdi Art Village. This year you're also highlighting the Baitasi (the White Pagoda Temple) zone—a cultural and historical area located just across from the city's Financial Street District. What can we expect to see there?
BL: Baitasi, one of the city's last treasured hutong districts imbued with traditional literati culture, is mostly a residential area, rich with religious architecture and historic residences. Lu Xun, the famed early-century reformer and philosopher, once lived here, and a dedicated museum had been built around his house. Plagued by problems like an aging built environment in need of upgrading and preservation, the district's most critical challenges are its social and infrastructural disconnection from the city and, consequently, its rapid depopulation. We have partnered with a private developer to realize projects from standardarchitecture, Vector Architects, and Trace Architecture Office that will propose new methods of renovation applicable on a larger scale. They will also present new domestic and mixed-use scenarios for the prototypical courtyard house that could be desirable for younger demographics of urbanites or millennials, many of whom commute daily in and out of the adjacent financial and commercial areas.
With this as our point of departure, we decided to implement a program that takes Baitasi as a speculative backdrop to look at "connectedness and cogeneration" as key cultural drivers of both past communal relations and today's digital ecosystems. We also focused on how contemporary creative entrepreneurship, aided by new production technologies and motivated by a collaborative spirit of making, can assist the revitalization of the area while taking inspiration from it to serve more efficient, sustainable, and desirable living standards. The various projects are presented under the simulated framework of a distributed service hub, made of four different typologies [info hub, making hub, sales hub, and reading hub] with each intended to generate new imaginaries for Baitasi's future living environment. They will serve as touchstones
for experiencing and rediscovering the district's cultural richness and unique urban fabric via a set of dedicated research projects, exhibitions, and new brand pop-ups, including augmented visualization and online-offline integrated platforms.
People Architecture Office's Plug-In Courtyard House
PM: City planning departments often look at urban solutions with a top-down approach rather than promoting a participatory, community-based approach. Do you notice a difference in how the city looks at improving neighborhoods through design? What are some innovations in this area of creative urban development or improvement?
BL: This year's program is an initial step toward what we mutually hope will be a long-lasting engagement in Baitasi's future development. It will be an example of how planners should embrace the value of design programs that coalesce expertise and skills from various fields while also offering opportunities for the young. We have had a very enthusiastic response to our Baitasi call for proposals.
PM: In the past decade, Beijing has embraced the latest and greatest of contemporary international architecture, where architects like Rem Koolhaas and Herzog & de Meuron have produced spectacular works in the city. With last year's design week, there was a noticeable shift in focus toward reexamining Chinese traditional or vernacular architecture while even looking at issues of preservation. What do you make of that? Is it something that you actively promoted, last year and this year?
BL: I believe our programs in Dashilar and Baitasi corral substantial evidence of such phenomena, and this year's responses to our call for projects and invitational programs are enriched by a variety of younger practices from different backgrounds who have formed an understanding of the city's development by living and working in it. That is who you will see featured this year.
The programs in each area reflect how, unlike other metropolises in China, Beijing embodies a specific form of temporal eclecticism, where decades of rapid social and urban transformation have fostered the emergence of practices active across very different scales of operation, as conceptual undertakings encompassing from-city-to-product making. This form of integrated thinking is ever more urgent for a shrinking cosmopolitan ecology of congested spaces, expensive real estate, and competitive workplaces.
Luca Nichetto's new collection for Beijing-based design dealers Zaozuo will debut at Beijing Design Week.
PM: Last year you selected Barcelona as BJDW's guest city, which showcased the best examples and practices of Spanish design, and this year Dubai is your international focus. What do you hope to get out of these city partnerships?
BL: Our selection of Dubai as a guest city resonates across a wider set of actions BJDW has undertaken to strengthen productive relations within Asia and encourage dialogue among its vibrant and diverse design cultures, which are increasingly relevant across a global scope. Our collaboration with the city started earlier this year as we contributed to Design Days Dubai, with a special exhibition of one-off works and projects by China-based designers Urban Crafters. In the same spirit of continued partnership, we will be participating in the inaugural Dubai Design Week, as one of six invited other design weeks, including Helsinki, Istanbul, and Melbourne.
This year, the Guest City program will differ in that it will output a curated exhibition and public programs to be presented as a site-specific installation in Dashilar's renovated Factory, which will reopen to the public after two years. It will feature works by selected designers and studios from the UAE as placeholders for the richness of cultural and social factors informing their formal and conceptual expanse, with an emphasis on practices embodying narrativity by delving into the region's material and historical heritage inspired by its natural landscape and multicultural formation.
PM: What are some emerging design firms we should be looking out for and why?
BL: The design world in China is filled with cases of global renown, from the likes of big firms like Lenovo, which is fast moving into smart-product development, to the untamable Xiaomi and its ecosystem of smart products. There are many young firms that are sprouting up in exactly this sector. We will be taking three young brands to Dubai to take part in the Downtown Design fair. These practices—Benwu Studio [New York/Shanghai/Beijing], EOQ [Hong Kong], and Zaozuo [Beijing]—each represent a new breed of creative ventures invested in transposing the untapped potential of local artisanal and manufacturing expertise into designs for sophisticated, global prosumers. With changing urban demographics and generational expertise diversifying, China offers ample opportunities to both designers and entrepreneurs with vision and an interest in creating novel meanings for its rapidly growing audiences.