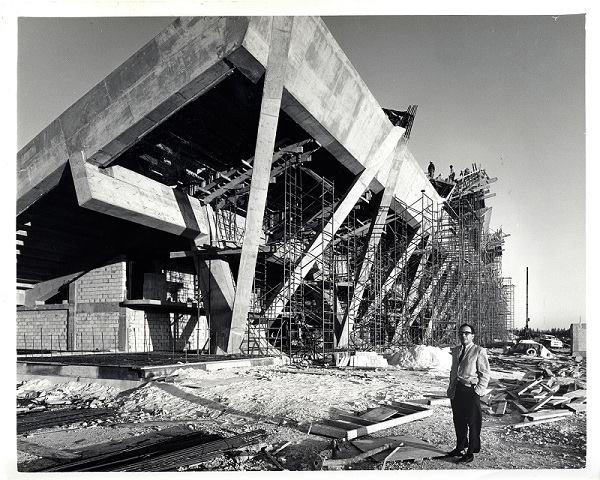 April 6, 2015
Q&A: The Miami Marine Stadium's Architect on Its Past and Future
Hilario Candela speaks about the inspiration behind his iconic stadium, the problems of preservation, and new revitalization opportunities.
Among Miamians, few buildings strike a sentimental chord like the Miami Marine Stadium, the 1968 mod wonder that has been shuttered since Hurricane Andrew in 1993. Today, the impressive concrete structure has been almost completely covered by graffiti. Conservation attempts periodically mounted in the intervening decades have led to naught. Last summer, at a ceremony featuring Gloria Estefan and the National Trust for Historic Preservation, supporters of Miami Marine Stadium produced a glimmer of hope for the landmark's admirers, announcing a $121-million revitalization plan for the site. The project, which laid out provisional plans to bring the massive Miami International Boat Show onboard, was scrapped in November due to lack of funds. Caught in the middle was Hilario Candela, the stadium's 80-year-old Cuban-born designer, who in recent years has become entangled in various disputes over its revival.
There is a saying that art is never finished, just abandoned for more art. But here was an unheard-of opportunity in redesign and renovation: To give an architect a chance—however slim of its realization—at picking up where he left off and trying those final tweaks that have nagged at him for decades. We spoke with Candela about the project's history and potential future.
Richard Morgan: What do you remember about the making of it? Not the construction, but the original proposal.
Hilario Candela: They thought it was very important for the tourist future of Miami. Florida was at the forefront of tourism. People wanted to do more things and expand how they did it. These were the days of Esther Williams.
RM: So they wanted something novel?
HC: No. They wanted steel, like any baseball stadium. But salty water, salty air, it would damage it too quickly and too badly. I was only five or six years out of school, and I was proposing concrete, with part of it hanging over the water.
Hilario Candela oversees the construction of the stadium in 1963.
Courtesy Pancoast Ferendino Skeels and Burnham/Hilario Candela
RM: What inspired you?
HC: Eduardo Torroja's horsetrack, the Zarzuela Hippodrome in Madrid. Félix Candela's work with thin-shell concrete. Le Corbusier, of course, among others. I interned in Cuba for Max Borges, Jr. in Havana, who had made the Tropicana nightclub and had done lots of work with the Bacardi family.
RM: What was it like? This first major work?
HC: The opportunity was immense. The site was extraordinary. So I had to do something great. Not only unique in Miami but significantly unique in the United States. A concrete structure that was lived in, with a roof that took inspiration not only from the sailboats but from the surface of the water itself when it was touched by the breeze. And we came in under budget—around $960,000 on a million-dollar budget.
RM: And then?
HC: The community adopted it, then adapted it. Black Miss Universe used it. Interdenominational sunrise services, community colleges, Elvis, Nixon, Jimmy Buffett—everybody.
RM: Was there anything you didn't like about it?
HC: The ticket booth pavilion was put together in a hurry. I disliked it.
RM: Then, almost 50 years later, you are invited to revive it, to redesign it as part of a new vital complex. What was that like?
HC: The deed specifically limits the land's use to the stadium "and allied purposes." There are problems. There are no plumbing lines. We can change the furniture, the parts that aren't structural, like the concession stand. It needs to look like it did but operate like it should. I can be now more of a perfectionist.
RM: And what does that look like for you?
HC: Reflecting pools in front of the building instead of walls or railings or fences, interpolated by stairs.
RM: How much of this is planning and how much is dreaming?
That is the purpose. We can go back to the intention stage.