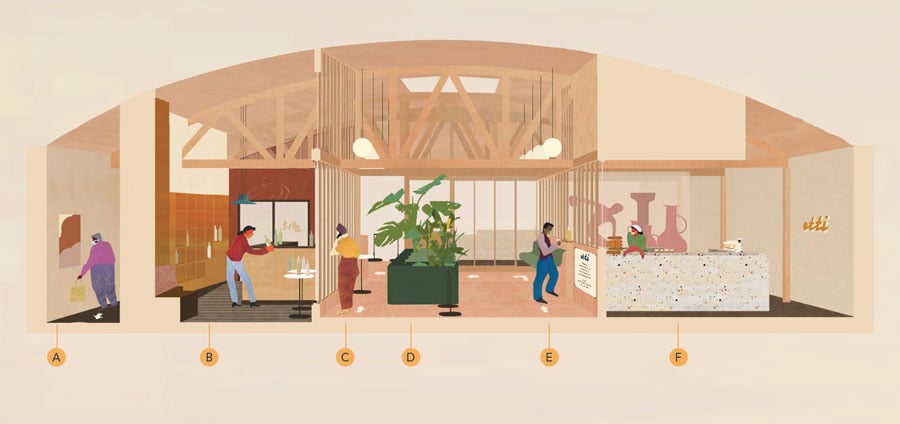 June 19, 2020
Rethinking and Planning for the New Restaurant Experience
Architecture and design firms offer both immediate solutions and long-term frameworks for restaurants operating in a COVID-19-impacted world
---
The COVID-19 crisis is an all-hands-on-deck situation calling for input and expertise from multiple fields. Architecture is no exception, as public health unknowns call for both immediate solutions to accommodate social distancing as well as longer-term rethinking. Recently, designers and architects have been engaging with private clients and public agencies to determine what's feasible from a regulatory standpoint in the face of multi-phased—and often wildly inconsistent and confusing—reopening dictated by state, county, and local governments.
Despite the following reports and many webinars that have been offered as resources to the restaurant industry and other ancillary businesses, no one has a crystal ball. What direction will the virus take? Might some architects be over-thinking the crisis, especially if some cities opt to return to the status quo with only superficial modifications to accommodate social distancing and cleaning protocols? Perhaps.
Recent events have also laid bare other acute circumstances. On May 29, for instance, Los Angeles County announced restaurants could reopen with restrictions, and Mayor Eric Garcetti released the "LA Alfresco" outdoor dining plan to lessen red tape, only to suddenly issue a city-wide curfew the following evening as anti-police brutality protests swept the city. This moment of broader reckoning over racial injustice, social inequality, and policing of spaces calls for a more intensive recalibration. Further proposals and guides will need to intersect with a fundamental shift that questions and refocuses the intent and impact of any and all public interfacing design.
Charles Hemminger and Seth Boor
"Letters: Our Shared Spaces—What Happens Next?"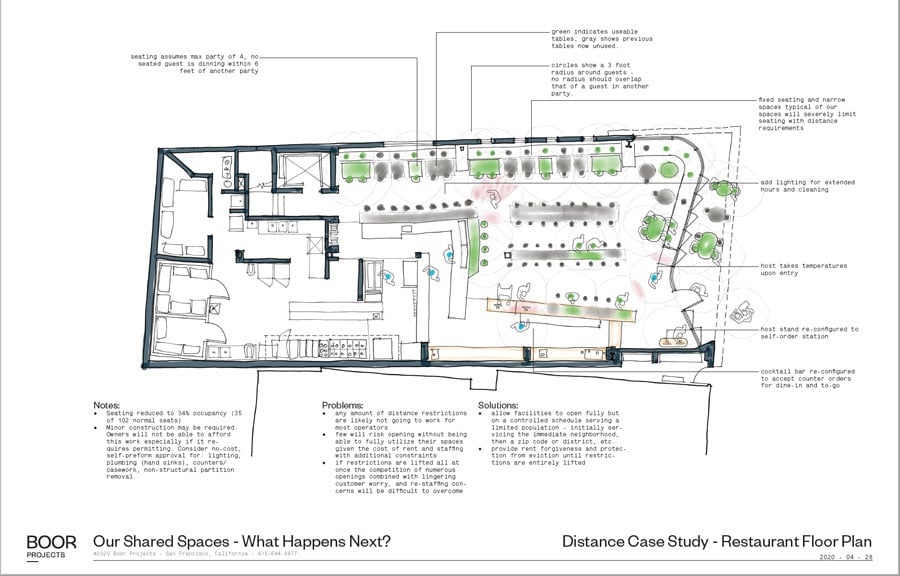 ---
Soon after Governor Gavin Newsom and Mayor London Breed announced shelter-in-place orders in March, San Francisco architects Charles Hemminger and Seth Boor of Boor Projects recognized that they were in a unique position to help bridge the gaps between the city's robust and suddenly suffering restaurant community and municipal departments. Discussions with Mayor Breed's Economic Recovery Task Force and representatives from the restaurant industry prompted the architects to "bring it into some kind of structure and engage the restaurateurs who didn't seem to be getting connected [to governmental agencies]," Hemminger explains.
The resulting report was shared with the Mayor's office, the San Francisco Board of Supervisors, and city departments plus a network of restaurant business associations. A love letter to the city's restaurants, it centers the voices of local restaurateurs, chefs, and business owners such as Catherine Bailey and Robin Petravic of Heath Ceramics, and includes over 50 interviews. "Our Shared Spaces" identifies three phases of recovery and takes into account how other city crises such as affordable housing and homelessness remain as barriers.
Case studies of restaurants such as Mexico City–based chef Gabriela Camara's Cala and the newly opened Dear Inga reflect pre-virus vs. social distance occupancy plans, with sobering realities about the viability of restaurants operating with drastically reduced capacities and relying heavily on take-out business.
Rockwell Group
---
The Rockwell Group released a set of ten renderings with dining and serving scenarios demonstrating how a kit-of-parts package could be used in five outdoor settings located in New York City's five boroughs. The New York City Hospitality Alliance industry trade organization collaborated with the Rockwell Group on the pro bono project.
"We knew from the first days of this pandemic that we would have to make adjustments to how we dine out until the solution to the virus is resolved from a medical standpoint. This includes, first and foremost, creating a safe place for restaurant workers and guests, to better utilize space within and outside restaurants," Rockwell Group founder and president David Rockwell said in a statement. WATG is in the process of further developing its "Green Block" system, a prototype that was initially developed in 2017 as part of London Mayor Sadiq Khan's National Park City initiative, to meet the increased demand for outdoor dining.
Stayner Architects
"How Restaurants Can Adapt to the New Social Distancing World"
---
In February, not long before lockdown in L.A. took effect, architect and licensed contractor Christian Stayner of Stayner Architects and partners opened Tilda, a small wine bar located in the Echo Park community where he lives and works. Another project, Etti restaurant, has been in progress, and he is already prepared to adjust the concept, given that Tilda quickly pivoted into becoming a contactless carry-out wine shop. Stayner then incorporated these experiences into a series of whitepapers about design and public health.
With the firm's second publication, "How Restaurants Can Adapt to the New Social Distancing World," Stayner set out "to think about how to be more durable as an operator rather than respond to these crisis conditions [in] the most immediate term," he says. "I think that's the only role architects can play. Our hope was we could provide some ideas that are a little more imaginative and historically grounded."
He also acknowledges the limitations of design in the face of equity and business challenges. "As someone who has a foot in each of these worlds, there are so many forces that are not architectural design," he says. Broader issues such as the rising cost of living and providing employee benefits coalesce to impact staffing, for instance. In the end, the beautifully illustrated and designed document takes both a wide historical lens while offering tangible design suggestions for hospitality spaces.
MASS Design Group
"Spatial Strategies for Restaurants in Response to COVID-19"
---
MASS Design Group's open source papers published on the Boston firm's website last month harnesses its expertise in working with environments impacted by infectious disease. "Spatial Strategies for Restaurants in Response to COVID-19" is a self-described living document that contains general protocol concepts and specific case studies based on conditions at Porto in Boston and Little Donkey in Cambridge.
"The recommendations and prompts in this document seek to come alongside restaurant owners, chefs, staff, and patrons as we navigate our evolving understanding of COVID-19 in restaurant settings and attempt to adapt ideal recommendations to real-life situations," the report states. "The faster we can design trust back into these spaces, the faster we can stabilize and strengthen the restaurant industry."
Gensler
---
 Given the firm's breadth and reach, Gensler's "Design Responds to a Changing World" series touches upon a wide swath of typologies and scales, from casinos to universities. "The Future of Dining Out" by Siobhan Barry, design director and senior associate at Gensler, breaks out six priorities for owners and operators to incorporate moving forward amidst fluid circumstances. "Changing health regulations and protocol, for example, will need to be top of mind as the medical community learns more about the virus and how to combat it effectively," Barry says.
These factors include the demise (at least in the short term) of densely packed convivial bars and restaurants, potentially relocating back-of-the-house kitchen functions forward for increased transparency, and the increase of so-called ghost kitchens, which in some cities had already seen an uptick prior to the pandemic due to the increased popularity of delivery platforms and the spiraling costs of operating brick-and-mortar restaurants. "Time will tell how much of an impact the architecture and design industry will have on cities and the steps they may need to take in order to shape the future of dining out," Barry adds.
You may also enjoy "After COVID-19, What's Next for Landscape Architecture?"
Would you like to comment on this article? Send your thoughts to: [email protected]
---
Register here for Metropolis Webinars
Connect with experts and design leaders on the most important conversations of the day.