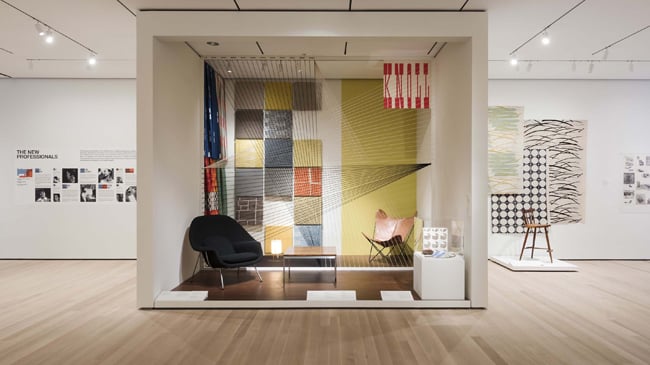 November 14, 2016
MoMA's "How Should We Live?" Fails to Do Justice to Its Subject Matter
The Museum of Modern Art's latest exhibit revisits Modernism's home remedies, but it misses the symptoms they were intended to treat.
A re-creation of the 1948 Knoll showroom is one of several in the new exhibition, which runs through April 23, 2017.
Courtesy © 2016 The Museum of Modern Art / Martin Seck
---
Considerable anticipation surrounded last month's opening of How Should We Live? Propositions for the Modern Interior at the Museum of Modern Art, organized by curator Juliet Kinchin and assistant Luke Baker. Following the disheartening closing of the Four Seasons restaurant—that icon of midcentury Modernism by Philip Johnson (and collaborator William Pahlmann) —and the controversial dismantling of its furnishings, MoMA's new show appeared at just the right time. But while offering some dazzling moments, the exhibition falls short of expectations.
How Should We Live? adopts a revisionist methodology in dialogue with previous MoMA exhibitions, especially Johnson's canonical 1932 Modern Architecture: International Exhibition, which presented modern architecture in terms of a set of formal typologies. That show generally neglected post-WWI politicized tendencies and utopian imperatives, instead promoting a narrow version of Modernism whose hegemonic dominance reverberates even today. How Should We Live? attempts to critique the legacy of the International Style, and while it achieves two of its curatorial goals—underscoring the contributions of female practitioners, and acknowledging modern architecture's collaborative nature—it suffers from lackluster exhibition design and, worse, a lack of thematic clarity.
Beige walls and light wood flooring frame a cavernous, big-box-store-like space that feels wishy-washy, particularly regrettable considering the rich potential of interior design, the show's subject after all. This awkward physical organization diminishes the curatorial message, as distilled on two poorly positioned title walls explaining the show's theoretical basis. Two versions of Willi Baumeister's powerful poster How Should We Live? The Dwelling, emblazoned with a big red X over an image of a traditional domestic interior, illustrate these texts and help introduce the titular theme. Baumeister's poster, which promoted a 1927 model housing exhibition in Stuttgart, rejected the overstuffed, unhygienic house (with strong echoes of Adolf Loos's 1908 polemic against ornament). How unfortunate, then, that MoMA's show vacillates in its message of domestic design reform.
MoMA's latest exhibition, which explores Modernism's overhauling of domestic interior spaces, takes its title from Willi Baumeister's 1927 poster How Should We Live? The Dwelling.
Courtesy The Museum of Modern Art. Gift of Philip Johnson
---
The exhibition employs two primary methods of display: groupings of individual objects, including furnishings, period photographs, posters and other promotional materials, films, digital re-creations, and documentary ephemera, arranged thematically on walls, in vitrines, and on display platforms; and second, visually appealing re-creations of historic modern rooms. The latter are small oases in a sea of beige blandness, the most compelling among them being American designer Marguerita Mergentime's surrealist-inflected New York City apartment (1935–36) by Frederick Kiesler. Kiesler's opulently striped sideboard, with its Cubist-inspired asymmetry, veers dangerously close to Art Deco, scorned by Johnson as not truly modern, but merely "modernistic." As the wall text declares, the apartment "epitomizes a strand of 1930s American design that MoMA marginalized in favor of the International Style." That the curators feel comfortable challenging a long-standing MoMA bias bodes well for the future.
Another bright, if minor, spot of greater inclusiveness is a marvelous biomorphic brooch by Alexander Calder, an area traditionally outside MoMA's canon: fashion design. This follows the gratifying appearance of period fashions like Harry Gordon's 1967 paper dress in the museum's current exhibition From the Collection: 1960–1969 and anticipates Items: Is Fashion Modern?, coming in 2017.
Although much of this material, in particular works by Charlotte Perriand and the Eameses, has been seen in earlier exhibitions, trade shows, and other venues, the curators' insistence on gender parity and design partnerships is commendable. The visitor is greeted by Grete Schütte-Lihotzky's prefabricated, mass-produced Frankfurt Kitchen (1926–27), inspired by American home economist Christine Frederick's innovations in scientific household management. Designed in collaboration with architect and urban planner Ernst May, the kitchen was created for new, affordable housing that addressed Germany's acute housing crisis.
In contrast is E1027, designed by Eileen Gray with Jean Badovici, her design partner and onetime lover. Spectacularly sited on a cliff on the Côte d'Azur, the vacation house was christened with an imaginative name, a code combining both designers' initials: E for Eileen, 10 for (Jean), 2 for (Badovici), and 7 for (Gray). Although a film conjures up a sense of the house successfully, a small but tasteful display of some of its furnishings is less convincing.
Moreover, from a class-based perspective, the exhibition fails to adequately address the considerable gap between the experience of an inhabitant of a subsidized housing complex and that of a wealthy designer luxuriating in a posh vacation villa on the French Riviera.
Maison du Brasil furniture by Charlotte Perriand
Courtesy The Museum of Modern Art​
---
One of the most exciting parts of the exhibition is, regrettably, pushed to the periphery: a re-creation of Lilly Reich and Mies van der Rohe's Café Samt und Seide (Velvet and Silk Café), originally commissioned by the German silk industry for a 1927 trade fair. An installation of lush hanging panels of velvet and silk created spatial zones in the large exhibition hall, with yellow, black, and red swaths, a proud symbol of the Weimar Republic. The hanging textile "walls," inspired in part by the movable walls of traditional Japanese interiors, organized space and introduced texture and movement. A portion of the display has been reimagined so that the visitor can pause to relax in a reproduction Mies-designed, tubular steel chair while sipping coffee and enjoying period music. Clearly not a work of domestic interior design, the Velvet and Silk Café nonetheless explored a language of design and decoration that would develop into a key component of the open plan. Pity that Mies's Afrikanische Straße housing complex in Berlin (1925–27) was not included; as his only design for subsidized housing, it would have served to support the show's thesis.
Other sections of the exhibition read less effectively. Well-designed, decontextualized objects on white pedestals approach the precious (for example, "Artek and the Aaltos," "Metal Is Modern: Equipment for Living," and "Tokyo–New York: Vernacular Modern"). "Children in the Modern Home," although offering charming objects, is unfortunately relegated to a back area. MoMA's wonderful model for the Eameses' house and studio (1949) is awkwardly positioned and too low in relation to a long wall, a problem repeated throughout as the large scale of the space dwarfs many of the objects displayed. Though that is presumably due to the need to accommodate large crowds, an opportunity has been lost: Why not create a series of spatial experiences through the use of fabric room dividers? As the curators explain, MoMA historically utilized this approach for exhibition designs (they mention Machine Art of 1934, and the 1939 Art in Our Time: 10th Anniversary Exhibition: Painting, Sculpture, Prints is another example).
But most problematic is the ultimate failure of How Should We Live? to substantively engage with the utopian proposal implicit in the show's title, particularly in relation to another architecture and design exhibition that opened in tandem with it—Insecurities: Tracing Displacement and Shelter. If the modern domestic interior was born from a belief in design's potential to improve people's lives, as William Morris, the father of design reform (and a socialist), proclaimed, then a comparison of the shows is appropriate. For example, contrast the prefabricated refugee house displayed in Insecurities (equipped, by the way, with movable, room-dividing curtains) with Johnson's reductively elegant New York apartment. Or perhaps compare Calder's brooch with the polypropylene Middle Upper Arm Circumference measuring device, a simple yet beautiful design for measuring levels of starvation, produced by Médecins sans Frontières. Form ever follows function, indeed.
Courtesy The Museum of Modern Art
Courtesy © 2016 The Museum of Modern Art / Martin Seck
Courtesy © 2016 The Museum of Modern Art / Martin Seck