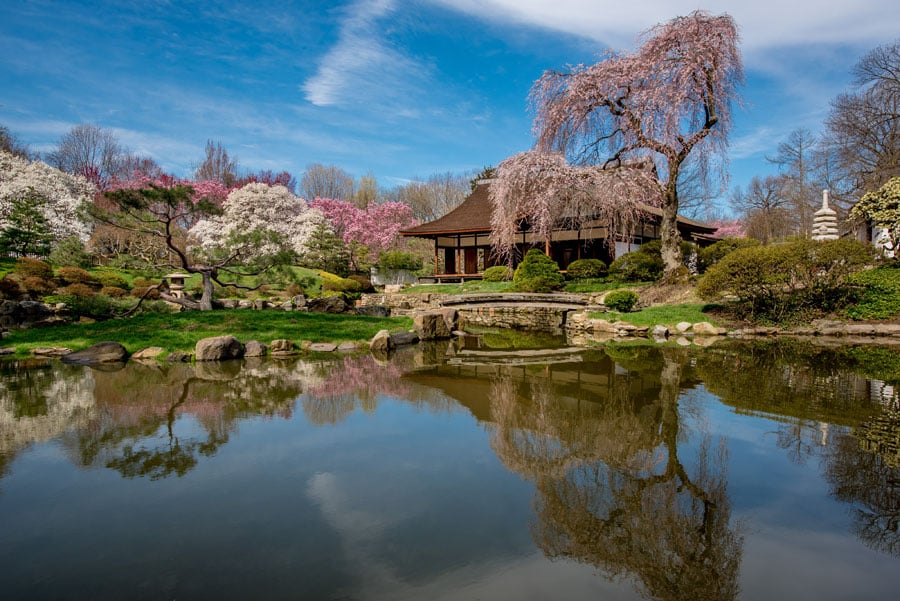 September 11, 2020
A New Exhibition Highlights Modernism's Debt to Japanese Architecture
Shofuso and Modernism: Mid-Century Collaboration Between Japan and Philadelphia explores the artistic interconnections between Antonin and Noémi Raymond, George Nakashima, and Junzo Yoshimura.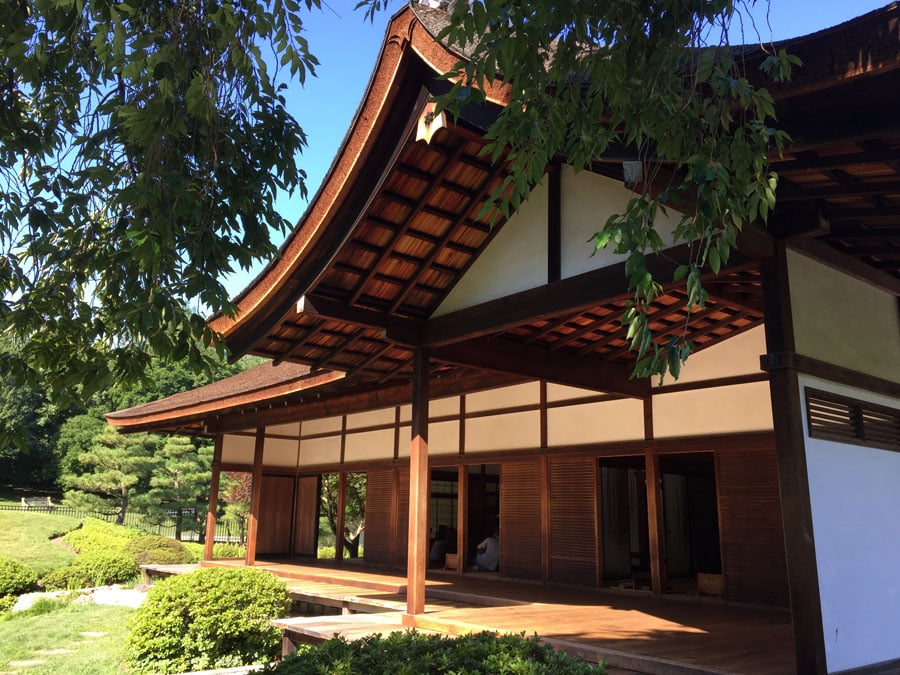 It might be hard to imagine one's own home—seven months into a global pandemic which has forced many of us to be nowhere else—as a site of remembrance, cross-cultural collaboration, and reckoning with racial injustice. But then few homes are like Shofuso, a 17th century-style house and garden originally constructed in 1953 and now open to the public in Philadelphia's West Fairmount Park.
Through November 29th, the Japan America Society of Greater Philadelphia showcases the connections between Modernism and Edo-era Japanese design in a new exhibition titled Shofuso and Modernism: Mid-Century Collaboration Between Japan and Philadelphia. Through a series of in-person and online events, the exhibition offers up a number of quiet reminders of Modernism's debt to traditional Japanese architecture, proving that Shofuso is a timeless example of what can happen when artists respectfully engage with each other's cultures.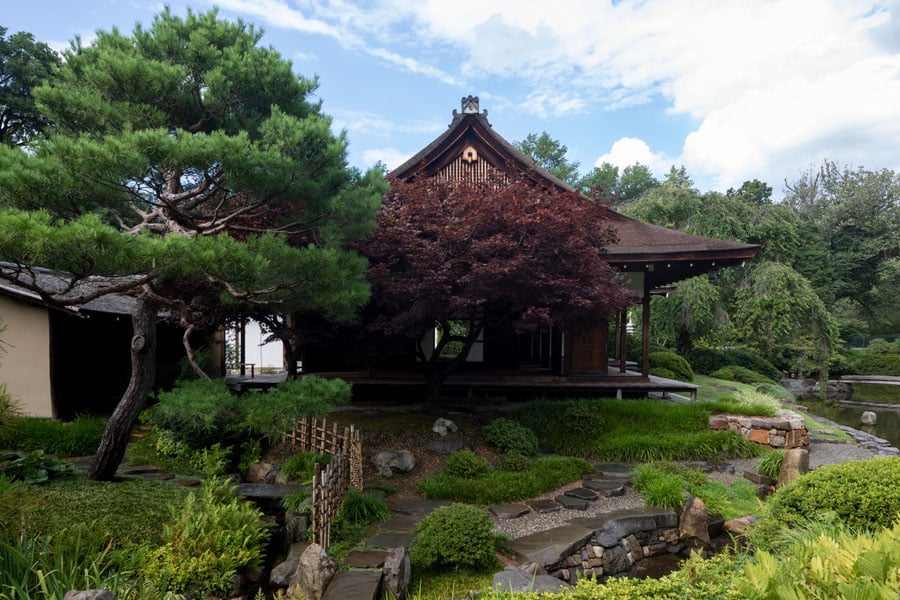 Japanese architect, Junzo Yoshimura, began his career in 1931 in the Tokyo office of Czech architect Antonin Raymond his wife, designer Noémi Pernessin Raymond, who became known for bringing European Modernism to Japan. When the Raymonds also hired architect and furniture maker George Nakashima as part of their team, the four became lifelong friends.
At the dawn of World War II, the Raymonds and Yoshimura moved to New Hope, Pennsylvania, establishing a farm and atelier in a bank barn and Quaker farmhouse. Nakashima and his family had relocated to Seattle but in 1941 were deported to the Minidoka internment camp in Hunt, Idaho where they were held for two years before the Raymonds were able to offer them refuge at their farm. It was there that Nakashima established his legendary woodworking studio. "The Raymonds were true allies when it was a difficult time for Japanese Americans," says associate director of exhibition and programs at Japan America Society, Yuka Yokoyama, who curated the exhibition with William Whitaker, curator and collections manager of the Architectural Archives at the University of Pennsylvania's Weitzman School of Design.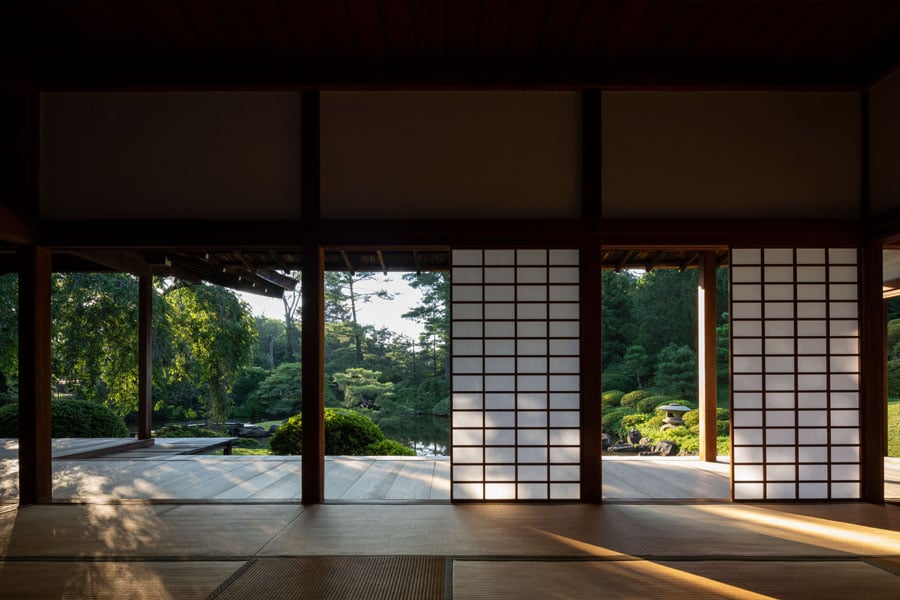 After the war, Yoshimura returned to Tokyo and began a career as one of Japan's foremost classicist architects, culminating in his 1968 Tokyo Imperial Palace—a career helped in part by Arthur Raymond's recommendation of him in the early 1950s to Arthur Drexler, then MoMA's curator of architecture and design prior to succeeding Philip Johnson as director of the department. Working alongside Johnson and architect George M. Hopkinson, Drexler commissioned three architects to explore the potential of domestic spaces for the exhibition series The House in the Museum Garden. 
The series included two modern homes by Marcel Breuer and Gregory Ain, and finally, Yoshimura's traditional shoin-zukuri style house. The entire house was originally built in Nagoya, Japan, but in 1953 was painstakingly disassembled, shipped, and reconstructed in Manhattan for the exhibition. The home was characterized by its built-in desk, staggered shelf, ornamental doorway, and recessed alcove and in an effort to familiarize Americans with Japanese customs (and perhaps defuse American racism inflamed by World War II) Yoshimura added a kitchen, bath, and tea house. Evidence of domestic life can offer proof of humanity, at least to those willing to look for it.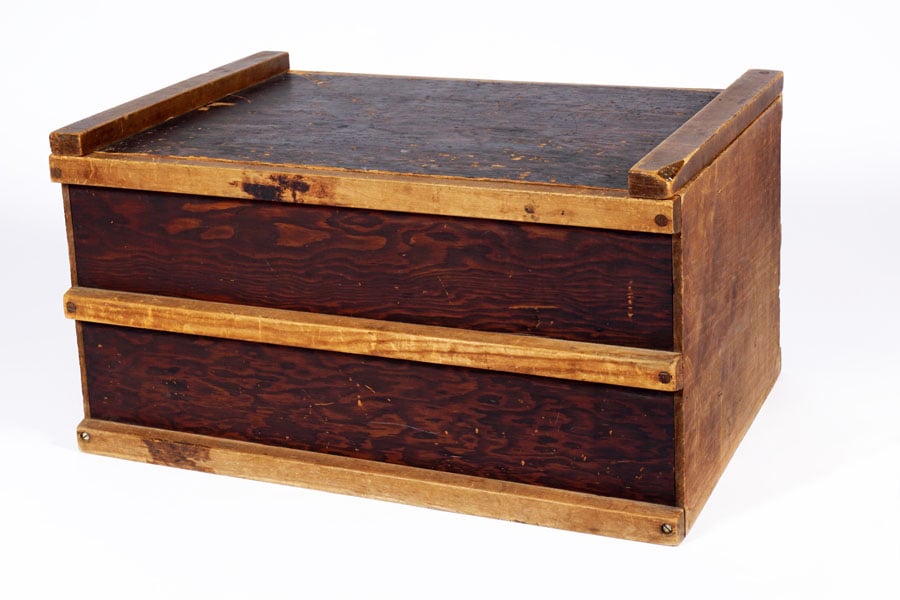 The 1954 exhibition press release rightly credits Frank Lloyd Wright's horizontal roofs, and the "open interiors and plain surfaces" of Le Corbusier and Mies van der Rohe to traditional Japanese architecture. "Shofuso was an example of the source of [Western] modern architecture and design," says Yokoyama, "its shape, simplicity, functionality, and connection with nature and the elements."
In 1957, the house was again packed up and relocated to Philadelphia's West Fairmount Park, where the first Japanese garden in North America was planted as part of the 1876 Centennial Exposition. Today, its beams and screens carefully frame a Sansui style garden by famed Japanese landscape designer Tansai Sano. Because the current pandemic limits the opportunity to see the residences and workshops in person, the exhibition hosts a room devoted to a slideshow of historic and contemporary photos from the nearby Nakashima and Raymond residences. And the Shofuso garden's softly gurgling waterfall, rippling koi ponds, and careful integration of native and Japanese horticulture are natural inspirations for furniture and objects displayed throughout the house. All were designed by the four friends over the decades: a dome-backed dining chair the Raymonds made for a house in Tokyo, with contrasts of woven jute; prototypes for chairs and desks prefiguring Nakashima's later masterpieces; and an adorably domesticated pair of dog sculptures by Noémi.
Most precious of all, a toy chest sits in one corner, elegant if unassuming—until one learns Nakashima made it for his daughter Mira out of wood scraps and nails he scavenged while held in the internment camps. It's proof that, no matter how ugly the world can get, beauty persists.
You may also enjoy "Design Before Air Conditioning Surveys Early Experiments in Climate Control"
Would you like to comment on this article? Send your thoughts to: [email protected]
---
Register here for Metropolis Webinars
Connect with experts and design leaders on the most important conversations of the day.