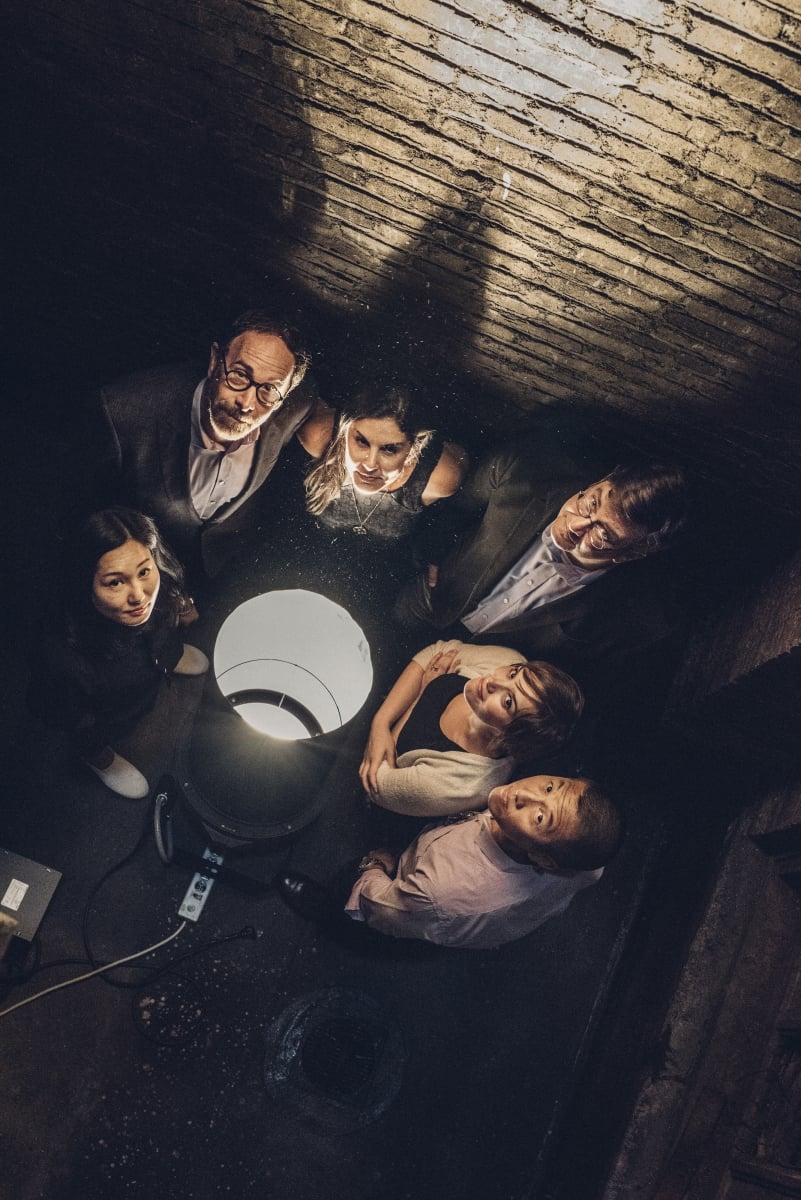 November 23, 2015
Seven Secrets to Success, According to Kugler Ning
Kugler Ning reveals seven secret tricks behind creating award-winning lighting designs that are so sensitive and beautiful, they feel almost inevitable.
Kugler Ning team members in the building shaft that they use as a lighting laboratory. Clockwise from left: Sunhee Lim, Jerry Kugler, Amber Moriarty, Burr Rutledge, Ashley Moench, and Jackson Ning II.
---
"I think of it as wizardry," Kugler Ning Lighting Design's senior associate Burr Rutledge jokes of the firm's approach. "We design to make spaces look natural, but then you turn off the switch, and all of a sudden everything is completely different." The firm's work, especially on architectural icons such as New York's Carnegie Hall or Yale University's Sterling Memorial Library, creates entirely new perspectives on architecture while playing upon people's memories—viewers often feel as if the spaces have always been lit that way. This unique approach in a string of high-profile projects across public, hospitality, workplace, and commercial sectors has resulted in dozens of honors for the New York–based firm, including four out of the 14 Lumen Awards that the New York City Section of the Illuminating Engineering Society (IES) gave out this year.
Part of the firm's success can be attributed to the industry itself, which has changed dramatically since 1983, when Jerry Kugler founded the company during an economic downturn. "Lighting designers were only sought after for really creative solutions," Kugler recalls. The rest of it was "design by salespeople," as millions of square feet of office space were designed by representatives who sold the lighting fixtures. But a radical transformation of ways of living and working was underway. "The personal computer was released, and then the whole world changed," Kugler says. Computers brought about countless innovations in lighting, and new technologies, such as LEDs, became more widespread. Stricter energy-code regulations and increasing awareness of the need for efficiency and sustainability made the field infinitely more complex. "But it's made our job that much more exciting, too," says Jackson Ning II, who joined the firm in 2003 and became principal four years later.
With around 20 employees who come from a diverse group of disciplines including architecture, interior design, and theater, Kugler Ning sets itself apart with its thorough understanding of technological advances and a dedicated hands-on approach. At its offices in New York's midtown, the firm's three main teams work on more than 20 projects at a time, carefully tending to them from conception to construction.
In addition to its team's capabilities, Kugler Ning also likes to give some credit to New York City—a highly sophisticated and challenging lighting market. As well as providing an array of compelling design opportunities, the city facilitates the close relationships Kugler Ning has with lighting manufacturers to modify product lines, striving to push the boundaries of new technologies and the industry as a whole. Here the firm walks us through seven recent projects, using each one to highlight a strategy that contributes to its overall success.
Carnegie Hall
New York City, 2014
IU + BibliowIcz ArchItects
Winner of the Award of Excellence from the IESNYC
Courtesy William Philbin
---
1. Be bold in embracing technology of the future—it might be the best way to interpret the past.
"Back in the day, clients would always come up to us and say, 'What about LEDs?' and we had to tell them the ability, initial cost, and amount of light just weren't there yet," Kugler says. "But now we're huge promoters."
It is precisely the versatility of LEDs today that made them the perfect choice for the facade of Carnegie Hall, lit up in anticipation of its 125th-anniversary season. The slim profile of the lights allowed hundreds of linear feet of LED strips to be placed on narrow ledges and thus shielded from view, making the technology virtually invisible to passers-by. Custom LEDs were chosen to match the quality of incandescent light and highlight the building's three primary materials—iron spot brick, terra-cotta, and painted metal. "People come up to us saying they had never realized that Carnegie Hall wasn't lit before," studio director Amber Moriarty says. "It just looks like it should always have been."
To test the nuances of color and deal with the challenges of mounting lights on a landmarked building, the team mocked up their lights directly on site. But since the shows still had to go on, everything had to be tested between the hours of midnight and 6 a.m. "Our goal was to highlight this amazing facade, but to never let anyone know we were actually there," Moriarty says. "The only person who saw it was the hot dog guy," Kugler adds. "He'd come with his pushcart and observe."
Financial Holdings Company 
New York City, 2013
Gensler
Courtesy Garrett Roland
---
2. Listen to your clients so you can work together to discover what they really want.
The days of harsh overhead lighting and tiny cubicles might be gone, but that doesn't mean we have office design all figured out. Kugler Ning, whose work includes lighting the Hearst Tower as well as offices for Proskauer Rose, sees the future in creating a more decorative and layered workplace lighting experience. "Pendants, sconces, and table lamps help bring the lighting to a human scale," Kugler says. This homelike feel is mixed with accent lighting to highlight surfaces, seating, and feature elements.
"In our projects, we're just one part of a larger team usually led by an architect or an interior designer," Ning says. "They might have an agenda for pushing some kind of concept or technology." And while being at the cutting edge of technology is in the interest of many corporate clients, the 10- to 20-year leases of many New York offices also make them wary of choosing trends that might become outdated.
"Sometimes the best thing we can do is listen very carefully to see what the architects and the owners want—what they perceive the key ideas to be," Kugler says. But that doesn't mean their team produces exactly what the clients ordered. "We think there are always at least three solutions to any problem," Kugler says. "We go through them all without any prejudice to come up with something that everyone agrees with."
Restoration of the Nave of the Yale Sterling Memorial Library 
New Haven, CT, 2014
Helpern Architects
Winner of an Award of Merit from the IESNYC and an NYC AIA Interior Merit Award
Courtesy Brian Rose
---
3. Immerse yourself in the history of a place till you can become part of its story.
In 2011, Kugler Ning was commissioned to light the dark nave of Yale University's Sterling Memorial Library as part of a $20 million restoration by Helpern Architects. James Gamble Rogers's 1931 library, once heavily criticized for the datedness of its Collegiate Gothic style, has become a symbol of the university. So lighting its spaces meant being highly sensitive to what was already there.
"All of our cues were drawn from [master blacksmith] Samuel Yellin's original fixtures," Kugler adds. "We interpreted it to come up with a fixture that looks like Yellin would have done it." The final result, which combines wrought-iron chandeliers with new lights, feels just right. "We weren't setting out to change people's memories, but when they see it, they say, 'This is how I remember it,'" Rutledge says. "But that can't be, because what they remember never existed."
The Pavilion at Brookfield Place
New York City, 2014
Pelli Clarke Pelli Architects
Winner of an Award of Excellence from IESNYC
Courtesy Jeff Goldberg, Esto
---
4. Prototype quickly so you're never afraid to go back to the drawing board.
Before doing mock-ups on site, a small windowless room in the office and a dark shaft in the building often act as the stage set for the team's constant experiments. Kugler Ning's commitment to rapid prototyping recently served the designers well in developing lighting for the entrance of Brookfield Place, a commercial building envisioned as the connective tissue between transportation hubs in Lower Manhattan.
The main challenge of the project was to light two columns made up of intricately woven six-inch steel tubes. "We spent a lot of time working with a rigging specialist to develop a cage that would allow maintenance workers to service the tubes from within," Kugler says. "And then once he's down, the maintenance guy would realize he brought the wrong screwdriver," Rutledge joked. He was right— the maintenance company looked at the drawings and the cage and quickly rejected the idea.
Then the Kugler Ning team drew up another plan, placing the lighting source on the outside of the columns. To prove that their scheme could work, they made a quick trip to a hardware store and mimicked the columns with some PVC irrigation pipes.
"It's one thing to do these projects on paper, but we want to know that there is a reality to them," Kugler says. "If you're just doing projects intellectually and abstractly and only relying on previous experience, you are limited in how much you can move forward."
W Lakeshore Hotel
Chicago, 2014
Meyer Davis Studio
Courtesy Eric Laignel
---
5. Weave together the lighting effects till every layer makes a difference to the experience.
When the interior designer for the W Chicago Lakeshore Hotel tasked senior associate Sunhee Lim with evoking the ripples of Lake Michigan and the city's towering skyscrapers, Lim transformed this prompt into a series of layers. Stretched PVC with moving LED projectors behind it mimicks the rippling qualities of water, and integrated lighting shines through laser-cut metal panels throughout the hotel's restaurant, Current. "She was given words and translated them directly into lighting," Kugler says.
"With layering, we try to enhance the architecture, the color, and the texture of the space," says Lim. "But what you really want is to create an interesting experience. To allow people to really enjoy the moment." And every layer is vital to the overall effect of the space, Rutledge adds: "Oftentimes a layer will be hidden, but if you turn it off, you'll realize just how important it was."
Waterfall Mansion 
New York City, 2010
Toshiko Mori Architects
Courtesy Kate Shin
---
6. Let lighting support the architecture—whether as the hero or the sidekick.
When a speculative developer enlisted Toshiko Mori to renovate an 1899 Upper East Side town house, light was one of the key challenges in the long and narrow space that merges living areas with an art gallery.
In Kugler Ning's solution, light plays a crucial role even before visitors enter the home. "There is this very intricate design on the gates, which we used to push light out," Moriarty says. That creates a dramatic facade, "but then once you enter the space, the light becomes very minimal, and it's all about supporting art and architecture."
The key feature of the home, a 22-foot waterfall, is lit by halogen lamps. Moriarty confesses she might have chosen LEDs if given the project today—especially from a maintenance perspective—but says there are things that the newer technology still can't provide. "We're just waiting for LEDs to catch up in terms of the warmth, the color, and the way it sheers down a surface."
No matter the choice of lamp, every decision in lighting the Waterfall Mansion, from the dappled pattern on the sidewalk to the sophisticated interior, was made with keen sensitivity to the needs and the atmosphere of a particular environment. "The technology might be changing, but we as human beings haven't changed that much, and what we know is right is still right," Kugler says.
Kugler Ning prides itself on meticulous work with mock-ups and prototypes, iterating ideas in its office. The firm's sample library is a treasure trove of light fixtures and materials, and an entire wall of shelves in the office is filled with product catalogs (right). In this closely knit team, each designer has a hand in almost every project.
---
7. Even as you grapple with an emerging technology, keep your eyes on future challenges.
The designers at Kugler Ning have a way of referring to projects that are just a few years old as "ancient"—lighting technology has been moving so fast that every project creates an entirely new set of possibilities for them, leaving the past far behind. "We have a lot of aha moments," Kugler says, "because we realize things we can do that couldn't be done the last time we approached that same problem."
LEDs are still at the center of many of these technological leaps. "For a while LEDs were trying to simulate sources like halogen, fluorescent, or HID, but they're evolving into their own genuine source," Kugler says.
It is precisely this openness that gets the designers excited about what is coming next. When asked what they're looking forward to exploring, they come up with a formidable list: "Preset and wireless controls," Moriarty says. "Personal and programmable lighting," Kugler adds. "Less wattage," Ning says. "And more use of color and different types of white light. And more detail." Tweak and retweak: the lighting designer's work is never done.