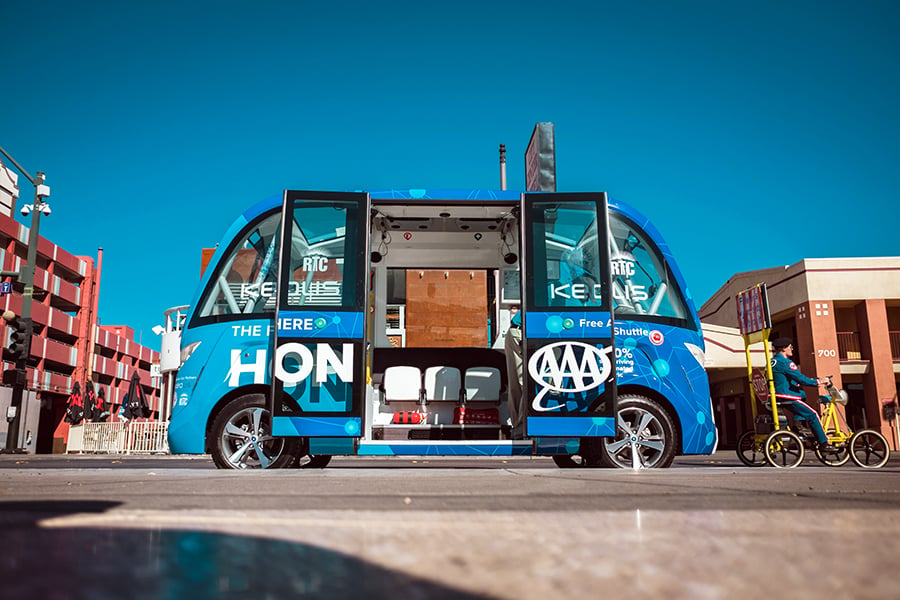 January 10, 2018
CES 2018: Why Smart City Data "Is the New Oil"
At Day 2 of CES, experts explained the unique challenges facing government agencies and private companies seeking to captialize on smart city data.
---
Metropolis is reporting from CES in Las Vegas from January 8 to 10—catch our latest coverage of smart cities, 3D printing, VR, and more, here.
"Data is the new oil," says Steve Crumb, the executive director of GENIVI Alliance, a nonprofit that's dedicated to introducing open-source software for cars. "Commercial organizations are foaming at the mouth at how to monetize [the data] and return for-pay services." That was one of the major takeaways from several panels at CES today, though the value of data is just one puzzle piece in a larger challenge facing cities and the private sector alike.
Data is also like oil in that it needs to be refined before it can be used: artificial intelligence (AI)–driven analytical software is required to convert raw data (such as traffic patterns) into useful information. However, unlike oil, data is easy to find: municipal agencies and private companies already collect huge amounts through sensors, whether they're in smartphones or embedded in streets. The greatest challenge facing cities today may be how to share that data appropriately.
One project in Las Vegas demonstrates how cities and the private sector can strike a balance. The City of Las Vegas, which is striving to improve pedestrian safety, embarked on a novel collaboration with the GENIVI Alliance: connected cars (i.e. ones with internet access) running GENIVI open-source software would upload information on their movement to city-hosted servers. These servers would then analyze the data, combine it with the city's data on street design (such as the location of bus stops and crosswalks), and message the driver when potential pedestrian traffic was imminent. The pilot was generally successful, according to Crumb, and the City and GENIVI are revealing more about the pilot program tomorrow. (Metropolis will also be interviewing the City of Las Vegas's IT director tomorrow on Facebook Live tomorrow at 4:30 PM EST.)
Transportation is a generally fertile ground for these kinds of collaborations, as car companies and apps (like Waze) have extensive data on their drivers, while, "as a traffic engineer, our decisions are based…on the best data sources we have," says Joanna Wadsworth, a City of Las Vegas civil engineer. "What's exciting now with the sensors, and even the cars themselves, is we're gonna have access to a broad range of data. Not just a snapshot, it could be 24/7/365 data so we can see patterns and variations."
Though the collaboration with GENIVI makes the prospect of capitalizing on data sound easy, there are many potential roadblocks. In many cases, one city agency doesn't have access to data from other agencies (Some states, like Illinois, have implemented such sharing agreements). A similar challenge exists when it comes to the private sector: cities and companies need to hash out complex sharing agreements that deal with privacy, ownership, analysis, and use. "A lot of people have to be at the table," says Cory Hohs, CEO and founder of HAAS Alert, a company that helps city agencies communicate with drivers.
Lastly, companies need to be convinced that sharing the data is in their best interest. However, the panels seemed optimistic that the private sector will eventually become less reticent. Helping citizens by sharing valuable data in the short term may seem like a charitable giveaway.  Crumb predicts that "it's gonna snowball" as municipalities get more and more data. "Cities will raise the flag and say, 'We need help from the commercial sector.'"
Such a surfeit of data will be lucrative. As Noam Maital, CEO of AI transit analysis company Waycare, puts it, if "data is the new oil, analysts are the new bankers."
You can find our latest coverage of CES 2018 here.